Babolat AeroPro Drive 2013 Racquet Review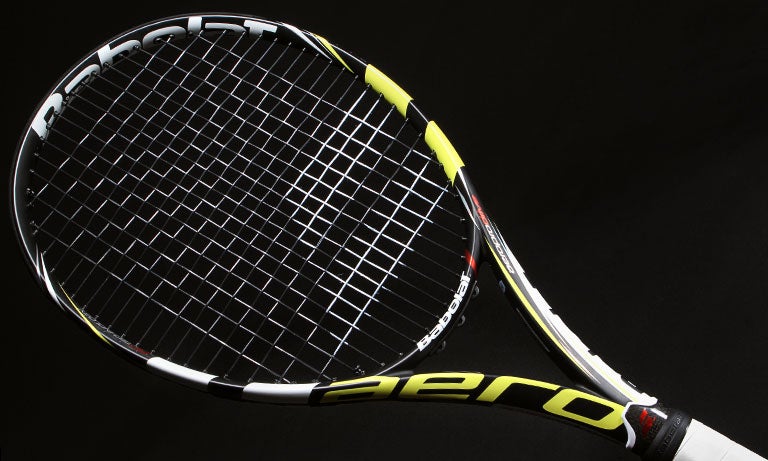 Babolat AeroPro Drive 2013 Scores
Comfort
73
Touch/Feel
77
Serves
87
Groundstrokes
88
Returns
82
Slice
78
Topspin
89
Volleys
85
Overall
88
Upsides
Improved feel
Power
Spin
User friendly
Summary
Two years in the waiting and it's finally here. The new and improved Babolat AeroPro Drive has arrived, and it's everything we hoped for and more. Power, spin, control and maneuverability were all rated highly by our playtesters, who were able to play aggressively from all areas of the court. With Active Cortex technology in the handle, the AeroPro Drive's feel and response are cleaner and more dampened. Active Cortex also increased comfort, and the stiff response that players experienced with the previous version has been reduced, although the stiffness was still noticeable by some playtesters. Control was paramount, and the placement abilities of the racquet had our testers hitting with pinpoint accuracy. With no genuine complaints, our playtesters enjoyed every moment of this playtest.
Groundstrokes - Score: 88
Powerful, spin friendly and maneuverable, with improved comfort and feel, the new Babolat AeroPro Drive reaped many compliments from our team. The first thing Brittany noticed was her ability to hit heavier groundstrokes with tons of spin. She said, "I was really able to whip the racquet around on low balls and hit them with spin. There was definitely potential for power, but I would say not as much as a Pure Drive. I really enjoyed hitting angles with this racquet, and I was even able to hit a low, penetrating slice with this racquet (which I don't do very often!). This wasn't the most comfortable racquet I have played with, and sometimes if I hit outside the sweetspot I experienced some discomfort."
Enjoying the 2013 edition's powerful and responsive offering was Andy. He said, "The new AeroPro Drive GT is explosive from the baseline! The 100 sq. in. headsize provides a lot of forgiveness, allowing me to take big cuts at the ball without fear of missing the sweetspot. Coupled with the open string pattern and light (11.3 oz) weight, you can absolutely rip the ball with massive power and spin. It's very stiff feeling, which is where all that extra power comes from, but this is where Babolat's innovation kicks in. Active Cortex, now introduced into the AeroPro Drive line, does a great job dampening the feel and creating a better connection between ball and player, which I felt previous versions of this racquet didn't quite have. It's still very stiff feeling, but the dampening system in the handle does a great job of making it more comfortable than ever."
Siobhan came into this playtest with a history with the Pure Drive line. She said, "I'm a huge Babolat fan. I've always enjoyed the Aeros, and this was no exception. The one difference I noticed from the previous version was the cleaner feel. There was less bad feedback and a more solid response than I expected, which I really enjoyed. It just allowed me to enjoy hitting groundstrokes that much more. I love the maneuverability and the way I can switch between heavy spin and hard flat balls with ease. I got a lot of comments on my ability to whip back really low balls with a lot of pace with this racquet, and I like how I didn't have to adjust my swing speed. The Aero just flies through the air, allowing me to create some heavy racquet speed, so I can absolutely fire forehands with this racquet. The control was great; I could be pretty pinpoint accurate with my shots. I could hit the big baseline balls that I love, and my placement and depth control was on par."
Paired with a poly, the spin potential and easy response of the AeroPro Drive pleased Chris. He said, "This version of the AeroPro Drive felt extremely maneuverable, more so than the previous versions, and I was able to get a lot of spin out of it. On the first few hitting sessions I found myself a little ahead of my down-the-line forehands and was pulling them toward the middle of the court. However, once adjusted I found good accuracy and tons of pace and spin on everything. I had forgotten just how easy this racquet is to use. I felt very comfortable rallying with it since finding pace and depth was effortless. Best of all, I was hitting my aggressive groundstrokes very, very well. My favorite setup turned out to be Luxilon 4G, as I found a ton of spin and control to go along with the power."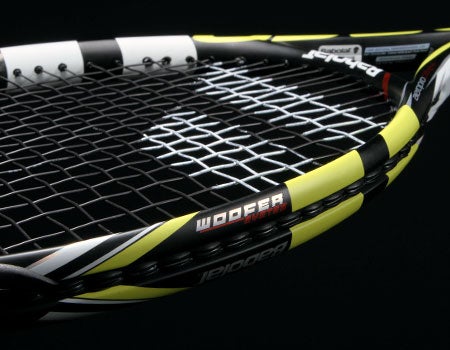 Volleys - Score: 85
The stability, maneuverability and solid response of the AeroPro Drive made it an enjoyable racquet at net. Chris liked the crisp and clean response, and he felt very connected to his volleys with this racquet. He offered, "Sure, it doesn't have the mass to punch the ball quite as much as I like, but its stiff beam did enough to keep the racquet feeling solid most of the time and for power to be decent. Again, I liked the amount of bite I was finding on the ball, and this racquet is well very suited to poly strings. I was able to carve some nice angle volleys and punch the ball away, and that had me keeping my opponents guessing."
Noticing the stability and maneuverability at net was Siobhan. She said, "It was easy to get this racquet in position, and I really felt the clean response. My arm muscles leave a little to be desired and sometimes at net I get some instability, but the AeroPro Drive really stepped it up for me. It felt solid and comfortable, with great control. I happily switched between touch shots and solid volleys, and I enjoyed the way I could dictate play. I really noticed the difference here between this and the 2011 model. I felt more in control and in touch with my volleys."
Brittany was a big fan of the AeroPro Drive up at net. She said, "I loved hitting volleys with this racquet. It was very solid up at net, and I had complete confidence volleying any ball that was hit at me. The racquet surprised me by being very maneuverable as well. I had plenty of time to get my racquet in place to hit all types of volleys. Lastly, I had plenty of feel, and actually hit a couple of drop volleys!"
"Volleys were surprisingly enjoyable with this racquet!" said Andy. "You don't think of the Babolats as your classic volleying racquets, but they really play well around the net. It's easy to stick volleys and knife them deep with the stiff frame and large headsize. Once again, the Active Cortex provides more feel than ever on those touch and drop volleys. Because of its weight it's also very maneuverable, and it stays very stable when the ball is hit hard at you or you find yourself stretched out at net. A very solid volleying racquet indeed!"
Serves - Score: 87
Even for our most particular players, this racquet continued to shine on serves. Pace and spin were consistent, and our testers could still hit with pinpoint accuracy. Really finding her big first serves was Siobhan. She said, "It's simple here: Power. Easy access to spin. Maneuverability. Control. Power. Did I say that already? I love the spin opportunities and the way I can hit my spots with big serves. This racquet allowed me to really let go and swing fast for maximum power. My one stab would be that I do notice the stiffness here a little. It isn't something that would stop me from playing with this racquet, but it is a little rough on my shoulder when I really hit with everything I have."
Finding consistency with his power was Chris, who said, "I've always liked serving with the AeroPro Drive, and this new version lived up to my expectations. I was able to access plenty of pace and spin, allowing me to serve aggressively without sacrificing consistency. On first serves I was impressed with the pop. I'm not the biggest server, but I was able to win some quick points when serving with this racquet. I liked the feel of this racquet on serve as well. It felt lively, crisp and very responsive."
The amount of power and control surprised Andy, who loved the combination. He said, "I was absolutely launching the ball off the serve! I felt like my flat serve was coming out of a cannon, and my kick and slice serves had tons of action of them. Furthermore, even with all the added power I didn't feel much loss of control. I still felt like I could put the ball where I wanted, and I was putting it there with tons of juice on it! I really enjoyed the AeroPro Drive on serve!"
Brittany exploited the versatility of her serving arsenal with the AeroPro Drive. She said, "I was able to hit a wide range of serves with conviction. For my first serve, I loved hitting a flat serve into the body, which was very effective in doubles. I also mixed in some slice out wide on the deuce side to add some variety. I found there was plenty of spin potential when hitting my second serve."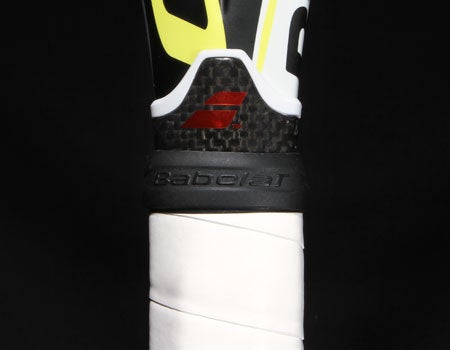 Serve Returns - Score: 82
Returning as aggressively as they were serving, most of the playtesters found enough power, control and spin to put their opponents under pressure. Finding his big swings, yet losing some accuracy, was Andy. He said, "Returning with this racquet was great, but this is the one area I felt a slight loss of control. I like to take a big cut on my return, but I also like to take the ball early and use the server's pace, and sometimes I just felt the return get away from me a bit. I ended up bringing my targets in from the lines and taking the same big cuts, but I didn't feel I could be as accurate as I normally am on the return."
Also needing to pull her returns in a little was Siobhan, although she enjoyed the powerful response. "Wunderbar!" she exclaimed. "Returns were very fun! I was able to really whip the racquet around, although I had to rein in the power because this racquet almost whips around too fast. Once again, I felt like I could control my returns, and I enjoyed turning on the spin when I felt like it. I had to exercise some self-control on returns because the AeroPro Drive will give you everything you ask of it, and more."
Chris loved returning with this AeroPro Drive. He explained, "I was able to take a good crack at a lot of returns. The racquet felt super fast, and all the spin I was getting helped me hit some crushing shots. I felt confident stepping inside the court and taking the ball early, such was the level of control I was finding. On the backhand side I found this racquet was fast enough to drive the ball with topspin yet have just enough stability to block or chip a slice return."
Brittany enjoys taking big swings on her returns, and she easily settled into a comfort zone with this racquet. She said, "One of my best shots is my return of serve, and racquets that offer maneuverability and stability often complement my aggressive style. The AeroPro Drive fit my game style perfectly, offering everything I need to hit big returns. I was able to take big cuts at the return yet still maintain control. I found I had plenty of spin to keep the ball low, especially when my opponents were serving and volleying."
Overall - Score: 88
Likes
Chris - "I liked the spin, maneuverability, crisp and clean feel, power, and just how easy it made it to hit the ball with depth and pace. It was a very forgiving racquet."
Brittany - "I loved the maneuverability and spin this racquet offered. A big plus for me was the excellent feel and touch I got up at net."
Siobhan - "Complete combination of everything: power, control, spin, maneuverability."
Andy - "I loved the forgiveness, power and spin potential, and super solid feel from all areas of the court."
Dislikes
Chris - "None really."
Brittany - "Unfortunately, this racquet was too stiff for me."
Siobhan - "Stiffness, but, we all know these racquets are stiff, so it shouldn't come as a surprise."
Andy - "Other than a slight loss in control on my returns, there wasn't much I didn't like about this racquet!"
Comparing the racquet to others they've tried, our testers said:
Chris - "This racquet is most similar to the one it replaces and the Pure Drive. It fits right in there with those two and really impresses with spin, power and forgiveness. If you have hit a Pure Drive or previous AeroPro Drive, you'll feel the lineage in this one from the first hit. I don't think Babolat has changed much here, and for me that is a very good thing, as the previous version still feels very good. This update has slightly better feel and comes around a tad faster -- both solid improvements to an already impressive racquet."
Brittany - "This racquet played like a mix of the previous AeroPro Drive and the new Babolat Pure Drive. I would say the spin, control and maneuverability is very similar to the 2010 version. With the added Active Cortex the feel was very similar to the Pure Drive, but I would say the AeroPro Drive offers more spin potential while the Pure Drive offers more power."
Siobhan - "Obviously it reminds me of the 2010 model, but it's hands down an improvement on that. Again, it's very similar to the Pure Drive, but instead of the big banging tennis, the AeroPro Drive offers me a smoother, quieter feel that still produces the big power and spin."
Andy - "This is nothing like the midsize frames that I would typically lean toward, and frankly I was very surprised that I enjoyed this racquet so much. It truly is a game changer, allowing you to take huge cuts at the ball without fear of a mishit or loss in control. It's the perfect racquet for developing the modern game. To me, it felt like the Head YOUTEK IG Extreme Pro 2.0 that I recently tested, but with even more power and spin potential. Compared with previous versions, it's more comfortable and possesses more feel than ever. It's a must try for current AeroPro Drive users, as well as any player with the modern big-hitting game."
Technical Specifications

Length
27 inches
69 centimeters
Head Size
100 square inches
645 square centimeters
Weight
11.3 ounces
320 grams
Balance Point
13 inches
33 centimeters
4 Pts Head Light
Construction
23mm / 26mm / 24mm
Composition
Graphite/Tungsten
String Pattern
16 Mains / 19 Crosses

Babolat RDC Ratings

Score

Grade

Flex Rating
69
Range: 0-100
Swing Weight
316
Range: 200-400
Scores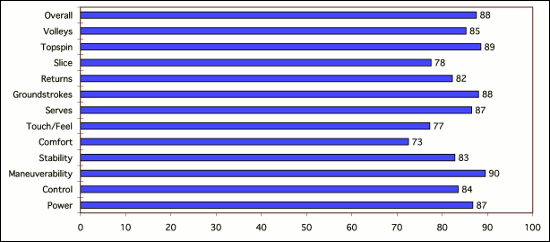 (Scores are determined by averaging individual play test scores)
Chris' Scores
Power
8.4
Serves
8.4
Control
8.2
Groundstrokes
8.6
Maneuverability
9
Returns
8.5
Stability
7.5
Slice
8
Comfort
7.5
Topspin
8.4
Touch/Feel
7.4
Volleys
8
Overall
8.3
Brittany's Scores
Power
8.3
Serves
8.6
Control
8.6
Groundstrokes
8.6
Maneuverability
8.8
Returns
8.6
Stability
8.3
Slice
8
Comfort
6.5
Topspin
9
Touch/Feel
8
Volleys
8.8
Overall
8.3
Siobhan's Scores
Power
9
Serves
8.8
Control
8.6
Groundstrokes
9
Maneuverability
9
Returns
8.8
Stability
8.8
Slice
8
Comfort
7
Topspin
9
Touch/Feel
8
Volleys
8.8
Overall
9.2
Andy's Scores
Power
9
Serves
8.8
Control
8
Groundstrokes
9
Maneuverability
9
Returns
7
Stability
8.5
Slice
7
Comfort
8
Topspin
9
Touch/Feel
7.5
Volleys
8.5
Overall
9.2
Playtester Profiles
Chris: 5.0 all-court player currently using the Volkl C10 Pro 2012. Chris uses a full-western forehand grip, has a fast swing style and hits a one-handed backhand.
Brittany: Open level player with a semi-western forehand and a two-handed backhand. She currently plays with the Yonex V-Core 100S.
Siobhan: Open level player with a semi western forehand and a two-handed backhand. She currently plays Wilson KBlade Team.
Andy: Open level all court player with a semi-western forehand grip and a two handed backhand. Andy currently using a Yonex RDiS 100 Mid.

Review date: November 2012. If you found this review interesting or have further questions or comments please contact us.
All content copyright 2012 Tennis Warehouse.