Tecnifibre TFight 315 Ltd. 16 Main Racquet Review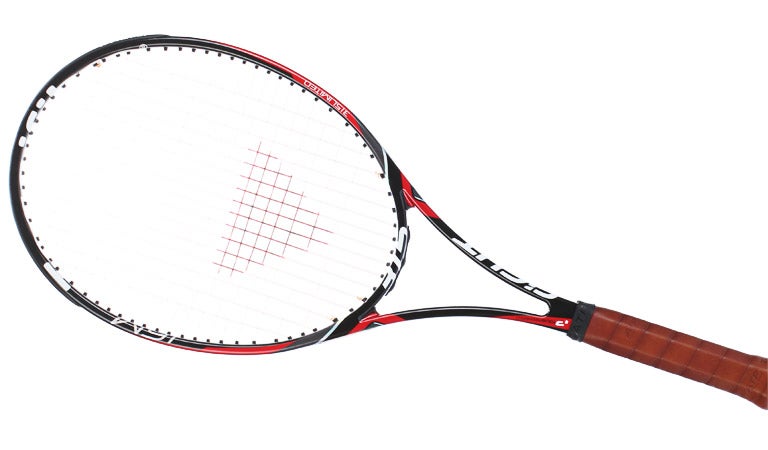 Tecnifibre TFight 315 Ltd. 16 Main Scores
Comfort
85
Touch/Feel
82
Serves
79
Groundstrokes
78
Returns
78
Slice
77
Topspin
79
Volleys
78
Overall
76
Upsides
Fast feel
Livelier than 18x20 version
Power
Spin
Downsides
Not as precise as 18x20 version
Little light for big hitters
Summary
As Tecnifibre introduces the new TFight 315 Ltd. 16 Main racquet, our playtest team has been busy seeing what the open 16x19 string pattern has to offer. Weighing in at 11.6 ounces, this racquet's maneuverability provided a fast feel and great spin potential all over the court, and helped our playtesters' precision and consistency on serves. With a powerful, but slightly inconsistent, response on groundstrokes, the playtesting team had to look for more net clearance and spin to control the ball around the court. The low swingweight was an issue, with instability making power and depth somewhat erratic. Several testers wished for a bit more mass behind the TFight 315 Ltd. 16 Main. They felt the response was lacking in plow through, and that the racquet got pushed around when they were playing bigger hitters. The crisp and compact feel at the net allowed the team to gain more confidence when volleying, and while added mass would have given it more power and stability, the team liked the overall feel of the TFight 315 Ltd. 16 Main.
Groundstrokes - Score: 78
Chris really enjoyed the spin and pop of the racquet, but didn't quite find the response and control he was looking for. He explained, "From the first hit I noticed the livelier feel of this version of the TFight 315 Ltd. The ball came off the stringbed with added zip, and I noticed more hop on topspin shots. It was also easier to get height over the net, as it pretty much happened naturally thanks to the more open string pattern. However, I never felt as dialed in with this racquet. With the 18x20 I found I could be pinpoint accurate. With this version I had to allow myself more room for error because my shots were slightly more erratic. I was fine when rallying cross court. It was when I was looking to be more aggressive that I got into trouble. My passing shots had to be hit with more margin for error, and therefore were not quite as aggressive. I found the same when looking to angle the ball and pull my opponent wide -- often taking some pace off the ball to increase control but losing some offensive fortitude in the process. On the plus side, this was a lower effort racquet, and I found I could rally with better pace while exercising less effort. As with the 18x20 version, this racquet would benefit tremendously from some added weight. Stability and plow through were lacking for me."
Jason also tested both string patterns of the TFight 315 Ltd. side by side. He said, "It definitely provided more power than its 18x20 counterpart, but it was erratic. There were times when I would sail the ball well past the baseline even though I didn't change my stroke or swing speed. However, I did really enjoy the maneuverability and the easy access to spin. When shots were hit in the sweetspot I could really feel the ball pocket in the stringbed. Torsional stability wasn't the best with this stick, and it was magnified when hitting with big hitters like Andy, Carol or Brittany."
"The racquet felt really natural in my hands," said Andy, who felt like he could do whatever he wanted with the ball from the baseline. "The way the racquet is balanced just feels right to me. The open pattern (16x19) is quite lively, and the ball comes off the strings with pop and spin, but with not quite as much control as the 18x20 version. I strung this up a couple pounds tighter to get a little more control. The racquet is very light and felt very maneuverable when I needed to get the racquet around my body quickly. However, since it's so light it could get pushed around a bit by big hitters, but it was certainly a lot more stable than I anticipated when I first saw the weight and swingweight."
Mark enjoyed the feel of the TFight 315 Ltd. 16 Main from the get-go. He said, "I liked it from the first contact was with a forehand, and it basically got better and better as the first session went on. My test racquet had a full set of a poly in the low 50-pound range. With this configuration I was able to develop a pretty noticeable ball pocket, and quickly felt as though I had played with this frame for longer than I had. I didn't feel as though I needed to adjust my swing too much because the ball was not really landing short or too long. I began liking this frame and wound up loving it."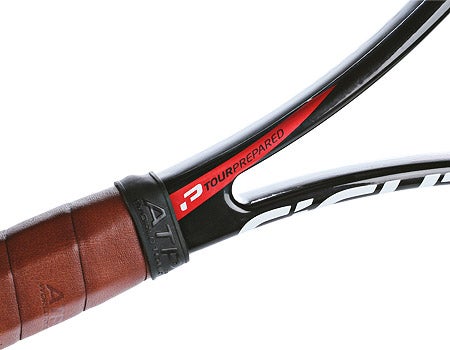 Volleys - Score: 78
Although the maneuverability, feel and crisp response were applauded, most of the team felt the weight of the TFight 315 Ltd. 16 Main prevented it from taking charge at net. Mark again found a groove and felt comfortable with his placement. He said, "I am able to volley confidently from all portions of the court with the open patterned 315 Ltd. The response is crisp and predictable since the beam is pretty firm. Again, I did not have to modify my swing much to get the volley to land where I intended."
Chris felt more dialed in at the net but was left wishing for a few extra ounces. He said, "This racquet offered a very clean feel at net. I was able to dispatch high volleys with ease. Touch shots felt good, but not quite as sweet as with the 18x20 version, which had me feeling completely dialed in. Again, some added weight would be huge. In stock form it got pushed around too much. Weighted up to around 12.2 ounces, this racquet would be a real Wilson Six.One 95 competitor."
Once again, Andy felt the maneuverability and feel were the shining attributes of this racquet. He said, "Since the balance was dead on for me it felt like a magic wand around the net, and I felt like I could hit any shot with it. As before, the lack of mass came into play. I really felt like I had to punch the volley to hit it with any kind of pace, and if I caught a hard hit ball a little off-center the racquet would twist in my hand. The open pattern gave me a little more access to knifing a volley hard with spin, but the trade-off was a slight lack of precision. With that said, maneuverability and feel stood out, and I really enjoyed volleying with this racquet."
Jason felt it was important to focus on the ball hitting the middle of the strings to get the most out of this racquet. He said, "If anything, this racquet forced me to watch the ball all the way into my racquet. I had to really make sure I hit my volleys in the sweetspot, otherwise the racquet would get torsionally unstable. Fortunately, getting a racquet on a shot, even one to the body, wasn't a problem because of how easy it was to swing."
Serves - Score: 79
Access to great control, mostly from the spin potential and maneuverability, had the playtesters hitting consistent serves. Like at net, several would have liked a little more mass to add some weight behind the ball. Andy explained, "This is where the lack of mass came into play the most. I would have liked a little more heft at the top of my swing to really get the most power on each serve. At the same time, I felt like I had total precision over my serves, and the 16x19 pattern gave me a lot of spin for hard slices or kicks."
Wishing for more power was Jason. He said, "I feel like this racquet has a low ceiling on the amount of power it can produce. No matter how hard I try to swing on my serves, it only goes so fast. Luckily, I rarely go for a hard, flat first serve. Most of the time I slice my serves, and this racquet actually does that quite well. Great access to spin and great maneuverability equal consistency and a high percentage of my serves landing in."
Mark found the weight provided enough heft to hit the ball the way he wanted. He said, "The frame I was playing with had the 301 swingweight paired with the 11.6 ounce static weight, so I was thinking that it would feel light once the racquet was over my head, but I was wrong. I had a great time serving with it, and like the rest of this story, the term 'predictable' keeps coming up for me."
"Thanks to the open string pattern, pace and spin were both better compared to the 18x20 version and racquets such as a Head Radical Midplus or Dunlop Biomimetic 300 Tour," said Chris. "I was able to move the ball around the service box with excellent variety and find my targets well. The only issue was that my serves lacked weight and sat up too much. I found it tougher than usual to force return errors, and I found my opponents were attacking my serves more than usual. Some added weight would go a long way in helping me get my serves away easier."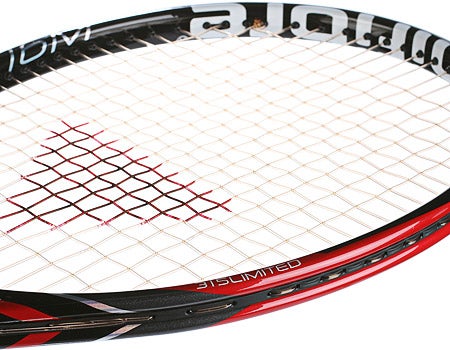 Serve Returns - Score: 78
With the maneuverability kicking in again, the playtesters were able to generate some great spin and racquet head speed, although they kept wishing for more mass. Struggling with the response on heavier, faster serves was Jason. He said, "Like with almost every other stroke, this racquet would've benefited from some lead tape. Not only to up the mass to help get my returns deeper, but also to increase the torsional stability. It was nice for returning slower serves, but somewhat of a liability when trying to return harder hit serves."
Mark was able to access his full array of returns. He offered, "With the 301 swingweight I'm able to take a slightly more aggressive cut at the return, and it's stable enough for me to hit my usual chip/block return as well."
"The great maneuverability and control made this an excellent racquet to return with," said Andy. "The natural feel of it in my hands allowed me to hit some creative chip returns when I wanted to. Once again, a little more mass in the head would've provided a little more stability when stretched wide, but I didn't think that came into play a whole lot. I felt really in control of my returns, and I think it's one of the areas where this racquet really excels."
Chris found it fun to return with this racquet, saying, "I could get lots of spin and swing aggressively. Mixing both pace and direction was easy to do, but I never found quite the control and precision I found with the 18x20 pattern when going for a sharp angle or flirting with the lines. Comfort was surprisingly good considering how light this racquet is."
Overall - Score: 76
Likes
Chris - "I liked the spin, comfort and fast feel. The leather grip was also a nice addition."
Andy - "I loved the feel and balance (weight distribution) of this racquet. I don't know how else to describe it other than it just felt right in my hands. I also enjoyed the maneuverability."
Jason - "Easy access to spin and maneuverability."
Mark - "Weight, balance, head size, and beam firmness-wise, this racquet is right up my alley. This racquet and the 18x20 version of this frame are my two favorite Tecnifibre racquets."
Dislikes
Chris - "Needs weight to improve stability and plow through."
Andy - "A little more weight to this racquet would've given it some more stability. It would be perfect if I could keep the balance the same and just add about an ounce of weight to the frame."
Jason - "It lacked power and stability due to the lack of mass."
Mark - "Nothing. Performance-wise, I think this frame is top notch."
Comparing this racquet to others they've tried, our testers said:
Chris - "Two racquets come immediately to mind after hitting with this racquet, the Dunlop Biomimetic 300 and the Wilson Six.One 95 Team. Both of those offer a similar light and fast feel, but also lack the weight to be stable and solid during heavy hitting."
Andy - "It comes in virtually identical in specs to its 18x20 brother. This 16x19 offering provides a little more access to power and spin but was lacking a bit of control, and because of that I preferred the 18x20 version. This racquet felt natural in my hands, and I also got that feeling with the new Wilson Blades. However, this racquet is lighter and doesn't have the stability and plow through of the the Blade 98."
Jason - "It's low powered and spin friendly like the Volkl Organix 10 295g."
Mark - "The 315 Ltd. 16x19 reminded me of some of my other favorite frames. The Prestige Pro is definitely comparable to this frame, as is the Donnay Pro One 97 (16x19) and Head IG Speed 16x19."
Technical Specifications

Length
27 inches
69 centimeters
Head Size
98 square inches
632 square centimeters
Weight
11.6 ounces
329 grams
Balance Point
12.6 inches
32 centimeters
7pts Head Light
Construction
20mm / 20mm / 20.5mm
Composition
Graphite / Texalium
String Pattern
16 Mains / 19 Crosses

Babolat RDC Ratings

Score

Grade

Flex Rating
59
Range: 0-100
Swing Weight
301
Range: 200-400
Scores
(Scores are determined by averaging individual play test scores)
Chris' Scores
Power
7.8
Serves
7.8
Control
8
Groundstrokes
7.6
Maneuverability
8.7
Returns
8.3
Stability
7.3
Slice
8
Comfort
8.4
Topspin
8.5
Touch/Feel
7.8
Volleys
7.7
Overall
7.6
Mark's Scores
Power
8
Serves
8.5
Control
8
Groundstrokes
8.5
Maneuverability
8
Returns
8
Stability
8
Slice
7.5
Comfort
8.5
Topspin
8
Touch/Feel
8
Volleys
8.5
Overall
8.2
Andy's Scores
Power
7.8
Serves
7
Control
7.5
Groundstrokes
7.5
Maneuverability
9.5
Returns
8
Stability
7
Slice
8
Comfort
8.5
Topspin
7
Touch/Feel
9
Volleys
7.5
Overall
7
Jason's Scores
Power
7.2
Serves
8.1
Control
7.6
Groundstrokes
7.5
Maneuverability
9.5
Returns
7
Stability
7.8
Slice
7.4
Comfort
8.4
Topspin
8
Touch/Feel
8
Volleys
7.3
Overall
7.5
Playtester Profiles
Chris: 5.0 all-court player currently using the Volkl C10 Pro 2012. Chris uses a full-western forehand grip, has a fast swing style and hits a one-handed backhand.
Mark: 5.0 lefty all-court player with a one-handed backhand. He currently plays with the Dunlop Aerogel 4D 200.
Andy: Open level all court player with a semi-western forehand grip and a two handed backhand. Andy currently using a Yonex RDiS 100 Mid.
Jason: 4.0 baseliner with a semi-western forehand and two handed backhand. Currently using a Wilson Steam 99 S.

Review date: March 2013. If you found this review interesting or have further questions or comments please contact us.
All content copyright 2013 Tennis Warehouse.