Yonex EZONE Xi Racquet Review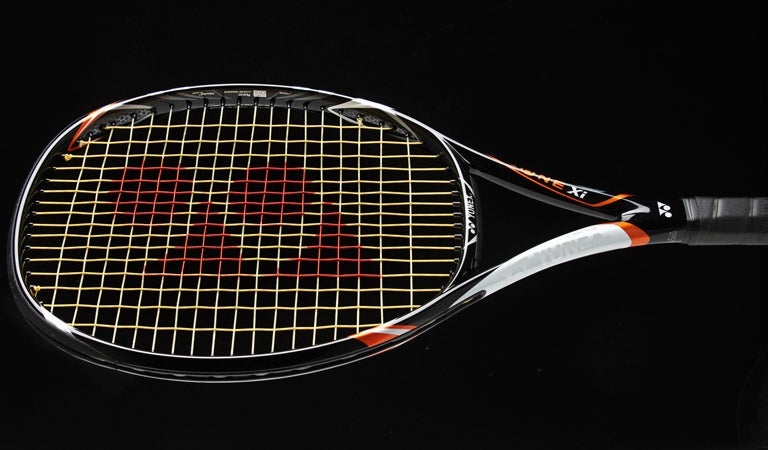 Yonex EZONE Xi Racquet Scores
Comfort
79
Touch/Feel
82
Serves
82
Groundstrokes
88
Returns
85
Slice
76
Topspin
85
Volleys
82
Overall
85
Upsides
Power, power and more power
Easy to hit spin
Maneuverability
Touch/feel
Downsides
Sometimes too much power
Head shape takes adjustment period
Summary
If you're looking for power and spin, combined with the ability to hit with depth and heavy pace, look no further. The Yonex EZONE Xi, the choice of Maria Kirilenko, has all that and more. Yonex's redesigned Extra Isometric Technology has moved the sweetspot higher up the racquet and is designed to reduce vibrations and provide more power at impact -- and, boy, did our testers notice the power. While our playtesters loved the power and felt like they were able to hit aggressive, deep balls, they did need time to adapt. Fortunately, spin is easy to hit with this racquet, because it was needed to control the power. There were some problems with framing and shanking the ball off the Isometric head, but as the playtest continued it happened less often. Great maneuverability and quick responses were also enjoyed all over the court, particularly at net. At times this racquet was a little too much to handle in the power department, but the spin, control and touch made the EZONE Xi a favorite with our team.
Groundstrokes - Score: 88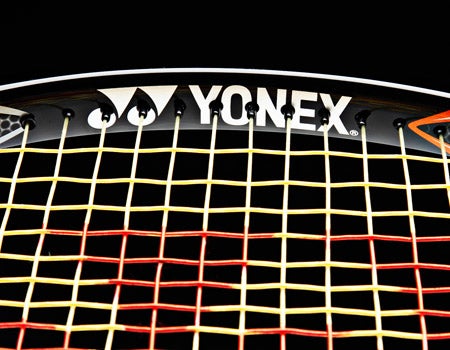 The tremendous power of the EZONE Xi allowed our playtesters to rip the ball, but they struggled at times to tame this beast. Brittany noticed the additional pop that the EZONE Xi gave her. She said, "The first thing I found when I playtested this racquet was power, and lots of it. My backhand is normally my main weapon, but with this racquet I was absolutely ripping my forehand. I think my favorite shot to hit was the down the line forehand. Additionally, it was very easy to get all of my groundstrokes deep in the court. During my initial hit with this racquet I was shanking a lot of balls, so I thought an adjustment period was in order. However, after several weeks I was still shanking balls from the baseline. I think I had to adapt to the head shape of this racquet and to the sweetspot being a little higher than I'm used to. I also noticed that this racquet's head size feels smaller than 100 square inches."
Siobhan agreed, commenting on the added spin and control. She offered, "I really liked this racquet from the baseline. It was very solid, and I particularly liked the power and spin I was able to produce. I also thought my control was really good. If I used my spin to rein in the power a little bit my control and my placement were really good. I really liked how I could completely, absolutely, utterly rip things from the baseline. I did struggle with the head shape, as it was more square than I am used to and I framed and shanked a lot more balls. I had to adjust to the higher sweetspot, but I actually prefer it because I tend to hit higher up on my strings. This racquet was just really enjoyable for me to play with. It gave me exactly what I wanted and allowed me to play precise, powerful tennis."
Volleys - Score: 82
Our testers enjoyed the great maneuverability and the quick response at the net. Siobhan felt she had a lot of control at the net. She said, "It gave me good hands! Both touch and feel were extremely enjoyable, and I really felt like I was in control at the net. This racquet is really maneuverable, and when I went up for smashes the power was noticeable. The solid feel is also very apparent up at net, and I felt like I had enough stick behind the ball. I did frame a few volleys (probably because I don't move my feet enough)."
Brittany was pleasantly surprised with the amount of feel and touch she found. She said, "I even won some points on angle volleys and drop volleys (which is very rare for me!). I found this racquet very maneuverable up at net, which helped me hit some nice reflex volleys, especially when playing doubles."
Serves - Score: 82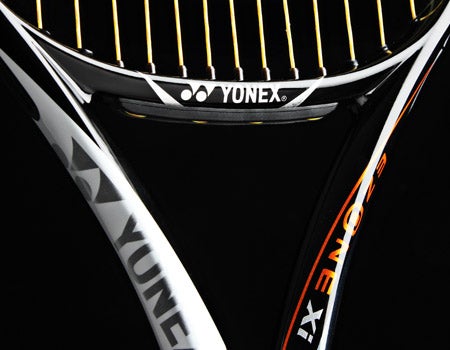 The power of the EZONE Xi was noticeable again on serves, which resulted in some issues and some successes. Brittany struggled a little bit with her serve, sometimes finding the power to be a little too much. She said, "Serves were tricky for me. Like groundstrokes, I received a lot of power, sometimes too much power. With this racquet I had to hold back on my flat first serve and opt for a more spin-friendly serve. I found myself serving a lot of first serves into the body on the deuce side and down the T on the ad side. Nevertheless, my second serve was great. I was able to really go after the ball and get a lot of spin for a consistent second serve."
Siobhan felt really solid on serves but also noticed she sometimes sacrificed control for power. She said, "I'm not short, but I'm not tall either, so I enjoy a little more pop on the ball because I have trouble generating it myself sometimes. This racquet brought the heat. I liked how I could hit really big first serves (sometimes at the expense of control) and put really heavy spin on my second serves. It was really maneuverable and whippy, so I could get it through the air fast to give myself some really great head speed."
Serve Returns - Score: 85
Both players enjoyed hitting hard, flat, powerful serve returns, but sometimes needed spin to bring the ball back into the court. Loving how she was able to get her racquet back, but looking for extra spin, was Brittany, who said, "Being very maneuverable, this racquet was easy to get into position for every serve. I still found a lot of power on returns and had to concentrate on getting some extra spin to keep the ball in the court. I enjoyed returning in doubles more as I found the spin would keep the ball low, making it hard for the server to hit his first volley (shout out to Chris for being a good sport!)."
Siobhan really took advantage of the power that the EZONE Xi provided. She said, "Even with a shortened swing I was really able to rip some big returns with this racquet. I felt extremely dominant, and I think this is where the power really came into play. Maneuverable, solid, and comfortable, I really can't say enough. I didn't have to struggle to find any power, particularly when the ball was coming onto me fast. I was hitting some clean winners off returns, which never happens for me. Spin was needed to calm things down a little sometimes, but overall I loved the power on this shot."
Overall - Score: 85
Likes
Siobhan - "Power and spin combined to give great control."
Brittany - "I loved the power from the baseline and the feel up at net."
Dislikes
Siobhan - "I framed a few shots due to the shape of the racquet, but no real complaints."
Brittany - "I wasn't a fan of the head shape. It caused me to shank a lot of balls."
Comparing the racquet to others they've tried, our testers said:
Siobhan - "My closest bet would be the Donnay Formula 100 for the mix of power, spin and control, although this Xi 100 was a little more powerful than the Donnay."
Brittany - "I found this most similar to the previous version, the Yonex EZONE 100. They have many of the same characteristics, including power and feel. I enjoyed the extra touch and feel that the Yonex EZONE Xi offered."
Technical Specifications

Length
27 inches
69 centimeters
Head Size
100 square inches
645 square centimeters
Weight
11 ounces
312 grams
Balance Point
13.1 inches
33 centimeters
3.2pts Head Light
Construction
24.5mm / 27mm / 23mm
Composition
HM Graphite + X Fullerene
String Pattern
16 Mains / 18 Crosses

Babolat RDC Ratings

Score

Grade

Flex Rating
67
Range: 0-100
Swing Weight
312
Range: 200-400
Scores
(Scores are determined by averaging individual play test scores)
Siobhan's Scores
Power
9.3
Serves
8.5
Control
8
Groundstrokes
9
Maneuverability
8.5
Returns
9
Stability
7.5
Slice
7.5
Comfort
8
Topspin
8.5
Touch/Feel
8
Volleys
8
Overall
8.8
Brittany's Scores
Power
9.2
Serves
7.9
Control
7.3
Groundstrokes
8.5
Maneuverability
8.3
Returns
8
Stability
7.4
Slice
7.7
Comfort
7.8
Topspin
8.4
Touch/Feel
8.3
Volleys
8.3
Overall
8.2
Playtester Profiles
Siobhan: Open level player with a semi western forehand and a two-handed backhand. She currently plays Wilson KBlade Team.
Brittany: Open level player with a semi-western forehand and a two-handed backhand. She currently plays with the Yonex V-Core 100S.

Review date: August 2012. If you found this review interesting or have further questions or comments please contact us.
All content copyright 2012 Tennis Warehouse.