Volkl Organix 10 (295g) Racquet Review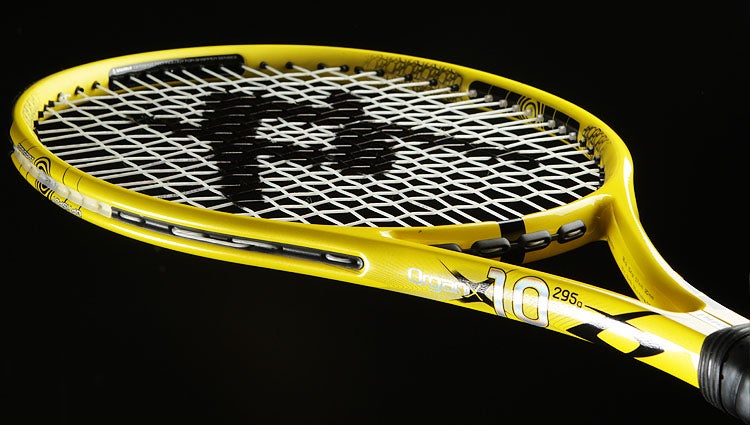 Volkl Organix 10 (295g) Scores
Comfort
74
Touch/Feel
77
Serves
73
Groundstrokes
73
Returns
73
Slice
78
Topspin
73
Volleys
71
Overall
72
Upsides
Control
Touch
Access to spin
Maneuverable
Downsides
Low powered
Unstable against big hitters
Summary
Though "light" is not in the name, the Organix 10 295g is the less hefty of the options in the current Volkl 10 lineup. With a quick look at the specs, you might guess that this is geared to be a lightweight, control-oriented player's racquet, and you'd be right. After testing, our team found that there was plenty of control and spin (especially slice) to be found. With excellent maneuverability, the team regularly doled out angled winners. The lightweight frame did get pushed around when it came to heavy hitting, but there's plenty of room to beef up this lighter Organix 10 beyond its 295 grams, making this a must demo for players seeking control, excellent touch and mobility.

Updates to popular player's racquets often involve new cosmetics, new technologies or new materials, but their specs usually don't change much. In this latest version of the Volkl 10 racquet we see three new technologies: OptiSpot, the namesake Organix and the BioSensor handle. However, what stood out to us was the string pattern, which changed to 16x19 from the 18x20 seen in the Power Bridge series.
Because this change caught our eye, we decided to add the Organix 10 295g to the review list. As we saw in the Power Bridge line up, there is both a heavy and a light Organix 10 Midplus. This time we took a look at the lighter of the two. We handed over several test frames to our team, told them they could string them however they wanted, and let them have at it. Here's what they had to say.
Groundstrokes - Score: 73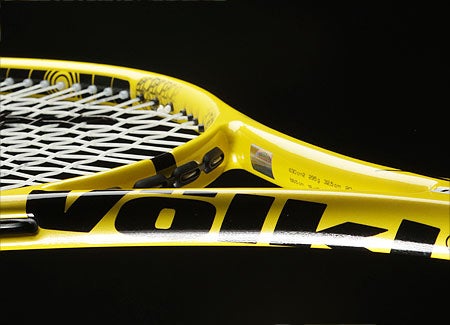 With its lighter weight and head light balance, the Organix 10 295g got a wide range of reviews from the playtesting team. Brittany said, "I have mixed feelings about my groundstrokes. Off the baseline, I found I had access to depth and pace when I was returning balls that were landing between the service line and no man's land. However, when I am playing someone who hits deeper and heavier balls, I felt like the racquet was being pushed around. One of my favorite shots to hit with this racquet was the angled forehand. In addition, I felt I could hit solid slices that would stay low on the court."
The racquet needed fine-tuning of the string setup for Jason, who said, "First off, it felt to me that the racquet was completely different with different string setups. With a poly, the racquet lacked power and felt dead, but with a multi-filament at a lower tension I was able to get more of the pop I was looking for. I was able to generate some nice racquet head speed, resulting in nice spin, but it felt like it got pushed around when I was playing against the harder hitting playtesters. There are some dead spots on the stringbed where there is a noticeable drop in power. What I did like about this racquet, however, was hitting angles and slicing. I was able to hit some nice, dirty slices with this one."
Kana had to adjust her game. She offered, "It's not as maneuverable as the Power Bridge version, as it's less head light and heavier. It seemed as though my shots were landing shorter than usual, but I was able to adjust accordingly. I was most comfortable on my backhand side because I could put more of my body into it to create a more aggressive shot. It did feel a bit stiff and lower powered than I like, causing me to use more effort than usual."
Suzie enjoyed the response, saying, "There was a good combination of power and control in my groundstrokes. I could place the ball very deep without much effort, but at the same time I could hit angles really well. The racquet was very maneuverable, and I felt like my on-the-run angle pass was better with the Volkl Organix 10 295 than when I use my own Wilson KZen."
"I had mixed feelings about this lighter Organix 10," said Tiffani. "On the upside, it was very easy to swing. The thinner beam paired with the head light balance made this come around very easily for me. As I returned to the court after a long layoff, I was catching the leading edge of some wider body racquets, but didn't have that problem with this one. I also really enjoyed the feel, and found a lot of comfort. On the flipside, the racquet just didn't offer me much power. A lot of my shots landed at the service line, and after adjusting, I could hit deeper into the court. However, I also found that I would hit them just long a lot, most likely because I don't use much topspin. I did, however, find this racquet responded well to slice shots. I could hit a low, skidding slice backhand."
Volleys - Score: 71
Most of the team found the Organix 10 295 delivered nice touch at net. Suzie said, "The volleys sprung off my racquet. It was more power than I was used to. So when I adjusted my net game to hit drop volleys and angle volleys, I realized it was easier to control if I added more finesse on the shot."
Brittany agreed, saying, "With my volleys I had great touch and feel. I could angle the ball short and pull my opponents off the court with ease."
Finding pros and cons with the racquet's weight, Tiffani said, "The racquet feels pretty light, which helps me a lot by making me feel comfortable coming into net. The feel I got also helped me control my volleys when I had some time. However, I did find it to be a little unstable when coming up against a well struck ball. If I came into net more, I think more weight would be needed in the head for stability, even at the cost of losing some mobility."
Jason felt weight was again an issue. He said, "The feeling of the racquet being pushed around was magnified at net. The racquet definitely felt lighter than the 11 ounce strung weight. I felt there were some torsional instability issues as well. With that being said, I did like it for touch volleys, and overheads were easily executed. I could get good zip on my overheads with multi-filament strings."
Kana didn't find her rhythm, and said, "I felt uncomfortable at the net because I didn't have a feel for the ball. I could feel the vibrations on impact because the racquet is stiffer than I like. I could get my regular volleys over, but I seemed to lack control on touch volleys."
Serves - Score: 73
The Organix 10 295's specs all added up to a control-oriented response for our team while serving. Jason said, "Even though I felt that I couldn't crank the serve as fast as I could with other racquets, I did appreciate the consistency. I was able to get a high serving percentage by spinning the ball in. The thing I liked most about it though, was that it was very comfortable for my shoulder."
The racquet also had Tiffani searching for power. She said, "Though I felt comfortable with this racquet in my hand, I couldn't get much pace on serves. The combination of the light weight, the head light balance and the thin beam width resulted in no power for me. I struggle to generate pace on my own, so I pretty much served second serves the entire time with the Organix 10 295g."
Kana had similar thoughts and said, "I wasn't really able to serve with variety, and I felt my serves weren't as aggressive because of the lack of power. I would need a lot of racquet head speed to generate a strong serve. I could consistently hit the middle and T, but it required a lot of effort to kick it up out wide."
Changing her technique helped Suzie, who said, "I realized I really had to use my feet to go up and get the ball in order to get that pop that I am used to on my serve. I had to use extra legs and strength from my lower body to get the pace that I am used to. However, when I adjusted my legs, I really liked the kick on my serve. It was very easy to place my serves as well, which was a nice way to dictate the point."
Brittany kept trying to find her groove. She reported, "This was the area I struggled with the most. I could not find my feel on any of my serves. I was having trouble hitting flat first serves and could not get the spin or kick I was looking for on my second serve."
Serve Returns - Score: 73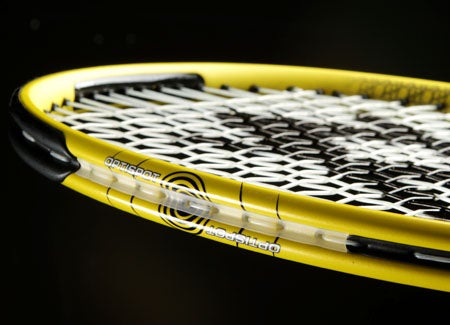 The results were mixed when it came to returning serves. Noting her strong return, Brittany was impressed, saying, "Being one of my favorite shots to hit, my return was definitely up to par with this racquet. I could take a compact swing and consistently place the ball wherever I wanted on the court."
Kana noted stability issues by saying, "This racquet felt solid against slower serves. The racquet had enough stability for me to be able to take a short swing and punch the return back. When it came to heavier serves, I felt a little bit of a flutter from the racquet and my returns usually landed short."
Having similar sentiments, Jason said, "I felt this racquet, combined with my skills, left a lot of returns short. If I connected in the sweetspot there was some power behind it, but if not, balls were landing at the service line. To get some depth on my returns I'd hit a slice and float it back into play."
Tiffani said, "It was, again, a good and not-so-good experience for me on returns. Mobility continued to be a plus. It was easy to take quick swings and to take a stab at just about any serve. However, when the bigger serves came in at me the racquet didn't have the guts to stand up to the power and would flutter, leaving the ball short in the court."
Suzie was able to mix it up on returns. She said, "The serve return was difficult for me at first. My returns were flying a few inches long almost every time. However, I realized if I could return the ball at an angle I could create a better opening, so I ended up using my angle and slice more off the return. In doubles I had a lot of control on the return lob with this racquet."
Overall - Score: 72
Likes
Brittany - "I liked the angles, slice and touch that I could hit with this racquet."
Jason - "The maneuverability and slice."
Kana - "This felt more stable than the Power Bridge version."
Suzie - "I liked my touch and slice with this racquet. I had more finesse than usual and thought I could place the ball on the short angles very well. I also liked the lob with this racquet, and my second serve kick serve."
Tiffani - "It's really maneuverable, and I liked the feel that helped me hit skidding slice backhands."
Dislikes
Brittany - "I didn't like how the racquet was being pushed around on groundstrokes."
Jason - "Very string sensitive (I hated it with a poly, liked it with a multi). It also lacked mass."
Kana - "The racquet was too stiff and low powered for my taste."
Suzie - "My normal returns were flying long and I did not have as much control on my volleys as I am used to."
Tiffani - "I say this with every Volkl racquet. I'm just not a fan of the grip shape, though this one felt a bit small for its listed size, so it was less noticeable. It was also under-powered for me."
Technical Specifications

Length
27 inches
69 centimeters
Head Size
98 square inches
632 square centimeters
Weight
11 ounces
312 grams
Balance Point
13.1 inches
33 centimeters
3.2pts Head Light
Construction
20mm Straight Beam
Composition
Organix / Carbon / Fiberglass
String Pattern
16 Mains / 19 Crosses

Babolat RDC Ratings

Score

Grade

Flex Rating
62
Range: 0-100
Swing Weight
313
Range: 200-400
Scores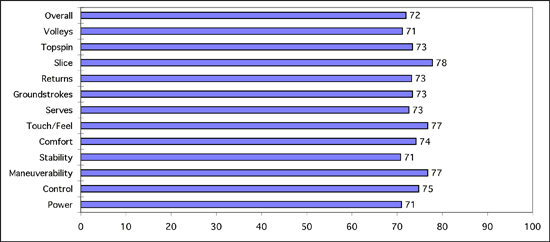 (Scores are determined by averaging individual play test scores)
Brittany's Scores
Power
7
Serves
6.8
Control
7.3
Groundstrokes
6.8
Maneuverability
7.1
Returns
7.6
Stability
6.5
Slice
7.6
Comfort
7
Topspin
7
Touch/Feel
7.8
Volleys
7.1
Overall
7
Jason's Scores
Power
7.6
Serves
8
Control
7.7
Groundstrokes
7.8
Maneuverability
8.5
Returns
7.2
Stability
6.9
Slice
8.3
Comfort
8
Topspin
8
Touch/Feel
8.1
Volleys
7.3
Overall
7.3
Kana's Scores
Power
7
Serves
7.3
Control
7.2
Groundstrokes
7.4
Maneuverability
7.6
Returns
7.4
Stability
7.7
Slice
7.6
Comfort
7.2
Topspin
7.2
Touch/Feel
7.2
Volleys
7
Overall
7.2
Suzie's Scores
Power
6.9
Serves
7
Control
7.2
Groundstrokes
7
Maneuverability
7.3
Returns
7
Stability
7
Slice
7.4
Comfort
6.9
Topspin
7
Touch/Feel
7.3
Volleys
6.7
Overall
7
Tiffani's Scores
Power
7
Serves
7.2
Control
8
Groundstrokes
7.7
Maneuverability
7.9
Returns
7.4
Stability
7.3
Slice
8
Comfort
8
Topspin
7.5
Touch/Feel
8
Volleys
7.5
Overall
7.5
Playtester Profiles
Brittany: Open level player with a semi-western forehand and a two handed backhand. She currently plays with the Yonex V-Core 100S.
Jason: 4.0 baseliner with a semi-western forehand and two handed backhand. Currently using a Boris Becker Delta Core London.
Kana: Open level baseliner with a western forehand and two-handed backhand. Currently using a customized Volkl V1 Classic.
Suzie: Open level player with a semi-western forehand and a two handed backhand. Suzie is an aggressive baseliner with flat shots. Currently plays with the Wilson K Factor KZen (customized).
Tiffani: 4.0 level baseliner with a semiwestern grip on the forehand and hits a two-handed backhand. Currently playing with the Yonex RDS 003 (08 version).

Review date: June 2011. If you found this review interesting or have further questions or comments please contact us.
All content copyright 2011 Tennis Warehouse.