Dunlop Biomimetic 300 Racquet Review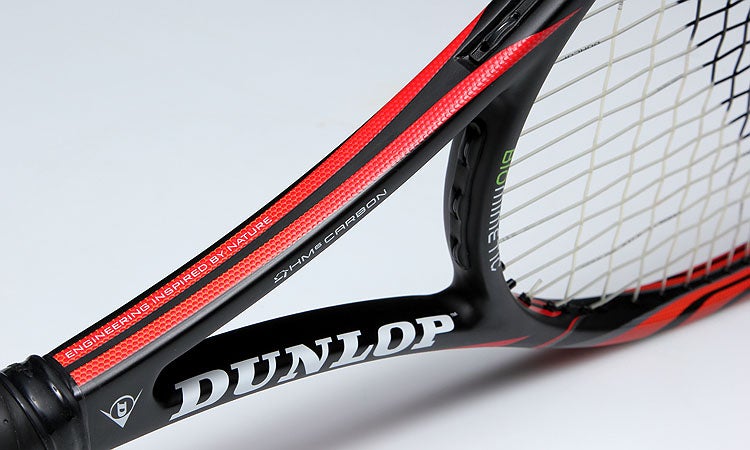 It seems that everything in our world is getting back to nature. For example, bamboo is being used in performance apparel, whereas, in the past, there was only polyester. In food, even Cheetos have gone "natural."
When it came to designing a new line of racquets, Dunlop took a cue from nature as well. While keeping familiar materials (graphite) for the construction, Dunlop was inspired by nature in the racquets' design elements; this idea of nature as inspiration in technology design is called biomimetics.
While it may be the trend to go natural in other industries, the idea of biomimetics isn't a new one. Surely you've heard of Velcro. That was invented in 1941 by George de Mestral, who saw burrs sticking to his dog's fur. From that observation, the idea for Velcro was born.
Now, in 2010, Dunlop introduces its Biomimetics line of racquets with nature-inspired technologies. Aeroskin, which features bumps on the racquet surface for better aerodynamics, is based on sharkskin. HM6 Carbon layers in the frame are based on honeycombs for greater strength and excellent impact absorption. Gecko-Tac grips are based on the pads of gecko's feet to offer tack without stickiness.
With the popular 300 racquet getting the Biomimetic update and ATP pro Fernando Verdasco making the switch, we had to see how the Biomimetic 300 played on court. Our playtesters (some possibly fueled by Natural Cheetos) went out for a month-long playtest. Here's what they had to say when they reported back.
Groundstrokes - Score: 80
From the baseline, our testing team all agreed on one thing: control. Brittany was finding her spots, saying, "After getting a feel for the racquet I was able to generate a lot of spin. After playing several opponents I was told that my ball was heavy off the court. I felt my placement was spot on, and I enjoyed hitting heavy angles with confidence. On the downside, I struggled hitting slice, and the ball tended to float. I also had trouble keeping the ball deep and hitting through my groundstrokes, but after some adjusting I was able to hit through the ball very cleanly."
The Biomimetic 300 weighs in at 10.9 ounces strung, and Chris is used to heavier sticks. He said, "This racquet felt very, very fast off the ground. I was getting a lot of racquet head speed, which enabled me to put a lot of spin on my shots. I liked the feel better on a faster swing, and the racquet felt more solid. However, I found the power to be lacking, and I was running out of mass when looking to hit a really penetrating ball. It would be an easy fix to beef this one up with some lead tape, and in stock form this would be a good platform racquet for me to customize."
Suzie, though, was on the other side of the spectrum on the racquet's weight, saying, "I use the Wilson KZen, and the Biomimetic 300 felt a little heavy and stiff at first. My shots were really landing short. However, as I swung a little harder and used more of my own strength, I really liked my baseline game and was eventually hitting very deep shots. I especially liked the control I had using this racquet, and I felt like I could place the ball anywhere I wanted. It did not have as much power as I am used to, but I did like the angles I was able to create off my groundstrokes, especially off my forehand."
"The Biomimetic 300 was a very solid racquet from the baseline, offering excellent control and stability," said Ryan. "Ball placement was easy, and generating different kinds of spin was not a problem at all. Power was fairly low, which was acceptable since the racquet is much more control oriented. It felt heftier in my hands than other racquets of comparable weight/balance, which was useful when the ball missed the sweetspot, which I felt was slightly smaller than average."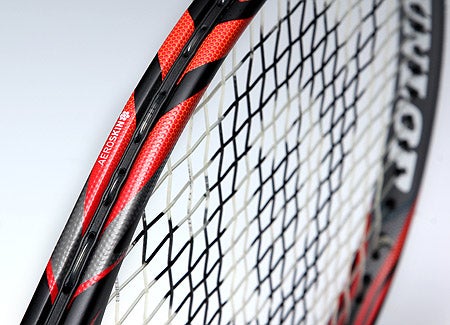 Volleys - Score: 81
Feedback was mixed from the team when it came to playing up at net. Suzie played with variety, saying, "My volleys felt exceptionally good with this racquet. I felt like I could hit solid and crisp volleys, probably due to the weight of the racquet, but at the same time I felt like the touch was amazing. I normally do not hit soft angle volleys, and I was able to hit many drop shot volley winners."
Ryan and Brittany, though, struggled some. Ryan said, "I liked the feel of this racquet from all areas of the court. Volleys were easy to punch through even though reaction volleys could be tough due to the balance of the frame. I almost never felt bad feedback from the frame, which was a plus, and even without a dampener the feel of ball impact was comfortable."
Said Brittany, "I really struggled hitting volleys with this racquet. I was having trouble maneuvering the racquet and punching through the ball, perhaps because of the racquet's balance and light weight. I also felt the racquet was lacking touch."
Chris was impressed, however. He reported, "The racquet felt really fast at net. I was finding a lot of feel to go along with the maneuverability, and I volleyed well with this stick. I would definitely add some weight to this racquet for more punch and stability, but even in stock form I was happy at net."
Serves - Score: 80
Most of our testers found themselves tossing up an array of serves. Chris said, "I was serving with a high level of consistency with this racquet. I was able to get some good bite on the ball and move my targeting around the box with spin. I ran into some issues when trying to crank up a big serve and never really found the pace or hop I was seeking. I quickly just switched to hitting serves with more spin, which proved to be very successful with this racquet. As far as serving variety went, I was impressed with what I could do with this racquet. As far as pace went, I would weight this one up to increase firepower."
Brittany found the racquet serve-friendly, saying, "This was probably my favorite part of this racquet. I was achieving great placement and control off both serves. The consistency of my first serve dramatically increased, and I felt I was creating more spin off my second. I was able to hit a variety of serves with ease, from slicing it out wide to flat first serves to high kick serves."
It was a different story for Ryan, who reported, "Initially, it was very difficult to whip the racquet around to create the appropriate racquet head speed on serves. I struggled with the snapping motion for some time before adjusting. The racquet did not seem as maneuverable as I would have hoped, so I had to put a lot of effort into each serve."
Suzie was coming off an injury, but still found success. She said, "I have a hurt shoulder/rotator cuff and am not able to hit my serves at a 100% at this time so all my serves are about 65% of my top speed right now. With that being said, I felt like I could create a lot of spin with this racquet and place the ball really well. I was able to kick the ball off my second serve, and it seemed like it jumped off the racquet and had a lot of height on it."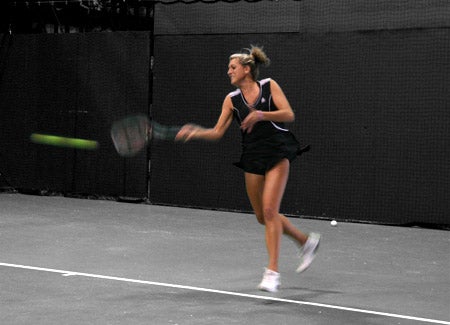 Serve returns - Score: 79
The control again came into play for the testers when they were returning serves. For Ryan, though, the racquet's balance was also a factor. He said, "For me, this is where the maneuverability of the racquet was very apparent and frustrating. I felt like it was difficult to return with a lot of pace, and the racquet felt sluggish even on short take backs."
It was a different experience for Suzie, who stated, "I really liked the serve returns. I did not have to do much off a big serve. I would just let the racquet do the work and the ball would fly off my racquet. However, on a second serve, or when I had more time on a softer angle serve, I had a little trouble generating pace and staying as aggressive as I would have liked."
Chris could react well to any serve. He said, "I enjoyed the racquet the most on returns. I was able to whip it around and make a good return even when my opponent surprised me with either pace or direction. When blocking the ball back with a slice backhand I felt I could control the depth and direction of my return at will. Likewise, when coming over the ball I was impressed with the level of control I was finding."
"Again, I was able to place the ball well when blocking first serves back," said Brittany. "I did have a little trouble generating some power off second serves, and my returns were landing shorter than normal."
Overall - Score: 81
When it comes down to overall performance, one thing our testers all agreed upon is that the Biomimetic 300 offers loads of control. Whether serving, hitting from the baseline or volleying at net, the racquet allowed our testers to play with precision. Though some of our testers struggled with maneuverability and others sought more weight for added plow through, the 10.9 ounce strung weight leaves plenty of room for most to customize to their preferred specifications. With great control and feel from all areas of the court, and with the easy option of customization, this racquet promises to satisfy a wide range of intermediate to advanced level players.
Likes
Brittany "The control and spin I received off both my groundstrokes and serves."
Chris "I liked the maneuverability, spin, feel and control."
Ryan "Good control, feel and stability."
Suzie "I really liked the control with this racquet. I felt like I could place the ball anywhere on the court, once I got used to swinging through it a little more. The touch was great. I even used my slice backhand and drop shot, which I rarely use."
Dislikes
Brittany "The racquet was a little stiff for my liking. I felt like I had to put a lot of effort to swing through the ball."
Chris "More weight, please."
Ryan "Maneuverability, and a somewhat small sweetspot."
Suzie "The racquet felt a little stiff and heavy for my liking, but I also play with a really light and maneuverable racquet. However, I would have liked a little more power rather than having to use my own strength to create it."
Technical Specifications

Length
27 inches
69 centimeters
Head Size
98 square inches
632 square centimeters
Weight
10.9 ounces
309 grams
Balance Point
13.2 inches
34 centimeters
2 pts Head Light
Construction
21mm Straight Beam
Composition
Graphite / Aerogel / HM6 Carbon
String Pattern
16 Mains / 19 Crosses

Babolat RDC Ratings

Score

Grade

Flex Rating
66
Range: 0-100
Swing Weight
308
Range: 200-400
Scores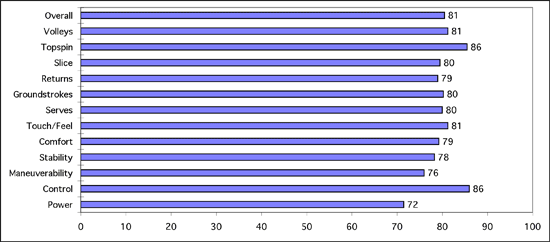 (Scores are determined by averaging individual play test scores)
Brittany's Scores
Power
7.5
Serves
8.5
Control
8.8
Groundstrokes
7.8
Maneuverability
7.3
Returns
7.9
Stability
7.7.
Slice
7
Comfort
8
Topspin
8.7
Touch/Feel
7
Volleys
7.6
Overall
7.9
Chris's Scores
Power
7.2
Serves
7.8
Control
8.3
Groundstrokes
7.7
Maneuverability
8.5
Returns
8.1
Stability
7.6
Slice
8
Comfort
7.8
Topspin
8.3
Touch/Feel
8.2
Volleys
7.9
Overall
7.8
Ryan's Scores
Power
7
Serves
7.5
Control
8.5
Groundstrokes
8.8
Maneuverability
7.3
Returns
7.5
Stability
8
Slice
8
Comfort
8
Topspin
8.5
Touch/Feel
8.5
Volleys
8.5
Overall
8
Suzie's Scores
Power
6.9
Serves
8.2
Control
8.8
Groundstrokes
7.8
Maneuverability
7.3
Returns
8.1
Stability
8
Slice
8.8
Comfort
7.9
Topspin
8.7
Touch/Feel
8.8
Volleys
8.5
Overall
8.5
Playtester Profiles
Chris: 5.0 All court player currently using the Volkl Power Bridge 10 Mid. Chris uses a full-western forehand grip, has a fast swing style and hits a one-handed backhand.
Brittany: Open level player with a semi-western forehand and a two handed backhand. She currently plays with the Prince EXO3 Black.
Ryan: 4.5 baseliner with a Semi-Western Forehand and a two handed backhand. Ryan currently plays with a customized a Wilson Six-One 95 BLX.
Suzie: Open level player with a semi-western forehand and a two handed backhand. Suzie is an aggressive baseliner with flat shots. Currently plays with the Wilson K Factor KZen (customized).

Review date: November 2010. If you found this review interesting or have further questions or comments please contact us.
All content copyright 2010 Tennis Warehouse.