Volkl Organix 9 Super G Racquet Review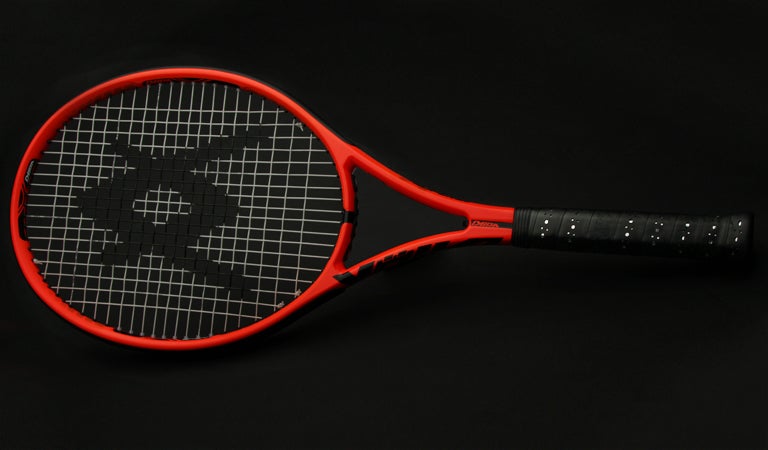 Volkl Organix 9 Super G
Power
70
Comfort
82
Touch/Feel
83
Serves
83
Groundstrokes
80
Returns
77
Slice
83
Topspin
80
Volleys
82
Overall
80
Upsides
Control
Maneuverability
Feel
Spin
Downsides
Some advanced players may need more weight
Summary
Look, Up in the sky: It's a bird... It's a plane... It's the Volkl Organix 9 Super G! With fluorescent neon orange cosmetics, the latest edition of the Volkl 9 is hard to miss. In addition to the great cosmetic update, Volkl has also added the new Super G grommet system for improved dampening and energy transfer. With its dense 18x20 string pattern and crisp response, this racquet's exceptional control was, for our team, impossible to deny. Also receiving heavy praise was the 9's maneuverability. This racquet not only moved fast when the pressure was on, but it enabled the explosive stroke speed required for effective spin (another thing the 9 does well). Not surprisingly, given this racquet's sub 12 ounce weight, there was a repeated desire for more plow through, a problem easily corrected with weight customization. Ultimately, the Volkl Organix 9 Super G looks like a promising option for the player who wants a speedy control stick that provides tons of confidence on full swings.
Groundstrokes - Score: 80
It's unanimous! The Volkl Organix 9 Super G has phenomenal control and maneuverability from the baseline. Karly liked this racquet from the get-go, saying, "With its dense string pattern and good control, this racquet made it easy for me to play more consistently and keep the ball in play longer. I didn't have to play as safely and felt comfortable going for bigger shots. The racquet also had a very solid feel and absorbed shock really well, so it felt comfortable on the arm even though it's a somewhat stiffer racquet. I would've never guessed that it has a 70 RA with how dampened the racquet felt on contact. The only issue I had with this racquet was the lack of plow through. It felt too light, and it was hard to drive through the ball for a powerful shot. I was expecting the ball to come off the racquet faster because of the racquet's weight and dense string pattern, but the ball stayed on the racquet too long and I felt like I was being pushed around the court."
This racquet fit Granville like a glove from the baseline. He said, "I was hitting the ball with good pace, depth and control right from the get-go. It's not too often a racquet can deliver on those three counts simultaneously. My lasting post-playtest impression is one of comfort. This is a very comfortable racquet and can be played with by intermediate to advanced players. Spin, whether topspin or backspin, is a breeze with the 18 mains and 98 square inch head. I was able to get plenty of spin on my groundstrokes."
A big fan of dense string patterns and low powered responses, Chris appreciated the Organix 9 from the back court. He said, "This racquet offered a firm and crisp response from the baseline. The dense string pattern gave the response an emphasis on feel and control. Opening up the power and sweetspot of this racquet requires a low string tension, a lively string or a combination of both. I found depth and pace to come directly from my swing, and I was just fine with that. All of the control I was getting meant I could swing aggressively and not have to worry about hitting long. I was getting good spin with this racquet -- not because of the bite from the stringbed, but from the high swing speed I was using. I was reminded of the old Dunlop Biomimetic 300 Tour and perhaps the Head YOUTEK IG Radical Midplus, because this was one of those racquets that felt better the faster it was swung. I would most likely add some additional weight to open up the sweetspot and provide a little more free power. Fortunately, the stock weight and balance leave me ample room to beef this racquet up without making it feel too hefty."
Troy also had great control when taking full swings, but he too could have used a little more mass. He said, "I found this racquet to be very maneuverable from the baseline. The feel of this racquet upon contact with the ball is firm, but at the same time very dampened, which is a feel that is common among Volkl racquets such as the Organix 7, 8 and V1. I was enjoying the amount of control I was getting whenever I took a big cut at the ball. The spin potential was good in the sense that I could easily generate racquet head speed for heavy topspin, and the dense string pattern helped knife through the ball on the backhand slice. The downside for me was that the sweetspot felt smaller than other 98 square inch racquets, and there was a big drop-off in power if the ball didn't hit cleanly in the sweetspot. There was also a lack of plow through, which I typically crave from heavier racquets, that made it frustrating at times when I tried to hit through the court."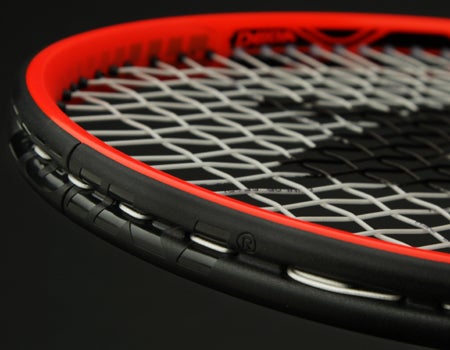 Volleys - Score: 82
On volleys, minor complaints about instability were overshadowed by this racquet's speed and precision. Granville had no problem finding his targets with the Organix 9 Super G. He said, "The lighter weight and maneuverability of the Organix 9 enhance its overall effectiveness at the net. It lacks some crispness, so it's not quite a scalpel, but it can place the ball anywhere on the court with touch and power on reserve."
At net, Karly found the power she lacked from the back court. She explained, "Back at the baseline I wanted a quicker response and more plow through, which was exactly what I got at net. The ball seemed to fly off the racquet faster and I could get more pop on my shots while still enjoying a stable and solid feel. My volleys had a little more power than my groundstrokes, yet I still had good precision. My only slight knock would be the unforgiving feel when the ball hit outside the sweetspot, although it wasn't terrible and didn't bother me too much."
Troy appreciated the fast feel but would have liked a little more stability. He offered, "Maneuverability came easy with this racquet at the net. This racquet was good for quick reaction volleys when playing doubles, and my serve and volley game was working well. I found good precision on my volleys and felt like I could place the ball close to the lines with ease, but I felt that depth and stability were lacking for me. Anytime I missed the sweetspot the racquet felt unstable and had a tendency to flutter. My volleys didn't seem to have as much penetration through the court as I typically get with heftier racquets, such as my Wilson Six.One 95."
Chris also appreciated this racquet's fast handling at net. He commented, "It was very easy to get this racquet around at net. I liked it the most on volleys because I felt very connected to where the ball was going. Again, there was not much free power and a deep volley required a solid punch. Conversely, it was very easy to drop the ball short for an angle -- something I like to do. The feel was firm and crisp and there was ample comfort from the racquet, but there was also a lot of feel. At its stock weight off-center volleys caused the racquet head to flutter a little, but that's an easy fix with some lead tape."
Serves - Score: 83
The Volkl Organix 9 Super G offered a great blend of maneuverability and control on serves. This meant that Chris (happily) relied on stroke speed to craft his shots. He said, "Spin and pace on serve came from a healthy swing. Fortunately, the racquet was fast and easy to maneuver through contact. I was happy with the pace I was getting on the ball. When I found the corners of the service box I was able to get the ball by opponents or force them into hitting a weak return, and on spin serves I was able to get some decent action on the ball. I preferred this racquet strung with a poly to increase the bite I was getting, even if it removed more power from the racquet."
"I was enjoying the control and the amount of spin I was getting on serves with this racquet," said Troy. "It was easy to manipulate this racquet, and I found it easy to snap my wrist and get loads of spin on my serves. This racquet was allowing me to hit kick serves with a lot of action on the ball, and pull my opponent off the court. The control made it easy for me to mix up my serves, and I could command my serves to any part of the service box. The downside I found was that on flat first serves I didn't get quite as much pop from the racquet as I would have liked. This racquet was lacking the mass and swingweight that helps me get more MPHs on my first serves."
Granville said, "It was interesting serving with the Organix 9 in that it is light enough to really get the racquet moving up and over on serves. My placement was very good, and despite feeling like I was crushing my serves, in actuality I wasn't getting any extra power. Like my other strokes, it was all about comfort, comfort, comfort."
Karly also appreciated the maneuverability and control, saying, "Because the 9 Super G is so light and fast I felt like I could serve longer with it without tiring out my arm. The quick feel made it easy to speed up my swing to add more power and spin to my serve, yet it still provided that great control. Again, the racquet was a little unforgiving outside the sweetspot. Every once in a while the racquet felt dead or lacked power if I hit toward the edges, but I thought all the other positive aspects overshadowed this slight drawback."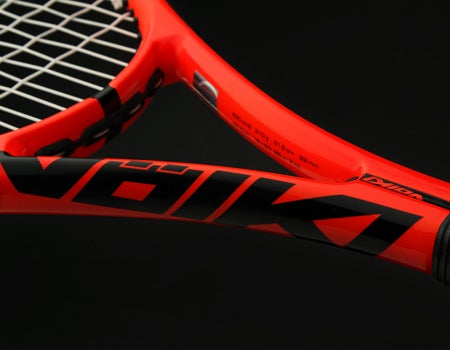 Serve Returns - Score: 77
With the speedy and precise response of the Organix 9 Super G, the majority of our team reported great results on service returns. Not surprisingly though, Troy yearned for more weight. He said, "The maneuverability made it easy to get the racquet on the ball. I found that this racquet helped me to get returns back when I was stretched out or off balance because of it's easy maneuverability. The control allowed me to be aggressive on returns when playing singles and to direct the ball away from the net man when playing doubles. The downside was that this racquet didn't quite have the mass to get easy depth on my returns. On my backhand slice return the ball was landing short in comparison to the depth I find with heftier racquets."
Like Troy, Chris could have used a little more weight, but the exceptional control gave him total confidence on full swings. He said, "Just like at net, the controlled response of this racquet worked in my favor on returns. All of the control enabled me to take a healthy swing at the ball and be aggressive. The racquet responded very well on that kind of return, feeling better and better the faster I swung it. On block and chip returns I had to be a little more careful. Hitting outside of the sweetspot resulted in a short return and some twisting of the racquet head at contact."
This racquet's control on full cuts emboldened Karly. She explained, "I could swing fast and hard without having to worry about overhitting. The placement was great! I was playing more aggressively and with more confidence since it provided so much control and an extremely manageable swingweight. I just would've liked a better response when making contact. I never thought I'd catch myself saying this, but the comfortable feel was almost too much of a good thing. With its exceptional dampening system and soft feel, the ball seemed to stay on the racquet too long. When returning a hard serve I felt like the ball was pushing the racquet back. I wanted better plow through so I could drive through the ball faster."
"A solid performer on the serve return, this Organix 9 is a fast racquet through the air," said Granville. "The sweetspot might take the sting out of some of the bigger serves heading your way. On the biggest serves this Organix 9 might be a bit too light to really plow through the ball with stability, but the 98 square inches will help!"
Overall - Score: 80
Likes
Karly- "With how fast it swung and all the control it offered, I loved how aggressively I could swing with this racquet!"
Troy- "I enjoyed playing doubles with this racquet because of its control and maneuverability. I could generate lots of spin on my serves."
Granville- "The feel and control. Wondering what a leather grip and a smidgeon of lead tape at 3 and 9 o'clock would do. I was able to really carve my backhands and backhand returns with good power OR touch."
Chris- "I liked the crisp, firm feel and how it connected me to the depth, direction and pace of my shots. I liked how the racquet allowed me to supply the power while it took care of control and feel."
Dislikes
Karly- "The racquet lacked oomph. There was very little plow through, and it was tough to drive through the ball for more power."
Troy- "The sweetspot is small for its headsize. The lack of plow through."
Granville- "The bright color takes some getting used to."
Chris- "A great option for customization, this racquet felt lighter than my preferred spec in stock form. I would add weight to the hoop at 3 and 9 o'clock and counter with the same amount under the grip to maintain the balance."
Comparing it to other racquets they've used, our testers said:
Karly- "A similar racquet that comes to mind is the Prince Tour 98, mostly because of the feel. Both offer exceptional control and are easy to swing, but they have such a good dampening system that it makes contact with the ball feel muted. However, that also makes them both very comfortable, control-oriented racquets."
Troy- "I found some similarities with the Head MicroGEL Radical Midplus, but this racquet has a stiffer feel overall. I also found this racquet to perform similarly to some of the older versions of the Dunlop 300s, such as the M-fil, that I used to play with. However, I preferred the feel and response of the Dunlop 300 more than the feel of this racquet."
Granville- "The feel of the Organix 9 brings the Head Graphene Speed to mind. If it were a bit more crisp, I'd liken it to a Wilson Six.One 95S."
Chris- "This racquet reminded me mostly of the Dunlop Biomimetic 300 Tour and Head YOUTEK IG Radical Midplus. Like those two, it felt better and better as tip speed increased. The level of spin I was getting was similar, and I would say the power and stability were pretty equal at stock weight. All three would make solid platform racquets for me to customize."
Technical Specifications

Length
27 inches
69 centimeters
Head Size
98 square inches
632 square centimeters
Weight
11.5 ounces
326 grams
Balance Point
13 inches
33 centimeters
4pts Head Light
Construction
22mm Straight Beam
Composition
Organix / Carbon / Fiberglass
String Pattern
18 Mains / 20 Crosses

Babolat RDC Ratings

Score

Grade

Flex Rating
70
Range: 0-100
Swing Weight
317
Range: 200-400
Scores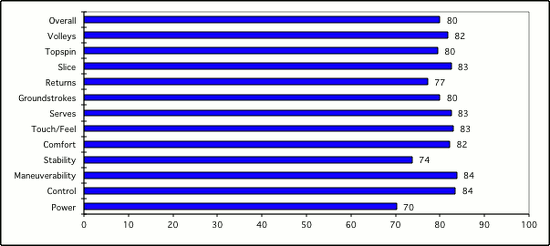 (Scores are determined by averaging individual play test scores)
Karly's Scores
Power
7.5
Serves
8.1
Control
8.4
Groundstrokes
8.2
Maneuverability
8
Returns
8.3
Stability
7.9
Slice
7.9
Comfort
8.5
Topspin
7.5
Touch/Feel
8.1
Volleys
8.4
Overall
8.2
Troy's Scores
Power
6.7
Serves
8.6
Control
8.8
Groundstrokes
8
Maneuverability
9
Returns
7.3
Stability
7.2
Slice
8.6
Comfort
7.5
Topspin
8.1
Touch/Feel
7.5
Volleys
8
Overall
7.9
Granville's Scores
Power
6.5
Serves
8.3
Control
7.5
Groundstrokes
8
Maneuverability
8
Returns
7
Stability
7
Slice
8.5
Comfort
9
Topspin
8
Touch/Feel
8.8
Volleys
8
Overall
8
Chris' Scores
Power
7.4
Serves
8
Control
8.7
Groundstrokes
7.8
Maneuverability
8.5
Returns
8.3
Stability
7.4
Slice
8
Comfort
7.9
Topspin
8.2
Touch/Feel
8.8
Volleys
8.3
Overall
7.9
Playtester Profiles
Karly: 4.0 baseline player currently playing with the Volkl Organix 10 Mid. She hits with a semi-western forehand grip and uses a two handed backhand.
Troy: 5.0 lefty all-court player with a full Western Forehand and a two-handed backhand. Troy currently plays with a Wilson BLX Six.One 95.
Granville: 5.5 all-court player currently using a Babolat Pure Drive 107. Granville is an aggressive player who uses an eastern forehand grip and goes continental on everything else, hits with a flat swing and a one-handed backhand.
Chris: 5.0 all-court player currently using the Wilson Six.One 95S. Chris uses a full-western forehand grip, has a fast swing style and hits a one-handed backhand.

Review date: March 2014. If you found this review interesting or have further questions or comments please contact us.
All content copyright 2014 Tennis Warehouse.