Solinco Tour Bite 16L String Review

Solinco Tour Bite 16L Scores
Power
54
Spin
94
Comfort
54
Control
91
Touch
68
String Movement
80
Playability Duration
75
Durability
85
Overall
78
Downsides
Too low powered for compact strokes
Too stiff for some
Summary
Solinco Tour Bite is a firm co-polyester designed for advanced players who demand the ultimate in control, durability and spin. Boasting a square profile with sharp edges, it is ideal for aggressive topspin players who like to rip the felt off the ball. This explains why Tour Bite has a growing following at the collegiate level, and it also explains why our testers raved about the spin. Like many poly based strings, Tour Bite puts the onus of power squarely on the player - a fact that gave some of our testers the ability to swing bigger and execute more aggressive shots, while leaving others wanting a little more juice. Our team had mixed opinions on comfort, which is understandable given Tour Bite's firm feel. Like many polys and co-polys, the charms of Tour Bite are not likely to work as well on those with lighter frames and slower strokes. However, with the right combination of stroke speed and technique, this string can deliver the perfect combination of spin and control.
Power - Score: 54
While all of our testers agreed that Tour Bite was low powered, some of them used this fact to great effect. Appreciating the freedom to swing big was Troy. He said, "I liked the low-powered response and great feel on big rips. The ability to swing faster allowed me to load up on spin without fear of hitting long. Even strung at a very low tension, the response was controlled and predictable. This is good news for players who would otherwise be discouraged from softening the feel through lower tensions."
"The power level was low, which is exactly where I like it," said Jose, whose big strokes came easy with Tour Bite. "I didn't have to make any adjustments or hunt for the right swing speed. I could swing out without having to worry. This allowed me to stay aggressive and keep the pressure on my opponent."
Also having to generate his own power was Chris. He said, "I found Tour Bite 16L to be a fairly low-powered string -- even by poly standards. The response is somewhat firm and very controlled, and that doesn't leave much room for power. For me, this is a string to add control to the stringbed. I found myself having to add the power to my shots rather than getting anything for free from the string."
Karly, a fan of softer strings like Wilson NXT, could have used more pop. She said, "Power was definitely not the first thing that came to mind when trying to describe this string. I highly recommend lowering the tension to get more power. I strung a full bed at 47 lbs, but I wish I had gone a little lower. Even with my racquet strung low, the string felt underpowered."
Spin - Score: 94
Tour Bite proved to be an absolute spin machine for our playtest team. Karly noticed the extra bite immediately. She said, "The spin potential of this string was excellent! The string gripped the ball so well that I felt like I could adjust the spin level at will. For me, it was especially great when trying to move my opponent off the baseline. I also tried this in a hybrid, and the bite was still exceptional."
Chris was able get some great action from Tour Bite. He said, "I loved the spin and bite I got on the ball with this string. Tour Bite really lives up to its name. I felt like I was getting a ton of grip on the ball. I was able to get my angle shots to hook nicely and stay inside the lines even when I took a chance by adding pace. I was impressed by the spin I found on my serves, too. I felt like I was getting lots of bite on slice and topspin serves. The spin I got from this string allowed me to hit aggressively because I knew the spin would make my shots drop well inside the lines."
Though initially skeptical, Troy could not deny the extra bite he was getting. He said, "Prior to this test I had not played with a shaped or textured co-poly in quite some time. In fact, I was never completely sold on the concept. Tour Bite turned me into a believer. The shape of this string, coupled with a low tension, made it possible to really grab the ball, especially when serving. When I used this string in a tournament my slice serve was hooking harder on the deuce side, while my kicker was kicking wider on the ad side. Also, I felt I was getting more bite on the ball when hitting dipping cross-court passing shots on forehands and backhands."
Jose agreed with the other playtesters. He said, "I instantly noticed the additional bite, especially on heavy topspin shots and kick serves. The sharp edges of this string really grabbed the ball. The best part was knowing that the ball would drop down inside the lines."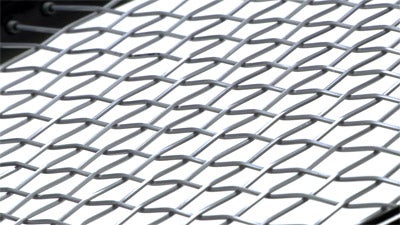 Comfort - Score: 54
Like most stiffer strings from the polyester universe, Tour Bite does not offer a lot of comfort. Commenting on the firm feel, Chris said, "I found this string to be on the firmer side of polys. I liked the crisp and precise feel, but its not one I'd call comfortable. For those reasons I strung Tour Bite down, dropping 3 lbs compared to my normal poly (Volkl Cyclone 16). There was just enough forgiveness that Tour Bite didn't feel brassy, but it was getting close. I hit this string extensively in the Slazenger Pro Braided with an RA in the low 70s, and the stiff frame and stiff string made for a very firm and crisp setup."
Jose could have used a tad more comfort. He said, "The one downside to this string is the low comfort level. Anything hit out of the sweetspot felt uncomfortable and included some vibration. Given the excellent spin and durability, this would make a great hybrid main."
Karly, who typically plays with a comfortable multifilament, had trouble adjusting to the firm response. She said, "Given the stiff feel during installation, I wasn't surprised that Tour Bite played so firmly. I was able to hit with the full stringbed setup for half an hour before my wrist started to ache. I also noticed that the sweetspot was small, which transferred more shock to the arm. After hybridizing it, though, the comfort level improved immediately. And the spin was still there!"
"During this test I had no issues when it came to comfort," said Troy, who figured out a tension strategy to get the right comfort level. "I feel that the combination of a low tension (40 lbs) with a very flexible frame (57 RA stiffness) helped with the comfort. When I first tried this string at 57 lbs in a stiffer frame, I found the string to feel pretty harsh with very little ball-pocketing. After figuring out that it should be strung a little lower than most co-polys, I discovered a great feel."
Control - Score: 91
With its crisp response, incredible bite and low trampoline, Tour Bite gave our playtesters surgical precision over depth and trajectory. Finding all the control he needed was Chris, who said, "The level of control with this string was exceptional. I felt completely dialed into my shots in regards to both depth and direction. I felt very confident taking a huge cut at the ball with this string and did not have to worry about overhitting."
Agreeing with Chris was Troy. He said, "I found the control of this string to be top-notch. The precision was excellent on nearly every shot, from dipping topspin to flat groundstrokes. During long rallies I got exceptional depth-control, hitting heavy spin that landed deep and exploded off the court. When I felt the need to pull the trigger down-the-line I could flatten my shot and take a big rip with confidence. The lack of trampoline upon impact really helped with control, but only heavy-hitters with sound technique and full strokes will unlock the full benefits of this feature."
Also finding great control was Jose. He said, "I use a semi-western grip to generate a lot of topspin off my forehand. With this setup it was really easy to place the ball on a dime. The shape of this string helped give it all the bite necessary to keep the ball in play."
Karly was actually getting too much spin, but she eventually adjusted. She said, "At first the spin was so pronounced that I had a hard time measuring the trajectory of my shots. The added spin made my shots dive drastically before or into the net. But after getting used to the spin I thought the string offered great control. I had a lot of confidence changing the direction and depth of my shots."
Playability Duration - Score: 75
Co-polys tend to lose tension more rapidly than other string materials. While Tour Bite is no exception in this regard, none of our playtesters noted a drastic playability loss, including Chris. He said, "I don't like to hit any poly longer than two weeks, but I was impressed that this string still felt playable even as the tension dropped out."
Agreeing with Chris was Troy, who said, "I tend to get a week of hard hitting out of polyester before it either breaks or becomes unplayable. I was pretty impressed with how well Tour Bite held up after tension loss."
Karly didn't have any problems with the tension loss either. She said, "I didn't notice a huge change in the original stiffness over time. Tour Bite never lost its firm feel. I was able to get decent control and spin after the tension relaxed."
Like the others, Jose was able to get decent spin after the initial tension loss. He said, "I didn't notice a terrible drop off in playability after the tension went down. Spin and control stayed pretty consistent. This is likely due to the firmness of the string, which helps maintain the bite as the tension changes."
Overall - Score: 78
Likes
Chris - "Control and excellent spin."
Troy - "The amount of spin I could generate on serves and cross-court dippers."
Jose - "Control, spin and durability."
Karly - "The grip of the string on the ball. I felt like I could really control the amount of spin I put on my strokes."
Dislikes
Chris - "Might be a tad firm for some, but I kinda like that."
Troy - "Can feel harsh or wire-like if strung at high tensions."
Jose - "Not as comfortable as some of the softer co-polys."
Karly - "Not enough comfort. If I were to start using this string I would have to pair it up with a very soft cross and string it at a low tension."
Comparing the string to others they've tried, our testers said:
Chris - "This string reminds me of Luxilon ALU Power in that it is firm and very control oriented. Off the stringer it also reminds me of some of the Kirschbaum strings, like Competition due to its crispness, but this one dropped in tension slightly faster."
Troy - "I found this string to play very similar to Luxilon Big Banger ALU Power Spin. The Luxilon has more ball pocketing and better recoil, which gives it a more powerful feel. Based on the amount of spin, I would also compare Tour Bite to Volkl Cyclone. However, I think Cyclone has a little more elasticity, creating more power. The low powered feel of Tour Bite makes it a pretty unique string."
Jose - "The closest comparison would be to Luxilon ALU Power. Both provide massive spin and control, and they both offer the durability and firmness preferred by advanced players."
Karly - "While more comfortable, Dunlop Black Widow is close to Tour Bite in terms of spin and control."
Scores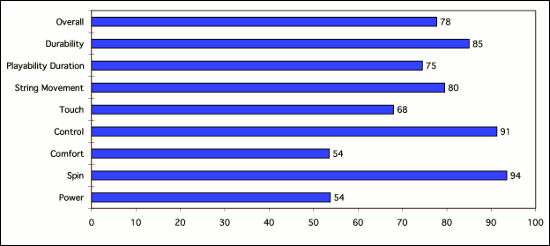 (Scores are determined by averaging individual play test scores)
Chris's Scores
Power
4
Playability Duration
8
Spin
9.4
Durability
8
Comfort
6
Control
9.5
Touch
8.4
String Movement
9
Overall
8
Troy's Scores
Power
6.5
Playability Duration
7.8
Spin
9
Durability
9
Comfort
6
Control
9
Touch
6.8
String Movement
8.8
Overall
7.9
Jose's Scores
Power
7
Playability Duration
9
Spin
10
Durability
10
Comfort
5.4
Control
10
Touch
8
String Movement
7
Overall
8.2
Karly's Scores
Power
4
Playability Duration
5
Spin
9
Durability
7
Comfort
4
Control
8
Touch
4
String Movement
7
Overall
7
Playtester String Setups

Review date: July 2012. If you found this review interesting or have further questions or comments please contact us.
All content copyright 2012 Tennis Warehouse.