Head Graphene Extreme Pro Racquet Review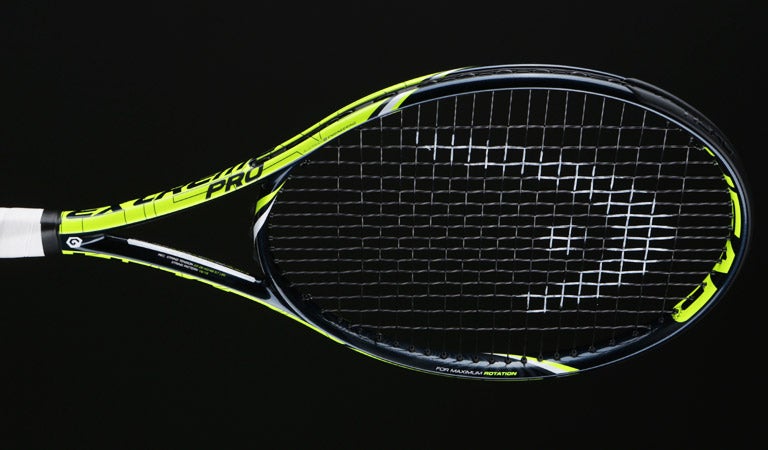 Head Graphene Extreme Pro Scores
Power
86
Comfort
83
Touch/Feel
73
Serves
80
Groundstrokes
81
Returns
83
Slice
73
Topspin
83
Volleys
81
Overall
81
Downsides
Nothing we could agree on
Summary
A racquet to help raise your game to new levels and put pressure on your opponents, the Head Graphene Extreme Pro offers explosive amounts of power and spin for the modern player. It's the heaviest racquet in the Extreme family and is an aggressive weapon in the right hands. It's also the racquet of choice for ATP player Richard Gasquet. While the power and spin really stood out with this racquet, we still found enough touch for cheeky drop shots here and there. With an aerodynamic beam, the Graphene Extreme Pro played fast from all areas of the court, but the racquet head speed was most noticeable during big groundstroke exchanges and on returns and volleys. With a stiffness rating that comes in just under 70 on the RA scale, it is impressive to note the Extreme Pro remains comfortable, even when paired with a poly based string. Players looking for extreme amounts of spin and power in a comfortable package will find this racquet lives up to its name.
Groundstrokes - Score: 81
A very forgiving and comfortable racquet for players of all playing styles and levels, the Graphene Extreme Pro added a bit of power to each of our playtesters' games. Right from the start, Granville realized this racquet was very different from his Wilson Six.Ones, but he appreciated that it offered him some tools he could use to up the level of his game. He said, "From the first strike the comfort of the Graphene Extreme Pro was foremost in my mind. With this comfort comes a good deal of power, too. My first few shots were landing short, but with good spin. After a few more rallies I found the zone and my targeting improved quickly. It was easy to get over the ball and impart topspin on my forehand and my backhand. While I wasn't blasting my groundies, they were landing deep with good pace. Overall, I just felt solid on groundies."
Michelle found this racquet to be very similar to her Babolat Pure Drive Roddick. She explained, "It was easy to pick up the Graphene Extreme Pro and find success right off the bat. The Graphene Extreme Pro offer easy power and depth off the ground, and it was quick and maneuverable off the baseline against bigger hitters. It felt like Head added a bit of mass in the hoop of the racquet, which I enjoyed, but if I had to be picky, I wouldn't mind even more plow through to really be able to do some serious damage -- I guess that's what customizing is for! When hitting the Graphene Extreme Pro side by side with my stock Pure Drive Roddick I noticed my racquet was producing bigger, heavier balls. I also noticed some inconsistencies off the stringbed with the Extreme Pro, which led to some erratic shots and errors when I didn't strike cleanly inside the sweetspot. I did struggle a bit with my slice, which was a bit surprising since I always find Head racquets to slice well. On the flip side, one of my favorite shots with this racquet was driving through my backhand -- I could hit a solid ball off my backhand to help set up a short ball to attack with my forehand. I think this is a solid option for a big ball striker since depth, power and spin all came easily."
Troy found the Graphene Extreme Pro to be very user friendly from the baseline. His one critique was that he felt he was missing a bit of precision compared to his normal setup. He commented, "This updated Graphene Extreme Pro allowed me to hit heavy topspin groundstrokes with ease. There were times during practice sessions when I would catch myself being lazy on my technique because the racquet was so forgiving compared to what I'm used to (Wilson Six.One 95). For being roughly 12 ounces strung, this racquet felt very fast and whippy. My favorite part of this update was the change to the grip shape; now it is similar to the Graphene Speed and Instinct. The classic Head grip shape that is still present on Prestige and Radical racquets really bothers me when I hit my semi-western forehand in pressure situations. This update is much appreciated! The only knock I had from the baseline was that my backhand slice did not penetrate as much as I would have liked. I also didn't feel as comfortable hitting close to the lines as I do with some of the more classic player frames, like my Six.One 95."
The explosive response of the Graphene Extreme Pro was unbelievable for Karly. She appreciated the extra power, but she found it to be a tad too much for her style of play. She said, "The ball flew off the stringbed immediately on contact with so much pop and power! I barely had to put any effort into hitting with pace. The frame felt fairly stiff and didn't flex much, which helped create that fast response time, yet it was still comfortable. Personally, I like racquets that are firmer for a crisper feeling response, so I didn't mind the stiff feel. Another huge plus for me was how spin friendly it was. This racquet plays like it has a more open string pattern than it actually does. Thankfully, this racquet made it extremely easy to generate spin, which I used to help keep the ball from flying long. The weight and plow through gave me some control, but the extreme spin really came in handy because the Graphene Extreme Pro has so much more power than control."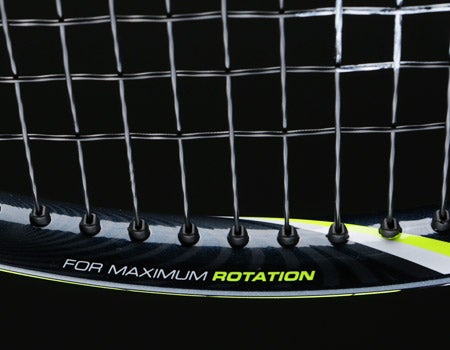 Volleys - Score: 81
When our playtesters transitioned to the net with the Graphene Extreme Pro they found it easy to put the ball away. Michelle, who tries to finish points off at net with her aggressive style of play, really enjoyed the crisp, powerful volleys she could hit. She noted, "I had no issues here at all. I was happy to find that the Graphene Extreme Pro has good touch, allowing me to carve out some nice drop volleys and angles. It was easy to get into position and be effective with this racquet at net."
The big sweetspot on the Graphene Extreme Pro made it easy for Troy to hit his volleys, but he was missing some of the precision he relies on from his Six.One 95. He said, "While the mass allowed for easy depth, I really noticed the forgiveness of this racquet when playing doubles. I found my consistency at net increased in doubles because I was able to maximize the benefits I received from the easy maneuverability and large sweetspot, and the racquet had enough mass to provide stability. The only problem was that I didn't feel as confident placing my volleys near the lines."
With all of its natural power and stability, the Graphene Extreme Pro made it easy for Karly to play aggressively at net. She offered, "The racquet felt extremely solid on contact, and the crisp response allowed me to stick my volleys effortlessly, with excellent power. I never felt pushed around and the stringbed was forgiving, so I didn't lose much power if I hit an off-center shot. This racquet made me look like a better net player."
While Granville was not getting that crisp response he is accustomed to when volleying with most player's racquets, he was getting good depth and comfort. He said, "With the somewhat rounded hoop, I'm getting power on volleys that I would usually just place somewhere on the court. Now I'm placing these balls with a bit more authority. On the down side, the added power on volleys means I'm hitting the balls a bit longer than I would normally. I suspect I could address this issue with a string type and tension better suited to my game."
Serves - Score: 80
Our team was unanimous when it came to discussing the added power they found on their flat first serves - there was lots of it! They also found beefed up levels of spin when going after their second serves with the Graphene Extreme Pro. Whether Troy was going for flat serves up the middle, topspin serves or kick serves, he found success. He boasted, "The large sweetspot was helpful on kick serves, especially because I found a large 'spin window.' This helped me brush the back of the ball to get a nice kick off of the court. The maneuverability and pop from this racquet helped me hit some big first serves, although a 'big' serve for me is very relative. The only knock I had was that my placement wasn't as precise compared to a racquet like the Graphene Prestige Pro, which I really loved on serve."
It wasn't hard at all for Karly to hit fast serves with this racquet, but she preferred hitting second serves because all that power became a bit too much for her style of play. She explained, "That easy power was too overwhelming for me and made it tough for me to keep my first serve percentage consistency high. I had to widen my margin for error and aim closer to the middle of the service box because I couldn't hit my spots with confidence. My second serve was a different story. Because of the exceptional spin potential, it was easy to add heavy spin and keep the ball from going out. The spin, combined with the power, had my serves kicking up harder than usual. I just had to be careful when flattening out my serve."
Granville also felt the extra power on his serves. He said, "I only struggled with my angled slice serves out wide, often hitting them just below the tape -- another adjustment or two will be needed if I am to stick with this racquet."
Having a bit more of a mixed experience while serving with the Graphene Extreme Pro was Michelle. She loved the pace she could get on her flat first serves, but she struggled to find consistency on her second serve. She stated, "I definitely felt like this racquet amped up the power on my serve. I could place my flat first serve exactly where I wanted it, and I won a lot of points due to a forced error off the return or a short reply. However, I wasn't as successful on my second serve. It could be the addition of Graphene to this racquet, which put more mass in the head of the racquet, but I struggled to find a consistent feel off my kick and slice serves. It just wasn't easy to brush up the back of the ball consistently, and I had trouble accessing the spin that I usually have on my reliable second serve."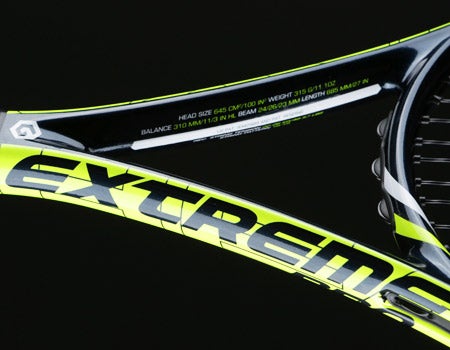 Serve Returns - Score: 83
The power from the Graphene Extreme Pro caught up to some of our playtesters' service returns, while others appreciated the stability this racquet offered when stabbing back defensive returns. What was great about returning with this racquet? No one had to swing very hard to get the ball back in play. Karly wasn't worried about returning against a fast server. She explained, "A nice little punch worked just fine with all the power coming off the stringbed, and with its weight and solid feel I never felt pushed around on returns. I could drive through the ball with good plow through and the stringbed played fairly consistently throughout, so it didn't make much of a difference if I hit inside or outside of the sweetspot. However, I had to be cautious with the all the power. It was easy to return a ball long."
Granville returned well with the Graphene Extreme Pro, especially when attacking with his slice backhand. He added, "I had no trouble getting over the ball and taking the offensive on my forehand side."
Michelle found success when attacking second serves with this racquet, but she struggled when facing a big server. She commented, "I was ok when I was taking a big cut at my return, but if I was blocking back a big first serve I struggled to find any touch or feel. Usually, when I'm accessing my defensive game off my return I can block back big serves and keep myself in the point, but with the Extreme Pro the power overtook my defense, and I struggled to find any touch. When I was attacking second serves I had no problems swinging big and crushing returns."
On the other hand, Troy found consistency with his return game. When he was playing doubles the easy power helped him hit cross court returns and keep the ball away from the net man. He added, "There was enough mass to provide stability against big serves. I would have liked a bit more plow through on the backhand chip return, although this wasn't a huge detriment to my return game. While the backhand slice return was not as effective, this racquet was more forgiving on the two-handed backhand."
Overall - Score: 81
Likes
Granville - "Very, very comfortable racquet with good power. The cosmetic looks very technical and it's easily recognizable as Gasquet's racquet."
Michelle - "The specs of the Graphene Extreme Pro are right in my wheelhouse, so the feel and power I could access off the ground was great. I also really liked it at the net. I love the new cosmetic as well!"
Troy - "This was the most controllable modern power racquet for me. The grip shape update was huge for me! I wish Head would provide this option on Prestige and Radical racquets as well."
Karly - "The crisp response and solid feel on contact. Not to mention the combination of extreme spin and power, which made it a really fun racquet to mix my shots up with."
Dislikes
Granville - "As solid an all around racquet as this Graphene Extreme Pro is, I did not find what it excels at."
Michelle - "I found some inconsistencies off the stringbed and struggled with second serves and defensive returns. My defensive game didn't like this racquet all that much."
Troy - "Not much. I don't feel as connected to the ball as I do with my Six.One 95, but that is pretty evident based on its specs. Maybe a smidgen of lead at 3 and 9 o'clock and a leather grip, please?"
Karly - "My only dislike came down to personal preference -- I like playing with racquets that offer more control than power. Don't get me wrong, the frame offered good control, but the power outweighed the control by a long shot."
Comparing it to other racquets they've used, our testers said:
Granville - "While this racquet is somewhat similar to the Babolat Pure Drive and Pure Drive Plus in feel, it seems to have a bit less power. It does not feel much like a Wilson Six.One or Head Prestige, as these have less power but a crisper and more precise response."
Michelle - "Throughout the playtest I was comparing the Graphene Extreme Pro to the Babolat Pure Drive Roddick. The Roddick gives me a bigger, more consistent ball, while the Graphene Extreme Pro had more of a 'controlled power' feel. I never felt like I was hitting as big with it compared to the Pure Drive Roddick. Granted, I have spent more time playing with the Roddick, so it is more comfortable for me to use. I think anyone interested in a racquet like the Pure Drive Roddick should definitely demo the Graphene Extreme Pro as well. Also, I think it's worth noting that the Graphene Radical Pro is still my favorite Graphene racquet!"
Troy - "For me, not a whole lot has changed throughout the lineage of this racquet. I really liked the original Microgel version of the Extreme Pro, and I still like this most recent Graphene edition. Out of all the modern style (100 sq. inch) power racquets that I have tried: Babolat Pure Drive Roddick, Tecnifibre TFlash 315, and Volkl Organix 8 (315g), the Graphene Extreme Pro has the best response and feel in my hand. The change in the grip shape was the best thing that Head did for this newest version of the Extreme Pro, in my opinion."
Karly - "The Babolat Pure Drive is the first racquet that immediately comes to mind. Both are powerful frames that have a stiffer, solid feel. The biggest differences for me were that the Graphene Extreme Pro made it easier to generate power and spin than the Pure Drive, and the Pure Drive was a little more maneuverable than the Graphene Extreme Pro."
Technical Specifications

Length
27 inches
69 centimeters
Head Size
100 square inches
645 square centimeters
Weight
11.8 ounces
335 grams
Balance Point
12.6 inches
32 centimeters
7pts Head Light
Construction
24mm / 26mm / 23mm /
Composition
Graphene
String Pattern
16 Mains / 19 Crosses

Babolat RDC Ratings

Score

Grade

Flex Rating
69
Range: 0-100
Swing Weight
323
Range: 200-400
Scores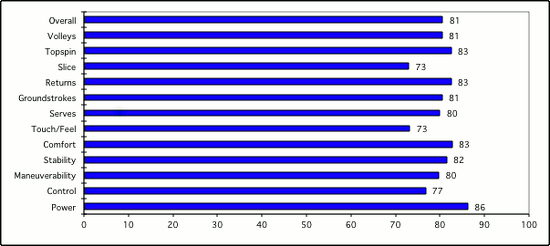 (Scores are determined by averaging individual play test scores)
Granville's Scores
Power
8
Serves
7.5
Control
7.5
Groundstrokes
7.5
Maneuverability
7
Returns
8
Stability
7
Slice
8
Comfort
9
Topspin
8
Touch/Feel
7.5
Volleys
7.5
Overall
7.75
Michelle's Scores
Power
8.4
Serves
7.8
Control
7.5
Groundstrokes
7.9
Maneuverability
8
Returns
7.9
Stability
8
Slice
6
Comfort
8
Topspin
7.5
Touch/Feel
6.5
Volleys
8.3
Overall
7.8
Troy's Scores
Power
9
Serves
8.5
Control
7.8
Groundstrokes
8.3
Maneuverability
8.8
Returns
8.5
Stability
8.7
Slice
7
Comfort
8
Topspin
8.8
Touch/Feel
7.5
Volleys
7.8
Overall
8.2
Karly's Scores
Power
9.1
Serves
8.2
Control
7.9
Groundstrokes
8.5
Maneuverability
8.1
Returns
8.6
Stability
8.9
Slice
8.2
Comfort
8.1
Topspin
8.7
Touch/Feel
7.8
Volleys
8.6
Overall
8.5
Playtester Profiles
Granville: 5.5 all-court player currently using a Babolat Pure Drive 107. Granville is an aggressive player who uses an eastern forehand grip and goes continental on everything else, hits with a flat swing and a one-handed backhand.
Michelle: Open level baseline player with a semi-western forehand and a two handed backhand. She currently plays with the Babolat Pure Drive Roddick.
Karly: 4.0 baseline player currently playing with the Volkl Organix 10 Mid. She hits with a semi-western forehand grip and uses a two handed backhand.
Troy: 5.0 lefty all-court player with a full Western Forehand and a two-handed backhand. Troy currently plays with a Wilson BLX Six.One 95.

Review date: June 2014. If you found this review interesting or have further questions or comments please contact us.
All content copyright 2014 Tennis Warehouse.