Welcome to the Tennis Warehouse Demo Program! The first and best tennis racquet demo program that delivers demo racquets to you anywhere in the continental USA.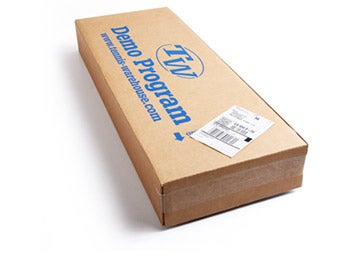 Here's How It Works...
Choose one to four racquets to demo.
Once they are shipped, you will receive them from UPS within 2 business days.
Use them for one week.
Return them using the label provided.
Note: Because demos may need servicing (stringing, gripping etc.) prior to being shipped out, demo orders are not guaranteed to ship in the same time frame as new product purchases. Demo racquets may show in stock on your order but they may not be ready to ship immediately. Delays are only occasional and are typically no longer than one to two days.
Important Information about our Demo Program...
There is a limit of four (4) racquets per demo order.
Gift cards may not be used towards demo orders. Only a valid credit card can be used to pay for the shipping fee.
If the grip/head size of the demo you want is checked out, the expected date of return will be shown. Your order will ship as soon as that demo is returned to us.
You may include items other than demo racquets on your order, but any additional product over 1 lb will be placed on a separate order with additional shipping charges that may apply. Other items added to a demo order under 1 lb will still be placed on a separate order, but the extra shipping charges will be waived.