Yonex VCORE Xi 100 Racquet Review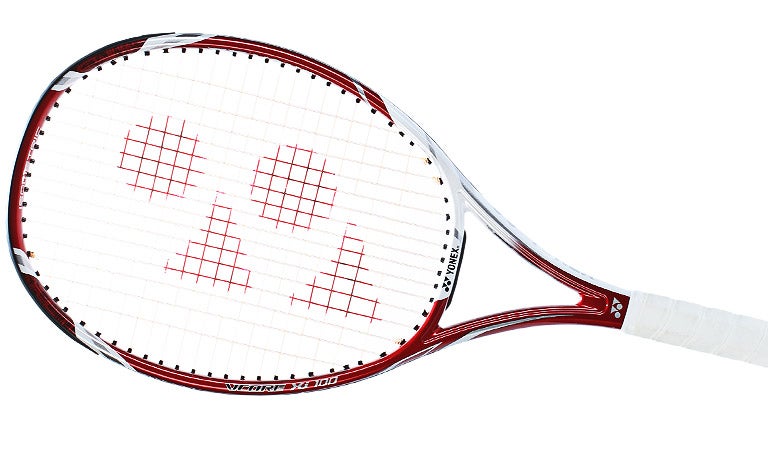 Yonex VCORE Xi 100 Scores
Comfort
78
Touch/Feel
79
Serves
83
Groundstrokes
83
Returns
82
Slice
80
Topspin
82
Volleys
77
Overall
81
Upsides
Easy access to power
Maneuverability
Large sweetspot
Downsides
A little light for big hitters
Summary
An update to the VCORE 100 S, the Yonex VCORE Xi 100 now has Xi technology to increase the size of the sweetspot and add power to the racquet. Designed for fast swing speeds to maximize the maneuverability and spin potential, this racquet was well received by our playtest team. It has a powerful and maneuverable feel and a lively and crisp response. The feel of this racquet is slightly different than the VCORE 100 S, and despite the weight being a tad light for some of our bigger hitters, the new and improved sweetspot was appreciated from all areas of the court. Though some of the team felt like the racquet was lacking control and stability at times, the maneuverability outshone any negatives. With spin, power, maneuverability and the crisp response easily accessible, this updated VCORE was approved and enjoyed by our playtest team.
Groundstrokes - Score: 83
Powerful, maneuverable and spin-friendly were some of the words used by the playtesters to describe the Yonex VCORE Xi 100. Mike found some great pace with the Xi 100. He said, "It's a very maneuverable racquet, which made it really easy for me to generate power on both backhands and forehands. Because the racquet offered me more power than normal it allowed me to focus more on controlling the ball rather than trying to generate pace. This was a plus for me because it allowed me to 'try' to be more consistent."
The Xi 100 was familiar territory for Brittany. She said, "As the previous model (VCORE 100 S) is my current racquet of choice, I was very excited to try this update. I immediately felt a little bit more power than the previous version (which had a lot of power to begin with!) on groundstrokes, and I thought the sweetspot was a little bit bigger. This larger sweetspot was a big bonus because even off-center shots were comfortable and had some power behind them. I did notice that the feel was slightly different; not better or worse, just different."
Andy found this racquet had a very solid, crisp, lively feel from the baseline, with lots of access to power and spin. He offered, "I could get plenty of action on the ball with just the simplest of swings. Even when I was stretched really wide it was easy to stick the racquet out and play the ball back deep to neutralize the point. It's light and super maneuverable, which enabled me to generate lots of racquet head speed for heavy spin shots. I did feel there was a slight lack of control when trying to be really precise and hit a certain spot on the court. This racquet is so powerful and lively that sometimes it was hard for me to gauge the response off the stringbed when trying to hit a shot with finesse. Overall, this was a powerful, lively racquet from the baseline with a crisp, lively feel."
Coincidence? Tiffani also enjoyed the power of the Xi 100. "It's funny how life works out. The predecessor to this racquet was one of my first playtests back after my first child, and now the update is one of my last before having my second. Like the first playtest, I'm in a position where I need extra power from my racquet, though for different reasons. I loved the VCORE 100 S, and I'm loving the VCORE Xi 100, too. I'm finding great power, which was true with the previous version, but it feels like this new version has an even bigger sweetspot. I can feel the ball fly off the strings even when it's strung with a full bed of poly. Spin is found easily enough because this racquet swings so fast. Though this racquet comes in with a high stiffness rating (71 RA) (editor's note: we consider anything from 68 RA and above to be on the stiff side), it is quite comfortable on my arm."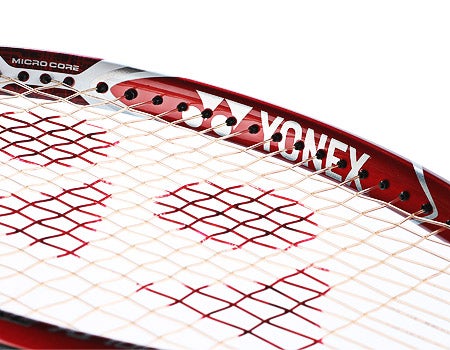 Volleys - Score: 77
While the playtesters noticed the maneuverability and pop off the stringbed, some of them felt the racquet was lacking feel and weight behind the racquet head. Andy enjoyed the power but wasn't sold on the feel. He explained, "The racquet felt lively and crisp, but the feel around the net was certainly lacking. I didn't feel as connected to the ball as I did with the previous version of this racquet, which affected my touch volleys. With that said, I felt there was more pop in this version, which made it very nice when stretched out wide and trying to scrap and get the ball back deep. This was also beneficial when putting away high volleys and overheads because there was plenty of pace to be found."
Really taking advantage of the pace the racquet created was Tiffani. She said, "As I mentioned in groundstrokes, this racquet is super easy to maneuver. Because volleys aren't my strongest stroke I look for two things from a racquet when at net: good mobility and good pop. I found both with the VCORE Xi 100."
"This shot wasn't my favorite," said Mike, who struggled with the mass against tougher opponents. "I felt like the racquet was a bit too light and I kept getting pushed back as my opponent hit the ball harder at me. A little weight at the 3 and 9 positions would allow me to hold my ground and consistently get the volley back."
Brittany liked the crisp and clean response from the Xi 100 up at net. She said, "I thought this was where the most improvements took place. I was much more comfortable at the net than I am with the previous version. I think the combination of stability, maneuverability and stiffness allowed my volleys to be precise and crisp. The feel gave me a little extra success in the touch department, especially when I was hitting shorter or angled volleys."
Serves - Score: 83
Once again, maneuverability was really high. This, along with the power in the frame, gave the team some big serves to work with. Tiffani found her comfort zone with the Xi 100. She said, "Just like with every other stroke, power and ease of swing were the standout features on serves. I tend to hit slice serves as my go-to, and I got decent (not outstanding) action on the ball. I did enjoy that pace came easily off even moderate swings."
Brittany liked the pace she could create. She put it simply, saying, "I just need two words to describe this racquet on serves: easy power. This racquet is very powerful on serves and I was really able to crank out some powerful flat first serves. The racquet's maneuverability also allowed me to really swing aggressively at every serve without tiring out my arm. I actually enjoyed hitting second serves, as I was able to consistently place the ball with enough spin to stay neutral at the start of the point. I noticed that both my first and second serves were landing deep in the service box."
Really getting in his groove and enjoying the speed of the racquet whipping through the air was Mike, who said, "The maneuverability made life so much easier for me, allowing me to fully swing through the ball and generate both power and control, and giving me some free points. My favorite serve with this racquet was down the T. Aces all day!"
Andy also liked the pace he generated and the spin potential, but he would have preferred more control. He said, "I could certainly drop some bombs with this racquet on serve, but it was a bit of a struggle putting them where I wanted them to go. I felt this racquet lacked ball feel and control, which both come into play when I'm trying to be accurate and hit my spots in the service box. I also found this racquet to be a bit light, which also affected the control on serve. However, power and spin were once again prevalent and accessed with ease. "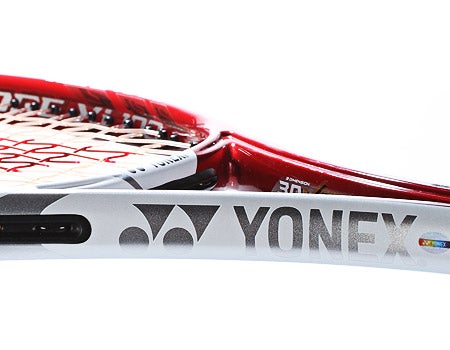 Serve Returns - Score: 82
The playtesters found they were able to be really aggressive with their serve returns, although some wished for a little more stability and control. With serve returns being a favorite shot of Brittany, she found that they only got better and better with this racquet. She said, "I loved hitting serve returns with this racquet! Like the previous version, I was impressed with the variety of shots I could hit, from a low angled cross court shot in doubles to a flatter more aggressive up the line shot in singles. I always felt like I was able to start the point in an offensive position."
Mike was ripping some big winners with the Xi 100. He said, "There was a ton of pop when returning the ball, making it really easy to adjust to this racquet. The lightness of the frame allowed me to really swing at my full potential, hitting some winners right off the serve. Normally I just try to get the ball back, but with this racquet the maneuverability let me be more aggressive."
Finding pace and depth like Mike, but again lacking in control, was Andy. He offered, "The racquet felt great when I was stretched super wide and was scrapping to get a return back. All I needed to do was stick the racquet out and I could get plenty of pace and depth on the ball. Also, when I had time to set up for a return I could crack it with tons of power and spin. In addition, the excellent maneuverability made it easy to get the racquet around my body when I was rushed by a big serve. However, as will be my theme for the whole review, the control was simply not there for me, and I felt the ball could go anywhere if I didn't hit it just right."
Tiffani also felt she needed more control. She said, "Though I liked returning with this racquet, sometimes I got a little wild. I think it's because I could swing it faster than I can swing the racquet I typically use. Once I took a deep breath and adjusted a little I enjoyed returning. It allowed me to be more aggressive, standing in and taking serves earlier. I didn't have a huge problem with it, but sometimes I did notice some instability."
Overall - Score: 81
Likes
Mike - "Serving and returning the ball were my favorite shots with this racquet."
Andy - "I enjoyed the power and spin I could generate with this racquet. It also has a very lively and crisp feel, which I tend to enjoy."
Tiffani - "Such easy access to power, and the feel is lively and comfortable."
Brittany - "I loved the power and control combination, along with the bigger sweet spot."
Dislikes
Mike - "Volleys. Also, on some shots the racquet just didn't have enough mass behind it."
Andy - "I felt control and feel were lacking. It was also a bit too light for me, but that's more my personal preference than a flaw in the racquet."
Tiffani - "I don't really have any. Perhaps a little instability if I missed the sweetspot."
Brittany - "The feel was slightly different. It wasn't bad, but I prefer the feel of the previous version."
Comparing this racquet to others they've tried, our testers said:
Mike - "Compared to the previous version of this frame this one felt a lot crisper and had better feel for the majority of my shots, but spec wise it's very similar to the previous version. This frame reminded me a lot of the Prince EXO3 Warrior that we tested a while back in terms of being maneuverable and generating tons of pop."
Andy - "An easy comparison would be to the previous model, which I felt had a little better feel and connection to the ball than this new version. However, the new version could produce more power and spin, most likely due to a slight increase in stiffness (which is what affects the ball feel). It felt similar to the Babolat Pure Drive and Dunlop Biomimetic S 6.0 Lite, in that they can produce loads of power and spin, but might lack control for players with longer, faster strokes."
Tiffani - "To me it is a lot like the previous version. Both swing fast, offer easy access to power and are comfortable on the arm. If anything, this newer version seems to have a bigger sweetspot. The power level is on par with a Pure Drive or my Formula 100."
Brittany - "The Xi 100 version is very similar to the VCORE 100 S, with similar specs. I thought it was slightly more powerful and had a slightly different feel. Other racquets that I found similar are the Babolat Pure Drive and Donnay Formula 100."
Technical Specifications

Length
27 inches
69 centimeters
Head Size
100 square inches
645 square centimeters
Weight
11.1 ounces
315 grams
Balance Point
12.9 inches
33 centimeters
5pts Head Light
Construction
24.5mm / 24.5mm / 23mm
Composition
H.M. Graphite / X-Fullerene / Micro Core
String Pattern
16 Mains / 19 Crosses

Babolat RDC Ratings

Score

Grade

Flex Rating
71
Range: 0-100
Swing Weight
305
Range: 200-400
Scores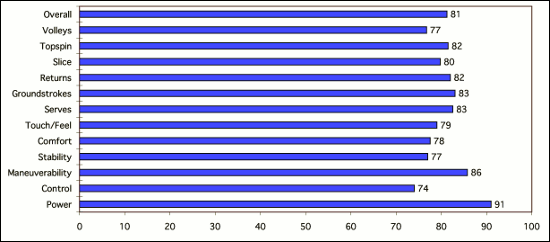 (Scores are determined by averaging individual play test scores)
Mike's Scores
Power
9
Serves
9
Control
8
Groundstrokes
8.7
Maneuverability
8.6
Returns
8.5
Stability
7.9
Slice
8.2
Comfort
8.1
Topspin
7.9
Touch/Feel
8
Volleys
7.5
Overall
8.5
Andy's Scores
Power
9.3
Serves
7
Control
6
Groundstrokes
7
Maneuverability
9.2
Returns
7
Stability
7
Slice
7.5
Comfort
7
Topspin
8.3
Touch/Feel
7
Volleys
7
Overall
7
Tiffani's Scores
Power
8.5
Serves
8.2
Control
7.7
Groundstrokes
8.5
Maneuverability
8.5
Returns
8.1
Stability
7.8
Slice
7.7
Comfort
8
Topspin
8.1
Touch/Feel
8
Volleys
8
Overall
8.4
Brittany's Scores
Power
9.6
Serves
8.8
Control
7.9
Groundstrokes
9
Maneuverability
8
Returns
9.2
Stability
8.1
Slice
8.5
Comfort
7.9
Topspin
8.3
Touch/Feel
8.6
Volleys
8.2
Overall
8.6
Playtester Profiles
Mike: 5.0 baseliner with a semi-western forehand and two-handed backhand. His current racquet of choice is a customized Prince Triple Threat Warrior.
Andy: Open level all court player with a semi-western forehand grip and a two handed backhand. Andy currently using a Yonex RDiS 100 Mid.
Tiffani: 4.0 level baseliner with a semiwestern grip on the forehand and hits a two-handed backhand. Currently playing with the Donnay Formula 100.
Brittany: Open level player with a semi-western forehand and a two-handed backhand. She currently plays with the Yonex V-Core 100S.

Review date: January 2013. If you found this review interesting or have further questions or comments please contact us.
All content copyright 2013 Tennis Warehouse.