Yonex VCORE Tour 89 Racquet Review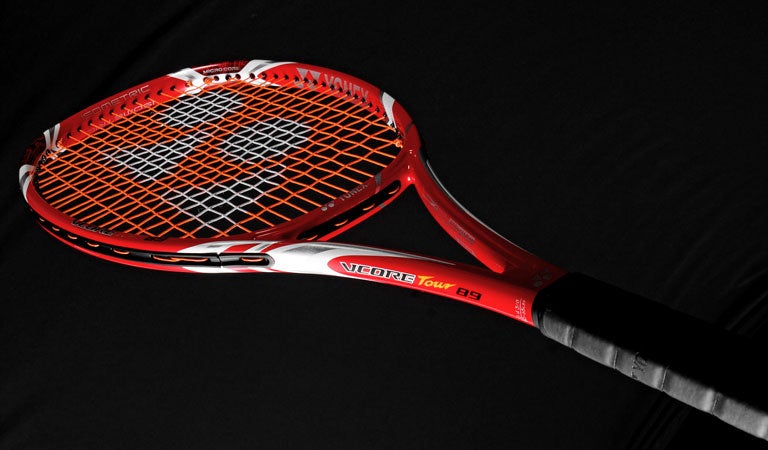 Yonex VCORE Tour 89 Scores
Comfort
86
Touch/Feel
88
Serves
84
Groundstrokes
84
Returns
86
Slice
87
Topspin
80
Volleys
85
Overall
86
Upsides
Feel
Maneuverability
Power
Stability
Headsize feels larger than 89 sq. in.
Downsides
Nothing we could agree on
Summary
The newest addition to the popular lineup of Yonex mid headsize racquets, the VCORE Tour 89, can be regarded as one of the best and most playable racquets in its weight class. Just like the Yonex mids of old, this racquet plays much larger than its 89 square inch head. Yonex's unique Isometric head shape expands the sweetspot and allows more room for off-center hits. The two things that stood out the most on the court were control and maneuverability. Our playtesters found this racquet very easy to swing and could direct their shots with pinpoint precision. In addition, this racquet offered exceptional pop for its small head size, along with superb touch and feel. This stick has become a favorite here at Tennis Warehouse among players who like mid-sized racquets. If you favor 95 square inch and smaller head sizes, we recommend you give the VCORE Tour 89 a try.
Groundstrokes - Score: 84
All of our playtesters loved hitting with this racquet from the baseline. Troy loved the maneuverability and the control he got from the VCORE Tour 89. He said, "The lack of precision that I experienced with the 97 square inch version was cured with this mid-sized version. I loved how I could dictate play and move my opponents around the court, especially off the forehand side. The feel was superb and aided the predictability of my shots. Even though the weight and balance were fairly close to the midplus, this version felt more maneuverable, allowing me to easily generate racquet head speed. The backhand slice came naturally with this racquet. I could carve the ball with backspin, and it was skidding low off the bounce. Topspin wasn't as easy to generate compared to the midplus, and the sweetspot was a bit unforgiving at times, but the precision from this mid is unmatchable."
Chris felt the racquet was very forgiving for its head size. He said, "In typical Yonex fashion, this racquet felt much more forgiving than its head size would suggest. The sweetspot felt generous -- almost 95 square inch-like in its feel -- and I was surprised by the amount of power offered even on off-center shots. I really enjoyed hitting my one-handed backhand with this racquet. I loved the way it came through the contact zone. It seemed to cut through the air well and allowed me easier access to racquet head speed than other racquets at a comparable weight. I was getting good topspin, which allowed me to both roll the ball and drive the ball with power, letting the spin bring it in. On slice shots I was driving through the ball well, but I wasn't getting quite the skid off the bounce that I get from the Volkl C10 Pro I've recently been hitting."
Andy loved how solid the racquet felt and how maneuverable it was. He said, "I loved the feel of the VCORE on the groundstrokes. It was extremely solid and had great plow through. It felt very maneuverable and it was easy to get through the hitting zone quickly. It felt simply amazing when I flattened out the ball. However, because of the smaller head size it was a little difficult to generate a lot of topspin consistently. I think this is just because there is not much room with the small head, and thus not much forgiveness if you don't hit the ball in the middle of the strings. Other than that, it was awesome on the groundies!"
Confidence was easy to come by from the baseline for Mark, who said, "I have been favoring racquets with smaller head sizes lately, so I was pretty excited to be a part of this playtest. Within the first five minutes of groundstrokes I had already decided that I liked this racquet. From my backhand slice to hitting topspin off both wings, I felt confident from all areas of the court within a short period of time."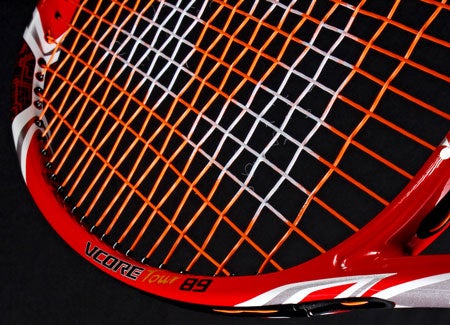 Volleys - Score: 85
Everyone really liked the feel of the VCORE Tour 89 at net as well. Loving the solid feel and pinpoint control was Chris. He said, "At net this racquet felt crisp, precise and rock solid. I felt very dialed in on my volleys. I could punch volleys deep with pace and great control. I also found enough stability to allow for a very soft grip on the handle on touch shots. The result was excellent feel and control on drop volleys and angles. I also liked the stability on tough shoelace volleys and when I was stretched wide. In tough situations I found enough mass and punch from the racquet to keep my volleys on target with good pace."
Troy was getting surgical as he ventured his way up to the net, saying, "Scalpel-like precision is what sums up this racquet when at net. I felt I could place the ball anywhere I wanted. This racquet possessed all the stability of the midplus, but with a lot more feel. There were times when the small sweetspot made it difficult to connect, but overall I was more effective with this stick than with the midplus. I found myself going for short angles and drop volleys because the feel of this racquet gave me a lot of confidence."
Mark was feeling confident with this racquet in hand on the volley. He said, "In terms of the volley, the stability of the VCORE 89's low 12-ounce range of mass and that generous sweetspot made me feel quite comfortable, borderline imposing at net. I approached volleying from the service-T all the way to short half volleys close to the net with confidence."
Andy really enjoyed the feel at net but did not feel the racquet offered much forgiveness. He said, "Volleys felt nice, but this is where I felt the small head size the most. Again, it felt very solid when I made clean contact and it was very maneuverable. However, it was not forgiving on off-center hits, and it was a little difficult knifing the volley with lots of under-spin. When I made solid contact it felt great, but there's simply not very much space on the stringbed if the shot is not perfect. With that said, I know I'm being picky. It had tremendous feel and touch, and felt like a magic wand at net."
Serves - Score: 84
Control and precision were apparent on the serve for our whole team. Chris had all his different serves working with the VCORE Tour 89. He said, "I really, really liked serving with this stick. It came through the contact zone exceptionally well. I like racquets that have heft but swing fast, and this racquet has that in spades. I was getting good pace on first serves. I was mixing in some slice and topspin when needed, as well as enjoying good targeting on flat deliveries. My second serves were kicking well with topspin. I liked the angle I was finding going wide to the ad side with topspin. On slice serves I found I could slide serves into the body as well as hit a kick slice wide to open up the court on the deuce side."
Getting the best of both worlds, with power and control, was Andy. He said, "Serves felt powerful and very accurate. The ball explodes off the stringbed, and I felt like I could put it on a dime! I was also able to generate great slice and kick. There was excellent power, excellent control and great access to spin!"
Troy loved the maneuverability and control he found when serving. He offered, "I found easy maneuverability with this racquet, which helped me get good pace and spin on my serves. I wasn't getting as much spin on my serves as the midplus version, but I could be more aggressive and aim closer to the lines. I felt like I could go for my first serves down the middle with confidence. My slice serve on the ad-side was cutting sharply out wide, and I was able to get some easy points with that shot, more than I did with the midplus. I was able to hit my targets more often with this stick than with the VCORE 97, which was a big plus for me."
It took Mark a little while to get used to this racquet, but once he did he felt the maneuverability and stability on his serve. He said, "It took a bit longer to adapt to serving well with the VCORE 89, but was very rewarding after making a small adjustment. The placement of the mass gave me plenty of stability, but it also gave me good maneuverability. Add in the smaller head size creating a wind cheating profile, and it was pretty easy to produce quite a bit of racquet head speed for the serve."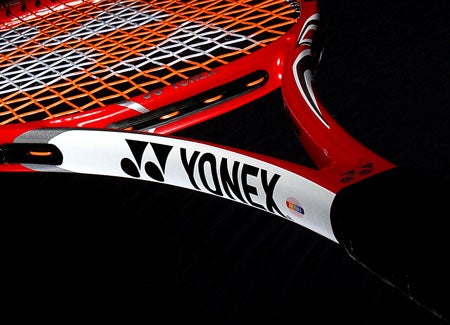 Serve Returns - Score: 86
The maneuverability of the VCORE Tour 89 really stood out on the return of serve. Our playtesters felt confident went attacking the return, and also felt stability and control when just chipping it back. Andy was in love with this racquet on his returns. He said, "I loved this racquet on the return of serve (my favorite shot in tennis). It felt so maneuverable and had such great control, the two most important characteristics for me on the return of serve. The racquet was easy to whip around my body and had the perfect amount of control for redirecting a big first serve."
Chris also really enjoyed returning with this racquet. He said, "The fast yet solid feel was a huge plus on returns. I was attacking the ball well with this racquet. We strung up some low-powered co-polys in it during the test (such as Babolat RPM Blast), and I enjoyed being able to take a good cut at the ball with that kind of setup. I could get a lot of spin on my returns and that allowed me to hit aggressively whenever the opportunity presented itself."
Mark liked the precision he felt on his returns. He said, "I have a tendency to block back serves instead of using a topspin return, so the VCORE 89 was perfect for predictably keeping the return low."
Troy liked the depth and control he had on the return, but he wanted a little more forgiveness for taking big cuts at the ball. He said, "I liked that my returns were getting good depth and I could place the ball well within the court. The downside for me was that the relatively small sweetspot made it difficult for me to come up with returns on any serve that was outside my wheelhouse. With the midplus I had a little more forgiveness when stretched out, which was helpful in getting a deep return. With this 89 I could attack when the serve sat up for me, but on anything else my returns were usually falling short in the opponent's court. I did find some success on the backhand slice return, especially in doubles when I could come to net behind it. This is the one shot where I had a bit more success with the 97."
Overall - Score: 86
Likes
Chris - "Power, control, stability, maneuverability, touch/feel and spin! That pretty much covers everything I need."
Troy - "A very precise feeling racquet; much more feel than the 97. Not quite as pure feeling as the Wilson Pro Staff 6.0 85, but about as close as it gets."
Mark - "Yonex uses the method of a longer main string to create a more generous sweetspot, and I feel that they make some of the better mid-sized frames available. The VCORE 89 personifies my opinion about its mid-sized frames. The weight, balance, beam firmness, head size, pattern, paint scheme, etc., all suited me just fine. This racquet definitely makes me feel like I can play with smaller head sizes. It plays like it has a larger hoop size, but without the increased power level; just a sweeter sweetspot."
Andy - "I liked almost everything about this racquet! The weight, maneuverability, comfort, feel and control were awesome, and it felt so, so solid!"
Dislikes
Chris - "None."
Troy - "It has a slightly smaller sweetspot than I feel comfortable going to battle with. I currently use the Wilson BLX Six.One 95 (18x20), which gives me a little more forgiveness than this 89 sq. inch head size."
Mark - "Yet another high quality frame that I would seriously consider switching to, so none!"
Andy - "Two things: the head size is just slightly too small for me (though it does play a little larger than 89 square inches), and it was a little difficult to generate a lot of topspin."
Comparing the racquet to others they've tried, our testers said:
Chris - "I would definitely put this one in the camp of the more solid and crisp feeling Yonex mids. I used to use the buttery smooth RDX 500 Mid, but this one feels like it has more RDS 001 Mid in its heritage, as it is firmer and crisper. However, I thought comfort was vastly improved over recent Yonex mids, and that puts it midway between the softer Yonex racquets of old and the firmer playing recent versions for me. While it has a very different feel from my old Volkl Power Bridge 10 Mids, this racquet offers the same solid yet fast feel, as well as a forgiveness far beyond what its head size would suggest."
Troy - "The closest racquet to compare to this racquet would be the Pacific X Feel Pro 90 Vacuum, but the Pacific had a more flexible and dampened feel. The Wilson BLX Pro Staff Six.One 90 was a bit more comfortable for me overall due to the fact that it has a bit more lively response off the stringbed, which gave me a little more depth on my groundstrokes. Overall, this is a very solid player's frame, but not quite as effective for me as the Wilson BLX Six.One 95 (18x20) 2012, which is currently my go-to stick."
Mark - "As I mentioned above, the mid-sized frames from Yonex are among my favorites, and I feel similarly about the new VCORE 89/97 as I did about the older RDiS 100 mid/midplus. The midplus versions of those frames play much differently than the mids do. With the exception of the head sizes they were more alike than not on paper, but playing with them you can feel the contrast due to the head size difference. I would not really compare the VCORE 89 to the Wilson Tour 90, but I can seamlessly go back and forth from the Head Prestige Mid and the VCORE 89."
Andy - "This racquet is very similar to the rest of the Yonex mids that have been around for ages, especially my racquet of choice, the RDiS 100 Mid. It definitely feels smaller and less forgiving than the RDiS 100 Mid. It's stiffer, and I felt more control with the VCORE."
Technical Specifications

Length
27 inches
69 centimeters
Head Size
89 square inches
574 square centimeters
Weight
12.1 ounces
343 grams
Balance Point
12.1 inches
31 centimeters
8pts Head Light
Construction
20.5mm / 20.5mm / 20mm
Composition
Micro Core / X-Fullerene
String Pattern
16 Mains / 20 Crosses

Babolat RDC Ratings

Score

Grade

Flex Rating
64
Range: 0-100
Swing Weight
335
Range: 200-400
Scores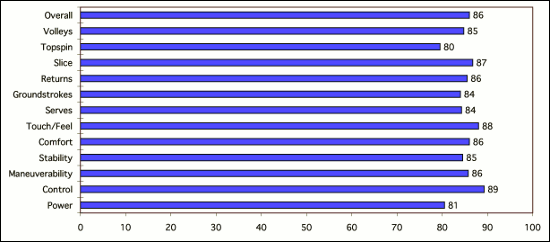 (Scores are determined by averaging individual play test scores)
Chris's Scores
Power
8.2
Serves
8.4
Control
8.2
Groundstrokes
8.3
Maneuverability
7.9
Returns
8.3
Stability
8.3
Slice
8.4
Comfort
8.4
Topspin
8
Touch/Feel
8.4
Volleys
8
Overall
8.3
Troy's Scores
Power
7
Serves
8.6
Control
9.5
Groundstrokes
8.3
Maneuverability
8.9
Returns
7.7
Stability
8.5
Slice
9
Comfort
8.5
Topspin
7.8
Touch/Feel
8.8
Volleys
8.9
Overall
8.5
Mark's Scores
Power
9
Serves
8
Control
9
Groundstrokes
9
Maneuverability
8.5
Returns
9
Stability
9
Slice
9
Comfort
9
Topspin
9
Touch/Feel
9
Volleys
9
Overall
8.9
Andy's Scores
Power
8
Serves
8.7
Control
9
Groundstrokes
8
Maneuverability
9
Returns
9.2
Stability
8
Slice
8.3
Comfort
8.5
Topspin
7
Touch/Feel
9
Volleys
8
Overall
8.7
Playtester Profiles
Chris: 5.0 all-court player currently using the Volkl C10 Pro 2012. Chris uses a full-western forehand grip, has a fast swing style and hits a one-handed backhand.
Troy: 5.0 lefty all-court player with a full Western Forehand and a two-handed backhand. Troy currently plays with a Wilson BLX Six.One 95 18x20 (2012 version).
Mark: 5.0 lefty all-court player with a one-handed backhand. He currently plays with the Dunlop Aerogel 4D 200.
Andy: Open level all court player with a semi-western forehand grip and a two handed backhand. Andy currently using a Yonex RDiS 100 Mid.

Review date: August 2012. If you found this review interesting or have further questions or comments please contact us.
All content copyright 2012 Tennis Warehouse.