Wilson BLX Six.One 95 18x20 Racquet Review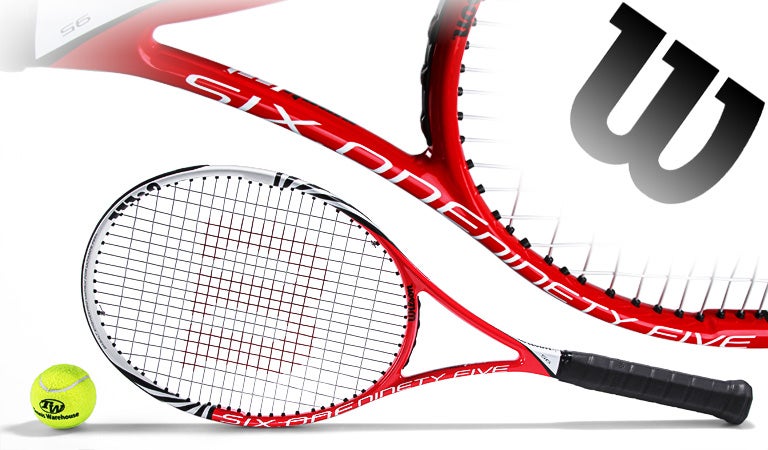 Wilson BLX Six.One 95 18x20 Scores
Comfort
81
Touch/Feel
85
Serves
77
Groundstrokes
82
Returns
78
Slice
86
Topspin
77
Volleys
88
Overall
82
Upsides
Control
Feel
Stability
Precision
Plow Through
Downsides
Doesn't quite have the pop of the 16x18 version
Summary
Players seeking to add some additional control and feel to their Six.One 95 experience would be well advised to take some cuts with this racquet and its tighter 18x20 string pattern. Wilson claims it has improved the feel of the Six.One with Amplifeel, and there was no argument from our testers. No matter what the shot or position on court, our testers felt dialed in with this racquet. Control at net was a hit with our entire crew, with Carol also noting improved comfort. More strings meant our testers had to work a tad harder to find the same power they had with the 16x18 version on groundstrokes and serves, but the plow through from this racquet's mass helped put plenty of zing on the ball. Those on our team familiar with previous versions of the Six.One 95 found switching to this one a seamless transition -- good news for those looking to update their existing Six.One 95s. The Amplifeel technology also proved to be an effective update and in our eyes makes it an improvement over the BLX version it replaces. As with previous Six.One 95s, this racquet is best suited to intermediate through advanced level players.
Groundstrokes - Score: 82
When it came to hitting from the baseline with the new Six.One 95 18x20, all our playtesters experienced excellent control and consistency. Chris enjoyed the response of the tight string pattern. He said, "This was my favorite of the two new Six.Ones off the ground, and it was amazing how much more feel and control I had with 4 extra strings to deaden the stringbed. I felt more confident in taking a big cut at the ball more of the time, as I had fewer shots fly on me with this version. I also preferred it on my backhand slice, as I could knife the ball more to hit a lower skidding shot. Feel was improved over the previous BLX version and I thought it felt closer to Gran's KFactor version in its response. Compared to the current 16x18 version, I had to work harder to find depth and pace, but most of the time that was a willing trade-off. The only exception was when playing Britt or Siobhan, as they both consistently hit very deep, and it made it hard work to dig the ball out and still find depth with this racquet. Still, the added touch from the tight stringbed made it better suited to hitting my backhand slice and drop shots, both strengths of my game."
Getting plenty of power from the baseline was Mark. He said, "This version of Six.One 95 surprised me with its effectiveness from all spots of the court. If I were Goldilocks, and it were a bowl of porridge, the 18x20 was the perfect size and temperature. My backhand is generally a set-up shot to my forehand, but I was getting more power on that wing, and when I did get the chance to run around my forehand, wow! I could even hit through our slow indoor court."
Troy noted the precision he got, which allowed him to move his opponent. He said, "The control and precision this racquet gave me on my groundies really helped me to implement my playing style. There was a definite drop-off in power compared to the open 16x18 string pattern, but once I dialed it in I was hitting my spots with more consistency. This stick was giving me the precision to move my opponent around the court, side-to-side or front-to-back, so that I could create an opening in the court to put the ball away. The dense string pattern really knifes through the ball on the slice backhand, which was helping me to mix up my shots and keep my opponent off balance. Although very control oriented, I noticed that I got a little more pop and depth on my shots than I did with racquets such as the Prince EXO3 Rebel 95 and Dunlop Biomimetic 200."
Loving the control but seeking more power was Carol. She said, "This is a very comfortable racquet that provides ample feel and control with its 18x20 string pattern. I thought this version was similar to the Wilson K Factor Six-One with the one exception: Amplifeel. I definitely felt that this racquet benefited from Amplifeel technology. The 18x20 string pattern does not leave a lot of room for error when hitting outside the sweetspot. The Amplifeel really helped absorb any shock from mis-hits. It's very comfortable! Because I am a precise player this racquet benefits my game, but I felt I was lacking a little bit in the power department. I loved the swingweight of the racquet, which allowed me to really step up and attack balls with ease. It maneuvers really well around the court and is stable with every shot. I am a big fan of the BLX technology for feel and am very happy that they added this feature to this version."
Volleys - Score: 88
The dense string pattern and the racquet's stability provided a high level of control and feel at net for our testers. Finding herself at net more than normal because of the excellent response was Carol. She said, "This was my favorite shot with this racquet. I felt very controlled at net, and this racquet really helped me absorb power. I was able to decrease or add pace to the ball with ease. I really enjoyed the soft feel, and it added to touch volleys."
Chris enjoyed the precision on his volleys. He said, "I loved this racquet at net. I found tons of control and feel -- more so than with previous version of this racquet. This racquet felt rock solid at net. I liked how the stable response made it easier to find some punch on volleys when stretched wide or forced off balance. Maneuverability was impressive, just as it was on the open patterned version."
The mass enhanced Mark's shots. He said, "I felt great at net with the 18x20. Shots aimed at my body were concisely dealt with, and there was plenty of mass on this racquet to feel stable on the stretch, even with the ball making contact at the tip of the hoop."
Troy took advantage of the accuracy this racquet offered. He said, "The precision is what makes this racquet a real weapon at net. I felt connected to my volleys, allowing me to find good depth, as well as deft touch when carving a short volley. I liked how the dense string pattern seemed to impart good backspin on the deep volleys, making the ball stay low. Stability and maneuverability was nearly equal to that of the 16x18 version, but this 18x20 made me feel more comfortable hitting closer to the lines."
Serves - Score: 77
This racquet offered more consistency than its open string patterned sibling, but at the price of less power. Troy was able to dial in his stroke. He said, "Control and placement of serves was enhanced with this racquet. I felt that I could move my serves within the service box with a bit more consistency when going for a wide-serve, body-serve or a serve down-the-T. On the other hand, the open 16x18 string pattern provided more access to spin and kick, while this 18x20 required more racquet head speed to get the job done. I liked the open 16x18 better on serve, but for those with huge serves the 18x20 allows for more racquet head-speed and control."
Chris enjoyed the consistency, saying, "I didn't tap into quite the level of pace and topspin I did with the 16x18 version, but I got close with this racquet. I was serving consistently and the racquet offered some nice plow through, so I didn't have to work hard to serve hard. I found a solid level of slice when going out wide and enjoyed the way the racquet came through the ball."
Serving with confidence was Mark. He said, "The racquet I played with had a full set of a low tensioned poly, so I never felt like the Six.One 95 added power to my swing, but it did provide that 'extension of my arm' feeling. I could serve with a lot of confidence from the first few swings. It was the same thing on overheads. The weight made it very stable and the balance kept it maneuverable."
Carol felt the dense pattern worked against her on serves. She said, "Compared to the 16x18 racquet, I felt it lacked a little in power for me. I also felt that decreased control made it harder to be accurate when directing the ball. I did love the swingweight when serving, as it allowed me to really whip through the ball."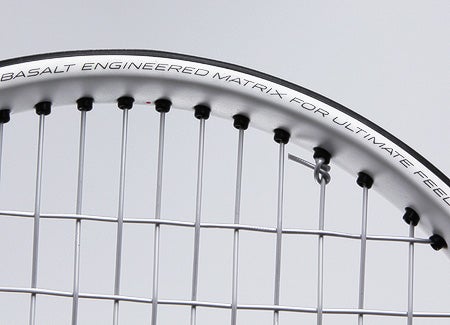 Serve Returns - Score: 78
Chris felt this racquet allowed him to be more aggressive on returns. He said, "With the added control of the tighter string pattern I felt more confident being aggressive on the return more often than with the 16x18 -- and I wasn't holding back at all with that racquet! I really enjoyed driving my slice backhand low, giving an incoming serve and volleyer all kinds of trouble. When coming over the ball I found all the spin I needed to take a big cut and still keep everything within the lines."
Troy liked to go on the attack, saying, "I loved how I could really step in and attack my returns without the fear of overhitting. I found good depth on my returns because I could generate a lot of racquet head speed, and the plow through really does a lot of the work for you once you get the racquet flying. I noticed the difference in control when playing doubles, finding that I could steer my returns away from the net man with a little more comfort. Hitting the backhand slice return was rewarding with this racquet and worked out well for me when facing a serve and volleyer, allowing me to keep the ball down at his feet. This racquet can be a weapon for those players looking to rip returns."
Like on her groundstrokes, Carol could have used more power. She said, "The return was a very solid shot for me, but like my groundstrokes, I felt that power was lacking a little bit. This is my most aggressive shot, and I feel I needed a little extra added power. Again, the Amplifeel technology felt like a big bonus here for shock absorption and comfort."
Mark found ways to be effective. He said, "This aspect of my game is not considered a weapon, but I was able to keep my slice lower and deeper, and I could take a more aggressive cut at second serves with this racquet."
Overall - Score: 82
Likes
Chris - "I liked the added control of the tighter stringbed. I would like to experiment with some very low tensioned poly string in this racquet, as I think it would respond very well."
Mark - "I think I would like it even more with a hybrid of a low tensioned poly and a softer cross string, but honestly, I loved the way this racquet played from every spot on the court. The frame did a good job at curbing any excessive vibration and was stable, even on off center hits, which are important aspects for me when considering a transition to a new frame. The cosmetic is also appealing. All in all, close to a perfect racquet for me."
Troy - "I prefer a racquet that allows me to move my opponent around and find an opportunity to put the ball away. This racquet gave me a lot of confidence to implement that style. It's great from all areas of the court, which explains why Mardy Fish chooses this frame to go to battle with."
Carol - "Big fan of this racquet! Again, I played the Wilson K Factor Six-One 18x20 previously, and I love that they added the BLX and Amplifeel technology to this newer version. I think the Amplifeel allows a little room for error, in that it absorbs any shock when hitting outside the sweetspot. I really enjoyed the volley and felt confident at net with all my shots."
Dislikes
Chris - "It took some effort to dig a deep ball out from around the baseline and return it deep with pace. However, dropping the tension into the low to mid-40 lb range with a poly string would probably solve that issue."
Mark - "It is another racquet that fits me so well it makes me rethink what I am playing with."
Troy - "I found a little more access to spin on serve with the 16x18 version. Not a huge fan of the new paint job."
Carol - "I think I have gotten used to the 16x18 racquet and the added power. I didn't feel I had quite the bite on the ball that I did with the 16x18, but only marginally so."
Technical Specifications

Length
27 inches
69 centimeters
Head Size
95 square inches
613 square centimeters
Weight
12.3 ounces
349 grams
Balance Point
12.5 inches
32 centimeters
8pts Head Light
Construction
21.5mm Straight Beam
Composition
Basalt
String Pattern
18 Mains / 20 Crosses

Babolat RDC Ratings

Score

Grade

Flex Rating
65
Range: 0-100
Swing Weight
333
Range: 200-400
Scores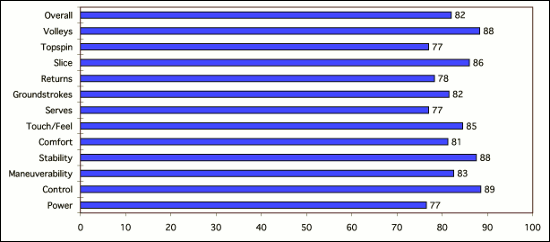 (Scores are determined by averaging individual play test scores)
Chris's Scores
Power
7.8
Serves
7.8
Control
8.4
Groundstrokes
7.8
Maneuverability
7.7
Returns
7.8
Stability
8
Slice
8.4
Comfort
8
Topspin
7.8
Touch/Feel
8.3
Volleys
8.3
Overall
8
Mark's Scores
Power
7.5
Serves
7.5
Control
9
Groundstrokes
8
Maneuverability
7.5
Returns
7.5
Stability
9
Slice
8
Comfort
7
Topspin
8
Touch/Feel
8.5
Volleys
9
Overall
8
Troy's Scores
Power
8.3
Serves
8.5
Control
9
Groundstrokes
8.8
Maneuverability
8.8
Returns
9
Stability
9
Slice
9
Comfort
8.5
Topspin
8
Touch/Feel
9
Volleys
9
Overall
8.8
Carol's Scores
Power
7
Serves
7
Control
9
Groundstrokes
8
Maneuverability
9
Returns
7
Stability
9
Slice
9
Comfort
9
Topspin
7
Touch/Feel
8
Volleys
9
Overall
8
Playtester Profiles
Chris: 5.0 all court player currently using the HEAD Youtek IG Prestige Midplus. Chris uses a full-western forehand grip, has a fast swing style and hits a one-handed backhand.
Mark: 5.0 lefty all-court player with a one-handed backhand. He currently plays with the Dunlop Aerogel 4D 200.
Troy: 5.0 lefty all-court player with a full Western Forehand and a two handed backhand. Troy currently plays with a customized Wilson KBlade 98.
Carol: Open level baseliner currently using a Wilson BLX Six.One 95 (16x18). Carol is an aggressive player who uses an eastern forehand grip and a two handed backhand.

Review date: February 2012. If you found this review interesting or have further questions or comments please contact us.
All content copyright 2012 Tennis Warehouse.