Wilson BLX Pro Staff Six.One 100 Racquet Review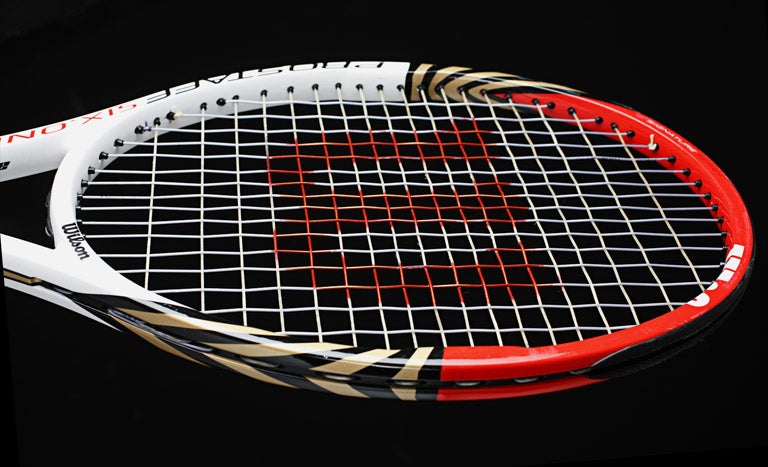 Wilson BLX Pro Staff Six.One 100 Scores
Comfort
80
Touch/Feel
78
Serves
79
Groundstrokes
77
Returns
78
Slice
79
Topspin
81
Volleys
77
Overall
79
Upsides
Maneuverability
Feel
Super spin friendly
Summary
The 100 square inch head size and open string pattern of the Wilson BLX Pro Staff Six.One 100 offered spin, spin and more spin to our playtesters. Whether it was at net, on serve or all over the baseline, the maneuverability and spin production were the most agreeable features of this racquet. Our testers had some hesitations and complaints about the weight, but liked hitting groundstrokes and found improved consistency. Some testers struggled with the stability at the net, while all enjoyed the maneuverability, the comfort and their ability to pop some good balls away. Most of the team really liked the spin, power and stability on serve. Serve returns needed a bit more work, but maximum spin and pace could be achieved with a fast swing. The weight left a little to be desired, with the lack of plow through sometimes causing stability and depth issues. Regardless, our playtesters considered the Wilson BLX Pro Staff Six.One 100 to be an enjoyable, maneuverable racquet that encouraged consistency from all over the court.
Groundstrokes - Score: 77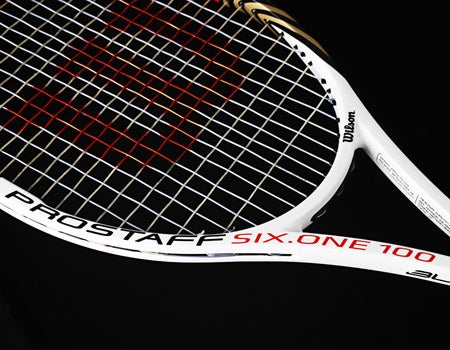 Despite some trepidation with the weight, the BLX Pro Staff Six.One 100 provided plenty of spin. Really enjoying the racquet from the baseline was Mike. He said, "My favorite part of the playtest was hitting groundstrokes. The racquet was really easy to adjust to, and I was able to really be consistent. The lighter weight made it easy to generate spin."
Granville struggled to find a rhythm but liked the maneuverability. He said, "From the initial feel when I picked it up to the first strike of a groundstroke I couldn't help but compare this 100 to the Pro Staffs of old - which it's not. My groundies were landing short and lacked pace compared to my more massive Pro Staff 95s, which forced me to make adjustments to my strokes. Off-center shots offered some extra vibration, and it just lacked that solid feel of the heavier models. On the plus side, the maneuverability is excellent, and I can really whip this thing around. It felt like a fencer's foil rather than a sword - lightweight, yet deadly in the right hands. I could really get some good topspin and slice with the open stringbed."
Chris found the racquet to be very light and fast off the ground. He offered, "I was close to dismissing it as being too light for me, but I soon found I was playing well with it. We strung our test racquet with Solinco Tour Bite mains and Pacific Prime Natural Gut at mid tension, and it really livened up the response. I was able to get more of the depth and pace I usually get from heavier racquets with that string setup. The maneuverable feel made this a great racquet for hitting with spin. The string pattern is pretty open, and I found it to really grab the ball for both topspin and slice. The solid combo of pace and spin made it a great racquet for hitting passing shots and lobs."
Enjoying her ability to move the racquet around, but finding it to be lacking a little plow through, was Karly. She said, "This racquet provided decent power and control, but what I thought really stood out was the maneuverability and spin. The low swingweight and head-light balance made it very easy to swing and I was never concerned about tiring out my arm. I could play longer against harder hitters, which was great! I also loved how spin-friendly the racquet was. Because it was so easy to swing I could really whip it around to generate a ton of topspin. When I was hitting with Jason he mentioned that there were several times when he thought my shots were going long, but instead they would dive down before the baseline because of the spin. Though the racquet was easy to swing, I thought it lacked torsional stability and plow through. When the ball wasn't hit in the dead center of the sweetspot it felt extremely unstable. I also found that because of the lack of plow through I was changing my follow through. For most of my shots I was ending my swing by whipping it around my head to get more momentum. When I slowed my swing speed there was a noticeable difference in depth; I couldn't get any at all."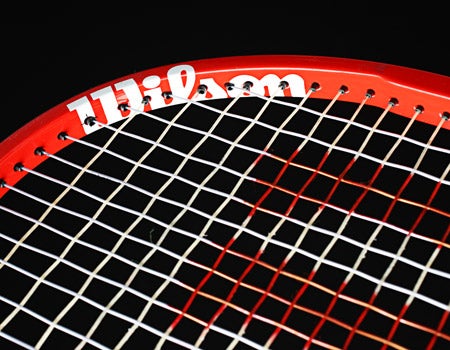 Volleys - Score: 77
Maneuverability was applauded by all the playtesters, while opinions varied on the stability and solidness of the BLX Pro Staff 100. Chris was quick with his racquet at net, saying, "Maneuverability was excellent, and it allowed me to react quickly, as well as add a little slice or snap at the last instant to change up my shot. I did not have any issues with stability, and the response at net improved for me when I switched from all poly strings to the poly/gut hybrid. I found improved comfort and more pop. I also found more feel on touch shots, though even with a full bed of poly I thought feel was good."
Granville agreed, finding that the great maneuverability and large head made volleys a little bit easier for him. He continued, "However, on the really heavy hit balls I could feel the racquet surrendering to the ball's pace a bit, making for a less than solid shot. When given the time I could punch the volleys away as with any racquet."
Karly found herself hanging back a little, saying, "I didn't care to come up to the net as much with this racquet because of the lack of stability. I thought the racquet felt the most unstable when hitting volleys. If I didn't hit my shots in the center of the sweetspot the frame twisted in my hand a great deal. I had a tendency to stay back on the baseline against players who put a lot of pace on the ball because the torsional stability made it uncomfortable on my arm. However, the racquet was very maneuverable. It was easy to bring the racquet around and quickly switch directions."
Utilizing the feel and touch offered by the racquet was Mike. He said, "This racquet was very solid at net and felt great when I made contact with the ball, allowing me to place the volley wherever I wanted. I could easily adjust to hit touch volleys or drop shots, too. Maneuverability at net was good, allowing me to adjust to pretty much every volley that came my way."
Serves - Score: 79
Most of the team really liked the spin, power and stability the Pro Staff BLX 100 provided on serve. Karly finally found the stability she was looking for, saying, "While I thought the racquet was unstable in other areas, I thought it was the opposite for serves. I didn't have any issues with the instability when serving, and it was actually my favorite thing to do with this racquet. Because it was maneuverable I could generate a ton of spin, and I felt like I had a lot of control with the direction of my serves. It was really easy to swing, whether I was going for a kick serve with a lot of spin or a powerful flat serve. Overall, I didn't really have any complaints serving with this racquet."
Mike said, "Generating power was not very hard with this frame. The lighter weight made it straight forward when it came to racquet head speed. Swinging freely with the frame allowed me to get some freebies on my serve. Again the maneuverability was a plus, offering easy access to spin. The racquet also felt stable and solid."
Chris was very happy with the spin and kick that he was getting with this racquet on serve. He offered, "I felt very consistent even when being aggressive. My pace was surprisingly good for a racquet this light. I know I can get more from this racquet with the addition of a little weight, but even in stock form I was serving well."
Struggling on serve and wishing for a bit more weight was Granville. He said, "It feels like I should be able to hit the ball 175 mph, as the weight just opens up so much racquet speed, but it's apparent at impact that there is simply not enough mass to really drive the ball with great pace. My slice serves out wide remained intact and effective, but I just couldn't hit those heaters down the middle. Lower stringbed tensions may relieve some of my pent up frustration!"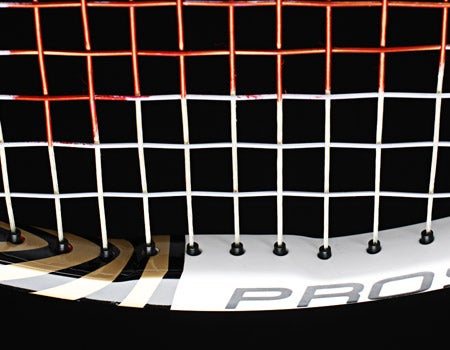 Serve Returns - Score: 78
Our team found that a solid and fast swing was required to get the most out of their serve returns. It was mostly positives for Mike. He said, "Most returns were solid. They felt great and really soft, most likely due to the Amplifeel technology, which made it really arm friendly. The only issue I had was with depth, but overall returns were solid."
Karly felt like she was being pushed around when she was returning. She said, "Again, the instability and lack of plow through made it uncomfortable and hard to produce my own power. I felt really inconsistent controlling the depth if I slowed my swing speed slightly. If facing a tough serve where I could only stick my racquet out to make some contact with the ball, there was no power to my return. I had to focus on making sure I had enough racquet head speed so I wasn't immediately put on the defensive."
Chris advocated a fast swing for some heavy returns. He said, "If you like to take a good rip on the return then you'll probably enjoy this racquet as much as I did. I could really whip this racquet around very quickly. I liked how I could snap my wrist at full stretch and send a sharp cross court return that immediately turned defense into offense. While that wasn't the most consistent approach to returning a tough serve, it sure was fun! At times I was tempted to take too much of a risk and would overhit my shot. However, for the majority of the time I found a solid blend of control, power and spin."
Granville agreed with Chris about the whipping ability of the BLX Pro Staff 100. He explained, "Maneuverability is a big part of the serve return equation, as I could get this racquet around on either side with plenty of time. I either needed to be ahead of the ball, weight moving forward and hitting out front to take the offensive with this racquet, or sit back and slice and dice to wear my opponent down with consistency."
Overall - Score: 79
Likes
Chris - "I liked the maneuverability, spin, feel, control and comfort. The feel combined with the spin to make this racquet perfect for rolling an angled pass or topspin lob with both pace and touch. I also really liked that combo for hitting slice drop shots."
Mike - "The lighter weight of this racquet allowed me to generate both pace and control. The arm friendliness and solid feel of this racquet made the adjustment period very, very easy."
Granville - "Due to the racquet's overall lightness it plays more like a 6-8 point HL balance rather than the 3 points noted in the spec. A good thing. Good spin potential with the correct string."
Karly - "I loved serving with this racquet. It was extremely easy to swing and generated a lot of spin and control."
Dislikes
Chris - "None really. I'm tempted to tail weight this one to see if I can add some power and stability without taking anything away from its maneuverability."
Mike - "The only thing I didn't like was my ball landing around the service line when I wanted more depth on some of my returns."
Granville - "Too light - I was unable to hit with normal pace."
Karly - "The lack of torsional stability and plow through made it hard to be consistent with depth and power."
Comparing the racquet to others they've tried, our testers said:
Chris - "The combination of spin, pace and maneuverability reminded me of the Head Liquidmetal Instinct as well as the new Youtek IG Radical. I felt like I served very similarly with this racquet as I do with those two. However, this one has enough Pro Staff heritage in it to offer better touch and feel than anything I've hit in this weight range."
Mike - "It was similar to the last playtest I did (Wilson BLX Six.One Team). The only difference for me was I generated more pace with the Pro Staff 100."
Granville - "IMHO, the Pro Staff heritage should not exist in this space. It is not a Pro Staff at 10.7 ounces. Pro 'Foil' maybe."
Karly - "The extreme spin potential, maneuverability and instability reminded me of the Gamma RZR 98. However, I thought the Wilson Pro Staff produced more control and was more comfortable on the arm than the RZR."
Technical Specifications

Length
27.25 inches
69.2 centimeters
Head Size
100 square inches
645 square centimeters
Weight
10.7 ounces
303 grams
Balance Point
13.225 inches
34 centimeters
3pts Head Light
Construction
19mm / 22mm / 21mm Tapered Beam
Composition
Basalt
String Pattern
16 Mains / 18 Crosses

Babolat RDC Ratings

Score

Grade

Flex Rating
65
Range: 0-100
Swing Weight
304
Range: 200-400
Scores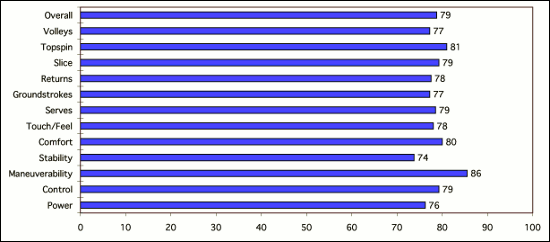 (Scores are determined by averaging individual play test scores)
Chris's Scores
Power
7.8
Serves
7.9
Control
8.4
Groundstrokes
8.3
Maneuverability
9
Returns
8.6
Stability
7.5
Slice
8.3
Comfort
8
Topspin
8.6
Touch/Feel
8.4
Volleys
8
Overall
8.2
Mike's Scores
Power
8.1
Serves
8.4
Control
8.5
Groundstrokes
8
Maneuverability
8.4
Returns
7.9
Stability
8.3
Slice
8
Comfort
9
Topspin
8.3
Touch/Feel
8.1
Volleys
8.1
Overall
8.5
Granville's Scores
Power
7
Serves
7
Control
7
Groundstrokes
7
Maneuverability
8.5
Returns
7
Stability
6.8
Slice
7.5
Comfort
7.5
Topspin
7.5
Touch/Feel
7.3
Volleys
7.3
Overall
7
Karly's Scores
Power
7.6
Serves
8.1
Control
7.8
Groundstrokes
7.6
Maneuverability
8.3
Returns
7.5
Stability
6.9
Slice
7.9
Comfort
7.5
Topspin
8
Touch/Feel
7.4
Volleys
7.5
Overall
7.8
Playtester Profiles
Chris: 5.0 all-court player currently using the HEAD Youtek IG Prestige Midplus. Chris uses a full-western forehand grip, has a fast swing style and hits a one-handed backhand.
Mike: 5.0 baseliner with a semi-western forehand and two-handed backhand. His current racquet of choice is a customized Prince Triple Threat Warrior.
Granville: 5.5 all-court player currently using a Wilson K Factor Six-One Tour 95. Granville is an aggressive player who uses an eastern forehand grip and goes continental on everything else, hits with a flat swing and a one-handed backhand.
Karly: 4.0 baseline player currently playing with the Wilson nCode nTour. She hits with a semi-western forehand grip and uses a two handed backhand.

Review date: June 2012. If you found this review interesting or have further questions or comments please contact us.
All content copyright 2012 Tennis Warehouse.