Volkl Organix 10 Mid Racquet Review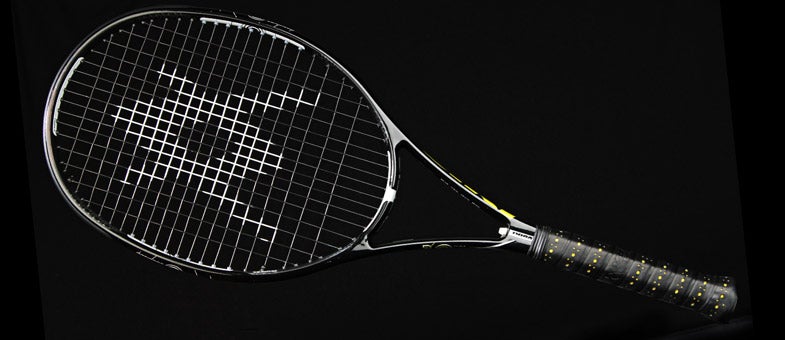 Volkl Organix 10 Mid Scores
Comfort
82
Touch/Feel
84
Serves
80
Groundstrokes
79
Returns
75
Slice
84
Topspin
82
Volleys
86
Overall
81
Upsides
Plow through power
Feel
Precision
Stability
Downsides
Not as maneuverable as the Power Bridge 10 Mid
Summary
The Organix 10 Mid follows in a very successful line of 10 Series racquets from Volkl, from the classic Tour 10 to the more recent Power Bridge 10 Mid. The new Organix 10 Mid, we were happy to discover, has the same great Volkl feel and control while possessing more pop and plow through than the Power Bridge 10 Mid. All of our playtesters found easy access to power and spin from all areas of the court. Heavy groundstrokes were being hit consistently. Serves were hit with considerable pace and precision. Our playtesters found a silky soft feel and rock solid stability at the net, making it the favorite shot to hit for a couple of our testers. If you are a fan of traditional player's style racquets, do yourself a favor and give this one a try.
Groundstrokes - Score: 79
From the baseline, the new Organix 10 Mid felt rock solid with tons of pop, while also providing precision and control. Chris has a long history with the Volkl midsize racquets. He said, "I liked this new version of Volkl's 10 Mid from the first hit. It offered easier access to both pace and depth, while also feeling more solid at impact. I used the previous Power Bridge 10 Mid for a long time and loved that racquet. While the old PB 10 Mid offers a softer, silkier feel, this new racquet gets the ball away with more zip. Between the two, the specs don't really tell the story. The Organix 10 Mid doesn't spec out heavier or with a higher swingweight, but I found it felt more solid and stable, and it offered better plow through. With the weights not reflecting that, I have to put it down to the feel of the Organix frame construction. The result was a better knifing slice and a little more kick through on topspin shots. For me, this was a fantastic racquet for hitting a one-handed backhand because it felt fast and solid. I also had tons of feel on touch shots. The sweetspot felt just a tad more generous, and that helped when I loosened my grip to add some touch when placing the ball."
"Wow," exclaimed Granville, who is coming back to tennis after a shoulder injury, "It has been several months since I've hit a ball with any racquet over 11 ounces, so it was a very refreshing sensation to feel the ball flatten out on my tennis strings. From the first ball strike I could feel that stable and precise control (and mass) offered when the ball flattened out like a pancake on the stringbed. Dwell time of the ball on the strings, as compared to lighter racquets, seemed like seconds (not milliseconds.) Yes, I pay for those pancakes with the added weight, and admittedly this racquet is a bit too heavy for me at this time."
Spencer loved the easy access to power and spin, as well as the solid, silky smooth feel. He said, "From the first hit, there is no doubt that this is a player's stick. I enjoyed the stable response through impact on all of my groundstrokes, and because of its plow through and power, I didn't have much issue getting depth. I prefer open string patterns, and I loved the access to spin with this racquet. I felt good when hitting angles on the forehand side. They seemed more consistent and effective than when I hit my flat, down the line forehand. It was the same when coming over the top from the backhand side. I probably enjoyed slicing the ball the most, however. The solid feel at contact almost made me want to run around my forehand to hit it. Almost. If I graded on feel alone, groundstrokes would rate an A. The issue I had was the fact that I'm not consistent enough in my strokes to keep the ball in the sweetspot. The too frequent shanks made me realize I need more forgiveness to be more effective."
Andy found lots of pop but found the racquet to be a bit sluggish on his bigger swings. He said, "The new Organix 10 Mid has some serious pop for a midsize frame! Geez, does the ball jump off the strings! I felt like I could crush the ball when I put a good swing on it off both wings. But even with the power I could generate, I still felt in control of my shots with the thin, precision-oriented beam. My only knocks from the baseline were that the racquet felt a little sluggish to swing quickly and it twisted a bit in my hand when I hit off-center. It took a lot of effort to get the racquet moving, but once I did, watch out!"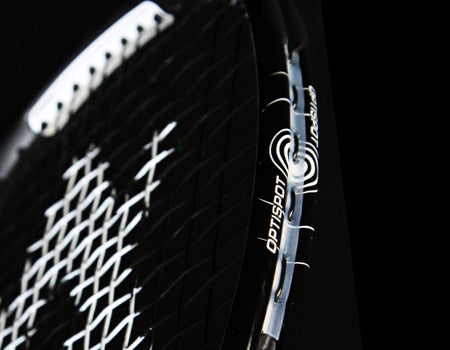 Volleys - Score: 86
The Organix 10 Mid performed really well at net as well, offering rock solid stability and easy put away power. Even though it felt slow to him from the baseline, Andy actually liked the maneuverability when volleying. He said, "The thin beam helps keep this racquet maneuverable and easy to wield around the net. In addition, the heft and lively stringbed gives the racquet pop and stability (more stability than it had at the baseline). I really liked this racquet when I was stretched wide, diving for a passing shot, as it was easy to block the ball back with depth and precision. Around the net was where the Organix 10 Mid shone for me."
Volleying with confidence was Chris, who found it easy to place shots deep or put them away. He said, "This racquet felt very good at net. I was placing my volleys well and enjoyed the crisp, clean and solid feel. I was able to snap volleys away when given the opportunity, and I felt very confident being aggressive at net with this racquet. I liked the more powerful response of this racquet when I was caught deep around the service line for a first volley. It helped me find better pace and depth than I had with the previous version. This one lacks just a little of the buttery feel of the PB 10 Mid, but it is close. However, I thought it more than made up for it with better punch and a more solid feel around the net."
"It's hard NOT to love this racquet at the net," said Granville. "The racquet is exceedingly stable on both sides of the volley. A plush and deep pocket in the stringbed awaits contact with the ball. The balance is 6 points head light and is just a bit shy of my preference."
Spencer's favorite shot with this racquet was the volley. He said, "Though not my most comfortable stroke, I found this to be my favorite part of the test with this racquet. Again, the rock solid stability allowed me to not over-swing on my volleys. It took little effort to get put-away results."
Serves - Score: 80
Our playtesters liked the heft and rock solid feel on serve. Chris felt right at home serving with the midsize Organix 10. He said, "There's something about serving with a well-weighted mid. Like a Head Prestige Pro 600 or the new Wilson Blade 93, this racquet comes around quickly yet feels rock solid at contact. I'm not sure if it is the aerodynamics of the smaller head or the balance and swingweight, but this racquet felt very fast through contact. I was enjoying both pace and spin on serve. As from other areas of the court, control was excellent. I was able to keep pressing with both first and second serves even when the score got tight in a match. I felt very confident serving with this racquet, and I can't ask for more than that."
Andy was getting lots of pop from the racquet once he got it moving on his serve. He said, "I liked serving with this racquet. Once you get the racquet moving you can really just let it do the work for you. You can feel the heft here, but once the weight of the racquet takes over the swing path you can just let it go and have plenty of access to power and spin. I did feel my control was lacking a bit on serve, but when I saw the way my kick serve was jumping, I forgot about needing more precision."
Once he got used to the added weight Spencer used the mass of the racquet to get easy spin and control. He offered, "Once I got used to the weight (it felt higher in swingweight than what we have listed) I was able to put good direction and placement on my serve. I didn't feel I got any extra velocity, but I was happy with the spin and location."
Granville explains that if you have the strength to wield it, the racquet will reward you on serve. He said, "The Organix 10 Mid will give you what you put into your serve (or any shot for that matter.) At 11.8+ ounces strung, if you can get this racquet around with good timing and contact, anything is possible."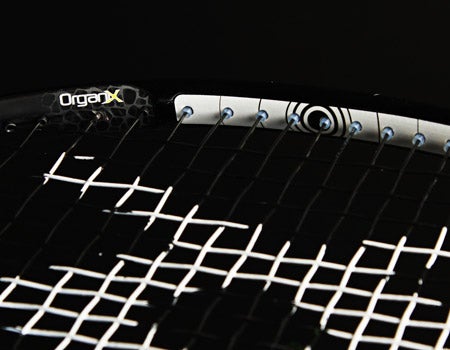 Serve Returns - Score: 75
Most of our playtesters enjoyed returning with the Organix 10 Mid. They used the racquet's mass to block returns back deep with ease and confidence. Chris dialed in his chip returns with this stick, saying, "I was reminded of the Yonex VCORE Tour 89 when returning with this racquet. Like that racquet, the Organix 10 Mid felt solid and powerful, yet offered tons of control and feel. I thought this racquet felt a tad more maneuverable, and I was able to take a big cut at the ball. In doubles I liked being able to get the jump on a high kick serve to my backhand, chip the return to the server's feet and follow it to net. I was finding so much control and feel that it was easy to place my returns, and I found I could be more daring with my targeting."
Granville liked the rock solid feel on his shorter swings while returning. He said, "Once again, the mass of this racquet is tailored to the big hitter, in that it is so stable at impact. I felt like I had all sorts of time to put the ball wherever I wanted."
Spencer had success chipping his returns back as well, but struggled with the high swingweight when trying to take bigger cuts at the ball. He offered, "Again, I thought the swingweight felt higher than listed, so the maneuverability wasn't as favorable when trying to be aggressive when returning. I felt I was able to be effective when slicing and chipping the ball back, or when I had time to set up."
Andy also struggled with the hefty swingweight, although he did find easy power and spin when he timed his returns right. He said, "Returning was my least favorite shot with this racquet. The heft really came into play, and I had trouble getting the racquet around on hard hit serves. When I had time, I could swing the racquet and let it do the work for me, providing me tons of power and spin. However, precision and maneuverability are two very important attributes to me on the return, and I felt this racquet lacked them."
Overall - Score: 81
Likes
Chris - "I loved the power, feel, control, spin, stability, touch and feel."
Granville - "Solid and stable, nice feel with control."
Spencer - "The feel. Loved the feel, the stability and plow through."
Andy - "Tons of pop for a midsize racquet and quite comfortable as well."
Dislikes
Chris - "None. This one felt very, very dialed in."
Granville - "At this weight I'd prefer a slightly more head light balance."
Spencer - "Not forgiving enough (for me)."
Andy - "The racquet felt a bit sluggish to me, and a little unstable against big hitters from the baseline."
Comparing this racquet to others they've tried, our testers said:
Chris - "For me this racquet felt slightly more powerful and solid than the Power Bridge 10 Mid. It doesn't feel quite as fast and easy to whip around, and it doesn't have quite the silky smoothness, but it more than makes up for that with added zip and plow through. Other comparable racquets would be the Prestige Mid, Blade 93, VCORE Tour 89, ProKennex Black Ace and Dunlop Biomimetic F 2.0 Tour. Out of all of those, the Yonex comes the closest in terms of spin, power, plow through and feel."
Granville - "This racquet is most similar to the original Head Prestige, Wilson Blade and Pacific X-Feel Pro 90."
Spencer - "This is certainly in line with the Prestige Mid and Six.One 95s."
Andy - "An easy comparison would be to the Power Bridge 10 Mid that precedes it. They are both comfortable, powerful midsize frames. I think the Organix 10 has even more pop, and with that a little more stability and plow through. It also has some of the same attributes as the Yonex VCore 89 Tour, but it didn't have the same maneuverability and control."
Technical Specifications

Length
27 inches
69 centimeters
Head Size
93 square inches
600 square centimeters
Weight
11.8 ounces
335 grams
Balance Point
12.75 inches
32 centimeters
6pts Head Light
Construction
19.5mm / 19.5mm / 19.5mm
Composition
Organix / Carbon / Fiberglass
String Pattern
16 Mains / 19 Crosses

Babolat RDC Ratings

Score

Grade

Flex Rating
59
Range: 0-100
Swing Weight
318
Range: 200-400
Scores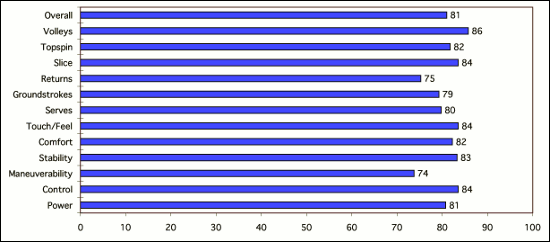 (Scores are determined by averaging individual play test scores)
Chris' Scores
Power
8.2
Serves
8.5
Control
8.5
Groundstrokes
8.3
Maneuverability
7.9
Returns
8.3
Stability
8.3
Slice
8.3
Comfort
8.3
Topspin
8.1
Touch/Feel
8.4
Volleys
8.4
Overall
8.4
Granville's Scores
Power
7.5
Serves
8.5
Control
9
Groundstrokes
8
Maneuverability
7.8
Returns
8
Stability
9
Slice
8.5
Comfort
8.2
Topspin
8.8
Touch/Feel
8.8
Volleys
9.2
Overall
8.8
Spencer's Scores
Power
8.1
Serves
7.9
Control
8.4
Groundstrokes
8.4
Maneuverability
7.8
Returns
7.8
Stability
8.5
Slice
8.6
Comfort
8.4
Topspin
8.3
Touch/Feel
8.2
Volleys
8.7
Overall
8.2
Andy's Scores
Power
8.5
Serves
7
Control
7.5
Groundstrokes
7
Maneuverability
6
Returns
6
Stability
7.5
Slice
8
Comfort
8
Topspin
7.5
Touch/Feel
8
Volleys
8
Overall
7
Playtester Profiles
Chris: 5.0 all-court player currently using the Volkl C10 Pro 2012. Chris uses a full-western forehand grip, has a fast swing style and hits a one-handed backhand.
Granville: 5.5 all-court player currently using a Babolat Pure Drive 107. Granville is an aggressive player who uses an eastern forehand grip and goes continental on everything else, hits with a flat swing and a one-handed backhand.
Spencer: 4.5 baseline player currently using the Prince EXO3 Tour 100 16x18. Spencer uses a semi-western forehand grip, and hits with a one-handed backhand.
Andy: Open level all court player with a semi-western forehand grip and a two handed backhand. Andy currently using a Yonex RDiS 100 Mid.

Review date: March 2013. If you found this review interesting or have further questions or comments please contact us.
All content copyright 2013 Tennis Warehouse.