Solinco Pro 10 Review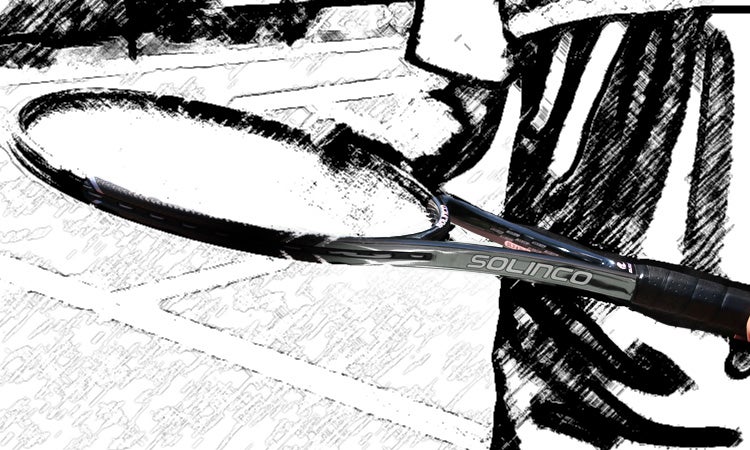 Sometimes with the new comes the familiar.
Such is the case with the introduction of Solinco racquets to Tennis Warehouse. Even though it was the first time our testers had hit a Solinco racquet, it was déjá vu for most thanks to the Solinco Pro 10's player's racquet like feel and control.
When looking at the specs it's not hard to understand our testers' immediate familiarity with the Pro 10. With an average strung weight of 12.1 ounces, the Pro 10 sits center point in the wheelhouse of the preferred weight range for many of our testers. On paper, a swingweight of 345 (RDC) might sound high, yet the Pro 10 does not feel heavy or sluggish in the hand or during the swing. As is often the case with box beam construction, as seen on the Pro 10, the racquet provides a solid, crisp feel -- pure player's racquet qualities. With the Pro 10, however, the crispness at impact is aided by a firm flex rating of 68 RA.
Having already become fans of Solinco strings, our crew hit the courts with great anticipation to see if the Pro 10 could also garner a popular following.
Groundstrokes - Score: 81
Our testers felt right at home on the baseline with the Solinco Pro 10. The weight of the racquet provided ample stability and plow through for hitting penetrating groundstrokes, while the crisp feel provided lots of control. Granville, was pleased with the specs and playability. He said, "From the moment I picked up the Solinco Pro 10 I could feel the heritage. Weighing in at 12+ ounces with a 4-5 points head light balance and a narrow graphite beam, it reminds me of an early Head Prestige. This racquet is compelling for a number of reasons, including the cosmetic. This is a very nice entry into the market and a very solid stick. It was a familiar feel from an unfamiliar frame, but the results were the same. The Pro 10 packed a nice punch with a very stable response. The racquet allowed me to put the ball deep into the corners with good pace and little to no adjustments to my game. It seemed a nice compromise between the softer flex of a Radical and the too crisp or 'brassy' feel of some stiffer racquets."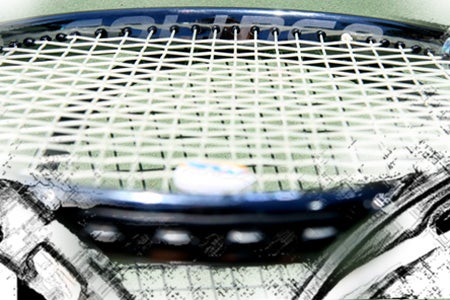 Being able to generate good pace from both forehands and backhands was Jason. He offered, "It's been a while since I've hit a tight string patterned racquet, and I have to say, I liked it. The weight was a good match for me and my swing style; I was able to hit the ball with plenty of pace off both wings. I did notice that I had an easier time going up the line than trying to pull a shot cross court. Hitting with topspin wasn't a problem; I felt that I was hitting shots with plenty of action on the ball. The downside for me was the slice. It probably had more to do with the person wielding it than the actual stick, but solid slices were few and far between."
Chris was happy with the depth and pace he found from the baseline, saying, "This was a solid racquet off the ground. It felt both crisp and comfortable. I was very surprised to read the RA rating on this racquet, as it does not play like its stiffness would indicate. I liked the level of power I was finding. It was very easy to hit with depth and pace -- more so than with a typical player's racquet. The balance was just slightly off for me. I would prefer something more head light. I could easily fix that with the added weight of a leather grip or by adding some lead to the handle. Apart from the balance the racquet felt very solid. I was getting lots of spin and hitting all my shots well."
Enjoying the pace generated from the mass of the racquet was Spencer. He offered, "The first thing I noticed was the cosmetic. The silvery grey shine on the frame looked dynamite. It gave it a more technical look. The next thing I noticed was the grip. The 4 3/8" grip size felt a bit on the small side with very little flare to the butt cap. Observations aside, this racquet offered excellent stability and plow through with its 12-plus ounce strung weight. The mass helped me hit smooth strokes that penetrated the court. If there was one thing I could change, it would be the balance. At only 4 points headlight it made for a struggle at times with maneuverability."
Volleys - Score: 83
Though varying opinions were offered from tester to tester, all did agree on one thing: This stick felt solid at net. Chris was confident volleying with the Pro 10. He said, "The racquet felt very crisp and precise at net. I was able to punch volleys with authority and the response felt very clean. I was very aggressive when volleying with this racquet and I was really going after my targets. Everything was there: power, touch, control and feel."
Ball pocketing and precision equalled success at net for Granville, who said, "This stick offered very nice control at net and provided a nice, pocketing feel. Soft and precise would be good words to describe the sensation I had with this racquet. It occurred to me while hitting with the Pro 10 that some personal touches to this racquet could make it feel even better. I look forward to that."
"Like most player's sticks, this one was very stable at net," said Spencer. "When I had time, I could hit solid put aways or more delicate placement volleys. That being said, I felt the maneuverability was lacking a bit. With the racquet being only 4 points head light, I struggled getting it in proper position when attempting to volley harder hit shots."
Having trouble finding touch around the net was Jason. He said, "I felt pretty comfortable up at net with this racquet. It felt quite maneuverable and the weight assisted me in sticking my volleys. I thought the touch was lacking a bit, as I found it difficult to successfully hit drop/touch volleys."
Serves - Score: 81
One clear characteristic that was agreed on by all the playtesters was the amount of control they had with the Solinco Pro 10. Using the mass of this stick to his advantage was Spencer, who said, "I felt I served rather well with this racquet. I got it through the strike zone nicely and created a good heavy ball. I felt equally comfortable hitting out wide and up the T. This was my favorite part of the playlets, as it seemed to offer several options when serving and allowed me to be more unpredictable and aggressive."
Chris offered similar sentiments, adding, "This is where the power I found from the racquet really benefitted me the most. I was able to get some really nice pace on my serves. I had success going out wide on both sides of the court as well as ripping the ball up the service T. I was also finding great spin on my serves. WIth so many options, it was fun serving with this racquet and I was able to keep the returner guessing."
"I had an easy transition going from my personal racquet to the Pro 10," said Jason. "Although the Solinco is heavier, it wasn't any harder to serve with. Even with a tighter string pattern, my serves didn't seem to suffer much in the spin department. I felt like I could directionally control my shots pretty well, so accuracy was a plus with this stick. "
Finding his targets with ease was Granville. He said, "The Pro 10 allowed me to hit my shots as intended. My targeting was spot-on and very similar to my regular racquet. My precision was also in line with expectations. There is no additional power here, just a nice precision racquet to place that ball where I want with the pace I am able to produce."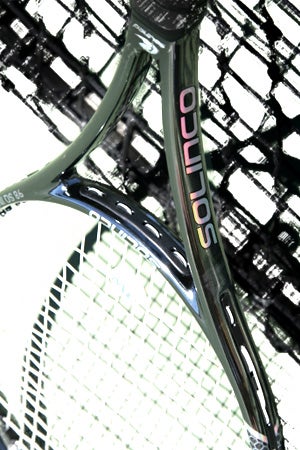 Serve returns - Score: 81
Our testers all agreed that the Pro 10 was a solid performer when returning. Jason enjoyed the stability of the racquet. He said, "Returns were very solid. Because of the mass, the racquet handled pace very well. When the opportunity arose I felt I could get offensive with my returns, especially on the forehand side. Once again though, I struggled with my slice. I found my slice returns floated when I wanted to be aggressive, instead of knifing down into the court. However, blocking shots back was great because they landed with good depth, allowing me to reset the rally and get myself into position on the court."
The crisp feel and accuracy were pluses for Chris, who said, "I enjoyed the solid response of the racquet on returns. Again, the balance didn't feel quite right, but I enjoyed the response from the racquet at contact. The crisp response allowed me to utilize my opponent's pace while finding excellent accuracy."
Granville was right at home with the weight of this stick. He said, "I've always enjoyed the heavier racquets, especially on serve returns. The Pro 10 is heavy and stable enough to allow a defensive return, blocking the ball back short or deep, left or right. Conversely, as opportunity knocks, I can take the ball early and drive it to the corner or cross court."
Also enjoying the mass of this racquet on returns was Spencer, who offered, "I enjoyed the minimal torque of the racquet when returning. It made even off center returns feel flush. The nice thing about the mass of this racquet is that I didn't need much of a swing to get penetrating returns."
Overall - Score: 80
The Solinco Pro 10 offers the feel and weight of a player's stick in a 98 square inch headsize. Our testers found this racquet produced solid feeling groundstrokes, coming through the ball with good plow through. The tighter string pattern not only aided in control, but also allowed for good access to spin. The recurring theme that kept shining through from category to category was the stable, solid feel. If there was one improvement that our playtesters felt this stick would benefit from, it would be a more head light balance. That said, the Pro 10 pleases from all areas of the court as is, and it looks good doing it.
Likes
Jason "Cosmetics, a stiff/responsive feel and the weight. "
Chris "I liked the power, spin, crisp feel and accuracy I found with this racquet."
Granville "I liked the looks of this racquet before I touched it. The first moment was good and the playtest confirmed it. It offered good weight and stability for a performance racquet. It's also properly priced for a new introduction."
Spencer "The solid feel and cosmetics were excellent."
Dislikes
Jason "I thought the sweetspot was smaller than usual, so shots hit outside of it suffered with a significant loss in power. I also had trouble hitting my slice with any consistency. "
Chris "I would add a leather grip and probably some additional weight to the handle. Other than that, everything was good."
Granville "I'd prefer a slightly more head light balance. A leather grip might do the trick."
Spencer "The lack of mobility was a bit hindering."
Technical Specifications

Length
27 inches
69 centimeters
Head Size
98 square inches
632 square centimeters
Weight
12.1 ounces
343 grams
Balance Point
13 inches
33 centimeters
4pts Head Light
Construction
21mm Straight Beam
Composition
Carbon Yarn Nickel Anodized Mesh
String Pattern
18 Mains / 20 Crosses

Babolat RDC Ratings

Score

Grade

Flex Rating
68
Range: 0-100
Swing Weight
345
Range: 200-400
Scores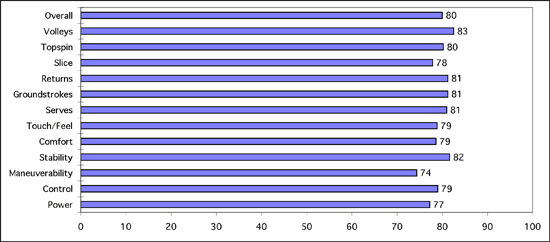 (Scores are determined by averaging individual play test scores)
Jason's Scores
Power
8
Serves
7.5
Control
8
Groundstrokes
8
Maneuverability
7
Returns
8.1
Stability
7.8
Slice
6.8
Comfort
6.9
Topspin
7.8
Touch/Feel
7
Volleys
8
Overall
7.9
Chris's Scores
Power
8
Serves
8.2
Control
7.9
Groundstrokes
8
Maneuverability
7.8
Returns
8.1
Stability
7.9
Slice
8.2
Comfort
7.9
Topspin
8.2
Touch/Feel
8
Volleys
8
Overall
7.9
Granville's Scores
Power
7
Serves
8.5
Control
8.5
Groundstrokes
8.5
Maneuverability
8.25
Returns
8.5
Stability
8.75
Slice
8.5
Comfort
8.75
Topspin
8.25
Touch/Feel
8.75
Volleys
9
Overall
8.5
Spencer's Scores
Power
7.9
Serves
8.2
Control
7.2
Groundstrokes
8
Maneuverability
6.7
Returns
7.8
Stability
8.2
Slice
7.9
Comfort
7.9
Topspin
7.6
Touch/Feel
7.8
Volleys
8
Overall
7.7
Playtester Profiles
Jason:4.0 baseliner with a semi-western forehand and one handed backhand. Currently using a customized Volkl Power Bridge 9.
Chris:5.0 All court player currently using the Volkl Power Bridge 10 Mid. Chris uses a full-western forehand grip, has a fast swing style and hits a one-handed backhand.
Granville: 5.5 all-court player currently using a Wilson K Factor Six-One Tour 95. Granville is an aggressive player who uses an eastern forehand grip and goes continental on everything else, hits with a flat swing and a one-handed backhand.
Spencer: 4.5 Baseline player currently using a Wilson Kobra Tour. Spencer uses a semi-western forehand grip, and hits with a one-handed backhand

Review date: September 2010. If you found this review interesting or have further questions or comments please contact us.
All content copyright 2010 Tennis Warehouse.