Prince Tour Pro 98 Racquet Review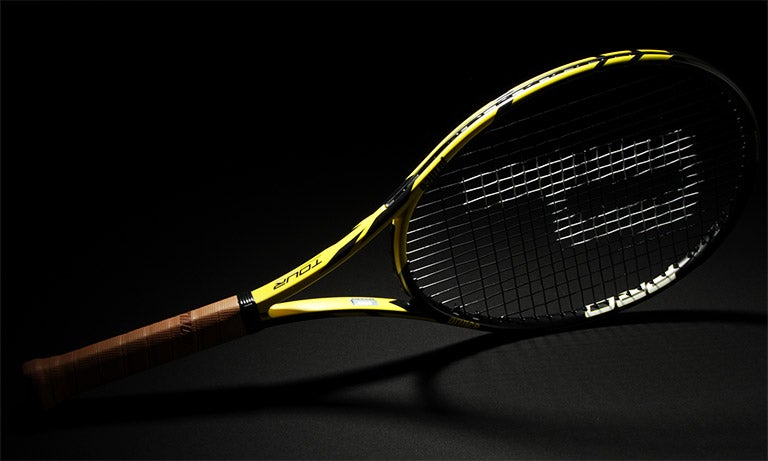 Prince Tour Pro 98 Racquet Scores
Power
77
Comfort
82
Touch/Feel
80
Serves
78
Groundstrokes
83
Returns
79
Slice
85
Topspin
76
Volleys
80
Overall
81
Upsides
Comfort
Stability
Access to spin
Maneuverability
Downsides
Stronger players might have to add weight
Summary
Precise control in a 98 square inch head and a tight 18x20 string pattern is what Prince has to offer in the Tour Pro 98. Boasting a flexible feel, this racquet still had enough stability for our playtesters to feel confident while taking big swings from the baseline. This quick, maneuverable racquet held up strong when volleying against big hitters, and we found that there was enough directional control to pinpoint serves. There was ample access to spin despite the tighter string pattern, and our playtesters were getting balls to bite and jump off the court. If we were to ask for anything more from the Tour Pro 98, it would be a bit more mass to improve the plow through when hitting big. Overall, this racquet delivers a classic feel while adding great access to all the spin and control a player could ask for.
Groundstrokes - Score: 83
Our team of playtesters quickly found the Tour Pro 98 to be very easy to use. It was forgiving off the ground, and it was easy to find solid amounts of spin. They all found comfort and directional control while hitting their big groundstrokes. Chris felt like he could hit with this one all day. He said, "It played quite lively with a softer co-poly, and the comfort was impressive even with a stiff poly. I preferred the response with a firmer poly because I found the stringbed to play more consistently. With the softer co-poly the response got a little too hot/cold in and around the sweetspot. I could have handled some added weight, especially when hitting my slice backhand. Just a little more racquet behind the ball to help me drive it through the court would have been nice. The swingweight felt about right, but I would have liked some added weight in the handle."
Andy enjoyed driving his big groundstrokes with this racquet. He found it to have a crisp, responsive, modern feel that reminded him of his racquet of choice, the Wilson Blade 98 18x20. "It possessed a decent amount of pop and spin to go along with really nice control," said Andy. "Stability was good but not great when returning hard hit balls. A little more weight would give this racquet the plow through and punch it needs to really make it exceptional from the baseline."
When Mark heard that he was getting to test a new Prince frame with traditional grommets, mid-11 ounce strung weight, 320-ish swingweight, flexible beam and an 18x20 string pattern, he said, "What's not to like? My first experience with the Tour Pro 98 was after I was hitting well with a different racquet I had been playtesting. Usually, I get a little mentally tweaked when switching racquets in the middle of a hitting session, but I went straight to point play with it and never looked back! I felt comfortable with it off the ground, and my depth of shots was very good from all parts of the court. The Tour Pro 98 was very soft, but not a noodle by any means, and the directional control was near exceptional for me."
Austin, one of the newest members of our playtest team, felt very comfortable with this racquet when hitting his double-handed, lefty groundstrokes. He said, "The racquet was very low powered and flexible, which allowed me to generate my own pace -- definitely a plus. I was controlling most of the points that I played and I wasn't getting overpowered. This racquet has enough plow through to drive the ball deep through the court, so I could transition from defense to offense without providing much pace. Slicing was also a highlight; I seemed to really be able to cut under the ball and drive my slice low and on target. The 18x20 string pattern has a great response."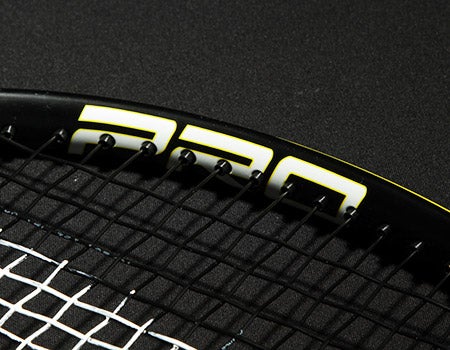 Volleys - Score: 80
The Tour Pro 98 displayed control and feel for our playtesters when they took charge at the net. Andy found it easy to maneuver. He offered, "I felt pretty connected to the ball while it was on the stringbed, which gave me the command and precision I needed to put the ball where I wanted. Similar to my feelings from the baseline, a little more weight would give it a bit more punch and stability, making it a well-rounded weapon for rushing the net."
Whether he was digging out a low volley or putting away a high forehand at net, Mark found the Prince Tour Pro 98 to be reliable and predictable. "Even my swinging volley off the forehand side was spot on," he explained.
Austin enjoyed the precision and stability of this racquet on his volleys. He said, "Volleys just felt really solid, and I could drive balls through the court really well. I did have a little bit of trouble with my drop volleys and touch shots; I just couldn't dial them in with much precision. It may have been because of the higher swingweight, which limited my maneuverability at net."
"I found a more solid feel at net with the Tour Pro 98 than I did with the EXO3 Rebel 98," said Chris. "I seemed to be getting more on my volleys with the Tour Pro 98, and stability seemed improved. Again, I was finding a lot of spin, and that helped me get my drop volleys to land short. I also had good results on angle volleys. I was pleased with how I could carve the ball away from my opponent's reach."
Serves - Score: 78
Even though the Tour Pro 98 was fairly control-oriented from the baseline, our playtesters didn't seem to have too much trouble generating pace on their serves, although, some of our playtesters had trouble hitting their targets. "I felt confident serving big and hitting my targets with my serve," said Austin. "I was able to pull my slice out really wide on the ad side, but I also felt comfortable flattening it out and going down the T. I was worried that the higher swingweight would affect my kick serve, but I did not have any trouble with the maneuverability and could really whip the racquet up and over the ball."
The Pro Tour 98 was heavy enough for Mark to get some extra pace on his serve, but head light enough for him to make a good transition to his groundstrokes, or even a volley. He said, "I generally do not hit too many untouchable serves per year, but I did serve up plenty of un-returnables, which always boosts my confidence in a racquet."
Andy liked this racquet for serving, but at times he was left wishing for a little more control and precision. He said, "Racquet speed was easy to come by, allowing for lots of power and decent spin potential. With all that racquet speed, though, I seemed to lose control of the tip of the racquet sometimes and would lose my ability to place the ball in the service box. I had trouble really hitting my spots with it."
Chris liked the way the way the Tour Pro 98 came through the ball at contact, and he was finding good pace. He offered, "I served pretty well with this racquet. Spin remained impressive, and that enabled me to hit aggressively and still bring the ball down inside the box. I couldn't quite find the pace I have when serving with my Six.One 95S, but I felt like I was getting enough on the ball to start off points aggressively, and to win some free points. I think with some added weight I'd quickly find what I was missing on serve."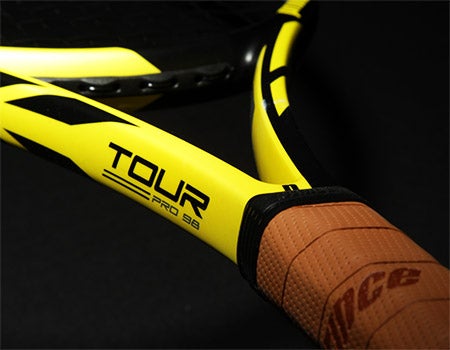 Serve Returns - Score: 79
A nice blend of stability, maneuverability and comfort made the Tour Pro 98 a fun racquet to return with. Chris was feeling confident and ripping returns off both wings. He said, "I found it easy to inject some pace into my returns without sacrificing consistency. On chip returns the racquet felt solid, and I appreciated the comfortable response when hitting off center."
"I never felt like I was going to hit long, and I was able to use this to my advantage on service returns," said Austin, referring to his attacking returns. "The racquet was also a good counter puncher from the baseline, which transitioned to service returns. I was really able to rip on some second serves. I could really control the direction of my returns and keep the ball deep."
Andy found this to be an adequate racquet to return with but was craving a little more weight to make it exceptional. He said, "There is some nice stability for returning harder hit serves or hitting chip returns, but it wasn't outstanding. The control and maneuverability were there for when I wanted to take a return early and redirect it into a corner."
Mark explained his return experience by saying, "On the backhand wing I was able to take a topspin cut at the return with the Tour Pro 98. My forehand return was reliable but not too threatening. This was when I began staring at the full bed of poly, wishing it was a hybrid just to get some extra pop on the ball."
Overall - Score: 81
Likes
Chris - "I liked the spin, comfort, stability and maneuverability."
Andy - "This is a crisp, modern feeling frame with good feel and responsiveness. It offered great control for groundstrokes and volleys, and some nice maneuverability."
Mark - "I started the review process looking at the specifications of the Tour Pro 98 favorably, and I was not disappointed in any way. Access to spin was easy, and the backhand slice was good considering the racquet weighs well under 12 ounces. I was able to be effective on serve, while still having a racquet that I could swing until 'the cows came home' during longer rallies."
Austin - "I really liked the feel of the Tour Pro 98 from the baseline and on serve. The comfort and stability were also a plus."
Dislikes
Chris - "A tad more weight would have been nice."
Andy - "I would've liked a little more weight to give it a little more plow through and make my shots move through the court a bit better. Other than that, it's a very nice offering!"
Mark - "If I have to pick on something, I suppose my only criticism would be the black and yellow paint scheme. I like the matte finish, just not the color combination. There is not much I can say negatively about the performance of this racquet."
Austin - "It left me wanting a little more on put-away shots."
Comparing it to other racquets they've used, our testers said:
Chris - "I thought this racquet had a little more solid feel than the EXO3 Rebel 98. It has a similar head shape to the Dunlop Biomimetic 200, but its 98 square inch head is more forgiving. I'd say it falls somewhere between a Dunlop 200 and 300 -- more forgiving and maneuverable than the 200, more solid than the 300. I'd also compare it to the Tecnifibre TFight 315. Both offer easy access to spin and a pleasingly lively feel."
Andy - "I would put this in the same ballpark as the Wilson Blade 98, but it's lighter and easier to swing and not quite as solid or powerful. It also feels similar to the Dunlop F3.0 Tour and Head Graphene Prestige Pro, in that they are crisp, control-oriented racquets that are easy to swing."
Mark - "Finally, there are some really good choices for the gap between the low 11 ounce strung weight racquets and the over 12 ounce varieties. Many of the frames that I am familiar with, which are in this range, have swingweights that are unusually low (in my opinion). This Tour Pro 98 sports a 320-something swingweight and an 11.5 ounce range of static weight. As a result, I would have to say the Donnay Pro One 97, the Yonex VCORE 97 (310 gram version), the Yonex Ai 98, the Wilson BLX Blade 98 (18x20 pattern), the Babolat Pure Control Tour and the Head Graphene Speed Pro are comparable."
Austin - "It's similar in feel to a Wilson Blade 98 18x20, with a more lively and comfortable feel."
Technical Specifications

Length
27 inches
69 centimeters
Head Size
98 square inches
632 square centimeters
Weight
11.4 ounces
323 grams
Balance Point
13.05 inches
33 centimeters
4pts Head Light
Construction
21.5mm Straight Beam
Composition
Graphite
String Pattern
18 Mains / 20 Crosses

Babolat RDC Ratings

Score

Grade

Flex Rating
61
Range: 0-100
Swing Weight
324
Range: 200-400
Scores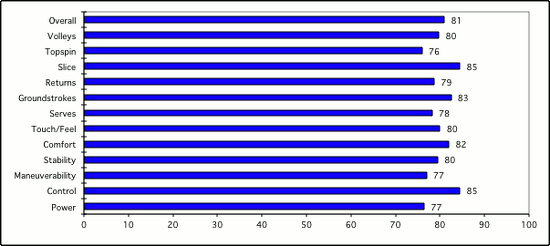 (Scores are determined by averaging individual play test scores)
Chris' Scores
Power
8.1
Serves
7.8
Control
7.8
Groundstrokes
8
Maneuverability
7.8
Returns
8
Stability
7.8
Slice
8.3
Comfort
8
Topspin
8.4
Touch/Feel
7.7
Volleys
7.9
Overall
8
Andy's Scores
Power
7.5
Serves
7
Control
8.5
Groundstrokes
8
Maneuverability
8.5
Returns
7.5
Stability
7
Slice
8.5
Comfort
7.8
Topspin
7
Touch/Feel
8.3
Volleys
8
Overall
7.9
Mark's Scores
Power
8
Serves
8.5
Control
9
Groundstrokes
9
Maneuverability
8.5
Returns
8
Stability
8
Slice
8.5
Comfort
9
Topspin
8
Touch/Feel
7.5
Volleys
9
Overall
8.5
Austin's Scores
Power
7
Serves
8
Control
8.5
Groundstrokes
8
Maneuverability
6
Returns
8
Stability
9
Slice
8.5
Comfort
8
Topspin
7
Touch/Feel
8.5
Volleys
7
Overall
8
Playtester Profiles
Chris: 5.0 all-court player currently using the Wilson Six.One 95S. Chris uses a full-western forehand grip, has a fast swing style and hits a one-handed backhand.
Andy: Open level all court player with a semi-western forehand grip and a two handed backhand. Andy currently using a Wilson Blade 98 18x20.
Mark: 5.0 lefty all-court player with a one-handed backhand. He currently plays with the Wilson Steam 99S.
Austin: 4.5 lefty baseliner with a two-handed semi-western forehand and a two-handed backhand. Austin currently plays with a Yonex VCORE Tour 97 (310g).

Review date: January 2014. If you found this review interesting or have further questions or comments please contact us.
All content copyright 2014 Tennis Warehouse.