Babolat Pure Strike Tour Racquet Review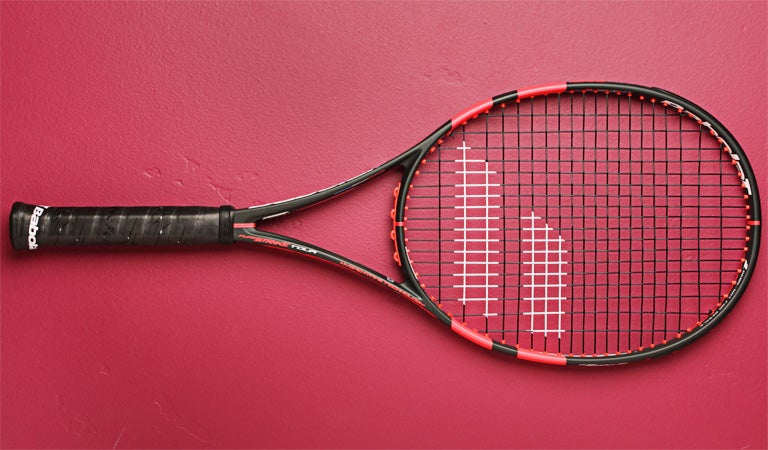 Babolat Pure Strike Tour Scores
Power
88
Comfort
84
Touch/Feel
81
Serves
79
Groundstrokes
85
Returns
85
Slice
86
Topspin
82
Volleys
83
Overall
84
Upsides
Solid, stable feel
Plow through
Plush
Summary
Babolat's new Pure Strike Tour is a good fit for players who enjoy traditional, hefty, plush-feeling racquets. It's much softer than the AeroPro Drive or Pure Drive, and it offers a more "old-school" response, so those of you who wouldn't normally lean toward a Babolat racquet should take notice. The heft of the Pure Strike Tour translated into plenty of power, plow through and stability from all areas of the court. Pace and depth were easy to come by, and big hitting opponents were easy to handle. At times, we did find it to be a bit cumbersome to get the racquet around the body quickly on a return of serve or a big swinging groundstroke. However, this racquet is ideal for players who like to stand on the baseline and use their opponent's pace against them to "strike first" in a point. This new Pure Strike Tour is sure to appeal to a wide range of players -- as long as they have the strength to wield it.
Groundstrokes - Score: 85
The heft of the Pure Strike Tour was the most noticeable feature from the baseline, and it provided our playtesters with plenty of power, stability and plow through. Troy enjoyed this more traditional feeling racquet more than the crisper-feeling modern frames that Babolat typically produces. He said, "I fell in love with the solid and stable feel of this racquet when hitting groundstrokes. I have found the feel of most Babolat racquets to be stiff and somewhat hollow. The Pure Strike Tour was semi-firm, with a very unique solid feel. The stability of this racquet when facing heavy hitters was up there with my Six.One 95, the Yonex VCORE Tour 97 (330g) and the Dunlop Aerogel 4D 200 Tour. I found it easy to redirect pace from my opponent, and when needed, I could take a big rip at the ball with confidence. The dense string pattern of this racquet had me feeling dialed in when hitting backhand slices. The only negative I had from the baseline was that sometimes the launch angle of the ball coming off the racquet was a bit unpredictable. This made me feel a bit disconnected from the ball when I was trying to hit an angled passing shot or when trying to make the ball dip down at my opponent's feet when he/she rushed the net."
Chris was also able to execute his groundstrokes. He said, "I found this to be the most comfortable of the Pure Strikes off the ground. It was as if the heavier weight of it gave it a softer feel. It was also the most stable frame. This one has a more traditional feel than the other Pure Strikes. I found I could use a poly string at a higher tension in it since the weight made it more comfortable, as well as more powerful on a long, fast swing. I found a solid level of control with this racquet. I was driving my groundstrokes to my targets with both pace and accuracy. I liked the amount of bite my slice backhands had. I was able to knife through the ball and make it skid low and fast on the other side of the net. I didn't get quite as much topspin on my shots as I did with the lighter Pure Strikes, but I found enough to hit aggressively and still get my shots to drop well within the lines."
Andy liked the power and stability the Pure Strike Tour offered, but he found he lost some control at times on his groundstrokes. He explained, "This thing is a tank from the baseline! It took me a bit of effort to get the racquet moving on my groundstrokes, but when I did I felt like I could crush the ball off both sides. It felt solid and stable on both forehands and backhands, and there was no issue with this behemoth twisting at impact if I caught the ball off center. It has a traditional racquet's heft and stability with a modern racquet's pop and crisp feel. I lost a bit of control when I got a little overconfident and went for too much. Get this racquet moving and it will do the work for you."
Mark was enamored with the racquet from the get-go. He offered, "Before I could hit a groundstroke I had to just look at it. It was great aesthetically, and literally from the very first swing I liked the way it played. I was very comfortable with it off the ground within 30 minutes of hitting groundstrokes and playing tiebreakers. After the second and third sessions, I knew I loved it from the baseline."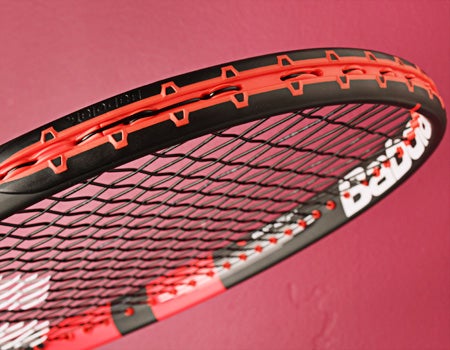 Volleys - Score: 83
It was a similar story at the net, where our playtesters found plenty of mass for ample stability and feel on their volleys. Chris was hard-pressed to find another Babolat racquet with this kind of touch and responsiveness around the net. He explained, "This was a great racquet to volley with. It had a smooth feel, and I felt well connected to the pace, depth and direction of my shots. I also found it to feel pretty fast for its weight. I liked how easy it was to get the racquet in position and how solid it felt at contact. As far as the response was concerned, this racquet felt very impressive. The only other Babolat to offer as much feel as this would be a Pure Storm Ltd, but this one is more solid and offers more punch to put volleys away."
Mark's love affair with the Pure Strike Tour continued as he approached the net. He offered, "It was almost the same story for volleys as it was with groundstrokes. I was able to stick volleys when they were within easy reach (like with most racquets), but the Pure Strike exhibited a great blend of plow through and maneuverability even when I was stretched to the extreme."
Also finding very little to criticize was Troy, who said, "I found the stability and the mass of this racquet made it easy to get my volleys deep in the court. No matter how hard the ball was hit at me, this racquet made it easy to deflect the pace. I could place the ball throughout the court with confidence, and I found it easy to hit near the lines. I found a good amount of touch and response when attempting to hit a sharp angle or a soft drop shot. I didn't find this racquet to feel quite as head light as my Six.One 95, but once I adjusted to the mass of this racquet the command I had at net was superb."
Andy found the racquet easy to use at the net, but he found it difficult to maneuver at times. He said, "It's point and shoot at the net. With so much heft you just have to place the racquet behind the ball and it will send it back deep with pace. There were no issues with stability. It had a very solid feel, but at times it was hard to maneuver. I felt like I really had to be prepared on a volley, otherwise I just couldn't get the racquet in the ideal location at contact."
Serves - Score: 79
Pace was easy to come by with the Pure Strike Tour when serving, and the mass of the racquet produced big, heavy serves for our entire playtest team. Even if he made a tactical error while playing, Mark still felt great serving with this racquet. He explained, "I was really happy on serve with this setup, although I was probably a little pumped up after having such good success on the groundstrokes. My last serve was executed about 15 minutes before I wrote this, and although Brittany showed me the better wing of her serve return (for a winner I might add), I'm still confident and successful with this racquet on serve."
Chris also really enjoyed the mass of this racquet on serve. He explained, "The weight of this racquet and the way it came through the ball made it a solid option for me on serve. I was able to generate some good pace with it, and the feel at contact was nice and solid. My slice serves had good pace and were breaking left nicely. On topspin serves I was able to get enough spin to be aggressive and keep a solid level of pace on the ball without losing control. All in all, this was a really nice racquet to serve with."
Echoing those sentiments was Troy, who said, "I was finding a good blend of control and pop when serving with this stick. The 18x20 string pattern gave me plenty of control and I found plenty of pop when hitting flat first serves down the T. I found my slice and kick serves to be about average based on the spin I was generating. The maneuverability was good enough for me to generate ample racquet head speed, but if it were a bit more head light it would have been right in my wheelhouse."
Andy was finding easy pace and spin, but once again he experienced a lack of control while serving. He explained, "Once I got the racquet moving (which can be difficult at times), I could bomb my flat serves and get my spin serves moving. I didn't have the kind of control I'd normally like, but I could get plenty of pace and spin."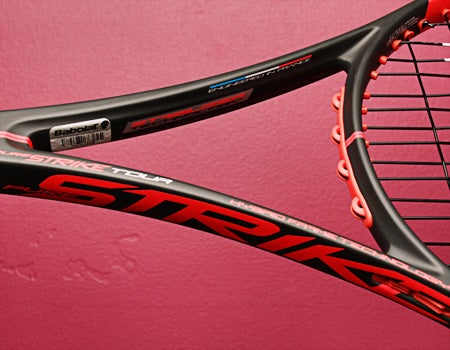 Serve Returns - Score: 85
Once again, the mass of the Pure Strike Tour was the standout characteristic, providing stability and easy depth while also hampering the maneuverability for a couple of playtesters. Andy was forced to use short, compact swings on his returns, but he liked the results when he did. He said, "It was very easy to return with this racquet as long as I didn't take too big a swing. Its heavy weight makes it solid and stable when I used a compact swing and the server's pace to redirect the return back deep or when I was chipping returns back deep. If I tried to take a big cut at the ball I had trouble getting the racquet around and timing the return. However, it just brought me back to the basics, which is not necessarily a bad thing."
Chris also had a bit of an issue with maneuverability, but he appreciated what the heft of the racquet provided. He offered, "The one area where I would have liked this racquet to feel faster was on returns. I would actually add some weight to the handle of this racquet to make it more head light and give it a whippier feel. With that being said, I still found myself returning solidly. When I made solid contact I was driving the ball with pace and accuracy. There was also ample mass to help me knife a slice return or to get good depth on a chip return."
Troy found that the racquet lived up to its name on the return of serve. He explained, "I found a rock solid feel on my returns that helped me hit them deep in the court. I found that even on big serves, when I was stretched out wide or off balance I could use the mass of this racquet to get the return deep in the court. The slice backhand return was easy to knife, and the plow through of this racquet carried the ball deep in the court with ease. Any time I faced a serve that sat in my wheelhouse I could attack and get on the offensive early. I guess you could say I was purely striking my returns, which was allowing me to strike first in the point!"
Although he normally prefers a more open string pattern for returning serves, Mark still got dialed in on his returns. He said, "Yet another part of this playtest that I can reflect positively on. I usually reserve this comment for the wide open patterned frames, but I felt like I had easy access to topspin and slice even though the Pure Strike Tour sports the 18x20 string pattern. That and the fact that the Pure Strike Tour's weight/balance was right where I seem to play best, made me realize that I could switch to this racquet and play tournaments with it straight away."
Overall - Score: 84
Likes
Chris - "I liked the solid feel. The racquet had a smooth delivery to it, which I enjoyed from all areas of the court. The weight and the general feel of the racquet were very classic and felt great when I was unloading on a groundstroke. The cosmetic is also very sharp and eye-catching."
Mark - "The feel of the Pure Strike Tour screams quality, and the aesthetic is distinctive but not overdone (very tasteful). This bias never overrides function for me, but admittedly the Pure Strike Tour looked so nice that I felt certain that I would hit well with it. Performance-wise, I was not disappointed either, and if I were to put it in baseball terms, its performance was a pure home run for me."
Troy - "Hands down my favorite Babolat racquet to date. It is one of the most stable racquets I have tested. I never felt like the racquet was going to twist in my hand, and it remained stable even when I hit outside the sweetspot. Add a leather grip and this would be tournament-ready for me."
Andy - "This racquet has the nice blend of traditional and modern feel that I really like. It's plenty forgiving, solid, stable and comfortable. You can crush the ball from any position on the court in typical Babolat fashion."
Dislikes
Chris - "I would make it more head light. In stock form it felt like there was a little too much weight toward the hoop -- especially on returns."
Mark - "I wanted more time to play with it, but that complaint probably won't get me much sympathy here at Tennis Warehouse since I can demo, demo, demo! I had to think of something negative, right?"
Troy - "Not much. A slight lack of connection to the ball when going for passing shots took away my confidence at times."
Andy - "Just personal preference, but it was a little heavy for my liking. I just felt like I had to slug the ball a bit too often, and I would lose control of my shots."
Comparing it to other racquets they've used, our testers said:
Chris - "I would compare this racquet to a Tecnifibre TFight 325 or Becker Delta Core Melbourne. You could also get close to the feel of this racquet by adding lead tape to a Wilson Blade 98 18x20. A bit more of a departure, but also within reach, would be the Head Graphene Prestige Pro. All of those offer some nice juice to help get the ball away while also offering lots of feel and control."
Mark - "I know the Wilson BLX Blade Tour has the 93 square inch hoop, but in terms of weight/balance/string pattern, along with the fact that I felt like I was going to play well with it at a glance, I have to make the comparison. The Yonex VCORE 97 (330g) is another one. The Pure Storm GT Tour, the Prince Response 97, Head Graphene Speed Pro (lighter though) and the Head Prestige MP/Pro are all close and all target the player who likes to be the primary source of power on the ball."
Troy - "I was surprised how much more solid this racquet felt compared with other Babolats I have tried before. The stability of this racquet ranks right up there with my Wilson Six.One 95, the Yonex VCORE Tour 97 (330g), the Dunlop Aerogel 4D 200 Tour and the Donnay Pro One Oversize. I found the blend of power and control to be similar to my Wilson Six.One 95. It felt similar to my old Wilson KBlade 98 (weighted up) but with a more plush feel that you get from a Head Prestige."
Andy - "It has the traditional/modern blend very similar to my current racquet of choice, the Wilson Blade 98 18x20. However, this Pure Strike Tour is certainly heavier and offers better power, plow through and stability. In the hand it feels more like a Wilson Six.One 95, but when you swing it it performs like a more powerful Blade. It also feels pretty similar (granted, with a bit more heft) to the Volkl Organix V1 Pro.
Technical Specifications

Length
27 inches
69 centimeters
Head Size
98 square inches
632 square centimeters
Weight
12 ounces
340 grams
Balance Point
12.75 inches
32 centimeters
6pts Head Light
Construction
21mm / 23mm / 21mm /
Composition
Graphite
String Pattern
18mains / 20 crosses

Babolat RDC Ratings

Score

Grade

Flex Rating
65
Range: 0-100
Swing Weight
330
Range: 200-400
Scores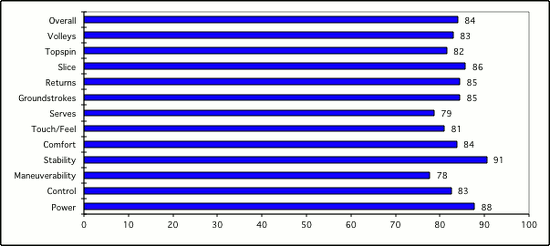 (Scores are determined by averaging individual play test scores)
Chris' Scores
Power
8.3
Serves
8
Control
8.4
Groundstrokes
8
Maneuverability
7.8
Returns
7.5
Stability
8.4
Slice
8.3
Comfort
8.3
Topspin
7.9
Touch/Feel
8.4
Volleys
8
Overall
8
Mark's Scores
Power
9
Serves
8
Control
9
Groundstrokes
9
Maneuverability
9
Returns
8.5
Stability
9
Slice
8.5
Comfort
8.5
Topspin
8.5
Touch/Feel
8.5
Volleys
9
Overall
9
Troy's Scores
Power
8.5
Serves
8
Control
8.8
Groundstrokes
8.8
Maneuverability
8.3
Returns
9.3
Stability
9.8
Slice
9
Comfort
8.2
Topspin
8.2
Touch/Feel
8.5
Volleys
8.7
Overall
8.7
Andy's Scores
Power
9.3
Serves
7.5
Control
6.8
Groundstrokes
8
Maneuverability
6
Returns
8.5
Stability
9
Slice
8.5
Comfort
8.5
Topspin
8
Touch/Feel
7
Volleys
7.5
Overall
7.9
Playtester Profiles
Chris: 5.0 all-court player currently using the Wilson Six.One 95S. Chris uses a full-western forehand grip, has a fast swing style and hits a one-handed backhand.
Mark: 5.0 lefty all-court player with a one-handed backhand. He currently plays with the Wilson Steam 99S.
Troy: 5.0 lefty all-court player with a full Western Forehand and a two-handed backhand. Troy currently plays with a Wilson BLX Six.One 95.
Andy: Open level all court player with a semi-western forehand grip and a two handed backhand. Andy currently using a Wilson Blade 98 18x20.

Review date: January 2014. If you found this review interesting or have further questions or comments please contact us.
All content copyright 2014 Tennis Warehouse.