Prince EXO3 Tour 100 (18X20) Racquet Review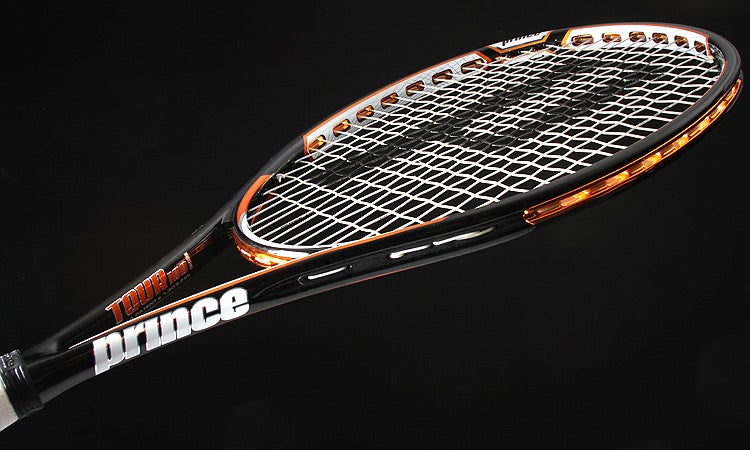 Prince EXO3 Tour 18x20
Precision. Comfort. Results.
The Prince EXO3 Tour delivers.
In this racquet, EXO3 technology goes to the next level. Complimenting a dense 18x20 string pattern -- for more precision and control -- the EXO3 String Suspension Inserts expand the sweetspot. The result is simple: better shots, more often. With the ability to provide the forgiveness needed by intermediate players and the precision and performance expected from advanced players, this racquet proved to be very versatile for our testers.
Read on for their insights.
Groundstrokes - Score: 85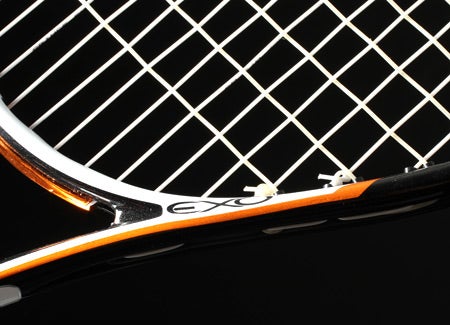 Though the EXO3 technology offers a unique feel off the stringbed, our playtesters all felt the control from the baseline was excellent. Chris found this racquet to mesh well with his game. He said, "This is one of my favorite racquets from the baseline in a long time. I found a perfect blend of power and control with this one. I felt very confident off both wings with this racquet and was attacking the ball well. On both topspin and slice shots I was getting all the spin I wanted. I could accelerate this racquet through contact better than just about anything else I've hit, and that gave me lots of spin. The spin allowed me to hit hard, yet still find my targets on a consistent basis. I felt a tad disconnected on the feel front. When rallying or going for power it was a non-issue. I didn't get as much feel as I wanted with my regular full poly set up, so I tried a bunch of different strings in this racquet. Feel was greatly improved with a poly/natural gut hybrid or a full bed of multifilament or natural gut string."
Finding improved control from the baseline was Troy. He said, "There was a dampened feel and I found it to have little to no shock on the arm. I noticed the dense string pattern improved my control from the baseline. During baseline exchanges I wasn't afraid to pull the trigger on shots when in an offensive position. I found it easy to put the ball near the corner and come in behind it. With the denser string pattern the racquet provided a little less pop compared to the 16x18 version of this racquet. It allowed me to swing faster, hitting a heavier ball. I found that I generate more spin and sharper angles from this string pattern from the sheer fact that I can generate more racquet head speed and still maintain control on my groundstrokes. I thought this racquet could use a little added weight at the 3 and 9 o'clock position to give it more stability and plow through. With some added weight this could be a real weapon."
Spencer adapted to the feel and enjoyed the results on his groundstrokes. He said, "As I experienced with the 16/18 version, it took some time to get used to the feel of this racquet. The feel of the ball coming off the strings of the EXO3 Tour 18x20 wasn't my favorite, however, I can't argue with the performance. I found this stick to offer great precision. I was very happy with the directional control off both wings. The denser string pattern provided less liveliness than the 16/18 EXO3 Tour. Though it didn't jump off the stringbed, there was enough put away power when needed. I didn't care for the feel, but there was good response on the more delicate shots, when a bit of touch was called for. "
Volleys - Score: 82
The dense string pattern helped offer our testers a lot of precision and control on volleys. Pleasantly surprised with the response at net was Spencer, who said, "This player's racquet offered the forgiveness of a larger headsize, and it worked well for me when coming to the net, as the large sweetspot most likely masked some otherwise off kilter volleys. What I was most impressed with was how the EXO3 Tour 18x20 responded to touch shots. It handled the more delicate shots with excellent results. Between the two string patterns of this stick, I'd prefer this one at net due to the muted power and more controlled feel."
Chris felt at ease when coming to the net. He said, "At net was my favorite place to be with this racquet. The response was just spot on for me. I was able to punch volleys aggressively, without fear of over-hitting. The comfort was fantastic even when I could only get the tip of the stringbed on the ball. This racquet felt very light and easy to maneuver, which further increased my confidence at net. I was playing a lot of doubles during this playtest period and the EXO3 Tour 18x20 quickly became my go to racquet."
Finding confidence with his volleys was Troy. He said, "I found a more firm response with this version. There was a good blend of ball pocketing, but without the catapult effect that the open pattern possessed. I was able to place my volleys in the corners and go for sharper angles more confidently with this racquet. The firmer feel was similar to what I'm used to with my KBlades, and I found a fair amount of control at the net, even with the 100 sq. in head size. I felt this stick lacked a bit of mass, which I feel would add some stability and make it feel like a solid player's frame."
Serves - Score: 81
What the EXO3 Tour 100 18x20 lacked in power, it made up for with control and consistency. Troy was thrilled with his control, and the variety of serves he could hit. He said, "It may seem odd to most people that adding two main and two cross strings could make a big difference, but it did for me. I found a lot more consistency in my serve with this version compared to the 16x18 version. I wasn't worrying so much about just getting my serve in, and I was able to be more aggressive. I was able to hit my bread and butter slice serve with good control. I also found the kick serve out wide or down the T to be relatively consistent, helping me to mix it up. I was able to generate a lot of racquet head speed since this racquet is a bit lighter than what I'm used to. I felt I could add some weight to this stick to give me a little more pop, thus adding some MPH's and making it into a weight that is more similar to what I actually use."
Able to effectively mix up his serves was Chris. He said, "I served well with this racquet. I'm not the kind of server who is going to blow opponents off the court with power, so I tend to like racquets that help me serve with variety, and this one fit the bill. I was able to get the bite I needed on the ball to find my angles and control the direction and pace of my serves. I got enough pace to occasionally catch my opponents off-guard with a flatter/faster delivery, but for the most part I used spin and direction with this racquet. Comfort was second to none on serves and I found the EXO3 Tour 18x20 to be a very forgiving racquet."
Spencer had similar sentiments concerning control, saying, "What I felt the EXO3 Tour 18x20 lacked in power, it made up for with control and consistency. Though I didn't feel the racquet was adding any pace, I made do with mixing up placement, spin and pace. One thing I was clearly happy with was the comfort of this stick. If I suffer any arm issues, it's usually from serving. The low rated flex and soft feel allowed me to have pain free sets."
Serve returns - Score: 83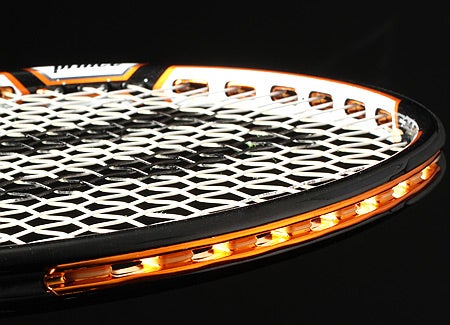 This racquet provided an excellent blend of maneuverability, stability and control, resulting in effective, consistent returns. Chris relished the control and comfort he found when returning. He said, "I could really take a good cut at returns with this stick. I found a ton of control, and that enabled me to stay aggressive. If I wanted to knife a backhand slice or rip a topspin return, the response from this racquet was spot on. Again, I was very impressed by the comfort from the racquet. No matter what string I used, I always found the feel to be very dampened."
Finding excellent control was Troy, who said, "I found good maneuverability, which allowed me to flick my wrist on returns where I was stretched out-wide. I didn't find as much power as I did with the open string pattern, but much better control on returns, where I could take a full cut at the ball. I was placing my returns well in my opponents side of the court, whether going for topspin or slice. I found the control of this racquet most noticeable in doubles, where I had to play keep-away from the net man. I was able to hit returns down the line and cross-court with confidence."
Spencer experienced a lot of success when returning serve. He said, "I really enjoyed returning with this stick. It carries enough heft to handle hard serves or off center hits, yet it was plenty maneuverable to get a good swing on the ball. I liked the tight string pattern more when returning, as I felt it offered more consistency. Whether I was chipping, blocking or trying to put my opponent on the defensive, I fared pretty well with this racquet."
Overall - Score: 83
The EXO3 Tour 100 18x20 proved to be an effective racquet for our playtesters. Though the feel took some getting used to, the control and performance were undeniable. The two areas where this stick shined were from the baseline and at net. Shot control, both directional and depth-wise were excellent with groundstrokes, while volleys offered solid punch and ample touch when needed. The tighter string bed provided impressive consistency. From most court positions there was enough put away power to end points, but that same power didn't resonate on serve with our crew. They all raved about the consistent control when serving, but couldn't muster any extra power when going for more velocity. All in all, the EXO3 Tour 100 18x20 impressed our team with its performance from all areas of the court, and can benefit intermediate through advanced level players.
Likes
Chris - "I loved the power, control, spin, maneuverability and comfort of this racquet. The spec and on court performance were an excellent fit for me. The best racquet I've tested since I first hit with my current racquet, and I'm thinking about switching to it."
Troy - "I experienced good control from all areas of the court, as well as a comfortable feel. I was able to generate a lot of topspin, while still maintaining good control."
Spencer - "The control and comfort."
Dislikes
Chris - "It took me longer than expected to find feel on touch shots, but I found the groove as I got used to the racquet and from using different string choices (Natural Gut main / Poly cross hybrid). I also added some weight to boost power on serves and add some plow through."
Troy - "The lack of plow through. I would add some weight to the 3&9 o'clock positions, as well as a leather grip."
Spencer - "Adapting to the unique feel."
Technical Specifications

Length
27 inches
69 centimeters
Head Size
100 square inches
645 square centimeters
Weight
11.6 ounces
329 grams
Balance Point
12.625 inches
32 centimeters
7pts Head Light
Construction
19 - 20 - 19 Tapered Beam
Composition
Graphite
String Pattern
18 Mains / 20 Crosses

Babolat RDC Ratings

Score

Grade

Flex Rating
52
Range: 0-100
Swing Weight
322
Range: 200-400
Scores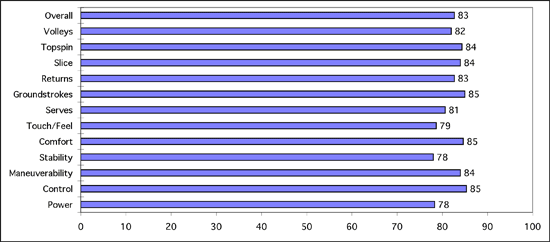 (Scores are determined by averaging individual play test scores)
Troy's Scores
Power
8.4
Serves
8.5
Control
9
Groundstrokes
8.9
Maneuverability
8.7
Returns
8.3
Stability
7.9
Slice
8.5
Comfort
8.5
Topspin
8.8
Touch/Feel
8.4
Volleys
8.2
Overall
8.5
Chris' Scores
Power
7.6
Serves
8.1
Control
8.2
Groundstrokes
8.2
Maneuverability
8.2
Returns
8.3
Stability
7.8
Slice
8.5
Comfort
8.4
Topspin
8.5
Touch/Feel
7.6
Volleys
8.4
Overall
8.2
Spencer's Scores
Power
7.5
Serves
7.6
Control
8.4
Groundstrokes
8.4
Maneuverability
8.3
Returns
8.2
Stability
7.7
Slice
8.2
Comfort
8.5
Topspin
8
Touch/Feel
7.6
Volleys
8
Overall
8.1
Playtester Profiles
Chris:5.0 All court player currently using the Volkl Power Bridge 10 Mid. Chris uses a full-western forehand grip, has a fast swing style and hits a one-handed backhand.
Spencer: 4.5 Baseline player currently using a Wilson Kobra Tour. Spencer uses a semi-western forehand grip, and hits with a one-handed backhand
Troy:5.0 lefty all-court player with a full Western Forehand and a two handed backhand. Troy currently plays with the Wilson K-Blade 98.

Review date: March 2011. If you found this review interesting or have further questions or comments please contact us.
All content copyright 2010 Tennis Warehouse.