Volkl Organix V1 Pro Racquet Review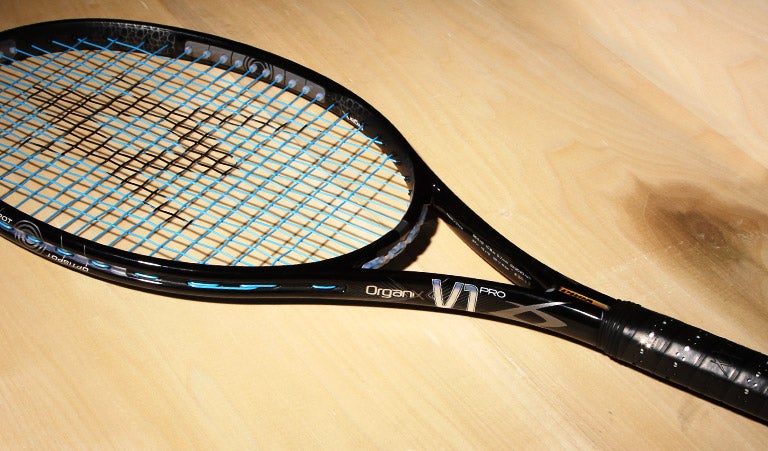 Volkl Organix V1 Pro Scores
Comfort
90
Touch/Feel
88
Serves
80
Groundstrokes
83
Returns
79
Slice
87
Topspin
83
Volleys
86
Overall
84
Upsides
Feel
Comfort
Controllable Power
Spin Friendly
Downsides
Nothing we could agree on
Summary
After we got a sneak peek of the V1 Pro while it was in development, we couldn't wait for its release to the world. This offering from Volkl will appeal to the masses because it offers something for just about any type of player. From the first strike of the ball we noticed the classic plush feel that we love from Volkl racquets. It's much softer and more comfortable than its high stiffness rating would lead you to believe. However, what that high stiffness level does give you is lots of pop and a very responsive feel off the stringbed. The thin beam then provides great control and even more feel for all of your touch shots. Put that all together and what do you get? A modern player's racquet that, depending on the string setup, is suitable for recreational club players all the way up to high level heavy hitters. I know we've said this before, but we'll say it again with conviction: Give this one a try!
Groundstrokes - Score: 83
Our playtesters found the V1 Pro to be comfortable and easy to use from virtually any position on the baseline. Chris loved its feel and said it helped him tap into his full arsenal of groundstrokes. He explained, "With its soft, plush and comfortable feel, I really enjoyed the response of this racquet from the baseline. I really liked the touch and control I found on drop shots and placement shots. I liked using a string like Volkl Cyclone because it provided even more control, yet the racquet still felt comfortable. Spin was also very easy to generate with that setup. The racquet felt nice and fast, so it was easy to get the racquet speed needed to find lots of spin. I really enjoyed hitting angles with this racquet as well as changing direction of play and hitting aggressive down-the-line shots. It felt like I could put the ball where I wanted and get it there with plenty of pace."
The racquet lands right in Brittany's desired spec range, and sure enough, she really enjoyed it from the baseline. She said, "I really liked playing with the Volkl Organix V1 MP, so I was super excited to try out the Pro version. When I looked at the specs I realized they were exactly what I look for in a racquet, and when I got on the court this racquet did not disappoint! I thought it had a little less power and little more control than the Midplus version, which I found matched my playing style perfectly. The racquet was very comfortable to play with and the size of the sweetspot was about average (not too big, not too small). I found my slice to be extremely effective and very helpful when I was forced to play defensively."
Andy found a plush and solid feel, but a bit too much power at times. He offered, "The V1 Pro was very solid from the baseline, with great feel. It's far softer and more comfortable than its 68 RA would suggest. I thought it was a little slow through the air when I played against big hitters, but for the most part it played very nicely off both sides. There was enough weight in the hoop to really knife the slice and provide stability on balls hit off-center. There's a lot of pop in this racquet, just like the other Organix racquets, so there were a couple of instances when I tried to really crank one and the ball ended up sailing way long. However, I found I could hit big groundstrokes off both sides consistently with this racquet."
It was an easy adjustment for Michelle, who, like Brittany, enjoys racquets with similar specs to this one. She said, "This racquet was effortless for me to use. Every time I picked it up I was amazed at how well it worked for me. This racquet played consistently well from the first ball strike to the last, and there was a lot to like about it. It was amazing on backhand slices and backhand drives. I would love to add some weight because it did feel slightly unstable and didn't have the plow through that I enjoy in my preferred setup. The one area I struggled with was accelerating through on my finish. However, it was easy to bang balls back and forth with the V1 Pro and it was maneuverable for me off the baseline; even if my feet were out of position I could swing the racquet through easily to combat anything that came at me. I also enjoyed the access to spin from this racquet and felt that I could easily mix up my flatter balls with heavier spin. I felt like there wasn't too much power, but it didn't feel like it was lacking power, either. There wasn't power like a Pure Drive, but it was not as dead as a Blade."
Volleys - Score: 86
The soft, plush feel was the standout feature on volleys for our playtest team. "I loved to volley with this racquet," said Brittany. "If I had to describe my favorite characteristic of this racquet when volleying, it would have to be the feel. I loved the feel of this racquet and felt I could do so much with the volley, from punching the ball deep in the court to hitting a short angle out wide. I found the V1 Pro to be much more stable than the Midplus."
Michelle also raved about the feel the V1 Pro at net, as well as the racquet's maneuverability. She said, "This racquet was a dream to volley with. It was super maneuverable, making it easy to get into position to block back bigger balls, or I could add a bit of pace with depth to my volley."
Chris used the great feel of the V1 Pro to help him with his finesse volleys. He explained, "The feel and control of this racquet was superb at net. I felt very dialed in on my touch and drop volleys. Again, the comfort was excellent and the racquet had a very smooth and plush feel at contact. It was easy to maneuver and felt very fast during reaction volleys. I would have liked just a tad more mass behind the ball to help me find more depth and stability, but that is an easy fix. Just like on my groundstrokes, it was easy to get spin when cutting under the ball, and that helped me hit my drop volleys nice and short."
Rounding out the crew was Andy, who enjoyed the feel and stability but struggled at times with the maneuverability. He said, "This racquet was very solid and plush up around the net. It offered great stability when I was stretched wide and good touch on soft volleys. Once again, it's way softer and plusher than its high stiffness rating would indicate. I did find it tough to maneuver at times on reaction volleys, but that added weight in the hoop is also responsible for the nice stability the racquet offers."
Serves - Score: 80
Our team found easy access to power and spin with the V1 Pro, but a couple of our testers found it to be a bit cumbersome, especially after being on court for a while. Michelle had no issues though, as she was able to hit a variety of serves. She said, "I enjoyed this racquet while serving because it made serving feel effortless. I could gain a bit of extra movement and power off my serve, and it was easy to hit my targets. The weight was just about perfect, and I felt like this racquet helped simplify my serve. I had no problems hitting my kick, slice and flat serves with this racquet."
Chris also found serving to be an easy task, though he would've liked a little more weight for hitting even heavier serves. He explained, "I found decent pace serving with this racquet, but it was a little light to be ideal for me. I did manage an ace here and there, but with a little lead tape in the hoop I think I could add even more pace and hit a heavier serve. Spin was good, and I was able to find some nice slice and topspin. I liked the directional control I was finding and the level of comfort was excellent. The racquet came through the ball easily, and this is a racquet I could swing all day without tiring my arm."
Andy once again struggled with the maneuverability of the V1 Pro. He offered, "Once I got the racquet moving I could really bomb serves with the V1 Pro or get a spin serve really moving. However, even though the swingweight is listed lower than I normally like, I once again found it hard to maneuver this racquet and get it moving quickly over my head. I felt like I really had to muscle it to get the racquet moving through the hitting zone, and because of that I didn't feel like I had as much control on my serves as I'd like. However, it does offer nice access to power and spin."
Brittany also had mixed emotions about serving with this racquet, saying, "There were times I loved it, and there were times I wasn't as thrilled. I found I had to put in a lot of effort to get momentum. When I was playing a match I had no trouble serving consistently. However, as the match wore on I found my arm getting a little tired. If I had to pick one serve that was my favorite to hit it would have to be the wide serve to the deuce court. I found a lot of success with this serve, including several aces (sorry, Spencer!)."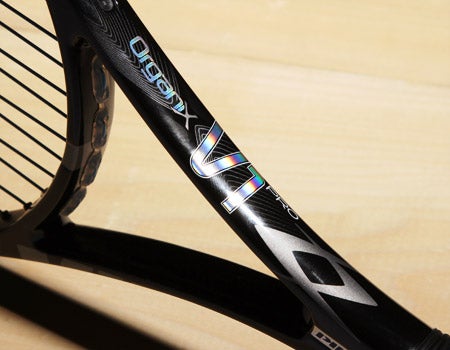 Serve Returns - Score: 79
The general consensus of the team was positive with the V1 Pro when returning serve. Andy enjoyed the plush and stable feel, especially when returning defensively, but he still wanted a more head-light setup. He explained, "Maneuverability is important to me on returns, so all the weight in the hoop of this racquet made it a little challenging to return with for me. It was awesome for chipping back returns deep into the court, where the stability of the racquet really shone. However, I found it difficult to time the returns when I was stepping in and trying to take the ball early. Once again, great feel, very solid, just tough to swing at times."
Michelle wished for a little more weight to help fend off some bigger serves. She said, "Returns were another area where I could have used a bit of extra mass from the V1 Pro. It was solid, but I felt like I was lacking a bit of stability when returning bigger serves, and I had a tendency to get slappy on weaker second serves. It was maneuverable but slightly unstable for me. Again, that plow through that I enjoy was missing when returning."
Though she typically prefers a lighter racquet when returning, the V1 Pro worked well for Brittany. She said, "While I would say the racquet isn't as maneuverable as the Midplus version, I had no problems getting my racquet into position and taking big cuts at the ball. I was impressed with the stability and felt very comfortable returning big first serves and second serves that kicked up above my shoulders (thanks, Andy!)."
"This was one of my favorite shots to hit with the V1 Pro," said Chris. "I was able to whip the racquet around quickly, and that helped me catch up to even the fastest serves. I liked the precision when driving the ball and felt confident going for aggressive targets. I was getting some nice topspin and slice, which helped me keep the ball inside the lines even on a powerful swing. I also loved the feel and control when chipping a low slice backhand return and following it to net in doubles. With its maneuverable feel I felt confident stepping inside the court to take the return early and steal the net advantage away from the serving team. When staying back in doubles, or when playing singles, I liked the easy access to pace and spin. I was able to vary both the direction and pace of my returns to keep my opponent guessing."
Overall - Score: 84
Likes
Chris - "I loved the feel, control, spin, maneuverability and comfort, and even the cosmetics!"
Brittany - "First and foremost, I loved the feel of this racquet from all areas of the court. Secondly, I loved the combination of power and control for my playing style."
Michelle - "I loved how easy it was to pick this racquet up and play well. It has a consistent feel of controllable power to me. I loved volleying, serving and slicing. As with all Volkl racquets, I can just feel how great the craftsmanship is when this racquet is in my hands. It's user friendly in all areas!"
Andy - "Great feel, very solid from all areas of the court, and nice access to power and spin."
Dislikes
Chris - "A tad light for me at its stock weight, but I will definitely be adding some lead tape to this racquet to see how it plays at my preferred spec (about 12.6 ounces strung, 10 points head light and a 325-ish swingweight)."
Brittany - "There isn't much that I don't like about this racquet. If I had to be nitpicky, I would say that it was not my favorite racquet to serve with."
Michelle - "I wouldn't mind adding a bit of mass to make it a bit more stable, to make it easier to whip through my groundies with my faster swings and to gain some plow through."
Andy - "It was tough to maneuver at times, but that may be because I prefer a more head-light setup."
Comparing it to other racquets they've used, our testers said:
Chris - "This racquet did not feel quite as crisp and lively as the regular Organix V1 Midplus when I used a compact swing. However, this racquet is all about feel, control and precision. It is tough to find a comparable racquet, but I think the Donnay Formula 100 is somewhat close. I'm also reminded of the old Wilson Kobra, as that was also a modern feeling racquet but at a more flexible and comfortable spec."
Brittany - "This is easily one of my favorite playtest racquets this year. I have to say that I liked it a little bit more than the Midplus version for two reasons. It was more stable and it had a little more control (not as much power)."
Michelle - "I haven't spent too much time with Volkl racquets, other than the Organix 7, but they all have that classic Volkl feel - solid and well made. This racquet felt more comfortable, had more control and less plow through, and was more maneuverable than my favorite setup, the Babolat Pure Drive Roddick. I also preferred it when slicing."
Andy - "It felt similar to a Wilson Juice Pro or a Wilson Blade 98 16x19, but with that familiar Volkl feel that you'd get from the Organix 10 or Power Bridge 10. It's a great modern player's racquet that can suit a wide variety of players, depending on the string setup. Throw a nice multifilament or natural gut in there and your 3.0-4.5 club player could use it, or use a polyester string and an Open level player would find more than enough control."
Technical Specifications

Length
27.0 inches
69 centimeters
Head Size
99.5 square inches
642 square centimeters
Weight
11.3 ounces
320 grams
Balance Point
13.38 inches
34 centimeters
1pt Head Light
Construction
23mm / 20mm / 23mm
Composition
Organix / Carbon / Fiberglass
String Pattern
16 Mains / 19 Crosses

Babolat RDC Ratings

Score

Grade

Flex Rating
68
Range: 0-100
Swing Weight
317
Range: 200-400
Scores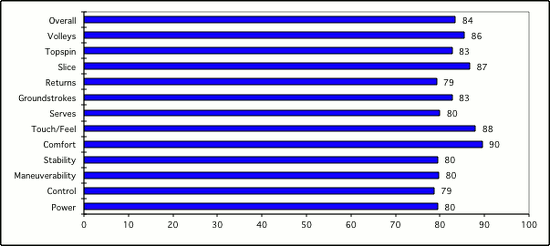 (Scores are determined by averaging individual play test scores)
Chris' Scores
Power
7.8
Serves
8
Control
8.5
Groundstrokes
8
Maneuverability
8.4
Returns
8.4
Stability
7.8
Slice
8.4
Comfort
9
Topspin
8.3
Touch/Feel
8.7
Volleys
8
Overall
8.1
Brittany's Scores
Power
8.5
Serves
8
Control
8.5
Groundstrokes
8.6
Maneuverability
8
Returns
8.8
Stability
8.5
Slice
8.8
Comfort
8.8
Topspin
8.1
Touch/Feel
9
Volleys
8.9
Overall
8.5
Michelle's Scores
Power
7.5
Serves
9
Control
7.5
Groundstrokes
8.5
Maneuverability
8.5
Returns
7
Stability
7
Slice
9.5
Comfort
9
Topspin
9
Touch/Feel
9
Volleys
9
Overall
8.8
Andy's Scores
Power
8
Serves
7
Control
7
Groundstrokes
8
Maneuverability
7
Returns
7.5
Stability
8.5
Slice
8
Comfort
9
Topspin
7.7
Touch/Feel
8.5
Volleys
8.3
Overall
8
Playtester Profiles
Chris: 5.0 all-court player currently using the Volkl C10 Pro 2012. Chris uses a full-western forehand grip, has a fast swing style and hits a one-handed backhand.
Brittany: Open level player with a semi-western forehand and a two-handed backhand. She currently plays with the Yonex V-Core 100S.
Michelle: Open level baseline player with a semi-western forehand and a two handed backhand. She currently plays with the Babolat Pure Drive.
Andy: Open level all court player with a semi-western forehand grip and a two handed backhand. Andy currently using a Blade 98 18x20.

Review date: September 2013. If you found this review interesting or have further questions or comments please contact us.
All content copyright 2013 Tennis Warehouse.