Volkl Organix 10 325 Review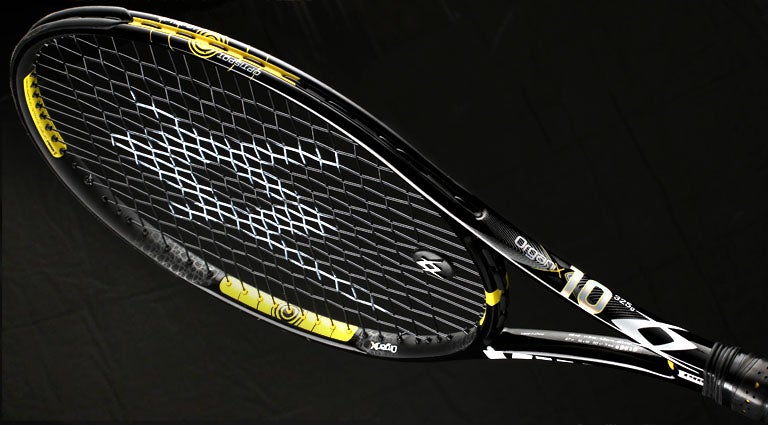 Volkl Organix 10 325 Scores
Comfort
86
Touch/Feel
84
Serves
75
Groundstrokes
83
Returns
81
Slice
84
Topspin
83
Volleys
82
Overall
82
Upsides
Blends power with control
Comfortable
Great feel
Spin-friendly
Downsides
A big adjustment when coming from the previous model
Summary
There's no confusing the characteristics of the Organix 10 325; it is a no-nonsense racquet offering the performance Volkl's renowned 10 series. The comfort was undeniable from all areas of the court. That, combined with the stability, provided the versatility to handle a variety of shots. Whether we were hitting a flat shot with velocity or a shot with plenty of action, the Organix 10 325 didn't waver. Our testers found plenty of control, much like the previous iterations, but with added access to spin. A hit with our team, the combination of comfort, touch and control impressed each tester. All in all, this is a great offering for the 4.5+ level player.
Larger is the new ingredient in today's player's sticks. In racquets like the Volkl Organix 10 325, reviewed here, the heft, stability and control of the classic midsize player's racquet remains, but it comes with the more forgiving stringbed of a larger, 98 square inch head.
The 98 square inch string bed meets the needs of the powerful, spin heavy playing style of modern tennis. While midsize racquets once ruled the courts, the larger 98 through 102 square inch midplus racquets are now hugely popular at the top level. There is no doubt then, that the Organix 10 325 is one for the new generation.
Already known for its exceptional feel and response, the Volkl 10 series of racquets has been where advanced players have always looked for the best of what Volkl has to offer. Whereas recent iterations of the 10 Midplus have featured tight, 18x20 string patterns, this latest update gets an open, 16x19 string pattern, dramatically altering the feel and response of the racquet.
New Volkl technologies further distance this Organix 10 from its Powerbridge predecessor. Volkl claims its new Organix frame construction loads up with kinetic energy for more dynamic strokes, its Bio Sensor handle helps to eliminate vibration and Optispot helps dial in focus at impact for better ball striking.
With specs designed for advanced players, a headsize that's more forgiving, Volkl's latest technologies plus an open string pattern, our playtest team was eager to get the Organix 10 325 on court. Read on for their thoughts.
Groundstrokes - Score: 83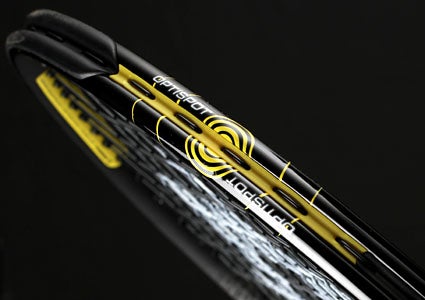 Our testers found an impressive response from the 12.1 ounce weight, 98 square inch head and open string pattern. Chris felt he could generate plenty of spin and depth. He said, "Offering a very different feel compared to previous versions of the 10 Midplus due to its open string pattern, this racquet reminded me of a cross between a C-10 Pro and a Powerbridge 10 325. The open string pattern of this racquet made it more forgiving than its predecessor. For whatever reason, this racquet felt faster, too. Because I was able to swing it faster I was able to get more spin, and the open pattern made finding depth an effortless affair. Compared to my Powerbridge 10 Mid, I didn't get the same amount of plow through and my shots didn't seem to be as penetrating. I did really enjoy the blend of comfort and feel that Volkl seems to dial into their racquets. This one is on the money in that regard. I was finding my targets on drop shots and the feel was smooth and comfortable. Overall, I thought this was a really solid and forgiving racquet when trading groundstrokes. Put a poly in it and the spin and control is superb."
Enjoying the comfortable feel was Granville. He said, "The Organix 10 325 is another great 10 racquet - but very different from one of its 10 predecessors (and a personal favorite), the DNX 10 mid. This Organix 10 has the big comfortable feel of a 110, but in a 98 square inch head. This is another one of those racquets that feels better and better the harder you hit the ball. The soft and comfortable sweetspot brought me good depth without having to modify my game. It also played lighter than its 12.1 ounces. It was very soft around the edges at impact as compared to a more crisp or brassy feel. Having 16 main strings offered good spin potential. The racquet seems built for the new game and the new spin friendly strings."
Troy liked the spin he could impart with his groundstrokes. He said, "The first thing that stood out to me was the comfort and dampened feel that I have become quite familiar with when using Volkl and Becker racquets. Initially, I was having a bit of a timing issue when hitting groundstrokes, being that this racquet is slightly more headlight than I prefer. I found it easy to generate spin with the open string pattern, but on the same note I felt that when I tried to flatten my shot and go for a winner the response was unpredictable sometimes. Being that this racquet has a lower swingweight than I prefer, I found it to have good torsional stability. The problem for me with a lower swingweight (in this case 317) is that there's a lack of plow through. I felt as though I was having to over-exert myself to generate ample power and depth on my shots, and I was sacrificing fluidity on my groundstrokes. Towards the end of the playtest I tampered with the balance by adding lead tape to the 3 and 9 o'clock positions of the racquet head. The swingweight increased to about 330 and I found better plow though and access to power from the baseline."
Spencer found this stick offered good directional control. He said, "For a racquet that weighs in over 12 ounces strung, I found the Organix 10 325 to be very manageable. The head light balance and swingweight worked well for my game. I really felt I was in good control of my shots from the baseline. One thing I noticed was that my off-center hits were handled well by the heft, and stayed on line with where I was hitting the ball. Other than the good directional control I experienced on my forehand, I really enjoyed the backhand slice. I had good success driving the slice, more so than floating it. If there was one thing that I wasn't thrilled with, it was the grip shape. I've never been a fan of the more rectangular handle shape, and I think about it with every grip change from forehand to backhand and vice-versa. Control-wise, I played my best with a full bed of polyester, but I liked the feel and arm-friendliness of a multifilament. Each type of string had its advantages in this racquet, and I could tune it depending on my wants and needs."
Volleys - Score: 82
According to our playtesters, the Organix 10 325 provided stability while offering better than expected maneuverability. Liking the versatility at net was Granville. He said, "Great stick for singles and doubles. It's very maneuverable, with excellent feel and good power and/or touch, depending on the situation. Call me crazy, but even the shape of the head seems a touch more broad at the shoulders. Whether real or imagined, the head shape gives me that deep pocketing that provides comfort and feels like it's launching the ball off the strings."
Chris was also impressed with the comfort. He said, "This was a really nice racquet at net. It felt rock solid and the feel was there when I needed it. Whether I was punching a volley deep or caressing an angle, I found a very consistent and solid response. As from the baseline, I was impressed by the comfort."
Liking the feel but seeking a more forgiving response was Troy. He said, "I enjoyed the feel this racquet provided at net. I felt connected to the ball when placing my volleys within the court. I felt as though I was carving angles and hitting drop shots comfortably. On the downside, I felt like the racquet was a little unforgiving, in that when I made contact outside the sweetspot the racquet was not as stable as I would have liked. By adding some lead weight tape at 3 and 9 o'clock I was able to increase the stability, but it still didn't feel as solid as my own sticks."
In contrast, Spencer found the stability to his liking, saying, "This racquet offers a nice sturdy feel at net. The maneuverability was better than I expected, while at the same time the racquet carried enough weight to not get pushed around. Overall, it offered a solid feel with good directional control."
Serves - Score: 75
Comfort and consistency were the two themes resonating from our testers when serving with the Organix 10 325. Spencer liked the consistency he found. He said, "I liked the control aspect of this racquet when serving. I felt I could place my serves with good consistency and get a decent amount of spin, but I didn't feel I could muster a ton of power. This is no surprise, since I don't tend to generate a ton of power on serve. I usually gravitate toward a racquet that can give me some added velocity, and this, like most player's racquets, just isn't going to, nor do I expect it to."
Chris agreed. "I felt at home serving with this racquet. It doesn't come through the contact point with quite the veracity of my Powerbridge 10 Mid, but I was still able to get some nice pace. Although I may have given up a little put away power, I was serving with a lot of consistency."
Finding a bit more action on his serve was Granville. He said, "I could really see some additional action on my kick serves, and I'm thinking it's a result of the 16 mains kicking that ball off the string bed. I keep coming back to the comfort of the racquet. I'm not sure if I'm getting any extra power, but it seems like it's easier to get the same power using this racquet."
Troy struggled to find power. He said, "I struggled to get the pace and precision that I typically get with my own sticks. I was consistently able to spin my serve in, but I felt as though I couldn't attack with my first serve. I found that the balance of this racquet allowed me to generate racquet head speed easily, allowing me to get a lot of spin on the ball, but I felt that this took away from the power. I found a consistent response, but not the response I was hoping for when serving with this racquet."
Serve Returns - Score: 81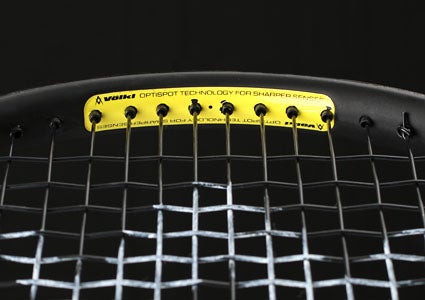 Granville found he could return well in any situation. He said, "It was easy to get this racquet around on either side to get a jump on the return. It offered the mass to really stick the ball, yet was head light enough to stab and maneuver on the really wide returns. A good offensive and defensive racquet for all situations."
Troy was left looking for more penetration. He said, "The upside to this racquet when returning was that it was easy to maneuver and I could get the return back even if I was off-balance or stretched out. Unfortunately, most of my returns didn't have much penetration through the court even when I took a clean cut. Just as I noted on my groundstroke comments, I was feeling as though I had to overexert myself to get the ball to land deep in the court. I was not finding the plow through that I was looking for, which was most evident when going for a backhand slice return. After I added lead tape there was increased plow through, but I don't feel I was returning to the best of my ability."
Spencer liked the versatility. He said, "This racquet offered a good mix of maneuverability and heft, allowing me to handle a variety of serves. As long as I got the ball in the middle of the stringbed I didn't have to do too much with the swing, and I could get good depth."
Overall - Score: 82
Likes
Chris - "I liked the solid feel, the comfort, the size of the sweetspot, the feel and the spin."
Granville - "Deep pocketing, comfortable, good power. Cool stealth cosmetic."
Troy - "Definitely an arm-friendly racquet. Easy access to spin. Nice cosmetic."
Spencer - "The control and backhand slice."
Dislikes
Chris - "Not really a dislike, but I never once noticed the Optispot."
Granville - "I found it very string sensitive. Depending on the set-up (string type and tension) this racquet can play very differently, which could be good or bad. Be patient and try varying the set-up."
Troy - "The lack of stability and plow through. It's a comfortable racquet overall, but I never had full confidence in my shot-making ability."
Spencer "The handle shape is too rectangular."
Technical Specifications

Length
27 inches
69 centimeters
Head Size
98 square inches
632 square centimeters
Weight
12.1 ounces
343 grams
Balance Point
12.625 inches
32 centimeters
7pts Head Light
Construction
20mm Straight Beam
Composition
Organix / Carbon / Fiberglass
String Pattern
16 Mains / 19 Crosses

Babolat RDC Ratings

Score

Grade

Flex Rating
64
Range: 0-100
Swing Weight
317
Range: 200-400
Scores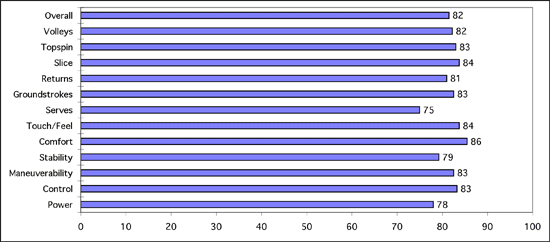 (Scores are determined by averaging individual play test scores)
Chris's Scores
Power
7.9
Serves
8
Control
8.4
Groundstrokes
8.1
Maneuverability
8
Returns
8.4
Stability
8
Slice
8.2
Comfort
8.3
Topspin
8.3
Touch/Feel
8
Volleys
8.3
Overall
8
Granville's Scores
Power
8
Serves
8
Control
8.3
Groundstrokes
8.5
Maneuverability
8.5
Returns
8.3
Stability
8.5
Slice
8.8
Comfort
8.8
Topspin
8.8
Touch/Feel
8.5
Volleys
8.5
Overall
8.5
Troy's Scores
Power
7.5
Serves
6.5
Control
8
Groundstrokes
8
Maneuverability
8.5
Returns
7.7
Stability
7
Slice
7.5
Comfort
8.8
Topspin
8.5
Touch/Feel
8.9
Volleys
7.9
Overall
7.9
Spencer's Scores
Power
7.8
Serves
7.5
Control
8.6
Groundstrokes
8.4
Maneuverability
8
Returns
8
Stability
8.2
Slice
9
Comfort
8.3
Topspin
7.6
Touch/Feel
8.1
Volleys
8.2
Overall
8.2
Playtester Profiles
Chris: 5.0 all court player currently using the Volkl Power Bridge 10 Mid. Chris uses a full-western forehand grip, has a fast swing style and hits a one-handed backhand.
Granville: 5.5 all-court player currently using a Wilson K Factor Six-One Tour 95. Granville is an aggressive player who uses an eastern forehand grip and goes continental on everything else, hits with a flat swing and a one-handed backhand.
Troy: 5.0 lefty all-court player with a full Western Forehand and a two handed backhand. Troy currently plays with a customized Wilson KBlade 98.
Spencer: 4.5 baseline player currently using the Prince EXO3 Tour 100 16x18. Spencer uses a semi-western forehand grip, and hits with a one-handed backhand.

Review date: September 2011. If you found this review interesting or have further questions or comments please contact us.
All content copyright 2011 Tennis Warehouse.