ProKennex Ki Q5X Racquet Review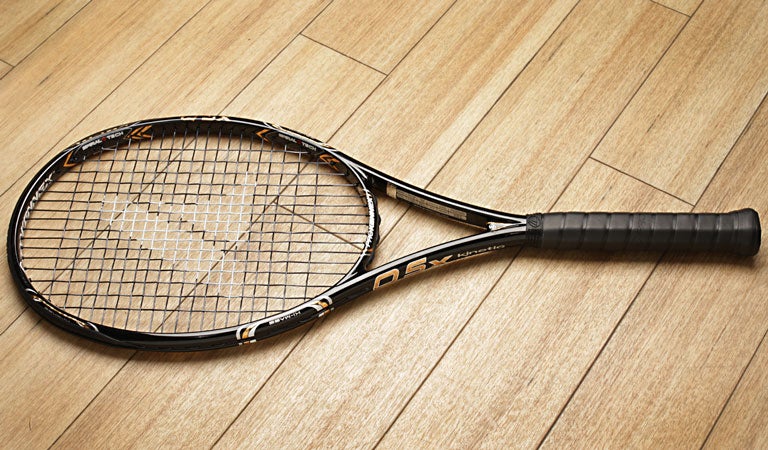 ProKennex Ki Q5X Racquet Scores
Comfort
85
Touch/Feel
80
Serves
83
Groundstrokes
84
Returns
82
Slice
82
Topspin
79
Volleys
82
Overall
83
Upsides
Power
Comfort
Crisp, solid feel
Downsides
Nothing we could agree on
Summary
ProKennex throws another heavyweight contender into the ring with the Ki Q5X. With its 27.5-inch length and solid 343 swingweight, the Ki Q5X stacks up well against the other extended length player's racquets on the market. Our testers found exceptional comfort and control while still getting ample pop and stability from this racquet. Once our playtesters got things moving on their swings, the Ki Q5X's beefy swingweight helped the racquet plow through the ball with ease and produce heavy shots from every area of the court. In addition, ProKennex's signature Kinetic technology gave the racquet a comfortable feel, even on shots hit outside the sweetspot. The only downside was that some of our playtesters found the weight a bit tiresome at the end of their hitting sessions. However, fans of extended length player's racquets need to take note because the Ki Q5X means business!
Groundstrokes - Score: 84
Our playtesters were very impressed with the Ki Q5X from the baseline. They were particularly impressed with the comfort and power. Tiffani couldn't stop raving about it, but she found that after a long session she was a bit tired from the heavy swingweight. She explained, "There is so much to love about this racquet: the plow through, the feel, the stability, the power, the spin! The trick for me is to be able to consistently take advantage of all the benefits. This is heavier than my usual racquet, and that enabled me to hit much heavier shots than I usually do. Initially I thought I was hitting flatter than usual, but that wasn't the case. What I was noticing was that instead of hitting a more arcing (loopier, if you will) ball, I was driving my shots much more effectively, so, in turn, the spin I was hitting was more effective. My opponents noticed that my shots were much heavier than usual. I absolutely loved stepping in to take the ball early with my two-handed backhand, partly out of necessity (the high swingweight was a challenge if I let the ball rise too high out of the strike zone) and partly because I felt like I was crushing the ball. Unfortunately, over the course of a match the weight of the Ki Q5X was a bit demanding for me, otherwise I'd play with it all the time. I like it that much."
Chris also really enjoyed the benefits of the extra half-inch, which worked for him better than most extended length racquets he has tried in the past. He said, "I was truly surprised at how much I liked this racquet right from the first swing. I have a history of not getting on as well with longer racquets, and it is the rare extended length frame that suits me. This was one of those rare exceptions. I loved the added power and weight this racquet gave me on groundstrokes. It reminded me of a Pure Drive Roddick Plus, yet it had more comfort and the adjustment period was shorter. While the Pure Drive Roddick Plus just beats it for power, this racquet offers a tad more control. I also found easy access to spin with this racquet. I hit it with several full beds of co-poly strings and some hybrids. Spin, control and feel were there with every setup for me. At contact the racquet felt rock solid. I liked the way it came through the ball on my backhand slice, and I was knifing that shot well. On topspin backhands it was easier to maneuver then most longer racquets, but I still found myself a tad late at times."
In her first experience with a ProKennex racquet, Brittany noticed the comfort of the Kinetic dampening technology. She said, "Because this was the first ProKenennex I have hit with, I was excited to see how it played. As I was expecting, I had a small adjustment period with the extra half-inch length and the much-higher-than-I-am used-to swingweight. Once I adjusted, I found this to be a very solid racquet from the baseline, and boy, was there power when I got the racquet around. With all that power I had to really focus on adding extra spin so my shots would stay in play. Additionally, the racquet was very comfortable to hit with even when I hit outside the sweetspot. Lastly, this racquet's plow through made slicing easy and effective from the baseline."
After a brief adjustment period, Mike started to ramp it up on his groundstrokes. He said, "When I first started hitting I thought I wouldn't like it. However, after hitting a few times I started to really enjoy hitting both forehands and backhands. It was easy to re-direct shots without using too much effort, which was a plus. On my forehand side I was able to really swing through the ball and generate tons of pace, making it easier to keep up with the bigger hitters that I played with. This racquet turned my game from a defensive one into an offense-driven one."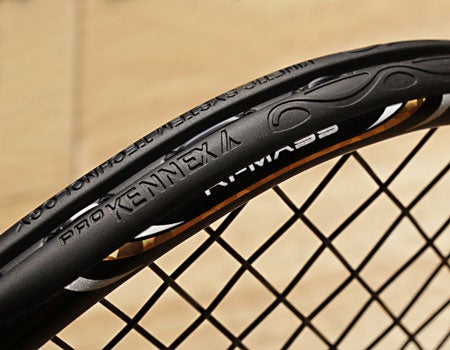 Volleys - Score: 82
The stable, solid and comfortable feel was even more apparent for our playtest team when they attacked the net with the Ki Q5X. Chris was punching the ball deep and felt in total command of his volleys. He said, "A very, very solid racquet at net, it was easy to volley with this one. I could punch volleys deep with lots of pace thanks to the solid and stable response. I felt very connected to the ball and had good touch with this racquet. I liked the mass it put behind every contact -- especially on a first volley. I found I was putting more first volleys away with this racquet rather than having to rely on a one-two punch."
The racquet worked well around the net for Brittany, too. She explained, "After playing both singles and doubles with this racquet I found I preferred playing doubles due to how well it performed up at net. This racquet was very stable, and I felt very comfortable with it. Whether I was reaching for the ball or being jammed by a ball hit right at me, the Ki Q5X felt solid and had a very consistent response."
Mike found the racquet easy to use around the net, but the feel was off at times. He said, "Like the other playtesters, I found this racquet to be very solid at net. No additional power necessary; just put the racquet in front of the your body and this racquet is pretty much going to do all the work for you. Controlling the ball at net sometimes felt a little off, so I really had to focus on placing the ball."
Tiffani was sticking volleys with great precision, but once again had an issue with the maneuverability. She offered, "Again, this racquet was just so solid. Volleys aren't my strong point, but when I stuck one with authority I could feel the ball pancake on the stringbed. It felt so good! I had good targeting, too. The one downside is that the Q5X is a lot of racquet for me to maneuver quickly at net, so this isn't something I'd like for doubles when I need quicker hands. On the plus side, when I hit on the edges there was no discomfort, and the racquet could handle the mis-hit without transferring vibrations to my arm."
Serves - Score: 83
The Ki Q5X continued to provide easy access to power and spin on serves, albeit with a slight adjustment period needed to get used to the added length. Mike initially got excited about all the power in his hands, but then changed his tactics and found serving to be easy and effective. He said, "At first I was really focusing on power with this racquet, but I soon realized that the racquet would do most of the work for me. I started hitting better serves when I focused more on placing the ball, with the occasional ace here and there."
Chris didn't find as much power as some other extended length racquets offered him, but, like Mike, he also found a serving strategy that worked well for him. He said, "I was able to hit a nice controlled serve with this racquet. I did not find the pace and power I get from a Prince Graphite Longbody or Pure Drive Roddick Plus, but the pace I was finding was still impressive. I was serving well and finding my targets with little adjustment. Again, the amount of spin I could get on the ball allowed me to hit with pace yet still keep my serves on target. I liked adding slice to both first and second serves. I was able to swing the ball into the returner's body with a little slice. The body serve worked well on first serves as It forced returners to pop the ball up, allowing me to volley the ball away on a serve and volley play."
The heavier feel worked great for Tiffani on her serves. She offered, "Strangely, I prefer heavy racquets for serving. They typically pull through the stroke so much better than lighter racquets, and that gives me added power. I found a good rhythm serving with the Ki Q5X, and I didn't need to swing hard to get power once I got things in motion."
Brittany was also able to serve very effectively, explaining, "This racquet could do some serious serving damage. I had to put in a little extra effort to get the racquet up over my head, but once I did I was greatly rewarded. I loved hitting slice serves that skidded into my opponent's body or out wide. I could hit second serves with a little kick consistently and effectively. The one serve I had to alter just a little was my flat first serve. There was almost too much power, and I wasn't able to get the ball to land in the service box. Taking away just a little power and adding just a tad of spin took care of that problem. Toward the end of my hits I did notice that the weight and swingweight started to cause some fatigue in my shoulder."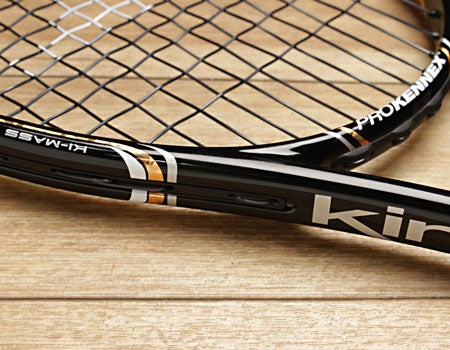 Serve Returns - Score: 82
The hefty, solid feel of this racquet worked well on service returns. Our team preferred taking shorter swings with the Ki Q5X and letting the weight of the racquet do most of the work. Brittany was able to step into the court and be aggressive. She said, "The solid, stable feel of this racquet made returning serves a breeze. To be successful with my returns I really focused on taking short, concise backswings, and then I let the racquet do the rest. Whether I was returning a hard flat first serve or a second serve that was kicking up over my head, this racquet could handle it."
"Probably my favorite part of the playtest was returning serve with this racquet," Mike raved. "It's really easy to adjust on returns, whether it was a forehand or backhand. Placing the ball or redirecting returns was very easy, and I was able to get on offense immediately. This made things a lot easier for me, and I found myself running less on my return games, which is always a good thing."
Chris found the heft of the racquet was better for chipping his backhand returns rather than hitting over his one-handed backhand. He explained, "Solid, crisp and comfortable, the racquet had me feeling dialed in on returns. On the forehand side I was taking a good crack at the ball. On the backhand side I preferred to slice, and I only hit topspin on a slower delivery. The added length made it a little more of a struggle to get around the outside edge of the ball on topspin backhands, and that limited my targeting somewhat. With my slice I felt like I could put the ball anywhere, and this racquet offered the mass to let me knife through my shot."
Tiffani took shorter than normal swings on her returns, but she liked how the racquet complemented that style. She said, "There was absolutely no temptation to take full swings on returns! Because of the heavier weight I chipped many balls back and was very careful to keep my backswing short. I've become accustomed to taking full swings because I'm usually playing with and testing lighter racquets, but that's not how I was taught. This brought me back to the basics, and as long as I shortened my backswing I found it easy to get into the point, and at times I even had the upper hand off the return."
Overall - Score: 83
Likes
Chris - "I liked the blend of power and control, the spin-friendly response, the comfort and the crisp feel. It is also one of the easier extended length racquets for me to adjust to, and it felt very natural to swing."
Tiffani - "I love the stability, the crisp feel, the comfort and the way it drives through the ball with power."
Brittany - "I loved the solid feel and stability of this racquet. It was very comfortable to play with and definitely had lots of power with the extended length."
Mike - "The power it offered on returns and groundstrokes."
Dislikes
Chris - "Nothing. This was a really impressive racquet, and I had a blast testing it."
Tiffani - "Nothing about the racquet. It's all about my skill level and strength. It's too demanding for me to use for an entire match. It makes me want to improve my game."
Brittany - "I struggled with the racquet's spin potential and had to consciously make an effort to hit extra spin to keep the ball in the court. The high swingweight made it hard to get the racquet moving."
Mike - "Off-center shots didn't feel too good on my wrist, but not much else."
Comparing the racquet to others they've tried, our testers said:
Chris - "It felt crisp and solid, like the Pure Drive Roddick Plus, but offered more control and less power. Compared with the Graphite Longbody that we recently tested, this one was slightly down on power yet had a firmer feel to it. I felt connected to the ball, and this one felt more natural to swing compared to the old 7G."
Tiffani - "I am a fan of extended length racquets, and at one time I used the Babolat Pure Drive Plus as my go-to. This one is more like the Pure Drive Roddick Plus because of the heavier weight, but the Ki Q5X is more comfortable to me, and I think it swings more easily despite the high swingweight number. It's been a while since I've hit the Prince Graphite Longbody (haven't tried the new re-release), but it comes to mind as well. There's similar power, but I find the ProKennex more maneuverable."
Brittany - "I found this played very similar to the Babolat Pure Drive Roddick Plus, with their extra length and access to power. I would say that the ProKennex is more comfortable from all areas of the court."
Mike - "The Ki Q5X was a bit crisper than other racquets I've tested recently, like the Head Graphene Instinct MP and the Yonex Vcore Xi 100, which has its pros and cons. I actually really liked this frame because I was able to conserve a lot of energy. Placing the ball wherever I wanted and getting from defense to offense was very easy, too."
Technical Specifications

Length
27.5 inches
70 centimeters
Head Size
100 square inches
645 square centimeters
Weight
11.8 ounces
335 grams
Balance Point
12.93 inches
33 centimeters
7 Pts Head Light
Construction
22.5mm Straight Beam
Composition
Spiral Tech Carbon
String Pattern
16 Mains / 20 Crosses

Babolat RDC Ratings

Score

Grade

Flex Rating
67
Range: 0-100
Swing Weight
343
Range: 200-400
Scores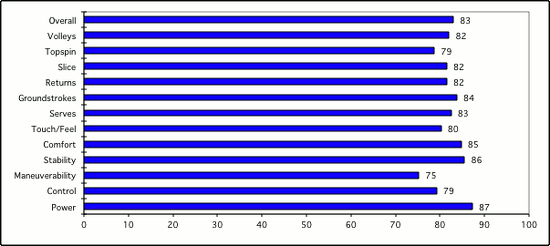 (Scores are determined by averaging individual play test scores)
Chris' Scores
Power
8.5
Serves
8.4
Control
8.3
Groundstrokes
8.4
Maneuverability
7.6
Returns
7.8
Stability
8.4
Slice
8.5
Comfort
8.4
Topspin
8.4
Touch/Feel
8
Volleys
8.2
Overall
8.3
Tiffani's Scores
Power
8.8
Serves
8.5
Control
8.1
Groundstrokes
9.6
Maneuverability
7.3
Returns
7.8
Stability
9
Slice
8
Comfort
9
Topspin
8
Touch/Feel
8.4
Volleys
8
Overall
8.6
Brittany's Scores
Power
8.6
Serves
7.9
Control
7.3
Groundstrokes
7.6
Maneuverability
7.1
Returns
8
Stability
8.5
Slice
8.1
Comfort
8.5
Topspin
7
Touch/Feel
7.8
Volleys
8.3
Overall
7.9
Mike's Scores
Power
9
Serves
8.2
Control
8
Groundstrokes
8.9
Maneuverability
8.1
Returns
9
Stability
8.3
Slice
8
Comfort
8
Topspin
8.1
Touch/Feel
7.9
Volleys
8.3
Overall
8.4
Playtester Profiles
Chris: 5.0 all-court player currently using the Wilson Six.One 95S. Chris uses a full-western forehand grip, has a fast swing style and hits a one-handed backhand.
Tiffani: 4.0 level baseliner with a semiwestern grip on the forehand and hits a two-handed backhand. Currently playing with the Donnay Formula 100.
Brittany: Open level player with a semi-western forehand and a two-handed backhand. She currently plays with the Yonex V-Core 100S.
Mike: 5.0 baseliner with a semi-western forehand and two-handed backhand. His current racquet of choice is a customized Prince Triple Threat Warrior.

Review date: November 2013. If you found this review interesting or have further questions or comments please contact us.
All content copyright 2013 Tennis Warehouse.