Prince Original Graphite Mid Review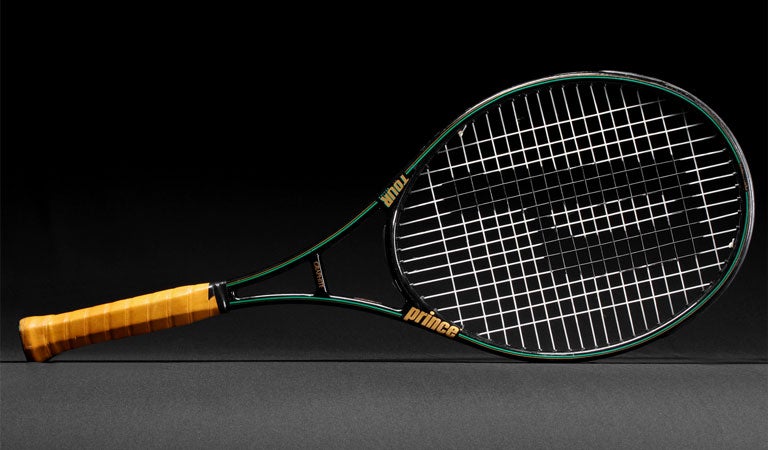 Prince Original Graphite Mid Scores
Comfort
85
Touch/Feel
83
Serves
84
Groundstrokes
80
Returns
81
Slice
80
Topspin
79
Volleys
79
Overall
79
Upsides
Power
Spin
Stability
Feel
Lively Response
Summary
The Prince Original Graphite Mid is a true player's racquet that has withstood the test of time. It was first introduced in 1980, and it's laid the groundwork for countless other player's frames since then. It's immediately recognized by the Cross Bar Stabilizer, designed to reduce twisting on off-center shots. It's unique 14x18 string pattern makes it very spin-friendly for a racquet its size. Most of the 12.1 ounces are distributed at the ends of the racquet, providing it with excellent plow through and power for flattening out your shots. Our playtesters loved the power, precision and maneuverability of the Original Graphite Mid, but there were a couple things that stuck out to each tester that would make him reluctant to turn it into his racquet of choice. However, this racquet, which helped pioneer the game more than 30 years ago, is definitely still relevant today.
Groundstrokes - Score: 80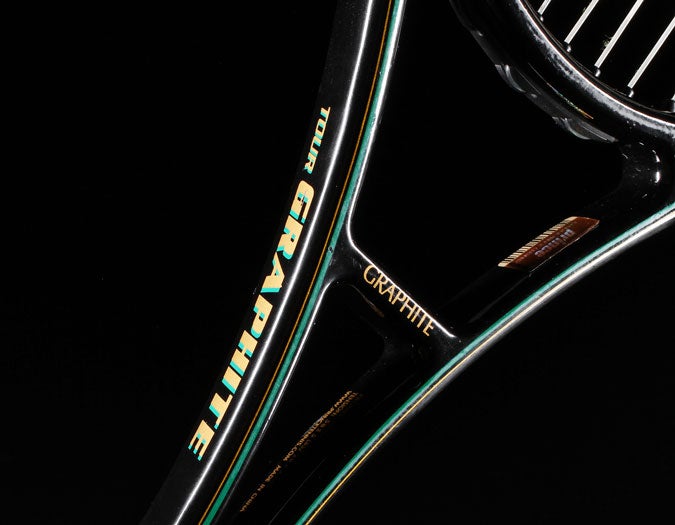 Both playtesters loved the spin potential from this 93 square inch racquet, along with the ability to crush their groundstrokes if they caught it right. Chris liked how solid the racquet felt, but he thought the control was lacking a bit. He said, "I found this racquet to come through the ball nicely on groundstrokes. I was getting lots of pace and easy access to depth off a full swing. The stringbed felt very lively. I could get excellent spin or flatten out my shot for lots and lots of pace. I could definitely crush some shots with this one. On the other hand, if my targeting was slightly off when I hit flat I could easily spray my shot wide or long. My slight issue with control was due to the ball launching off the strings when I wasn't hitting with spin. Even with a poly at 57 lbs I found the stringbed to feel a tad lively. When looking to hit with spin, I found I could get a ton of it out of this racquet. Both topspin and slice shots proved to be very effective. I was very, very happy with the level of spin I could find."
When his timing was just right Andy was smashing the ball off both sides. He said, "The racquet feels rock solid from the baseline. When you make contact just right the heft of the racquet comes through the ball and you can crush your groundstrokes. The open 14x18 string pattern also allows for great access to spin for a racquet with a 93 square inch head. However, the racquet is not very forgiving. The 93 square inch headsize makes for a small sweetspot, and you have to time your shots just right to make proper contact. I also found it pretty slow through the hitting zone, and because of this I found myself hitting a lot of groundstrokes late. I'm sure that would go away after a longer adjustment period, though, and maybe hitting the gym a couple times. But when you catch it just right, man, does it feel good!"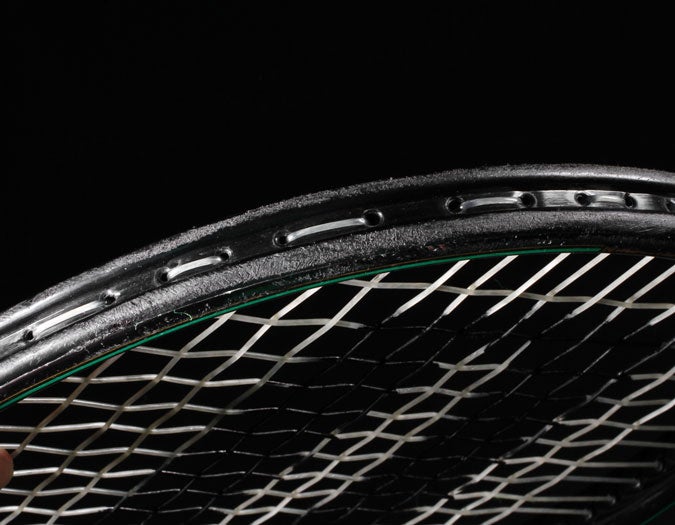 Volleys - Score: 79
Once again, both testers enjoyed the solid, yet soft feel of the racquet at net, along with its maneuverability. Andy confirmed these thoughts, saying, "It felt really solid around the net, and the small head makes it easier to maneuver. The Cross Bar Stabilizer comes into play on volleys that aren't hit in the middle of the racquet by keeping the frame stable at impact. On top of that, it's got that classic soft, buttery feel that the good older frames have. You really feel connected to the ball when it's on the strings. I'd say this racquet is designed to play better from the baseline, but it still feels great around the net."
Chris felt the racquet provided enough versatility to allow him to stick the volley or use soft touch on drop volleys. He offered, "At net this racquet felt fast and crisp. The ball would really jump off the stringbed. I found I could pop volleys away with lots of pace and the racquet felt very solid at impact. I was also finding lots of grip when looking to cut under the ball. Again, spin was impressive, and that helped me out when I wanted to drop the ball short or hit an angle. I liked the feel as well, and that had me even more dialed in on my touch volleys."
Serves - Score: 84
The Prince Original Graphite impressed on the serve. Chris liked the pace and spin he could get on his serve, similar to his groundstrokes. He said, "I was impressed with both the pace and spin I found on serve. My control was pretty solid, too. I was finding my targets and getting the ball there with ample pace and spin. I was serving well on both first and second serves. I really liked the slice I was getting going down the T on the ad side. I was able to hit that serve with as much pace as I could muster and get the ball to swing away from my opponent. I also found good slice when going wide to the deuce side, and decent topspin when looking to add some kick to the ball."
Getting the perfect combination of power and control was Andy, who said, "I loved serving with this racquet! I couldn't hit the heaviest spin serves, but, boy, could I flatten the ball out and bomb the flat one! The weighting felt good coming through the hitting zone, and I felt like I got a few extra MPHs on my fastball. What made it so great, though, was that even with the added power I still felt in total control. My precision was excellent and I could place my serves exactly where I wanted them. I was honestly surprised to find that this racquet excelled in the serve department."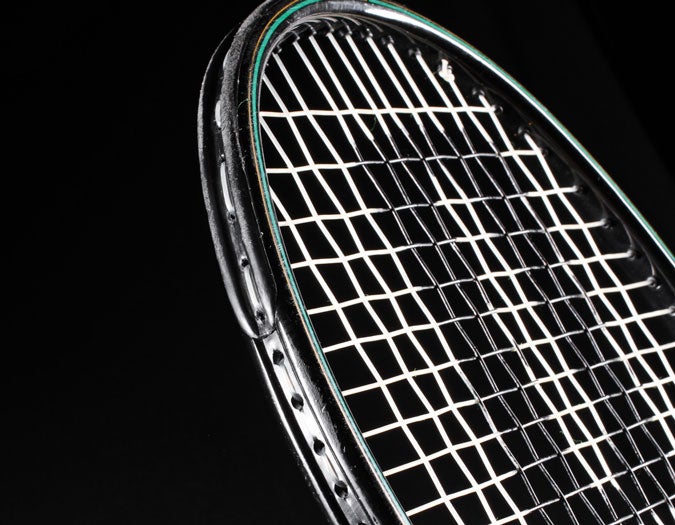 Serve Returns - Score: 81
The rock solid feel and laser-like precision shone on the return of serve. After adapting a bit, Andy started grooving on his returns. He said, "Returns felt good with this racquet, but they required a slightly different mindset for me than I normally have. Due to the small headsize and lack of forgiveness I found that I couldn't take the big cuts at the ball that I usually enjoy on my return of serve. However, when I downshifted and just tried to use the server's pace instead of trying to generate my own, the racquet felt super controlled and super solid. I found myself taking shorter swings and just re-directing the ball, and doing so with precision and control. I just kept my eye on the ball and my backswing small, and let the racquet do the rest. The solid feel and pinpoint control of the Original Graphite Mid was apparent once again."
Maneuverability was the attribute that stood out the most to Chris while returning serve. He offered, "The Prince Original Graphite Mid proved to be both fast and solid on returns. I could whip it through contact, helping me catch up to a fast serve and still keep the contact point out in front. I liked the way the racquet came through the ball and added lots of punch to my shots. I found some added pace when stretched wide on slice backhand returns -- so much so that I often turned a very defensive position into an offensive one. I enjoyed the response of the racquet when I was given the opportunity to step in and take a good rip at the ball. Again, both pace and spin were impressive, but it was when hitting the ball with a flatter stroke that I would overhit."
Overall - Score: 79
Likes
Chris - "I liked the maneuverability, spin, pace and solid feel. It was also a comfortable racquet even when strung with a firm string."
Andy - "It's really solid at impact, it has great feel and it provided me with pinpoint accuracy on pretty much every shot."
Dislikes
Chris - "A little erratic on a flatter stroke. I was able to adjust to that, but it wasn't as worry free for me as something like a Head Prestige Mid, where the dense string pattern provides more control."
Andy - "It's not very forgiving with its small headsize and sweetspot. It's not one of the easiest racquets to play with, but if you have good mechanics and can handle the heft, it's tough to find a racquet with better feel than the Prince Original Graphite Mid."
Comparing the racquet to others they've tried, our testers said:
Chris - "Probably the closest racquet to this would be another Prince model, the Tour Diablo Mid. I found this racquet faster and easier to swing than the Wilson Pro Staff 85, and even the just released Yonex VCORE Tour 89. The combination of maneuverability, stability and classic box beam feel makes it unique outside of the aforementioned Tour Diablo Mid."
Andy - "To me, it's got that classic feel, like the Head Prestige (pick your favorite version), but it swings a lot like the Tour Diablo Mid (which I used for a year in college). It's tough to play with (like the Prestige Mid), but if you can handle it, its feel and precision is unmatched. It has a solid and crisp feel, like the Diablo, and when you hit that sweetspot, man does it feel good! It's not quite the racquet that suits my game the best, but if you're an experienced baseliner who loves the classic-racquet feel, this is a must try!"
Technical Specifications

Length
27.0 inches
69 centimeters
Head Size
93 square inches
600 square centimeters
Weight
12.1 ounces
343 grams
Balance Point
12.5 inches
31.75 centimeters
8 Pts Head Light
Construction
19mm Straight Beam
Composition
100% Graphite
String Pattern
14 Mains / 18 Crosses

Babolat RDC Ratings

Score

Grade

Flex Rating
66
Range: 0-100
Swing Weight
328
Range: 200-400
Scores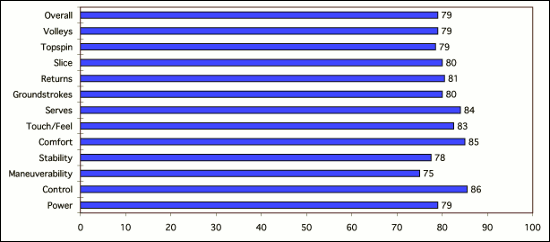 (Scores are determined by averaging individual play test scores)
Chris' Scores
Power
8
Serves
8.2
Control
7.6
Groundstrokes
8
Maneuverability
8
Returns
8.1
Stability
8
Slice
8.5
Comfort
8.3
Topspin
8.7
Touch/Feel
8
Volleys
8.3
Overall
8
Andy's Scores
Power
7.8
Serves
8.6
Control
9.5
Groundstrokes
8
Maneuverability
7
Returns
8
Stability
7.5
Slice
7.5
Comfort
8.7
Topspin
7
Touch/Feel
8.5
Volleys
7.5
Overall
7.8
Playtester Profiles
Chris: 5.0 all-court player currently using the Volkl C10 Pro 2012. Chris uses a full-western forehand grip, has a fast swing style and hits a one-handed backhand.
Andy: Open level all court player with a semi-western forehand grip and a two handed backhand. Andy currently using a Yonex RDiS 100 Mid.

Review date: October 2012. If you found this review interesting or have further questions or comments please contact us.
All content copyright 2012 Tennis Warehouse.