Gamma RZR 98 T Racquet Review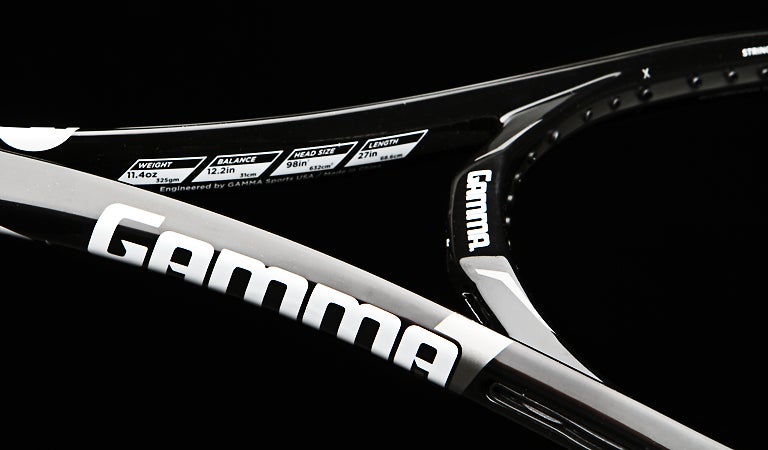 Gamma RZR 98 T Scores
Comfort
56
Touch/Feel
53
Serves
75
Groundstrokes
66
Returns
66
Slice
76
Topspin
81
Volleys
68
Overall
68
Upsides
Plow through
Spin potential
Stability
Downsides
Difficult to control
Difficult to swing
Lack of feel
Uncomfortable
Summary
Our playtesters found it easy to generate heavy spin and power with the RZR 98T. The racquet encouraged aggressive play with lots of pace, but our playtesters had mixed results. It didn't matter which area of the court a shot was hit from, or which shot was hit, there seemed to be at least one tester who struggled with control. While they enjoyed a lot of spin, the inconsistent response often had groundstrokes flying long. When serving with the RZR 98T, almost everyone produced great pace and impressive spin. Volleying proved to be a mixed bag, with some playtesters enjoying the response and others struggling to find confidence. If there's ever been a racquet that should be demoed before buying, it's this one, as it had a definite love/hate effect on our team.
Groundstrokes - Score: 66
Providing plenty of spin and power, the Gamma RZR 98T allowed our testers to hit aggressively despite some inconsistencies. It took Troy a while to get used to the hefty swingweight. He said, "I felt that I had to prepare for my shots a little sooner because the racquet felt a bit too hefty. Once I felt comfortable with my timing the racquet felt very stable and possessed a lot of plow through. I was able to find easy depth on my shots, and I was surprised at how lively the stringbed felt compared to the dense 18x20 string pattern I typically prefer. There were times that I felt the stringbed caused the ball to fly a little long, but I was much more dialed in with this stick than the Gamma RZR 100T. Slice was easy to generate, as the ball skidded low off the bounce. This racquet felt stiffer than the 62 RA would suggest, which may be due to its RZR aerodynamic beam shape. I liked how the mass carried the ball deep, but it was just a bit uncontrollable at times."
Chris enjoyed the pace and spin, but was disappointed with the consistency. He said, "On paper, I thought this would be my favorite of the Gamma RZR 98 racquets, as the weight is more to my liking. However, that simply did not ring true on the court. I found it very hard to be consistent with this racquet. It felt stiffer and more jarring than the standard 98, and the added power from the heavier weight simply compounded my inconsistency -- especially when it came to depth. I found it more comfortable than the RZR 100T, but brassier than pretty much anything else out there. On the plus side, I could hit with pace and spin. It doesn't have quite the plow-through power of the RZR 100T, but it was up there. I hit some very hard groundstrokes with this racquet, but keeping them in the court proved to be the hard part. Consistency was so frustrating with this racquet that I simply used it the bare minimum to get this test done. I started out a match with this racquet, went down 1-4, put it down and won the next 11 games. Another time I picked it up for a second set, went down 2-4, put it back down and won the set 6-4. No one likes losing, and I just don't like trying to win points very much with this racquet."
"At first glance the racquet seems to be a beast," said Jose. "Because the static weight and the swingweight are both at the extreme high end, I was really surprised how maneuverable the racquet really was. Having a swingweight in the mid-350s is my bread and butter. The combination of the racquet's weight and the fast racquet head speed I could generate made it really fun to go for passing shots and put-away shots. When you play with a racquet that has a lot of mass, it's easy to stay aggressive without doing too much."
Liking the weight but struggling with feel was Carol. She said, "The weight of this racquet is very similar to my current frame (Wilson BLX Six.One 95), so I was not intimidated by the strung weight of 12.1 ounces. This racquet provided a lot of plow through, which I really enjoy in a racquet due to my style of strokes. I believe the extra added swingweight really allowed for this. It did not feel precise, though. During my entire playtest I felt that the ball was sailing deep on me a lot, especially on the forehand stroke. Adding spin did not remedy this problem, either. The feel provided another drawback for me. I definitely felt every shot, but not always in a good way. On many shots I would feel a shock in my right arm at ball contact. This would leave my arm (already irritable as it is) in pain. The racquet also vibrated on contact, which really affected the feel I had on court. I had little confidence in this racquet when I wanted to step in and be offensive. I was worried my control and precision would be lacking."
Volleys - Score: 68
The results were mixed at net. Carol found comfort lacking. She said, "Like groundstrokes, I felt every volley with this racquet, both good and bad. My arm was definitely strained from the constant shock that came from hitting volleys. I felt much more controlled with this shot, however. This racquet displayed a lot more precision and maneuverability than I was expecting at net."
Volleys with this racquet came easy for Troy. He said, "As long as I had the racquet in the correct position it was as solid as a wall. I could get good depth by letting the mass of this racquet do the work. When moving forward and closing at the net it was easy to put the ball away. The times that I had trouble were when I had to hit a reaction volley and during quick exchanges in doubles. The maneuverability was an issue that bothered me when I was the net man in doubles. The racquet felt a bit stiff and I wasn't dialed into my touch volleys initially, but I developed them the more I played with this stick. I definitely felt more connected to my volleys than I did with the Gamma RZR 100T."
Struggling at net was Chris. who said, "The one plus side of volleying with this racquet was that it made me feel better about hitting groundstrokes with it. There were times when I thought I had simply forgotten how to volley. The ball just wasn't going where I intended enough of the time. I tried hitting this racquet with a full poly stringbed, a full multi and even a hybrid. Comfort improved with both the multi and the hybrid, but, unfortunately, feel and control remained frustrating. I enjoyed the power and stability when punching a volley, but then got immediately frustrated at missing my target."
Finding the racquet better at net was Jose, saying, "As long as I didn't get a ball hit at my body, the racquet was amazing for volleys. But with a 4 points headlight balance, the specs were outside of my comfort zone. I was still able to maneuver the racquet, but it took some extra effort."
Serves - Score: 75
Some playtesters enjoyed the pace and spin created on serves, while others had issues with racquet speed. A fan of the Gamma RZR 98T on serve, Carol said, "This was my favorite shot with the racquet. The extra swingweight really added power to my serve. I found myself landing farther inside the baseline because of the pull this racquet provided. I was able to add spin without losing control, as well. The shock and vibrations I felt on the groundstrokes were not an issue with my serve."
Chris found the Gamma 98T to perform better here than in other areas. He said, "I served decently with this racquet. I was able to get very good pace and spin. My targeting was acceptable, and I felt like I had some good weight on my serves. The stringbed offered plenty of bite to generate spin, and the racquet pushed through the ball well to help generate pace."
The heft of this racquet forced Troy to work harder than usual to generate power. He said, "I was having a hard time getting any added spin and kick with wrist snap due to the lack of maneuverability. I found consistency with my slice serve, but I didn't feel comfortable going for a flat serve or a kicker. I was disappointed that this racquet was a bit too hefty for me to generate any added power."
Jose said, "Having a high swingweight and a close to even balance didn't help my kick serve. On the other hand, I was able to crush my flat serve."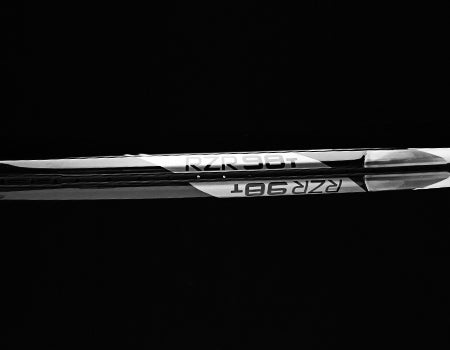 Serve Returns - Score: 66
Power and stability were key factors on returns, although control issues popped up for some players. Troy liked the Gamma RZR 98T's ability to hold up on big serves. He said, "Just as I noticed on groundstrokes, I got a lot of stability and I could get good depth on my returns. I struggled at times when I was stretched out or if I had to maneuver the racquet to block back a body serve. I found the slice backhand return to work well; I could get it to penetrate with decent depth. Anything that was hit in my forehand zone I could easily take a rip at, but when I was forced to maneuver the racquet with my wrist it was tough to do anything."
Chris blocked the ball back with good pace. He reported, "I liked that the racquet felt solid on returns. Again, I struggled with control. My struggles were especially evident during doubles play, where the target window can be vary narrow. The racquet felt uncomfortable if I wasn't spot on with my returns, even though stability was good."
Carol found the same issues that she had from the baseline. She said, "Like on my groundstrokes, the ball was sailing long on me. The racquet provided power, but definitely with the loss of control."
Finding good consistency on his serve returns was Jose. He said, "Because of the racquet's mass it was easy to be offensive, even on serve returns. As long as I got a racquet on the ball I felt like I could return every ball."
Overall - Score: 68
Likes
Chris - "I liked the power and stability."
Troy - "A very stable racquet that provides a ton of plow through for big hitters. Much better control than the Gamma RZR 100T."
Carol - "This racquet provides a lot of power. I felt very comfortable with the weight of the racquet, and I thought the cosmetics were sharp. I really enjoyed serving with this racquet, which allowed me to take the offensive a great deal more on my service games."
Jose - "It's really easy to be offensive with a frame that has such a high swingweight. My favorite shots were the groundstrokes. As long as I hit the ball on the sweetspot it was easy to control and crush my shots."
Dislikes
Chris - "I didn't like the feeling of not knowing where the ball was going. Comfort needs to be improved. The string spacing seems random, and perhaps is an influence on the inconsistent response. Groundstrokes were bad, volleys were worse."
Troy - "Lack of maneuverability, especially on my serve. The stringbed was a bit lively at times."
Carol - "I felt that my ball (especially on the forehand) was sailing long a lot. I also found my right hand and arm (dominant hand) to be very irritated from the shock and vibration at contact. This racquet is a hand surgeon's dream. I would recommend a handle system/technology to be added to this racquet to reduce the frame vibration."
Jose - "The feel would be one downside. I didn't get too much comfort out of the racquet. At 4 points head light the racquet was not too maneuverable, so I wish it would have been closer to 6 points head light."
Comparing the RZR 98T to other racquets they've used our testers said:
Chris - "I was disappointed with this playtest. I liked the frame design aesthetically, but in the end the playability simply wasn't there for me. The power and stiff feel on off-center shots reminded me of the original Aero racquets from Babolat (predating the AeroPro Drive series). Like this racquet, those were very stiff and lacked feel, but at least the stringbed had a consistent feel. If you don't remember those early Aero racquets, it's probably a good thing."
Troy - "I'd say that this racquet is pretty unique, and there's not much out there that compares to this. The closest racquets to my memory would be the Babolat Aero Storm Tour GT, and strictly based on the mass, I would say the Dunlop Aerogel 4D 200 Tour."
Carol - "I have no comparisons to previous Gamma racquets, so I'll compare it to my current frame, the Wilson BLX Six.One 95. I think if Gamma added more feel to this racquet, like I get with my Wilson, the racquet would perform much better. I really felt that the feel was harsh and very straining on the arm. The Gamma RZR 98T did provide more power than the Wilson BLX, and both are geared toward high level players. I think I'll stick with my frame."
Jose "The best comparison I have would be to a Dunlop Biomemtic 200 Tour. Both racquets are really similar in style and in feel. If you're a big fan of the 200 Tour you might like the Gamma RZR 98T. There was not much adjustment I had to make between the two racquets."
Technical Specifications

Length
27 inches
69 centimeters
Head Size
98 square inches
632 square centimeters
Weight
12.1 ounces
343 grams
Balance Point
13 inches
33 centimeters
4pts Head Light
Construction
22mm Straight Beam
Composition
Graphite
String Pattern
16 Mains / 18 Crosses

Babolat RDC Ratings

Score

Grade

Flex Rating
62
Range: 0-100
Swing Weight
356
Range: 200-400
Scores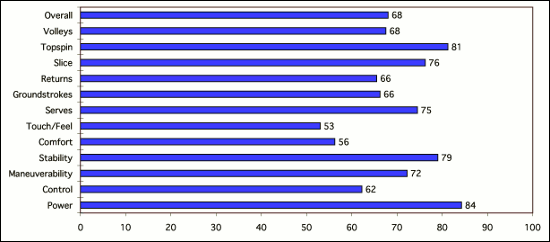 (Scores are determined by averaging individual play test scores)
Chris's Scores
Power
8.6
Serves
7
Control
4
Groundstrokes
5
Maneuverability
7.6
Returns
6
Stability
8.4
Slice
8.1
Comfort
4.5
Topspin
8
Touch/Feel
3
Volleys
4
Overall
6
Troy's Scores
Power
8
Serves
6.7
Control
8.7
Groundstrokes
8.5
Maneuverability
6.8
Returns
8
Stability
9
Slice
8
Comfort
7.5
Topspin
8
Touch/Feel
7.7
Volleys
7.8
Overall
7.9
Carol's Scores
Power
9.1
Serves
8.1
Control
3.2
Groundstrokes
4
Maneuverability
7.5
Returns
3.2
Stability
6.2
Slice
6.4
Comfort
3.5
Topspin
7.5
Touch/Feel
4.5
Volleys
8.2
Overall
5.3
Jose's Scores
Power
8
Serves
8
Control
9
Groundstrokes
9
Maneuverability
7
Returns
9
Stability
8
Slice
8
Comfort
7
Topspin
9
Touch/Feel
6
Volleys
7
Overall
8
Playtester Profiles
Chris: 5.0 all court player currently using the HEAD Youtek IG Prestige Midplus. Chris uses a full-western forehand grip, has a fast swing style and hits a one-handed backhand.
Troy: 5.0 lefty all-court player with a full Western Forehand and a two handed backhand. Troy currently plays with a customized Wilson KBlade 98.
Carol: Open level baseliner currently using a Wilson BLX Six.One 95 (16x18). Carol is an aggressive player who uses an eastern forehand grip and a two handed backhand.
Jose: 5.0 baseliner with a semi-western forehand with a 2 handed backhand. Currently using the Prince EXO3 Tour 18x20.

Review date: April 2012. If you found this review interesting or have further questions or comments please contact us.
All content copyright 2012 Tennis Warehouse.