Head Graphene Prestige Rev Pro Racquet Review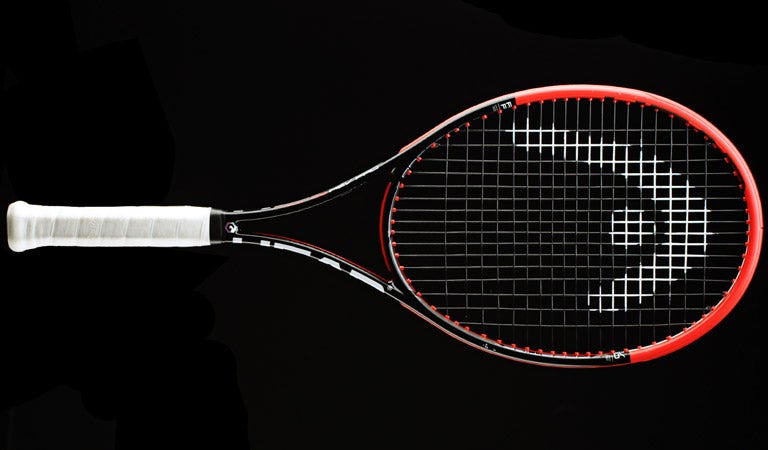 Head Graphene Prestige Rev Scores
Power
69
Comfort
69
Touch/Feel
71
Serves
72
Groundstrokes
70
Returns
73
Slice
77
Topspin
73
Volleys
72
Overall
71
Upsides
Fast swinging
Easy to create spin
Downsides
Underpowered
Missing the classic Prestige Mid feel
Summary
Head decided to take a new route with the midsized Prestige this time around. Instead of the traditionally plush, solid, hefty feel, Head offers a much lighter and crisper feeling racquet in the Graphene Prestige Rev Pro. With its stiffer, more modern feel, this midsize Prestige is more usable to a wider variety of players. The addition of Head's Graphene technology takes the weight out of the throat area and redistributes it toward the tip of the frame, providing a bit more stability to an easy-to-swing racquet. This worked for some of our playtesters, especially on serve and around the net, where the maneuverability and precise feel really stood out. However, the team couldn't help but wish for a little more weight to provide the additional stability the racquet needed. Groundstrokes and returns were dropping short in the court far too often, allowing our playtesters' opponents to attack too easily. Overall, we could appreciate the added maneuverability and the more modern feel of this new version, but we longed for the more traditional, classic feel of the Prestige Mids of old.
Groundstrokes - Score: 70
While our playtesters described the Graphene Prestige Rev Pro as easy to swing, they were left wanting more weight in the racquet to help produce heavier groundstrokes. Sean never really got used to the unique weight and balance. He said, "With an interesting combination of weight and balance, this racquet took a fair amount of adjustment for me. My consistency faltered from the baseline because the smaller headsize and the lack of weight made it hard for me to redirect shots. While I did find decent access to spin and a remarkably forgiving, flexible feel, there just wasn't enough weight behind my shots to compete with my opponents' deep, heavy shots during baseline rallies. I had much better results when I did opt to take control of the rally early and move forward in the court."
Although he did appreciate the added maneuverability and access to spin, Chris couldn't help but wish for the signature heft and feel of previous Prestige Mids. He said, "Wow, what a change up to the midsized Prestige! Just picking this racquet up offers a different feel. This racquet played very differently to the Prestige Mids I've loved over the years. This version is much lighter. I could sense the change in balance and could feel the weight out toward the tip as the racquet came through my swing. At impact this racquet is not nearly as solid or as sweet feeling as most of the previous Prestige Mids I've hit, and I've hit just about all of them. Gone is the plush yet solid feel I've always expected from a Prestige. This racquet is crisper, lighter and faster. I never got that classic Prestige plow through or that sweet buttery touch and control. What I did find was a faster and easier to swing racquet. I found it easy to generate spin, but I couldn't hit the ball through the court like I can with older Prestige Mids. While this racquet seemed better suited to flicking topspin angles, it wasn't as good for driving a solid backhand slice."
Granville offered his take on this lighter, easier to swing iteration of the Prestige Mid by saying, "The Graphene Prestige Rev Pro feels maneuverable as I swing it around, but that maneuverability comes at a price. This racquet is both lightweight AND head light, and on my groundstrokes I rarely (if ever) felt the 'node,' the perfect center of the sweetspot. Additionally, the racquet seems greatly underpowered. My balls were landing short, and it took great effort and focus to dial my shots in with depth at the other end of the court. The 93 inch headsize just seems small when not backed up with some mass. I was never comfortable or at ease when the ball left the stringbed, and I just wasn't confident in my shots when playing with it."
It took a little while for Mark to get used to it, but he eventually found the benefits of the added maneuverability. He said, "I had heard that Head sort of changed up the configuration of the Head Prestige Mid, and I figuratively scratched my head because it has been such a successful recipe up to now. I am used to the Prestige Mids being in the 12 ounce range of strung weight, so the fact that this model is around 11.5 oz was appealing to me. I did have a bit of an adjustment period that I did not anticipate since I regularly swing racquets in this spec range. After the second hour with the Graphene Prestige Rev Pro I began to get a feel for it. I was pretty confident with it after a few groundstroke games and loved the backhand slice, but it was a challenge to find easy access to spin."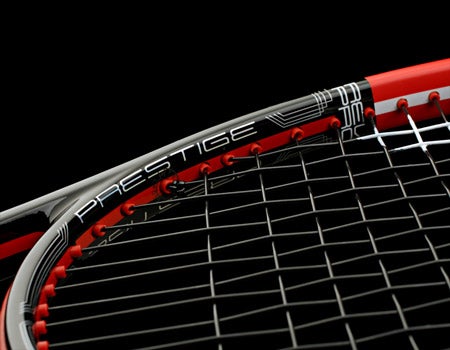 Volleys - Score: 72
While the new specs seemed to hamper our playtest team at the baseline, they had a bit more success with the Graphene Prestige Rev Pro at net. Mark felt the racquet had a combination of maneuverability and heft that allowed him to wield it successfully. He raved, "This is one area that the racquet really shone for me. There was enough mass in the hoop portion of the racquet to keep it stable when my opponents tried to fire one past me, and it's light enough for me to get it there on time. Top notch in this aspect."
Sean also had more success at net than he did at the baseline, saying, "While I didn't have much success from the baseline, my net game was far more solid using this racquet. It felt very swift and maneuverable, and I found that my ability to turn defense into offense was better than expected at the net. The smaller headsize was far from ideal, especially when dealing with reaction volleys and hard shots, but I enjoyed the touch and precision it offered. The depth I was able to generate on my volleys was somewhat inconsistent and seemed completely dependent on how well I hit the sweetspot."
Chris also had a better experience with the Graphene Prestige Rev Pro while volleying, but he would prefer the classic Prestige layup to this crisper, stiffer layup. He offered, "This racquet was fast and easy to get around at net. It worked better for me on volleys. I found it easy to find my targets, and I liked how I could snap the ball away when given the opportunity. There was ample control, and I found it easy to cup under the ball thanks to the racquet's mobile feel. I would have liked the racquet to be more solid on my first volley when I was caught a little deeper in the court. As far as comparing it with previous Prestiges at net, it simply doesn't. This is a very different feeling racquet. It is fast, crisp and a tad hollow feeling - not very Prestige-like."
The Graphene Prestige Rev Pro just never seemed to win over Granville at net. He said, "Here again, the racquet is brassy, unforgiving and lacking the mass to stabilize a volley. The balls just did not sink into the stringbed; the racquet seems to be reacting to the ball. There was little to no touch, feel or power at the net."
Serves - Score: 72
The lighter weight and more open string pattern of the Graphene Prestige Rev Pro made it easy for our team to generate racquet head speed and spin while serving. Chris was confident stepping to the line during service games. He said, "I served well with this racquet. It felt easy to swing, and I was finding good pace. The level of spin I was getting was decent and I was happy with the way both my first and second serves were feeling. Serving felt very natural with this racquet, and I was in the groove with it from the first serve I hit until the last. I don't serve as big with it as I do with a classic Prestige Mid because it doesn't come through with the same weight, but I felt more consistent."
Sean thought the racquet was fast, at times almost too fast, through the air. He explained, "Serves were also an area where I thought the smaller sweetspot had less of an impact on my strokes. On first serves this racquet offered good pop, and I liked that I could generate accuracy and power with fast swing speeds. A slight increase in weight would have really improved the stability of the racquet on impact. I did lack some of my normal confidence when hitting my second serves, but only because I framed a few serves when trying to produce a big kick serve or taking an aggressive cut at the ball."
The racquet suited Mark's service game as well. He said, "I didn't have to make much of an adjustment on my serve, and I was able to get more pace than I expected from a mid-11 ounce tennis racquet."
The maneuverability stood out the most to Granville on serve, but he still wished for more heft to produce heavier serves. He said, "The lack of weight makes this racquet very easy to swing. I can feel the racquet flexing at the top of the stroke, bleeding any power I might have imparted on the ball. I found too little power, and it was tough targeting with any confidence. Targeting was affected negatively because I could not find the sweetspot."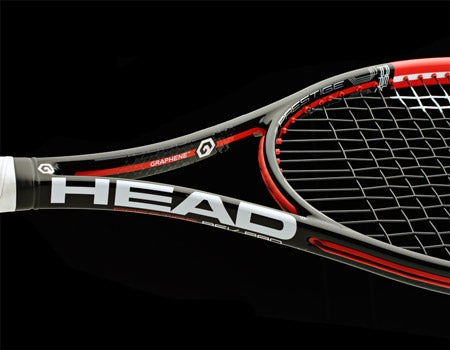 Serve Returns - Score: 73
There were mixed emotions from our playtesters regarding service returns. Mark was able to dial in his signature chip returns, neutralizing his opponents' big serves at will. He said, "Once I got the hang of how low-powered it was, my chip return was in full effect. I did have great directional control with it, especially off the backhand slice."
Chris was also returning well, especially off the forehand side. He said, "With its light and fast feel, this racquet was a good fit for my return game. If I wanted to be hypercritical, I could have done with a tad more weight on my backhand slice, but that really is nitpicking. When given even the slightest amount of time I found I could take a good rip at the ball. I liked driving through my forehand. I was getting good pace, a solid level of spin and ample control."
On the other hand, the bigger-swinging Sean needed a slightly larger and more forgiving sweetspot to feel completely confident returning serve. He offered, "I felt very restricted with my return options with this particular racquet. Like my groundstrokes, there was little stability to be found against harder shots, and I found myself choosing to push returns back into the center of the court rather than risk mis-hitting them or leaving the ball short. The smaller headsize and low weight made it tough to produce the shot I wanted, especially when I needed to react quickly to an oncoming serve. I did find that most of my flat returns were difficult for my opponent to deal with as long as I kept them deep in the court."
Granville also felt limited on returns. He said, "Underpowered. Unstable. When returning with this racquet I feel vulnerable and lacking in weapons."
Overall - Score: 71
Likes
Chris - "I liked the access to spin and the ease of mobility."
Granville - "Great cosmetic and part of a great line of racquets."
Mark - "Love the aesthetic and the new red grommet, along with the fact that there are now frames with midsized hoops other than those in the 12 ounce range. I definitely liked it for its stability, particularly in the groundstroke/volley department."
Sean - "A very fast and maneuverable racquet that performed well at net and offered a flexible and forgiving feel on contact. Shots that required precision and touch were where this racquet really stood out for me."
Dislikes
Chris - "This one lacked the buttery smooth Prestige feel, wasn't solid enough and felt too hollow to me to be called a Prestige."
Granville - "Small sweetspot, underpowered, unstable. Trying to be constructive here, but the 93 sq inch headsize at 11 ounces and 8 points head light with Graphene in the shaft may just make this racquet too hollow to be of use to the traditional Prestige player."
Mark - "I was a little challenged with this racquet, and my only guess why is that I am not used to playing with such a light, small headed racquet. Compared with the newer Graphene Prestige Pro, which has the larger headsize, I felt like the Rev Pro was a noticeably lower-powered setup."
Sean - "I would've enjoyed this racquet far more with a slight increase in overall weight and a 98-100 square inch headsize. It had an unstable feel upon contact, especially when redirecting well-hit shots. The midsized head also resulted in a smaller than average sweetspot."
Comparing it to other racquets they've used, our testers said:
Chris - "I was reminded of the Dunlop 100 line when hitting this one. Both are lighter weight midsize racquets that lack enough mass for my playing style. However, both are good starting points for weight and balance customization. I think I could get this one closer to the feel of a Volkl Power Bridge 10 Mid with some lead tape, and it would be all the better for it."
Granville - "This is not the typical midsized frame, so it's hard to compare it to anything else. The Dunlop 100 comes to mind because of how light it is, and also the Volkl Organix 10 Mid because of the crisper feel. The Organix 10 is more solid, though."
Mark - "I usually have at least a few different frames to compare, but this one is somewhat of an anomaly. I would say it is similar to the Dunlop 100 frames, but the swingweight is much lower on those, and the pattern is open. I cannot really say that this Prestige Rev Pro plays like the older Head Prestige Mids either. The Slazenger Pro Braided sort of qualifies, but the beam on it is much stiffer than the Rev Pro Prestige, and the Slazenger has the open pattern, too. Then there is the Volkl Organix 10 Mid."
Sean - "There are only a couple frames that sport similar qualities to this one because of its unique combination of specs. Because of the light, fast feel, I first thought of the Wilson Six.One Team BLX, which is also incredibly maneuverable. It's a bit further off the radar, but I was also reminded of the control-oriented and flexible feel of the Donnay X-Dual Silver 99, although the Donnay is far more stable."
Technical Specifications

Length
27.0 inches
69 centimeters
Head Size
93 square inches
600 square centimeters
Weight
11.2 ounces
318 grams
Balance Point
12.9 inches
33 centimeters
5pts Head Light
Construction
22.5mm Straight Beam
Composition
Graphene
String Pattern
16 Mains / 19 Crosses

Babolat RDC Ratings

Score

Grade

Flex Rating
61
Range: 0-100
Swing Weight
329
Range: 200-400
Scores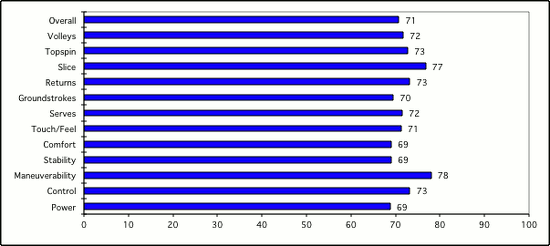 (Scores are determined by averaging individual play test scores)
Chris' Scores
Power
7.4
Serves
7.8
Control
7.8
Groundstrokes
7.6
Maneuverability
8.3
Returns
7.8
Stability
7.6
Slice
8
Comfort
7.8
Topspin
8.3
Touch/Feel
7.5
Volleys
7.7
Overall
7.7
Granville's Scores
Power
5
Serves
6
Control
6
Groundstrokes
5
Maneuverability
7
Returns
6
Stability
5
Slice
7
Comfort
5
Topspin
6
Touch/Feel
6
Volleys
5
Overall
5.5
Mark's Scores
Power
7.5
Serves
7
Control
8
Groundstrokes
8
Maneuverability
7.5
Returns
8
Stability
8
Slice
8
Comfort
7
Topspin
7
Touch/Feel
7
Volleys
8
Overall
7.5
Sean's Scores
Power
7.6
Serves
7.8
Control
7.5
Groundstrokes
7.2
Maneuverability
8.4
Returns
7.5
Stability
7
Slice
7.7
Comfort
7.8
Topspin
7.8
Touch/Feel
8
Volleys
8
Overall
7.6
Playtester Profiles
Chris: 5.0 all-court player currently using the Wilson Six.One 95 S. Chris uses a semi-western forehand grip, has a fast swing style and hits a one-handed backhand.
Granville: 5.5 all-court player currently using a Babolat Pure Drive 107. Granville is an aggressive player who uses an eastern forehand grip and goes continental on everything else, hits with a flat swing and a one-handed backhand.
Mark: 5.0 lefty all-court player with a one-handed backhand. He currently plays with the Wilson Steam 99S.
Sean: 4.5 baseliner using the Head YOUTEK Prestige Pro. Sean has a semi-western forehand, 1 handed backhand.

Review date: November 2013. If you found this review interesting or have further questions or comments please contact us.
All content copyright 2014 Tennis Warehouse.