Dunlop Biomimetic 400 Racquet Review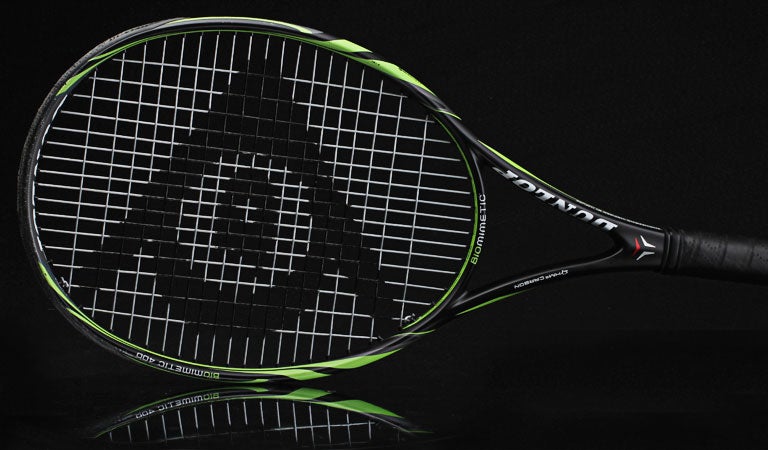 Dunlop Biomimetic 400 Scores
Comfort
77
Touch/Feel
78
Serves
83
Groundstrokes
76
Returns
78
Slice
78
Topspin
80
Volleys
74
Overall
77
Upsides
Maneuverability
Easy access to spin
Cosmetics
Downsides
Can be tricky to control
Some instability at net
Summary
With the release of the Biomimetic 400 series of racquets Dunlop introduced more technologies into its Biomimetic family. The AFG technology (anti-friction grommets) is designed to allow greater string movement for more power, while the Anatomic Construction through the throat of the racquet should increase stability. Together, these technologies are designed to boost the performance of a 'tweener frame such as this. After a month of testing, our team found a nice power level and decent stability from a racquet that weighs a very manageable 10.9 ounces strung -- although our testers did note some instability at net if they missed the sweetspot. The light static weight pairs with the 6 points head light balance to create an extremely maneuverable racquet. This allowed our testers to be confident taking the ball early and to hit with a lot of spin. Most agreed the racquet was at its best while serving, again providing a deadly combo of power and spin. When all was said and done, our group of testers overwhelmingly agreed on one thing: The Biomimetic 400 shines in the maneuverability category. It's up to you to figure out how to use that maneuverability to your advantage.
Groundstrokes - Score: 76
With a low static weight and head light balance, the Biomimetic 400 was a fast swinging racquet for our testing team. It meant ups and downs for Brittany, who said, "The first thing I noticed with this racquet was how comfortable it was to swing. With my aggressive game, I had no trouble stepping in and really swinging through the ball with solid pace. However, at times I felt I lost some of my control with this racquet when trying to change directions or hit an angle. I do have to say I was surprised with the success I had with my slice backhand. I could actually be aggressive with it and not just use it for a defensive shot."
"I'm kind of at a loss with this one," said Jason, who likes to take big cuts at the ball on his forehand side. "This racquet was too powerful, yet not powerful enough. Let me explain. When I would try to hit my regular forehand stroke, where I brush up against the ball to get maximum spin, my shots were landing very short. In order to get any depth I really had to focus on hitting out and through the ball instead of trying to hit with lots of spin. But when I would try to just block back a shot or throw up a lob the ball tended to fly on me. On the positive side, I did enjoy how maneuverable it was and how whippy it felt."
Tiffani agreed, adding, "I struggled with depth on groundstrokes. The first time I took it out, many of my shots hit at the service line or shorter. Spin was coming too easily, it seemed, and I don't consider myself a big topspin player. I adjusted my stroke, and by the end of the playtest I was able to achieve some good depth, though at times the short ball crept into my game. There was some good power coming from the racquet, and it was easy to swing. I was also impressed by the comfort level, because the flex rating on the RDC (67) would indicate a stiff frame. I didn't experience any jarring on my arm or shoulder even when the racquet was strung with a full bed of poly."
Mike had better success off the ground, saying, "Hitting groundstrokes with this racquet felt really good. I must say, for an under 11 ounce racquet the power and control were better than expected. I was able to hit through the ball fully and get a lot of pace on both forehands and backhands, and I was still able to find control and get good depth on both sides."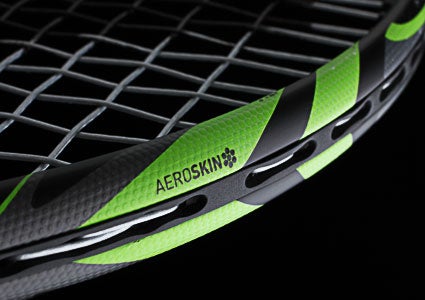 Volleys - Score: 74
The combination of specs had its positives and negatives for net play. Tiffani said, "I felt pretty good at net with the Biomimetic 400 in my hands because of its easy mobility. It's fairly maneuverable, so I could hit volleys with ease. I was most comfortable sending my volleys back deep. My touch with the racquet was just so-so, but then again, I don't have the softest hands."
Mike found some good pop at net. He said, "The Biomimetic 400 felt very maneuverable at net, and I found good power. I was able to volley the ball deep without having to swing or use a ton of energy."
Brittany, who played a lot of singles and doubles with this racquet, noted, "I couldn't quite get a feel for my volleys. I didn't find my range on touch or angle volleys. While I found the racquet quite maneuverable, at times I felt a lack of stability when trying to put away deep volleys. I also struggled with reaction volleys in doubles for the same reason."
"The sub 11-ounce weight and lack of mass in the hoop really hindered me on volleys with this racquet," said Jason, who prefers slightly heavier racquets. "When I was able to hit a volley in the sweetspot the racquet felt great, but I noticed quite a bit of torquing and instability on balls that hit outside the sweetspot. My overheads felt fine with this stick because it was very easy to swing."
Serves - Score: 83
The testing team served up a storm with the Biomimetic 400. It was the favorite part of the playtest for Mike. He raved about it, saying, "Serving with this racquet was by far the best serving experience I've had with any racquet I've playtested. I was able to hit my flat serve and place it wherever I wanted. My spin serve had kick and depth on it. It was really nice to score some freebies on my serve."
Brittany agreed, adding, "This was my favorite shot to hit with this racquet. I found it quite easy to generate big powerful first serves. Since the racquet weighs in at 10.9 ounces, I had no trouble really getting up and taking big cuts at the ball. On my second serve the comfort of the racquet kicked in, and I had a lot of confidence hitting spin serves."
This time it was Jason singing the Biomimetic 400's praises on serve. He said, "Serves were my favorite shot with this racquet. It was almost effortless to swing. There was accessible power when I wanted to go for a rare flat serve, and when I hit my typical slice serve the racquet head speed really enabled me to generate lots of spin. I really enjoyed this racquet on serve!"
Tiffani was also pleased. She said, "I enjoyed serving because, again, I found the maneuverability to be the outstanding aspect of the Biomimetic 400. Spin production was good for me, and I found the most success spinning in my serves. On the flip side, the power level was only moderate for me. I'm not a big server, so I was hoping for a little more help in terms of power."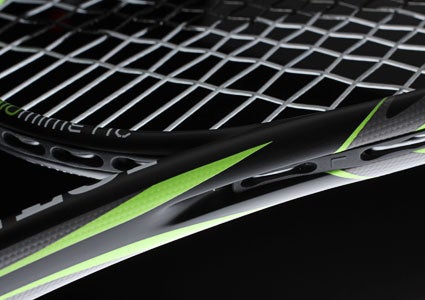 Serve Returns - Score: 78
Our testers were again swinging fast. This helped Jason with his return game. He offered, "The Biomimetic 400 felt much better on returns than on my groundstrokes because I didn't have to supply all the power. Because it was so easy to swing, it afforded me just enough extra time to take full swings at my opponent's first serves."
Tiffani was happy with the whippy aspect of the racquet. She said, "The racquet came around very quickly, and it felt solid to me. Just like on groundstrokes, I hit a lot of short balls, but I was able to use that to my advantage. I hit some angled returns that I was surprised by because I was able to take the ball so early."
"The maneuverability again shined on serve returns," said Brittany. "I could easily whip the racquet around from both wings to hit a solid return against any type of serve. I did notice, due to the racquet's combination of maneuverability and light weight, that if I wasn't careful I would hit the ball earlier than anticipated and pull it wide."
Mike offered, "When I hit the ball in my strike zone and was able to get a full swing through the ball my returns felt really good and I was able to place the ball anywhere I wanted. On the other hand, when I was hitting a defensive return, or returning a heavier serve, it was a little tougher to get a good strike on the ball and it was harder to control."
Overall - Score: 77
Likes
Brittany - "I felt this racquet took my serve up a level. I loved my ability to hit a combination of serves. I also like the cosmetic!"
Jason - "Very maneuverable with that solid, crisp feeling response that I love. Great for serves and overheads."
Mike - "I liked the power on my forehand and backhand, the depth and maneuverability on my volleys and the power and control on my serves."
Tiffani - "Maneuverability was a plus for me. I liked how easy it was to get around on returns. I loved the color scheme as well."
Dislikes
Brittany - "I struggled finding a rhythm with this racquet, especially on groundstrokes and volleys."
Jason - "I was very inconsistent with it. The lack of weight affected the torsional stability outside the sweetspot. There was a lack of power for aggressive shots."
Mike - "I felt some instability at times from the lack of weight, but that was about it."
Tiffani - "I struggled with depth control on groundstrokes."
Technical Specifications

Length
27 inches
69 centimeters
Head Size
100 square inches
645 square centimeters
Weight
10.9 ounces
309 grams
Balance Point
12.8 inches
33 centimeters
6pts Head Light
Construction
23mm / 24mm / 23.5mm
Composition
HM6 Carbon / Aerogel / Graphite
String Pattern
16 Mains / 19 Crosses

Babolat RDC Ratings

Score

Grade

Flex Rating
67
Range: 0-100
Swing Weight
305
Range: 200-400
Scores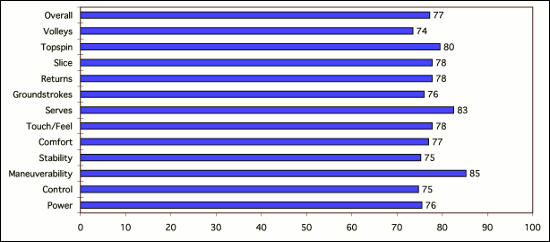 (Scores are determined by averaging individual play test scores)
Brittany's Scores
Power
7.6
Serves
8.1
Control
7
Groundstrokes
7.4
Maneuverability
8.1
Returns
7.5
Stability
7.4
Slice
7.8
Comfort
8
Topspin
7.5
Touch/Feel
7.3
Volleys
7
Overall
7.6
Jason's Scores
Power
6.7
Serves
8.5
Control
7.5
Groundstrokes
7.1
Maneuverability
9.5
Returns
7.6
Stability
7
Slice
7.7
Comfort
7
Topspin
8
Touch/Feel
8.2
Volleys
6.7
Overall
7.5
Mike's Scores
Power
8.1
Serves
8.5
Control
7.9
Groundstrokes
8.1
Maneuverability
8.2
Returns
8
Stability
7.8
Slice
7.8
Comfort
7.9
Topspin
8
Touch/Feel
8
Volleys
8.1
Overall
8.1
Tiffani's Scores
Power
7.8
Serves
7.9
Control
7.5
Groundstrokes
7.8
Maneuverability
8.3
Returns
8
Stability
7.9
Slice
7.8
Comfort
7.9
Topspin
8.3
Touch/Feel
7.6
Volleys
7.6
Overall
7.7
Playtester Profiles
Brittany: Open level player with a semi-western forehand and a two handed backhand. She currently plays with the Yonex V-Core 100S.
Jason: 4.0 baseliner with a semi-western forehand and two handed backhand. Currently using a Boris Becker Delta Core London.
Mike: 5.0 baseliner with a semi-western forehand and two-handed backhand. His current racquet of choice is a customized Prince Triple Threat Warrior.
Tiffani: 4.0 level baseliner with a semiwestern grip on the forehand and hits a two-handed backhand. Currently playing with the Tecnifibre Rebound Pro.

Review date: February 2012. If you found this review interesting or have further questions or comments please contact us.
All content copyright 2012 Tennis Warehouse.