Babolat Pure Drive Roddick Plus Racquet Review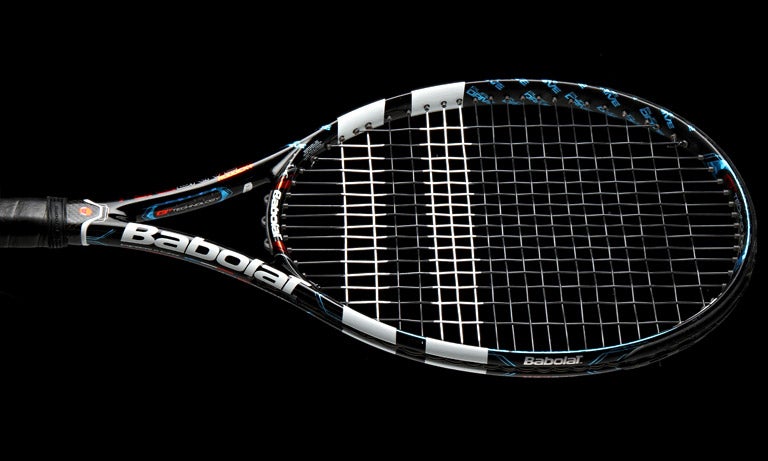 Babolat Pure Drive Roddick Plus Racquet Scores
Comfort
75
Touch/Feel
74
Serves
88
Groundstrokes
80
Returns
75
Slice
81
Topspin
84
Volleys
78
Overall
81
Downsides
Need to adjust to extra length
Might feel sluggish
Summary
If you want crushing power, monster spin and crisp precision, you want to be swinging the new Pure Drive Roddick Plus. Sure, the previous version offered all of that too, but this one does it with better feel and comfort. Amazingly forgiving for a stiff and precise racquet, the Pure Drive Roddick Plus feels comfortable and rock solid. Endorsed by Andy Roddick, this is perhaps the perfect racquet for his power serve and forehand. Serving bombs and licking your lips for an easy put-away groundstroke is a great way to optimize this racquet's power and spin potential. When your opponent pushes, it offers the power and stability needed to find depth and pace even when you're stretched wide or forced to hit off your back foot. It feels crisp and precise. There's ample power to put the ball away and ample stability for touch volleys. Combine the power on serve with the solid feel at net and you have a great doubles racquet -- as long as you can handle the hefty swingweight. The heft of this racquet makes it best suited to stronger advanced players. Those looking to hit with maximum power and spin will find it tough to beat, while fans of previous versions will find a seamless transition.
Groundstrokes - Score: 80
Some of our testers took full advantage of the increased power and spin of the Pure Drive Roddick Plus while a few struggled to get consistency due to the added length. Finding the extra length to enhance both power and spin was Chris. He said, "The Plus version of this racquet always requires a longer adjustment period for me due to the added length. It feels like a lot of racquet to get around on a one-handed topspin backhand, and it is. The swingweight feels beefy but adds considerable power to every shot. I also found spin to be kicked up a notch compared to the already impressive amount I found from the standard length version. Once I had made the adjustment, I was crushing the ball with this racquet. I loved it on my slice backhand as the swingweight helped the racquet plow through the ball, and I was hitting a knifing slice. For topspin, I had much better success on my forehand, where I was able to really crank this racquet around and hit aggressively. Hitting topspin backhands took the biggest adjustment, as I was hitting late at first. I was hitting aggressively once I got used to the length and swingweight."
Mark was effective with his down the line forehand and slice backhand. He said, "This racquet was leverage personified off the ground. I had to adjust to the sweetspot being farther away from my hand due to the extra length (at least I think that was the issue). Once I adjusted, and loosened up a bit, I could generate some whip off both wings that I am not able to hit with a half-inch shorter racquet. Not unlike the standard Roddick frame option, the down the line forehand and backhand slice were effective."
Having some difficulty with the added length was Troy. He said, "Initially, I noticed how the extended length made the racquet feel a bit more sluggish on my groundstrokes, but I was eventually comfortable swinging it. I was finding additional power due to the length and finding my two-handed backhand to penetrate the court pretty well. I was having some issues with my timing because the added length was creating more space between me and the ball. Overall, the extended length was more of a hinderance than a benefit."
Spencer agreed, saying, "Much like the Pure Drive Roddick standard, there's plenty of power with a stable feel. The big difference is that little half-inch in length. That half-inch extra made it tough to find the contact point on the stringbed and made the racquet feel sluggish. It took awhile before I wasn't getting 'handcuffed.' I was eventually able to adapt my forehand and slice backhand. Where I had my biggest issue was with the topspin backhand. I just couldn't seem to find the same timing and consistency I can with a standard length stick, making me revert more to the slice."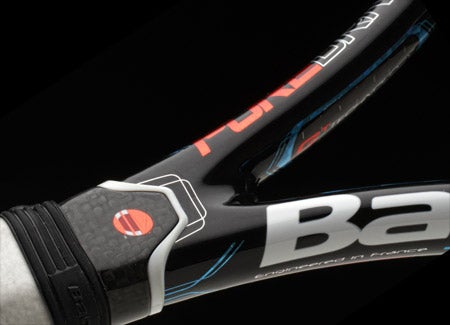 Volleys - Score: 78
There was plenty of pop with the Pure Drive Roddick Plus at net, while the added length helped on wide volleys. Troy's experiences embodied those sentiments. He said, "The benefit that I found when playing with the Plus version was that there was some added reach when being stretched out. Besides this, I felt like the maneuverability was hindered by the added length, especially when having to react quickly in doubles. The power was beneficial in getting depth on volleys, but the lack of a connection to the ball was still evident on finesse shots."
Chris felt connected to the ball at the net. He said, "I loved the power and crisp response at net. My volleys felt crisp and precise, and they zinged off the stringbed. There's nothing soft about the feel, but I had no issues finding the range on drop volleys and angles. I felt very connected to the ball and found little adjustment needed for the added length."
Mark felt he had an advantage when on the stretch. He said, "Spencer has mentioned that an extra quarter-inch of length is hardly noticed on a tennis racquet, but an extra half-inch is. I concur, and when I was volleying the shots aimed at my body were my achilles heel. I had an advantage on stretch volleys, but when a passing shot was aimed right at me I could not volley off the backhand side, and it was tough to get out of the way and get a forehand on it, too. This does not happen that often during a match, so it was not anything that would keep me from going to the net."
Spencer enjoyed the stable feel and put-away power. He said, "Volleys were a little bit easier to adjust to. I had better success when I didn't try to do too much with the volley and let the stick do the work. The put-away power was definitely a plus here. The solid response and good punch made things simpler at net."
Serves - Score: 88
The added length paid dividends when it came to power on serve. Spencer liked the velocity this racquet provided. He said, "Once I got used to the added length, I felt I could bring some good heat up the T (heat being a relative term, of course). This was my favorite part of this playtest, as the adjustment time was minimal, and the results were great."
Chris found everything he could want on serve. He said, "What an awesome serving racquet. I found a ton of spin and power from this one. The standard length version is a great serving racquet, but this one takes it a step further. Not only was I finding some added pace and spin, but I was also getting a better angle when serving out wide. What this racquet did for my serve alone got my attention and had me seriously thinking of making a switch. If I only played doubles, I would be using this racquet."
Able to garner some free points on serve was Mark. He said, "This was another shot of mine that benefited from this longer than standard frame option. Sure, I shanked some serves, but with some practice they dropped in more consistently and with more authority. With the extra pace I could definitely get some cheap points off the serve."
It took Troy too many adjustments to be effective. He said, "The amount of power was a benefit in this version as well as the standard length. I was a little bothered by the extra length because I felt that it was harder for me to judge the height of my toss. The added length also seemed to slow down my racquet head speed a bit. In the end I found myself choking up on the handle to make it more comfortable. Power was still the biggest benefit, and placement was lacking for me. I would choose the standard length over the Plus on serve because I can whip it through the ball better."
Serve Returns - Score: 75
Though the extended length created a sluggish response for some, the power and depth were very effective when dialed in. The racquet's stability allowed Mark to return effectively. He said, "If a racquet is going to feel unstable it will unveil its true nature during the service return. This racquet was very stable from pretty much all parts of the court, and the service return was no exception. The returns I blocked back had more back-spin than usual, which kept the return low, and the firm beam of the Pure Drive Roddick Plus, kept the direction predictable."
Spencer found the sluggish response hurt his returns. He said, "While I felt very successful returning with the standard length Pure Drive Roddick, I struggled with the Plus. The sluggish response made timing more difficult, and I felt handcuffed in terms of variety. I was already finding it difficult to hit a topspin backhand on groundies, and it was amplified on returns, leaving me blocking and slicing off the backhand wing."
Liking the depth he was getting was Troy. He said, "Returns were my favorite aspect of this Plus version, as it was for the Standard. As with volleys, I noticed how the extra length helped me get the ball back when I was fully extended. I was getting good depth on my returns and consistently getting the racquet on the ball. I still found myself choking up on the racquet to improve my timing and my judgement of space between the ball."
Chris settled in after making his adjustments. He said, "At first I struggled to find the groove on returns, but about three hitting sessions into the month-long test it clicked. I never looked back from that point and returned well with this racquet. Once I was used to getting the racquet around fast, I was able to take a good cut at a lot of serves. When forced to be defensive, the powerful response made it easy to push the ball back deep. Again, the spin and power off a fast swing were amazing."
Overall - Score: 81
Likes
Chris - "I loved this racquet on serve. I found spin and power from this racquet like no other. I really liked it at net, too. Once I adjusted to it, I was hitting very well from the baseline, with lots of spin and pace. I'm going to spend some more time with this one for sure, because I'm simply addicted to the power."
Mark - "The version I played with had a hybrid of a low tensioned poly, which created a deep pocket and complemented the Pure Drive's stiff nature. I got lots of leverage with the longer length, and I also really liked the darker colors in the new color scheme."
Troy - "One of the most powerful midplus racquets on the market. The extended length can help for some added reach when playing defense. Good dampening for a stiff racquet."
Spencer - "The added power."
Dislikes
Chris - "The length took some adjustment and the racquet felt tough to get around on topspin backhands for the first few outings."
Mark - "Nothing really extreme. The extra half-inch was an issue, and was enough to make me rethink a few shots, which wasn't really a bad thing."
Troy - "The power can be uncontrollable at times. I found myself choking up on the handle to make the racquet feel like a standard length, which is what I am used to."
Spencer - "The sluggish feel and added length hurt my game."
Technical Specifications

Length
27.5 inches
69 centimeters
Head Size
100 square inches
645 square centimeters
Weight
11.8 ounces
335 grams
Balance Point
13 inches
33 centimeters
6pts Head Light
Construction
24 mm/ 26 mm/ 23 mm
Composition
Graphite Tungsten
String Pattern
16 Mains / 19 Crosses

Babolat RDC Ratings

Score

Grade

Flex Rating
71
Range: 0-100
Swing Weight
336
Range: 200-400
Scores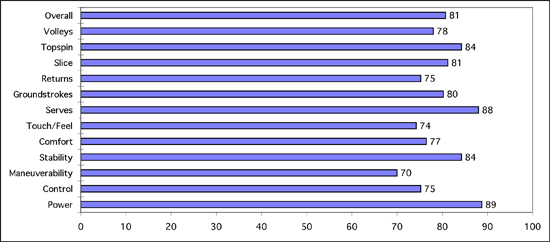 (Scores are determined by averaging individual play test scores)
Chris's Scores
Power
8.8
Serves
9.3
Control
7.7
Groundstrokes
8.5
Maneuverability
7
Returns
7.3
Stability
8.4
Slice
8.4
Comfort
7.7
Topspin
8.7
Touch/Feel
7.7
Volleys
8
Overall
8.3
Troy's Scores
Power
9
Serves
8.5
Control
7.3
Groundstrokes
8
Maneuverability
7
Returns
8
Stability
8.5
Slice
7.8
Comfort
7.7
Topspin
8.2
Touch/Feel
7
Volleys
7.5
Overall
8
Mark's Scores
Power
9
Serves
8.5
Control
8
Groundstrokes
8
Maneuverability
7.5
Returns
8
Stability
8.5
Slice
7
Comfort
8
Topspin
7.9
Touch/Feel
8
Volleys
8.3
Overall
8
Spencer's Scores
Power
8.7
Serves
8.9
Control
7.1
Groundstrokes
7
Maneuverability
6.5
Returns
6.8
Stability
8.3
Slice
7.8
Comfort
7.2
Topspin
8
Touch/Feel
7
Volleys
7.7
Overall
7.6
Playtester Profiles
Chris: 5.0 all court player currently using the HEAD Youtek IG Prestige Midplus. Chris uses a full-western forehand grip, has a fast swing style and hits a one-handed backhand.
Mark: 5.0 lefty all-court player with a one-handed backhand. He currently plays with the Dunlop Aerogel 4D 200.
Troy: 5.0 lefty all-court player with a full Western Forehand and a two handed backhand. Troy currently plays with a customized Wilson KBlade 98.
Spencer: 4.5 baseline player currently using the Prince EXO3 Tour 100 16x18. Spencer uses a semi-western forehand grip, and hits with a one-handed backhand.

Review date: Febuary 2011. If you found this review interesting or have further questions or comments please contact us.
All content copyright 2011 Tennis Warehouse.