Babolat Pure Drive Roddick 2012 Racquet Review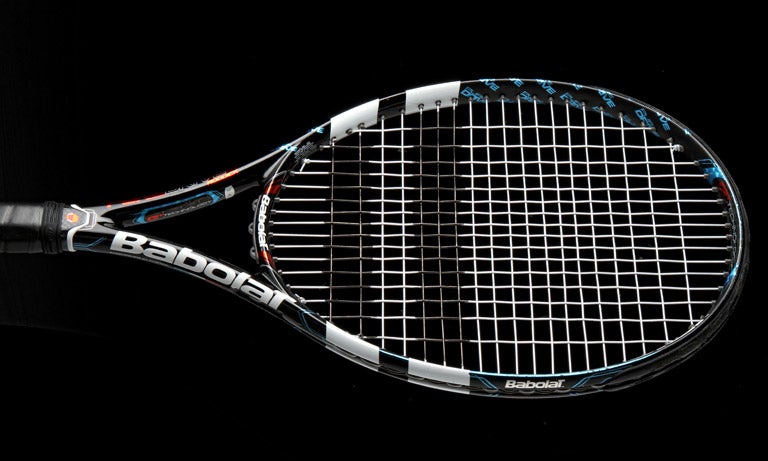 Babolat Pure Drive Roddick 2012 Scores
Comfort
79
Touch/Feel
76
Serves
89
Groundstrokes
87
Returns
87
Slice
82
Topspin
86
Volleys
81
Overall
85
Upsides
Powerful
Easy to create spin
Stable
Downsides
Nothing we could agree on
Summary
Improved feel meets crushing power and heavy spin potential with the new Pure Drive Roddick 2012. It was tough to imagine how Babolat was going to improve the response of an already great racquet, but Babolat has done it. This latest version is a great fit for the player who likes to set up a point with a big serve or return, then finish things off with a big groundstroke. Faster than its close to 12-ounce weight would suggest, our testers found they could take a good rip at just about every ball with this racquet. However, should the player find themselves at net, the racquet offers the power, stability and crispness to make it a deadly weapon. The power and stability found at net also made this racquet useful when testers found themselves on defense. Counter punchers will love how easy it is to hit with depth and pace. Block returns and shots hit at full stretch come off the racquet with surprising depth and accuracy. The new Pure Drive Roddick is such an impressive racquet that our testers found it hard to fault.
Groundstrokes - Score: 87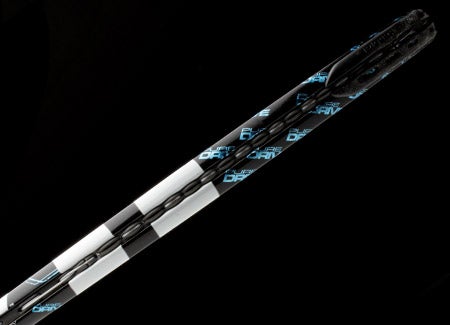 From the baseline, our testers all noted the stable feel with great access to power and spin. Chris, a former Pure Drive Roddick player, enjoyed the response. He said, "I immediately felt at home with this racquet from the baseline. I used a previous version of the Pure Drive Roddick, and this one reminded me why I loved that racquet. With this latest version I found the same powerful response and excellent access to topspin. I was taking a huge cut with my forehand and looking to hit my opponent off the court at every opportunity. The feel is improved over previous versions, and I was finding better targeting with my slice backhand as a result. The racquet felt rock solid in every situation, yet came around quickly for maximum swing speed. The solid response helped me push the ball deep when hitting defensively, helping bail me out of trouble and stay in the point. This was simply an awesome racquet from the baseline."
Able to get good depth was Troy, saying, "It was evident that this racquet packs a punch. From the first time I hit groundstrokes with it I was noticing how easy it was to keep the ball deep in the court. Not only were my shots landing deep, but I was generating a lot of topspin, which created a pretty heavy ball for my opponents. On the downside, if I hit a flatter shot, or went for a winner to finish a point, the power was somewhat uncontrollable and I typically sprayed the ball long. I found this stick to be good for creating long rallies, but it was lacking the control I needed to be comfortable moving my opponent around and staying on the offensive. Overall, I didn't feel comfortable going for the lines."
Mark liked the fast feel and predictable response. He said, "Just like with its predecessor, I was not disappointed from the ground with the Pure Drive Roddick 2012. At just under 12 ounces, the Pure Drive Roddick swung fast, like a lighter racquet, and featured enough mass for me to offer a stern reply to the open court. The firm beam provided a predictable response for my slice backhands, as well. The down the line shot was my favorite with this racquet, as they can tail off wide with more flexible racquets."
Spencer was happy with the power and depth. He said, "It's been awhile since I've hit a Pure Drive Roddick, but I was immediately reminded how solid a racquet it is. It has a very stable feel, along with good power, spin and depth. I was able to swing moderately on forehands and get nice penetration, and with the open string pattern, spin was easy to come by. I did have to be conscious of the power, though. This racquet packs some punch, so a little bit of adjusting was needed to make sure I did not hit long. It was more of the same when coming over the top on my backhand. I could drive the ball well cross court with pretty good consistency. My slice created a nice low ball, but like my forehand, I had to be careful of floating it long. Overall, I was extremely happy with the results off both sides. I found defensive shots to be more effective and found it much easier to transition into offense."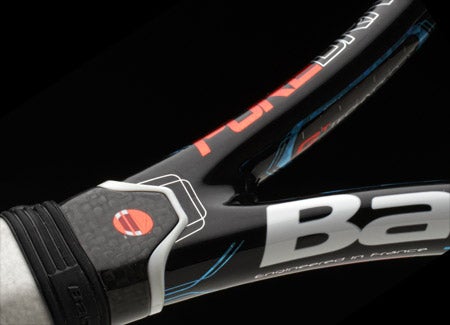 Volleys - Score: 81
While it might not offer the soft touch and feel that some would consider essential for a traditional volleyer's racquet, the Pure Drive Roddick proved very effective at net. Mark enjoyed the crisp response. He said, "The volley is always one of my favorite shots, and the Pure Drive Roddick added a facet of crispness to them that I do not get from more flexible racquets. I could put away volleys or make them harder to retrieve with this racquet, but the subtle drop volley required some adjustment."
The mass and stiffness created plenty of zip, according to Chris. "I have always been a fan of Pure Drives at net because they feel fast, crisp and precise. Sure, they don't offer anything like a buttery feel, but volleys just zip off the strings with a point-and-shoot kind of attitude. The Pure Drive Roddick takes it to another level, thanks to its increased mass and stiffer beam. It had all the power on put-away volleys I could want, and I could snap the ball away with authority. As for feel, I thought this was the most comfortable version yet. There was enough stability to allow me to use a supple wrist and soft grip on drop volleys to find all the touch I needed."
Troy was able to play aggressively at net. He said, "The power of this racquet was beneficial in hitting some penetrating volleys. I found enough maneuverability and power to make this a great racquet to be aggressive with at net, and it helped me in doubles. A downside for me was the lack of connection to the ball when going for a drop volley or a sharp angle. This racquet had sort of a muted feel, so I had trouble with any sort of finesse shot at net. Overall, it was easy to hit deep powerful volleys, but I was lacking some precision. Compared to the Plus version, I found net play to be much more comfortable with this racquet."
Spencer was able to produce better volleys than he thought he could. He said, "I had some surprising success at the net with this racquet. I say that because I figured with the stiffness and power I'd be spraying balls a bit, and I do not have a deft touch when volleying. However, I was aware that I didn't need to do much with the racquet other than get it into position, and the racquet would do most the work. I really, really loved this stick in doubles."
Serves - Score: 89
Our testers tapped into the power and spin of the Pure Drive Roddick while serving. Loving how easy it was to find power on serve was Spencer. He said, "I look for some free power out of my racquet when serving, and this one certainly fit the bill. There was noticeably more velocity when I served. It was nice to be able to garner some free points here and there, but again, I had to be wary of hitting long."
Chris achieved extra pace and spin. He said, "I loved serving with this racquet. The same awesome power and spin I found on my groundstrokes was evident on serve. I was getting more pace on flat serves and lots of kick on spin serves. If I didn't know better I'd say this is as good as it can get, but the Plus version of this racquet takes it to another level."
Feeling control was sacrificed because of the power was Troy. He said, "Power, once again, was the main benefit from this racquet. I felt as though I could get an extra 5-10mph when serving with this racquet. My slice and kick serves were being delivered with added spin. Initially I was impressed by the added power, but there was a sacrifice. I wasn't hitting my spots as comfortably as I do with my own racquet, which has a slightly smaller headsize and an 18x20 string pattern. Power vs. control was once again the battle for me, but when looking to bring the heat, this is an awesome racquet on serve."
Mark, on the other hand, found plenty of control. He said, "With a hybrid of a low tensioned poly and a softer cross string a deep pocket is created with this racquet, which benefited my serve and overhead. I could direct the serve with precision while still generating my usual level of pace and spin."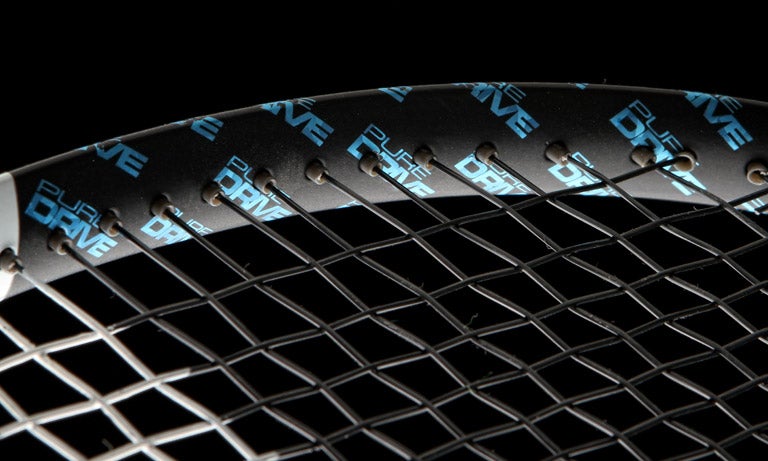 Serve Returns - Score: 87
Our testers all enjoyed success on returns due to the racquet's combination of stability, power and forgiveness. Getting plenty of pop on his returns was Troy. He said, "I enjoyed the depth I was getting on my returns. Even when I was only able to block the ball back, the ball was landing deeper than usual. My returns were enhanced with this racquet because I found more depth, which is the most important part of my return game. I also found success when I had to slice the return off the backhand. I was getting good depth and the ball stayed low off the bounce. I was hitting consistent returns in doubles when going cross court and found good power and spin, which made it harder on my opponents to hit a good first volley."
Chris was effectively able to mix up his returns. He said, "The maneuverability, power, stability and spin all came together to make this a great return racquet. I was able to power the ball deep, roll an angle or block back a tough serve as well as I could hope. This racquet was amazingly comfortable considering its stiffness, and even shanked returns did not feel especially jarring."
Mark noted the excellent stability. He said, "The overall mass, and the distribution of it, made the Pure Drive Roddick stable on the return. Again, for an 11.9 ounce static weight racquet, I felt it was easy to swing fast enough to hit some topspin returns off first serves."
Feeling confident when returning was Spencer. He said, "Though the swingweight is a tad heavier than I prefer, I was happy with my returns. Whether it was a forehand, a slice backhand or a topspin backhand, there wasn't a whole lot that I needed to do. The stability and power of this racquet did most of the work. This racquet offered me plenty of options, and I felt comfortable using any of them. I hit good, effective returns."
Overall - Score: 85
Likes
Chris - "I loved it. This racquet offers awesome power and spin from everywhere on the court. The Roddick is like a Pure Drive on steroids, as it offers more power and stability, and allows me to hit a more penetrating ball. It is faster than the Plus version, which made it an easy adjustment."
Troy - "Generating power and spin was easy. It was well dampened for a stiff racquet."
Mark - "I felt very connected to the 2012 Pure Drive Roddick from all areas of the court. With a low tensioned hybrid string set-up I immediately felt like I could play well and win with it. Aesthetically, I favor this iteration more than any previous model of the Pure Drive, and I like how Babolat keeps each new frame physically similar to the previous model, making the transition close to seamless."
Spencer - "The solid feel and court penetration."
Dislikes
Chris - "None."
Troy - "Control was lacking for me. I like to move my opponents around the court, creating opportunities to end the point, and I didn't feel as comfortable placing the ball as I do with my own racquet."
Mark - "Due to the stiffer beam, I feel that the Pure Drive Roddick GT does not offer much range in choice of string material and tension before the set-up becomes a little unforgiving. It behaved the best when I used a full set of a low tensioned poly or a hybrid of a poly and a softer string (it drained a bit of the frame's inherent power). Using a more elastic string material created too much of a launching pad, and taking the tension up to decrease the overall power level left the set-up feeling unforgiving."
Spencer - "As much as I try to come up with something I dislike about this racquet, I simply can't."
Technical Specifications

Length
27 inches
69 centimeters
Head Size
100 square inches
645 square centimeters
Weight
11.9 ounces
337 grams
Balance Point
12.875 inches
33 centimeters
5pts Head Light
Construction
23.5mm / 26mm / 23mm
Composition
Graphite Tungsten
String Pattern
16 Mains / 19 Crosses

Babolat RDC Ratings

Score

Grade

Flex Rating
71
Range: 0-100
Swing Weight
328
Range: 200-400
Scores
(Scores are determined by averaging individual play test scores)
Chris's Scores
Power
8.4
Serves
8.9
Control
8.2
Groundstrokes
9
Maneuverability
7.8
Returns
8.8
Stability
8.1
Slice
8.3
Comfort
7.8
Topspin
8.5
Touch/Feel
7.7
Volleys
8
Overall
8.6
Troy's Scores
Power
8.8
Serves
8.9
Control
7.5
Groundstrokes
8.4
Maneuverability
8.5
Returns
9
Stability
8.5
Slice
7.8
Comfort
8
Topspin
8.8
Touch/Feel
7.3
Volleys
7.8
Overall
8.3
Mark's Scores
Power
8.6
Serves
9
Control
8
Groundstrokes
9
Maneuverability
9
Returns
8.3
Stability
8.6
Slice
8.6
Comfort
8.2
Topspin
9
Touch/Feel
7.8
Volleys
8.7
Overall
8.7
Spencer's Scores
Power
8.6
Serves
8.8
Control
8
Groundstrokes
8.3
Maneuverability
7.7
Returns
8.6
Stability
8.5
Slice
8
Comfort
7.5
Topspin
8.2
Touch/Feel
7.4
Volleys
7.9
Overall
8.4
Playtester Profiles
Chris: 5.0 all court player currently using the HEAD Youtek IG Prestige Midplus. Chris uses a full-western forehand grip, has a fast swing style and hits a one-handed backhand.
Troy: 5.0 lefty all-court player with a full Western Forehand and a two handed backhand. Troy currently plays with a customized Wilson KBlade 98.
Mark: 5.0 lefty all-court player with a one-handed backhand. He currently plays with the Dunlop Aerogel 4D 200.
Spencer: 4.5 baseline player currently using the Prince EXO3 Tour 100 16x18. Spencer uses a semi-western forehand grip, and hits with a one-handed backhand.

Review date: January 2012. If you found this review interesting or have further questions or comments please contact us.
All content copyright 2012 Tennis Warehouse.