Tecnifibre TFight 315 Ltd. 18 Racquet Review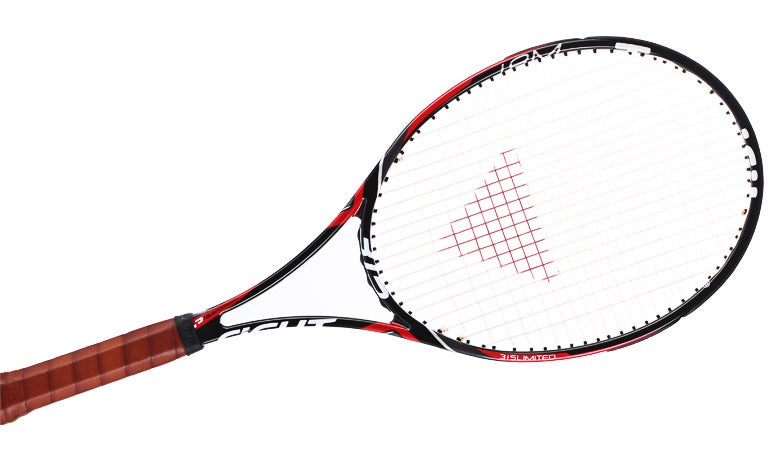 Tecnifibre TFight 315 Ltd. 18 Scores
Comfort
74
Touch/Feel
83
Serves
79
Groundstrokes
81
Returns
80
Slice
79
Topspin
80
Volleys
80
Overall
80
Upsides
Maneuverable
Control
Feel
Good platform for customization
Downsides
Needs more weight for big hitters
Summary
Tecnifibre introduces the TFight 315 Ltd. 18 Main racquet to its lineup with the goal of making a lighter weight player's frame. Our playtesters found the control, feel and maneuverability to be on par with some of the best player's sticks around. Precision was felt all over the court, enabling our team to execute a variety of shots. Maneuverability was also a strength of this racquet; most of the testers loved the racquet on returns and could generate a lot of racquet head speed with it from the baseline. However, with maneuverability as a strength, plow through was a weakness, and playtesters felt the racquet needed more heft to unleash its full potential. Because of its lighter weight we believe this would make an excellent platform racquet for players who like to customize the weight and balance of their racquets. In stock form this is a great feeling player's racquet that offers tons of control, feel and maneuverability.
Groundstrokes - Score: 81
Our playtesters loved the control and feel of the TFight 315 Ltd. 18 Main from the baseline, but most of them wanted the racquet to be a little bit heavier. Andy really liked the feel and control the racquet offered, but felt it lacked some stability. He offered, "I really liked this racquet from the baseline. The balance of the racquet just felt perfect for me, which allowed me to feel in total control of all my shots. The 18x20 string pattern also helped provide a deadened feel with lots of control. The racquet is very light, which gives it great maneuverability but takes away a bit of stability and plow through. It could get pushed around a little bit when practicing with someone who hits really hard, but the instability was not as big of an issue as I thought it was going to be when I first saw the specs."
Chris echoed Andy's opinion and wanted a little more weight in the hoop for more pace and stability. He said, "This was my favorite of the two string patterns. I was able to find more control and I felt better connected to where my shots were going with this one. It was very easy to generate spin with this racquet. Getting tip speed was never an issue, so it was easy to get the ball rotating quickly on both topspin and slice shots. I also preferred this one on slice shots because of its more controlled response. I was finding my targets well and found the racquet felt better and better the faster I swung. In that regard, this racquet reminded me of the Dunlop Biomimetic 300 Tour. Much like that racquet, I'd like to add weight to this Tecnifibre. In stock form it lacked the stability and mass I need. I would like easier access to depth and more stability, and the only way to get that would be to beef this one up. I would keep the balance the same but lead tape this racquet up to about 12.2 ounces to better suit my needs."
This racquet felt great to Jason right away, but like the others have mentioned, he would have liked a little more mass in the head. He said, "I was able to pick this racquet up and play with it right away, with no adjustment period. I felt like I could be very consistent with this racquet, as it was easy to swing. I felt like this tighter string pattern was more stable and control-oriented than the open string pattern version, but there wasn't as much power. Access to spin was good on topspin shots, but I thought it was just OK on slice. I think the lack of mass in the head took away from the effectiveness of my slice shots. My biggest complaint would be the small sweetspot and the lack of power. I found myself hitting a lot of balls short, especially when I hit off-center."
Typically a fan of tighter string patterns, Mark felt right at home with this racquet. He said, "I played with the open patterned version of this frame first, but I usually play with dense patterned racquets. I assumed that I would immediately love this one, and I was right. Lately I've been testing lots of open patterned racquets, so I got sort of used to their feel. I noticed that much of the plush feel you get from the open patterned racquets was diminished with the 18x20 string pattern, but the control predictability went up. I was able to flatten out my extremely loopy shots and was immediately reminded why I gravitate toward this type of racquet."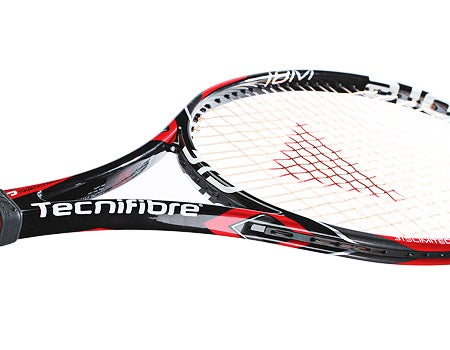 Volleys - Score: 80
The excellent control, feel and maneuverability aided the team at net, but the lack of mass was once again apparent. Chris explained, "I found great touch, feel and control from this racquet at net. I play at least two doubles matches a week and enjoyed playing doubles with this racquet. It felt very fast. I was able to react quickly and snap this racquet around to quickly get the ball away. As from the baseline, I'd like to add some weight to better suit my needs. When the pace picked up I found the stability to be lacking, and the racquet got pushed around when I was volleying defensively."
Jason liked the touch, but he would have liked a little more access to power. He said, "The racquet was fairly stable and was easy to maneuver. I liked it on overheads, but again, I just felt like it lacked power. I made a handful of drop shot volleys, so touch was pretty good."
Andy felt volleys and overheads both accentuated the racquet's strengths and exposed its weaknesses. He offered, "The racquet felt great around the net. Maneuverability and feel really shone, and the tight string pattern lent itself to even more feel and control. I felt like I could put the ball anywhere. The lack of mass in the head did make it a little unstable on hard hits shots or when I was stretched, and it took quite a bit of punch to really stick a volley. Other than that it felt great, like a magic wand, around the net."
On the contrary, Mark found plenty of stability and really enjoyed his time at the net with this racquet. He said, "The volley is a shot that I can hit well with most any racquet, and the TFight 315 Ltd. 18x20 enhanced this aspect of my game. The 11.7-ounce static weight was plenty stable for the stretch volley, and because it was so easy to swing I was able to apply topspin to some volleys."
Serves - Score: 79
Our playtesters loved the control they got serving, but everyone thought there was still a little something missing. For Chris, more mass would've helped him get a little extra juice. He said, "Controlled, consistent serving was the order of the day with this racquet. I enjoyed the level of feel and control from the tight string pattern. I found it easy to get all the spin I needed to serve with both pace and accuracy. However, I'm not the biggest server and struggled to hurt my opponent's return game when serving with this racquet. I simply need more mass to help me get some stick on the ball. I found my serves were sitting up and looking far too 'hittable' with this racquet."
Andy agreed. He said, "This racquet performed very similarly to the 16x18 version on serve. I felt like I had a ton of control but not enough mass to really get the most pace on my serve. A little more heft in the hoop would allow the ball to explode off the stringbed a little more, but the precision I felt on serve was nice."
Mark liked the weight of the racquet but preferred the open-patterned version for better access to spin. He said, "I loved the weight, but I was not able to grip the ball as well as I would have liked. My first serve is flat, which was great, but I need help with the second serve and the dense pattern didn't add much spin."
Of all the testers, Jason thought most favorably of the racquet on serves. He said, "I thought the power was pretty decent on serves. It certainly wasn't overwhelming power, but it was up to par with what I'm used to. I was finding good access to spin on my serves, even with the tight string pattern. I found the directional control to be really good; I couldn't beat my opponents with pace so the placement was key for me."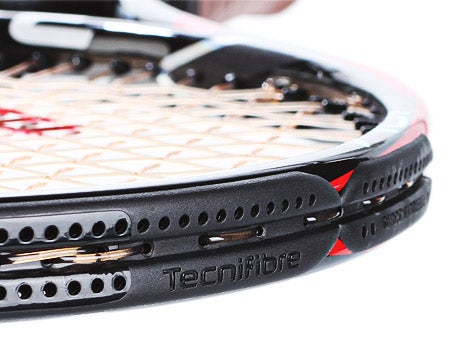 Serve Returns - Score: 80
Returning serve was where this racquet really shone. Andy thought the racquet gave him an opportunity to show his versatility on his returns. He said, "I really enjoyed returning with this racquet, especially with the great feel and maneuverability it possesses. I felt in total control on my return, and it was super easy to whip around the body when I was rushed. Furthermore, the excellent feel allowed me to get creative with some chip returns when I wanted."
"My favorite shot with this racquet was returning serve," said Chris. "I was able to swing fast, get lots of spin and still find plenty of control. In both doubles and singles play I was able to mix the pace, spin and angle of my returns to keep my opponents guessing. I enjoyed stepping inside the baseline and taking the serve early, often charging the net immediately afterward."
The racquet suited Mark's return game nicely as well. He said, "Plow through and stability galore for the return. I was effective with my chip return style, which is almost like a volley."
On the contrary, this was the area that Jason liked the racquet the least. He said, "This was probably my least favorite shot with this racquet. I was constantly on the defensive because my returns were landing short. I had to really swing out and connect right in the sweetspot to get pace and depth on my returns. What I did like was the maneuverability, and how I could quickly get my racquet around on a harder hit serve."
Overall - Score: 80
Likes
Chris - "I loved the feel, control and easy access to spin. I was also happy to see a stock leather grip because it added a touch more feel and control to an already great feeling racquet."
Jason - "The maneuverability stood out the most. The feel was pretty good as well."
Mark - "The frame was firm and had a very solid feel at contact. A very muted and almost vibration free racquet."
Andy - "This racquet just feels 'right' in my hands. I don't know how else to describe it, but the balance and weight distribution are just dead on for me. It's comfortable, maneuverable and has lots of control."
Dislikes
Chris - "In stock form it feels a lot like a platform racquet for weight/balance customization. It just lacked the weight to compensate for its flexible, control-oriented response, and it got pushed around too easily when the pace picked up."
Jason - "Lack of power and small sweetspot."
Mark - "My groundstroke style is very loopy off the forehand and naturally flat for the serve motion. The dense pattern helps flatten out my groundstrokes, but it doesn't add much spin to my serve. I would change the color scheme as well, but that has nothing to do with how well the racquet plays."
Andy - "With a little bit more heft this racquet could become one of my favorites. If I could just add an ounce of weight to it without affecting the balance, I think it would feel amazing."
Comparing this racquet to others they've tried, our testers said:
Chris - "I was reminded of the Dunlop Biomimetic 300 Tour due to the light feel and very control-oriented response. Other similar racquets would include the Radical Midplus from Head and the Babolat Pure Storm -- both of which I prefer leaded up."
Jason - "It reminds me of the old TFlash 315 VO2 Max racquets."
Mark - "I play with the Prestige Midplus, so I can honestly say they are very similar. The Dunlop 200s and the Donnay Pro One 97 (18x20) are also pretty close in terms of feel and performance."
Andy - "It has a slightly deadened, more controlled feel compared to its 16x18 brother. The balance and weight distribution feels perfect, which is a similar sensation to my Yonex RDiS 100 Mid and the Wilson Blades we have recently tested. Once again, with a little more weight (without affecting the balance), this stick could be awesome!"
Technical Specifications

Length
27 inches
69 centimeters
Head Size
98 square inches
632 square centimeters
Weight
11.7 ounces
332 grams
Balance Point
12.8 inches
33 centimeters
6pts Head Light
Construction
20mm / 20mm / 20.5mm
Composition
Graphite / Texalium
String Pattern
16 Mains / 20 Crosses

Babolat RDC Ratings

Score

Grade

Flex Rating
61
Range: 0-100
Swing Weight
309
Range: 200-400
Scores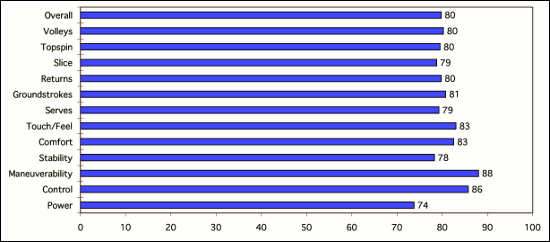 (Scores are determined by averaging individual play test scores)
Chris's Scores
Power
7.7
Serves
7.8
Control
8.5
Groundstrokes
7.6
Maneuverability
8.7
Returns
8.9
Stability
7.3
Slice
8.2
Comfort
8.3
Topspin
8.3
Touch/Feel
8.4
Volleys
7.7
Overall
7.8
Jason's Scores
Power
7
Serves
8.4
Control
7.8
Groundstrokes
7.7
Maneuverability
9
Returns
7
Stability
8
Slice
7.3
Comfort
8.2
Topspin
7.5
Touch/Feel
8.3
Volleys
7.9
Overall
7.8
Mark's Scores
Power
7.8
Serves
8.5
Control
9
Groundstrokes
8.5
Maneuverability
8
Returns
8
Stability
8.5
Slice
8
Comfort
7.5
Topspin
8
Touch/Feel
7.5
Volleys
8
Overall
8
Andy's Scores
Power
7
Serves
7
Control
9
Groundstrokes
8.5
Maneuverability
9.5
Returns
8
Stability
7.5
Slice
8
Comfort
9
Topspin
8
Touch/Feel
9
Volleys
8.5
Overall
8.3
Playtester Profiles
Chris: 5.0 all-court player currently using the Volkl C10 Pro 2012. Chris uses a full-western forehand grip, has a fast swing style and hits a one-handed backhand.
Jason: 4.0 baseliner with a semi-western forehand and two handed backhand. Currently using a Wilson Steam 99 S.
Mark: 5.0 lefty all-court player with a one-handed backhand. He currently plays with the Dunlop Aerogel 4D 200.
Andy: Open level all court player with a semi-western forehand grip and a two handed backhand. Andy currently using a Yonex RDiS 100 Mid.

Review date: February 2013. If you found this review interesting or have further questions or comments please contact us.
All content copyright 2013 Tennis Warehouse.