Wilson nPro Review
Brightly colored paint schemes are nothing new to Wilson racquets - take the Pro Staff Torch, Surge and Surge X as examples. But for 2005, Wilson has introduced two new racquets that will leave your opponent green with envy.
Both the nCode nPro and nPro Surge come in an attention grabbing lime green that is sure to make opponents do a double-take. In fact, you have to look twice at these racquets, not just because of the color, but due to the fact that the two racquets are hard to tell apart. Giving two quite different playing racquets almost identical names and cosmetics may seem a little confusing, so we mention both here to attempt to clear things up. Both racquets feature a contrasting all-black inner hoop, which is a feature common with all of the current nCode Pro Staff style racquets. While the nPro and nPro Surge share almost identical cosmetics, the easiest way to distinguish the two is by grip color. The nPro features a black standard grip, compared to the stock gray grip of the nPro Surge. While their names and cosmetics are very similar, closer inspection reveals that the beam design and spec ranges are very different.
Although the nPro Surge features a traditionally shaped beam (similar to a ProStaff Classic 6.1), the nPro (tested here) features a stylish and unique beam design. As with some other nCoded racquets, it's immediately apparent that the attention to detail given to the nPro is as much about performance as it is about visual appeal and style - a new philosophy in Wilson racquet design, confirmed by Wilson in our n5 review. What starts out as a flat outer/rounded inner beam shape in the shaft changes to the opposite in the head of the racquet (rounded outer/flat inner beam). At the throat, the outer beam shape goes from flat to a pronounced rounded shape, which combined with the color of the frame makes for a somewhat thick looking hoop when holding the racquet face-on. Conversely, looking at the racquet's profile, it appears that the shaft of the racquet is the beefier part. In actuality, the racquet features a 23mm straight beam design.
Aesthetics aside, what we were really interested in was how the nPro would perform on the courts. To find out we took it for a three-week playtest. Read on for the results.
Groundstrokes
We hit the courts with two Wilson nPro racquets strung at 57lbs with Wilson NXT 17 gauge. The majority of our team found a nice combination of power, control, maneuverability and stability from the nPro off the ground. First up was Wendi, "after five minutes of hitting with the nPro I remembered "oh yeah, I'm playtesting." I was so comfortable with the racquet's weight and feel. At the baseline I was generating a decent amount of power, but the real advantage was the control. I was able to find my angles and even surprised myself with my shot accuracy. Off-centered hits fared well for me and I had great success on the run. In a tight situation, the nPro allowed me to come up with a save, maybe not with authority, but I wasn't complaining. I did notice that my swing speed could have been a little bit faster to avoid hitting long. I felt that I just didn't turn the ball over fast enough to get the spin I wanted to keep the ball in." Finding good comfort was Granville. "The nPro has a nice comfortable feel on groundstrokes. I was taking full swings and enjoying good pace and depth. It's not a powerhouse, but does give nice control and touch. The light-er 11 ounce weight and slightly head-light balance weren't really to my liking. When I wanted some heat to get out of trouble, there just wasn't enough there. This lack of mass hindered my backhand slice a bit, but topspin was fine."
Having better results was Chris. "I found some nice pop from the nPro, but nothing that made me hold back in any way. While this racquet is lighter than my ideal racquet weight, I found the stability to be surprisingly good. It felt like I was getting plenty of pace and court penetration on my shots without sacrificing anything in the control department. In fact, I really liked the control I found using this racquet. I was able to generate plenty of topspin and slice from both sides. Unlike the review given in TENNIS Magazine (April, 2005), I did not think the nPro had a small sweetspot at all. I found it to be one of those racquets that was easy to pick up and go play - no major adjustments from the baseline needed."
Probably finding the best fit for his game was Josh. "The Wilson nPro offered a nice balance of control and power on groundstrokes. I was able to keep a high percentage of balls within the lines from both the forehand and backhand side at just about any pace. I was able to take balls early or late, as needed, because of the lighter weight and maneuverability. Every stroke felt comfortable and I wasn't fearful of over-hitting, which again was surprising because of the power the racquet offered. Slices were easy to hit with the nPro, which gave me the ability to alter my game when needed. On the forehand side, I could generate a good amount of topspin, even when I had to 'wrist' a shot over the net. The purest shots I hit, though, came when I picked up flat balls at knee level on the forehand side. This must have been the perfect height to connect on the sweetspot. For comparison sake, the nPro felt a little stiffer and more controlled than the ProKennex Heritage Type S Racquet, whereas the Type S was more comfortable but had too much spring."
Volleys
For the most part our team found the nPro to offer a solid platform for volleying. Finding some power with the nPro was Josh. "The nPro felt good on volleys. When I relaxed and held a firm grip, volleys were easy to put away. When I took a bigger backswing, or tried to do too much with a shot, the nPro's power was more noticeable. On the flip side, half volleys from mid-court were easy to pick up, as well as overhead volleys." Finding a more controlled response was Chris. "The nPro was maneuverable and offered some nice control at net. I was able to punch the ball deep to the corners with enough pace to finish the point off. On touch volleys there was ample feel and enough stability to find the angle."
Finding a nice blend of stability and maneuverability was Wendi. "At net the nPro was solid and stable. It had good maneuverability and I was able to dictate my shots. When I was on the defense, the nPro reacted quickly and under control. I wouldn't say the nPro did wonders for my winner count, but it kept me in the game. Granville would have preferred a more head-light balance at net. "The nPro volleys proficiently. Good feel and touch similar to other light racquets but just shy of the 'scalpel' type of performance racquet. It's just not quite head-light enough to be considered truly maneuverable, in my humble opinion."
Serves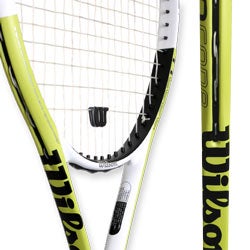 Our team really enjoyed serving with the nPro, finding good pace, plenty of spin and lots of control. For Chris, the serve was the standout stroke with the nPro. "My favorite shot with the nPro was the serve. I like the ease of hitting the kicker with light racquets like this. I was finding a tad more racquet head speed at the top of the swing, producing a little extra hop off the court. First serves felt fast, but somewhat light. I don't think I served with as much weight as usual, but I was serving with great consistency and some good pace." Serving consistently was Granville. "As with other strokes, the light weight of this racquet is the only thing that prohibits its power. Control was good, the racquet was solid, but I would have liked more weight when it came to the serve."
Also serving well with the nPro was Josh. "My service game definitely stepped up a level with the nPro. I was able to hit a ton of fast first serves and good kickers on the second. Again, control and power were balanced with the nPro. I had total confidence in my ability to move the ball around the service box and not play too conservatively." Wendi offered, "serving with the nPro was effortless. I usually have to get used to a racquet before completely trusting my serve. With the nPro I served without the slightest bit of concern. I didn't get the power that I do with other racquets, but it didn't seem to matter to me due to the control I was finding. I had great control up the T and out wide as well."
Serve Returns
At only 11 ounces strung, our team found the nPro an easy racquet to get around on the return. Quickly finding his range was Josh. "The power of the racquet, combined with its maneuverability, helped heighten my return game. I didn't win many points outright off the return, but I didn't lose too many either. If I did attack a serve, my return was usually controlled and deep enough to keep my opponent on the defensive. Players who are conservative and like to grind points out should consider the nPro. Not too many racquets give players the freedom to depend on a racquet for both power and control for their return game." Chris also had good results on the return. "As much as I liked serving with this racquet, I also liked returning with it. I was able to utilize the power well, without over-hitting or sensing a loss of control. I liked the grip I was getting on the ball when slicing and chipping deep to the corners. Drive returns also worked well, and it was easy to brush up the back of the ball for topspin, adding some margin for error when increasing the pace of my returns."
Overall
Under the bright lime green paint of the Wilson nPro we found a solid, lighter weight performance racquet. There's enough control here to make it a good selection for advanced players looking for a light racquet that still possesses some player's racquet characteristics. Faster swinging intermediate players will benefit from the feel and control found in the nPro as well, and it's an ideal choice for the power player looking to cut down the errors. With the popularity of light, moderately stiff racquets continuing to grow (think Babolat Pure Drive), the nPro offers an attractive spec, with perhaps just a tad more control compared to its competitors.
Granville found his best returns came when he took a good cut at the ball and stayed aggressive. "When I took a full swing at the ball I found the racquet delivered an adequate response. Anything short of a full swing, though, and my returns tended to land a bit short. I didn't think the racquet was responsive enough to offer any help defensively when blocking, etc." Also finding a lot of control was Wendi. "When returning serve, the nPro again proved it's a control-oriented racquet. While the control was nice, I didn't feel that I had the upper edge after my return. I also wouldn't want to think about facing a harder serving opponent. I had a little bit of trouble returning body serves, but come to think of it I usually do (regardless of the racquet I'm using)."
Last Shots from our playtesters
Wendi - I really enjoyed playing with the nPro, it was an easy racquet to pick up without making very many adjustments. The nPro would be a good match for a wide variety of players who can generate their own power and just need the control. I will definitely take this puppy out again!

Granville - Weight and balance seemed out of sync to me. Not enough mass and not head light enough to really appeal to my game.

Josh - The Micro-Dry Max Grip was really comfortable. I liked the tackiness of the grip and the fact that the cushioning didn't keep me from feeling the handle.

Chris - I thought this was one solid racquet. Looking at the specs, I would dismiss this racquet as being too light. However, my second time out with the nPro I gave my opponent a double bagel, so I was off to a good start. I was surprised at how much I enjoyed hitting with the nPro.

(Scores are determined by averaging individual play test scores)
Technical Specifications

Length
27 inches
69 centimeters
Head Size
98 square inches
632 square centimeters
Weight
11 ounces
312 grams
Balance Point
13 inches
33 centimeters
4pts Head Light
Construction
23mm Straight Beam
Composition
10% nCoded Hyper Carbon / 90% nCoded High Modulus Graphite
String Pattern
18 Mains / 18 Crosses

Babolat RDC Ratings

Score

Grade

Flex Rating
68
Range: 0-100
Swing Weight
308
Range: 200-400
Playtester Profiles

Chris
5.0 baseline player currently using a Yonex RDX 500 Midsize. Chris uses a full-western forehand grip, has a fast swing style and hits a one-handed backhand.
Josh
4.0 all court player currently using a Wilson ProStaff Original 85. Josh has a long, loopy swingstyle, hits with a one-handed backhand and a semi-western forehand.
Gran
5.5 all-court player currently using a Head LiquidMetal Prestige Midplus. Granville is an aggressive player who uses an eastern forehand grip and goes continental on everything else, hits with a flat swing and a one-handed backhand.
Wendi
3.0 player currently using a Babolat Pure Control Plus. Wendi is a steady but aggressive player who hits with a semi-western forehand grip and a two-handed backhand.
Review date: March 2005. If you found this review interesting or have further questions or comments please contact us.
All content copyright 2005 Tennis Warehouse.