Babolat AeroPro Drive GT Racquet Review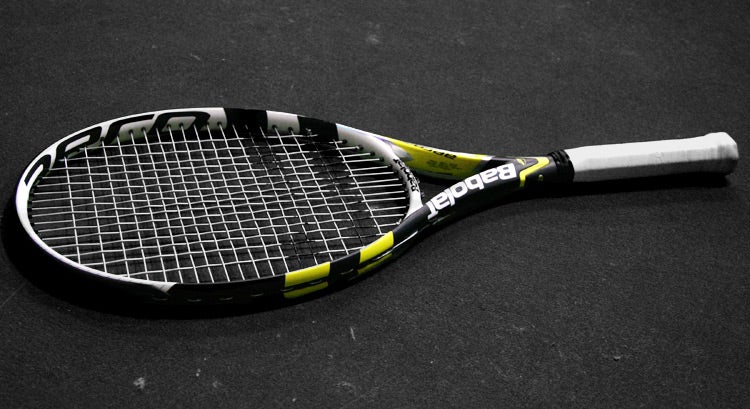 There are times when a racquet becomes so closely linked to the pro player who endorses it that it's almost impossible to think about the racquet without conjuring up images of the player.
When thinking about such a list, the racquets of Pete Sampras, Andre Agassi and John McEnroe come to mind. With the rise of Spain's No.1 player, we can surely add Rafael Nadal to that list.
How can anyone look at a Babolat AeroPro Drive and not be reminded of the unbelievable spin creation and shot-making prowess of Rafa? We certainly can't.
Here we put the latest version, the AeroPro Drive GT, to the test. This is the third version of Rafa's racquet and it's been updated with Graphite Tungsten (GT). The goal of adding GT to the construction is to improve stability, power and control.
More power, more stability and more control! Sounds pretty cool to us. With that in mind we hit the courts for a month-long playtest. Here are our findings.
Groundstrokes - Score: 84
What impressed our playtesters the most about the AeroPro Drive GT was the power and access to spin from the baseline.
Jason was reminded of how much he enjoyed the AeroPro Drive line. He said, "It's been some time since I've last hit with the AeroPro Drive racquets. I forgot how much I love them for groundstrokes. The increase in power I get from this stick versus my own is quite noticeable. I was able to hit heavy shots with great pace and depth. Even on my backhand, which is my considerably weaker side, I was able to hit occasional winners. I did find that I was floating more of my slices than I'm used to. When I was able to really connect on one, it would be a very dirty slice indeed! Maneuverability was never an issue because it was light enough that I could muscle the racquet into place if I had to."
"As with previous versions of the AeroPro Drive, this GT version impressed me immediately with spin and power," said Chris. "I was getting lots of pace on shots, and all the spin helped me keep my shots within the lines. I preferred this one strung with a co-poly string, as it allowed me to maximize spin. With a co-poly I could also take big cuts at the ball without fear of over-hitting. I enjoyed the feel of this racquet, and it felt pretty solid considering its low weight and stiff frame design. I was finding some nice touch and felt confident moving the ball around, and hitting drop shots. For me, this version has the best feel of all of the AeroPro Drives. All other aspects, such as power, spin and maneuverability felt on par, so it really came down to feel, and this new GT version won in that department."
Being more aggressive from the baseline was Tiffani, saying, "The AeroPro Drive in all its iterations is known as an extremely spin-friendly racquet, and I found this GT version to be no different. Though I'm not a player who hits with heavy topspin, I did find spin there whenever I wanted it. As a player who prefers to hit through the ball, what impressed me the most about the AeroPro Drive GT was the power level. In general, I like to take the ball on the rise and use my opponent's power, but I felt the racquet's stiffness allowed me to generate plenty of pop on my own. Shots were easily sent deep into the court, making it easier to get me a short mid-court ball I could attack. Overall, this racquet was comfortable and easy to use from the baseline."
Sean uses the previous Cortex version of the AeroPro Drive and felt the GT offered a solid update, saying, "I felt like the new GT technology was more apparent on my forehand and backhand than any other shot. I definitely felt like I got a more solid and comfortable hit from this version than the Cortex version, and I was impressed by the stability I found when the ball was mis-hit slightly. On the other hand, I had some trouble finding my range depth wise, and it seemed like this one offered a little bit more power, compared to my version."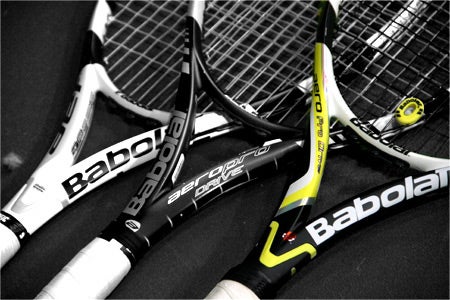 Volleys - Score: 79
Up at net, our TW team enjoyed the AeroPro Drive GT the most for its assistance in putting shots away with power and accuracy.
Sean liked the way the racquet handled. He said, "As with the Cortex version of this racquet, volleys felt solid and had a good blend of touch and put away power. I liked the maneuverability it offered, and I was easily keeping my volleys deep in the court. My only dislike was a slight lack of touch when it came to placing volleys, but with a high stiffness rating, I wasn't too surprised that power won out over feel for me."
"The racquet seemed to be at its best when hitting punch volleys or overheads," said Jason, who loved the added pop. "Pretty much with any shot that needed some added firepower, this stick delivered. But when I tried to hit touch volleys or drop shots, the touch wasn't all there. The stiff frame, combined with the lively string bed, made for a tough time hitting finesse shots for me."
Loving the versatility of the racquet was Chris, saying, "I was impressed by the mobility and pop the most at net. I was able to get some effortless pace and depth. The feel was there, too. I was able to hit angle and drop volleys well and felt in touch with my targeting. Again, I preferred the feel of this one compared to previous versions. On high volleys and overheads I was able to snap the ball away with good pace, and I felt I did a good job utilizing the power I was finding."
"I'll preface my comments by saying that volleys are the weakest part of my game," said Tiffani, who found the racquet easy to move around. "With that said, the AeroPro Drive GT performed OK for me at net. Mobility was good, and the racquet always felt solid. The only aspect I think I struggled with was variety. I felt most confident and consistent when trying to punch volleys, so I rarely tried to mix it up with short angles or other touch shots."
Serves - Score: 79
Once again, the power and spin was impressive, allowing our playtesters to serve with consistency and pace.
Able to be aggressive with his second serve was Sean. He said, "As with the Pure Drive, I found this racquet had a good deal of power to use when it came to the serve. It was easy to flatten out a big first serve if needed, but the real weapon was the ability to hit an aggressive second serve to get myself into the point. The open string pattern really grabbed the ball, making kick serves a blast."
"If you're a player looking to slice or kick in all your serves, then this stick is going to be quite an asset," said Jason, who loved how dependable the racquet was. "I'm that type of player. I found great consistency serving with this racquet. Directional control was pretty good as well. On rare occasions I would try to take a crack at a first serve. The power was there, but the control wasn't. I'd chalk that up to user error more than anything else."
The racquet helped Tiffani add some extra pop to her serve. She said, "While hitting groundstrokes I was pleasantly surprised at how easily I could flatten out the ball. When serving, I found the spin-friendly aspects of the racquet to really shine. I don't hit monster serves, but I felt that I was getting some additional action on the ball that I usually don't see. While my serve didn't become a weapon, they were strong enough that I was not immediately on the defensive."
Chris was able to easily mix up his serves, saying, "This was a fun racquet to serve with. I was very happy with the pace and spin I was finding. My consistency was good and I felt confident every time I stepped up to the line. When hitting flat serves I was getting enough pace to set me up for a short put-away, and at times I was able to end the point with a service winner. When hitting second serves, or just looking to hit with some spin, I was able to get the ball to kick nicely."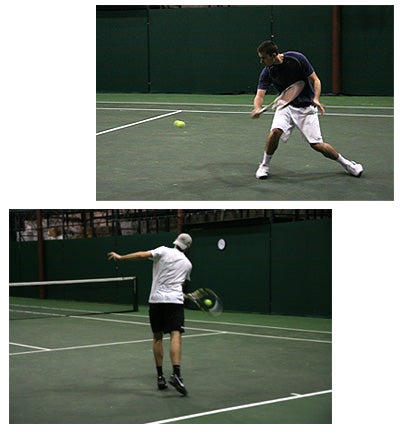 Serve Returns - Score: 82
Power, maneuverability and spin helped make the AeroPro Drive GT an exceptional racquet on returns.
"Returning serve was fantastic for me with the AeroPro Drive GT," said Tiffani, who was returning with confidence. "Maneuverability was great. I felt like I could take a confident, aggressive cut at serves because I got plenty of control from the AeroPro Drive GT. When it came to harder hit serves, that mobility again came into play, helping me get the racquet on more serves. Stability was nice as well, and I always had confidence the racquet would be up to the task."
Chris was returning well in both singles and doubles. He said, "My returns were solid with this racquet. I found myself continually impressed with both the power and the spin that I could impart on my returns with little backswing. When I was stretched wide there was enough racquet to help me block the ball back deep and still feel in control. During doubles I was getting enough spin to drop the ball low at the incoming volleyer, as well as to mix in some pace if needed."
Jason agreed. He added, "As much as I liked hitting groundstrokes with this racquet, I might like it a tad more for returns. I was able to really crack a return back on serves coming to my forehand, and I enjoyed hitting some nicely angled returns with it in doubles. The ability to generate great racquet head speed really allowed me to hit the ball deep and spin it inside the line."
"Stepping inside the baseline to take some good cuts at the return is always a great confidence booster, and with this racquet it was easy to stay aggressive," said Sean. "Whether I was hitting all out on the return or simply slicing it back to put myself in the point, my returns stayed deep and always gave me a chance to win the point. Catching a return off-center was definitely not as much of a problem with this newer version compared to the Cortex. I found a lot more stability, especially when getting back some of those big serves from my opponent, which helped to neutralize their advantage."
Overall - Score: 82
With each generation, we feel Babolat managed to make subtle improvements to the AeroPro Drive line. This latest offering continues that trend. Our playtest team found this racquet provides a more solid and stable response from all areas of the court. The playtesters were impressed with the power and spin they were able to generate. The open string pattern offered lots of bite and a lively feel. While our testers could not whip up as much spin as Rafa, all noted that they were getting some extra action on shots with this racquet. Up at net, our TW team was able to use the maneuverability and power to put away most volleys. The extra power was welcome on serves, too. Most impressively, the added power came without any sacrifice in consistency. While the core characteristics of the AeroPro Drive remain unchanged, we feel this update takes it to the next level. For the 4.0 recreational player and above, if you are looking to add some power and spin to your game, this racquet is an absolute must demo.
Likes
Chris - "I liked the power and spin I found from all areas of the court. The feel was good, too, and I was hitting some nice touch shots with this racquet."
Jason - "Really loved the power and spin. It was addicting. Great ball pocketing. I could feel the dwell time."
Tiffani - "I was impressed by the solid feel and comfort level. The playtest racqet felt good even when it was strung with poly."
Sean - "Great access to spin, a great balance of power and control, added stability thanks to GT technology and some sweet new graphics. What's not to like?"
Dislikes
Chris "Not much for me, as I came away very impressed. I would add some weight for a little more drive on slice shots, but that's it. A nice stick, in my opinion."
Jason "I love it, but since I have some existing arm issues I would be concerned with the stiffness level. It lacked touch on finesse shots."
Tiffani "I would have liked to see Babolat put on the SkinFeel grip instead of the Syntec Grip. The grip felt just a little bit too large for its listed size."
Sean "My only disappointment was that I needed a little more feel and precision on my volleys."
Technical Specifications

Length
27 inches
69 centimeters
Head Size
100 square inches
645 square centimeters
Weight
11.3 ounces
320 grams
Balance Point
13 inches
33 centimeters
4pts Head Light
Construction
24mm-26mm-23mm
Composition
Graphite Tungsten
String Pattern
16 Mains / 19 Crosses

Babolat RDC Ratings

Score
Grade
Flex Rating
70
Range: 0-100
Swing Weight
331
Range: 200-400
Babolat AeroPro Drive GT Scores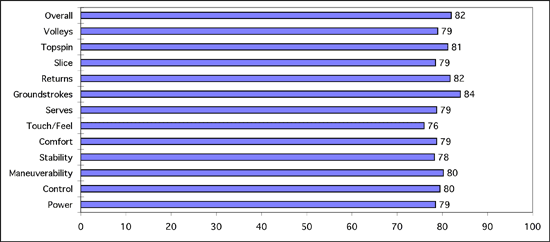 (Scores are determined by averaging individual play test scores)
Chris' Scores
Power
7.8
Serves
7.8
Control
8
Groundstrokes
8.2
Maneuverability
8
Returns
8.2
Stability
7.6
Slice
7.7
Comfort
8
Topspin
8.4
Touch/Feel
7.9
Volleys
8
Overall
8.2
Sean's Scores
Power
7.8
Serves
8
Control
7.9
Groundstrokes
8.4
Maneuverability
8
Returns
7.9
Stability
8
Slice
8
Comfort
8.2
Topspin
8.1
Touch/Feel
7.5
Volleys
8
Overall
8.2
Jason's Scores
Power
8
Serves
7.9
Control
7.9
Groundstrokes
8.5
Maneuverability
8.2
Returns
8.6
Stability
8
Slice
8
Comfort
7.6
Topspin
8
Touch/Feel
7.5
Volleys
7.9
Overall
8.4
Tiffani's Scores
Power
7.8
Serves
7.8
Control
8
Groundstrokes
8.5
Maneuverability
7.9
Returns
8
Stability
7.7
Slice
7.7
Comfort
7.7
Topspin
8
Touch/Feel
7.5
Volleys
7.7
Overall
8
Playtester Profiles
Chris: 5.0 All court player currently using the Volkl Power Bridge 10 Mid. Chris uses a full-western forehand grip, has a fast swing style and hits a two-handed backhand.
Sean: 4.5 baseliner using the Babolat Aeropro Drive Cortex. Sean has a semi-western forehand, 1 handed backhand.
Jason: 4.0 baseliner with a semi-western forehand and one handed backhand. Currently using a customized Volkl Power Bridge 9.
Tiffani: 4.0 level baseliner with a semiwestern grip on the forehand and hits a two-handed backhand. Currently playing with the Yonex RDS 003 (08 version).

Review date: January 2010. If you found this review interesting or have further questions or comments please contact us.
All content copyright 2010 Tennis Warehouse.