Ashaway MonoGut ZX String Review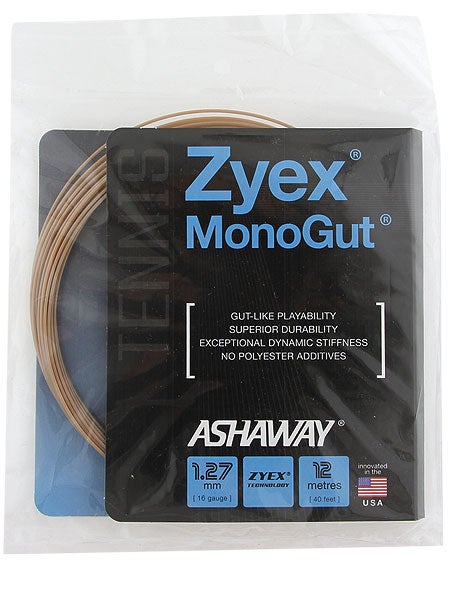 Ashaway MonoGut ZX String Scores
Power
85
Spin
80
Comfort
80
Control
73
Touch
77
String Movement
83
Playability Duration
69
Durability
83
Overall
80
Summary
Despite the fact that Ashaway MonoGut ZX is a monofilament that comes out of its package firm and wiry, it is not a polyester. And despite the almost unbelievably low stiffness score it received in the Tennis Warehouse string lab, it is not a multifilament or a natural gut. Made entirely of Zyex, MonoGut ZX is utterly and completely unique. Unlike polyester, which is the typical material from which monofilaments are made, Zyex is stretchy and has noticeably more give at impact. According to our two poly players, the upside of this interesting substance came in the form of added comfort and power. The downside, especially for our open level player, was less control and predictability on big swings. For this reason we needed a couple of tries to find an optimal string tension. Ultimately, MonoGut ZX is a good option for the player in search of power and comfort (along with ample spin-potential and durability). It's also one of the more interesting strings to come out in a long time.
Power - Score: 85
Though it looks like a poly, MonoGut ZX played like a lively multifilament for Brittany. Needing higher tensions to tame the power, she said, "This is a very powerful string, especially when strung in the low 50s. Since I can create a lot of my own power I don't need much extra pop from my string, however, I do like to have a little easy power on hand. I found that when I strung this string in the mid to upper 50s there was a better balance of power and control. When strung in the low 60s the string became very, very low powered, especially when freshly strung. After a couple of days, though, I found the ball to be launching off my racquet with too much power. So, finding the right tension was key to achieving the right balance of power and control."
Troy found MonoGut ZX to be more powerful than his go to poly, but he had an easy time adjusting. He said, "I'm strictly a poly string user, and this Monogut ZX provided some added power compared to the lower power strings I'm used to. I noticed the added power when hitting a big flat forehand. I could feel the ball launching off the stringbed with some extra pop. To my surprise, the added power wasn't as hard to control as it is for me with a multifilament nylon string. I didn't have to hold back on my groundstrokes to keep the ball from flying long like I do with a multifilament."
Spin - Score: 80
For our team, MonoGut ZX was pretty impressive in the spin department. Troy found the bite and snapback to be on par with some of his trusted co-polys, saying, "I found the spin potential of this string to be right up there with most co-poly strings that I have used. I definitely felt that I was able to generate more spin with this string compared to nylon multifilament strings. I felt that the strings not only gripped the ball well, but also seemed to slide well, creating that 'snap-back' feel to increase rpm's on the ball."
Even after the tension dropped Brittany experienced decent spin potential. She said, "I thought the spin potential on this string was a little above average. While the string didn't grab the ball like a textured poly, I still found I could generate enough spin to keep the ball in the court. This was most noticeable when I was hitting angles to pull my opponents off the court or pass them at the net. This is one of the characteristics I felt that stayed constant no matter what tension the string was at."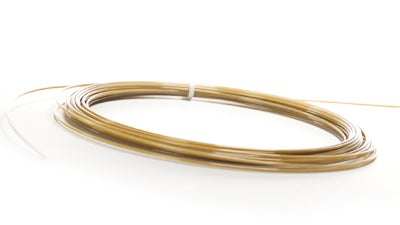 Comfort - Score: 80
MonoGut ZX received a remarkably low stiffness score from the TW string lab. This likely explains why Brittany found it so arm-friendly. She said, "I had no problems with comfort. I found this to be a very arm-friendly string no matter where I hit the ball on the stringbed. While my goal is to hit the ball in the sweet spot every time, sometimes it doesn't happen. Off center shots were still comfortable to hit. However, I did notice that when it was strung in the 60s the string felt stiffer and definitely not as comfortable compared to when it was strung in the 50s."
For Troy, the comfort level, like the spin, was on par with the softer, more elastic co-polys. He said, "The comfort of this string was mediocre for me. This string felt a bit more dampened than a traditional polyester but not much different from a soft co-poly, such as Kirschbaum Pro Line II or Tourna Big Hitter Blue, when strung at a low tension (40-45 lbs.). It was firmer and crisper than your typical nylon multifilament, such as Wilson NXT. I found it to be about as comfortable as a hybrid with polyester mains and a nylon solid core in the crosses."
Control - Score: 73
Even though our two big hitters found MonoGut ZX to have less control than a poly-based string, Troy was still able to swing big with this one. He said, "I am a pretty big stickler on control, when it comes to strings and racquets, because I like to swing out without having to hold back. This string has above average control, but still does not match a full-bed of polyester. I felt that I could take big cuts at the ball without hitting long, but when hitting close to the lines I found this string less trusty than my typical poly set-up. This has a bit more control than most hybrids I have tried."
For Brittany, getting the tension right was absolutely key to optimizing the control. She said, "I probably sound like a broken record at this point, but tension played a key role in how much control the string had. If it was strung too low (low 50s) there was very little control. I found this to be most evident on returns, as I have never had so many fly long. I noticed the tighter the string was strung the more control I had."
Playability Duration - Score: 69
Though Ashaway MonoGut ZX retained its playability quite well for our team, Brittany, again, discovered that string tension was the master variable. She said, "Like most of my other comments, I found that the overall playability really varied depending on what the tension was. The tighter it was strung (low 60s) the quicker the tension dropped. When I strung it at 61 the tension dropped quicker and more significantly than when I strung it in the mid 50s. When strung in the mid 50s it remained much more consistent for one to two weeks."
"I found that the tension maintenance was better than most polyester strings," said Troy, who noticed some changes after several hitting sessions. He added, "After about 10 hours of play I was noticing a bit more spring in the stringbed, as well as some frictional notching that seemed to take away from the spin."
Overall - Score: 80
Likes
Brittany - "I loved the combination of power and control when strung in the mid 50s."
Troy - "Good spin potential, as well as better dampening than traditional polyester."
Dislikes
Brittany - "The string characteristics varied depending on tension. When it was strung too high (low 60s) it felt stiff and low powered. When I strung it in the low 50s there was too much power."
Troy - "Not bad control, but I didn't feel as dialed in as I do with a full bed of co-poly strings. The sound upon impact was a bit foreign to me; it had a higher-pitch and didn't have the "pop" sound that most polyester strings have."
Comparing the string to others they've tried, our testers said:
Brittany - "It is really tough to compare this string to any other string I have hit. With such different characteristics at different tensions, it really is a one of a kind string. I loved the feel of this string, and when I found my ideal tension it had a perfect combination of power and control for me."
Troy - "This string doesn't have the control or tension maintenance that I am growing to love from 4G, which is my go-to string. I have found this string to be much more reliable and spin-friendly than any nylon based string I have used before. Aside from the foreign sound that this string makes, I would prefer this string to a traditional hybrid of polyester/multifilament nylon. As long as my arms stay healthy a full-bed of co-poly (Luxilon 4G) strung between 40-45 lbs. will be my preference."
Scores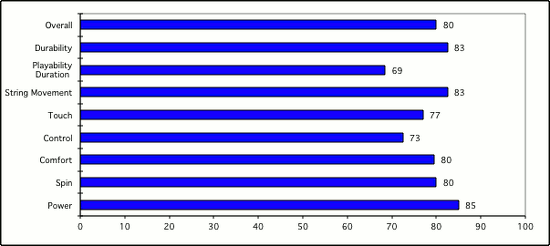 (Scores are determined by averaging individual play test scores)
Brittany's Scores
Power
9
Playability Duration
6
Spin
7.5
Durability
8.5
Comfort
8
Control
7.2
Touch
8.4
String Movement
8.5
Overall
8.2
Troy's Scores
Power
8
Playability Duration
7.7
Spin
8.5
Durability
8
Comfort
7.9
Control
7.3
Touch
7
String Movement
8
Overall
7.8
Playtester String Setups
Brittany:
Racquet: Yonex VCORE 100S
Playtest Tension: 51 lbs, 56lbs, 61 lbs
Usual String: Polyester 16g
Troy:
Racquet: Wilson BLX Six.One 95 (18x20)
Playtest Tension: 43 lbs
Usual String: Luxilon 4G 1.25

Review date: May 2013. If you found this review interesting or have further questions or comments please contact us.
All content copyright 2013 Tennis Warehouse.