Yonex VCORE Xi 98 Racquet Review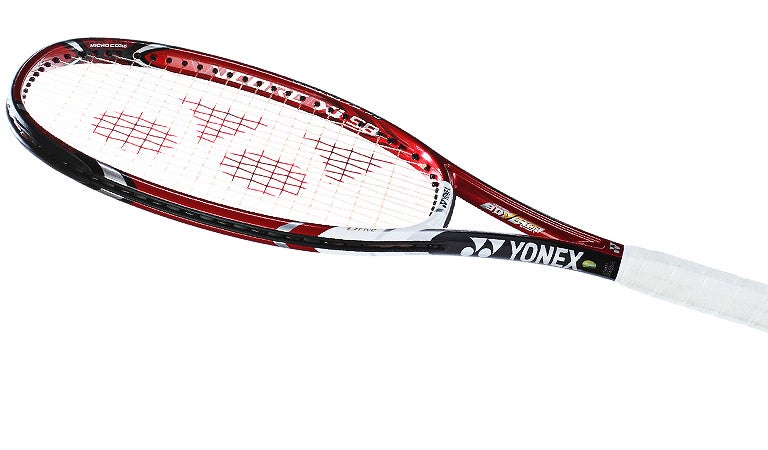 Yonex VCORE Xi 98 Scores
Comfort
80
Touch/Feel
77
Serves
81
Groundstrokes
81
Returns
81
Slice
80
Topspin
81
Volleys
82
Overall
81
Upsides
Stability
Power
Maneuverability
Downsides
Nothing we could agree on
Summary
As an update to the VCORE 98 D, the Yonex VCORE Xi 98 brings playability and comfort to the tennis court. Our playtest team loved the stability, the cushioned response and the access to spin. They also found it easy to swing. While power was available on serve and volleys, some of the team found it to be slightly lacking on groundstrokes. Despite this lack in power our playtest team was able to hit with good depth, and they found they were able to keep their opponents on their toes. The larger sweetspot of the VCORE Xi 98 offered a generous response and solid plow through. Stability and control provided a consistent response off the stringbed. As a comfortable update to an already comfortable and control-oriented racquet, this VCORE Xi 98 adds some stability for the player looking for a more solid response.
Groundstrokes - Score: 81
Despite the Yonex VCORE Xi 98's larger sweetspot and plow through providing comfort all over the court, opinions varied on the power and crispness of the response. Chris found the Xi 98 to be a very forgiving, comfortable and easy racquet to use, but didn't enjoy the dampened feel. He said, "The sweetspot felt very generous and I was able to rally with effortless depth, pace and spin. Even with a stiff poly string, I found the racquet to be very, very comfortable. However, the racquet felt overly dampened to me. I thought the previous version felt a tad too dampened, but this one is dampened further still. While it made the comfort great, it left me feeling too disconnected from where the ball was going. This wasn't an issue when I was rallying, but when I was pressing and looking to be aggressive I found my play to be too error prone. I would have liked more feel on my passing shots, and when going for angles. I found myself struggling to dial in my targets and unable to make the correction with this racquet."
Falling right into rhythm on the baseline was Spencer, who said, "It didn't take me too long to get comfortable with this stick from the baseline. The maneuverability allowed me to really whip through my forehand. The easy access to swing speed and the open string pattern helped me hit with a lot of topspin. I was also happy with the depth. On the backhand side, the racquet gave me the confidence to come over the top of the ball. I felt a crispness when slicing, and I felt I was driving the slice, as opposed to floating it. Overall I was quite happy. I could hit all my shots from the baseline with confidence."
Karly liked the large sweetspot and the plow through. She said, "This was my first time playing with a Yonex racquet, and I was really happy with the smooth transition period. Prior to hitting I was curious if it would take a little while to get used to the different head shape, but that wasn't the case for me. The sweetspot was large and felt extremely stable. I especially enjoyed the exceptional plow through I got when swinging through my stroke. The mass of the frame made it very easy to drive through the ball and send shots deep; worrying about hitting short balls was never an issue. However, that mass also made swinging the frame somewhat tiring on my arm. The maneuverability was probably the hardest adjustment for me, especially when trying to put topspin on the ball to keep my shots from going long. If I didn't know better I would've thought this racquet was a half inch longer than standard length."
Jason sang the praises of the Xi 98's maneuverability but wanted a bit more power. He explained, "I enjoyed pretty much every aspect of this racquet from the ground. I thought it was fairly easy to swing, so I was able to hit some nice angles. Both topspin and slice shots were great thanks to the open string pattern. I felt connected to all my shots, and as a result I was even able to hit some good drop shots. My one major issue was the power, or lack thereof. I was having trouble hitting my shots consistently deep with pace, and it was even more evident when I was hitting on the run. I didn't think I'd ever say this, but I wish this racquet had a higher swingweight, just to up the power level."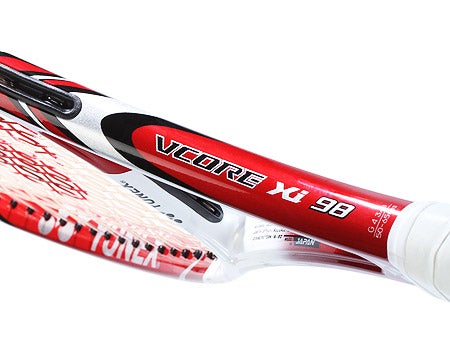 Volleys - Score: 82
Stability and the control provided a more consistently enjoyable experience at the net than from the baseline. Spencer enjoyed the response on volleys, saying, "The Xi 98 offered a nice balance of stability and maneuverability on volleys. I liked the solid feel, and because of its forgiving stringbed I felt I converted many volleys, even when I was a bit off center."
Jason found comfort in the stability and power he found at the net. He said, "For having such a low swingweight, this racquet was quite stable. There was enough mass in the hoop to punch shots back. The low powered feeling I had with my groundstrokes was not an issue up at net. My touch shots were good, as well as my angled volleys. This racquet definitely inspired confidence."
"I much preferred the response of this racquet at net," said Chris. "It offered just enough stability to withstand heavy exchanges, yet it felt very light and maneuverable. I was able to punch volleys away and enjoyed the fast feel of the racquet when having to react quickly. I played quite a lot of doubles with this racquet and found it well suited to the faster exchanges of doubles rather than the drawn out and tactical play of singles from the baseline."
The comfort and feel were great up at net for Karly. She said, "My favorite shot was volleying with this racquet because it felt so crisp and stable. I also thought the racquet had great touch. Whether going for a drop shot or a half volley while rushing the net, the racquet made it extremely easy to have soft hands and place the ball short. However, like with groundstrokes, I thought the maneuverability of the racquet could've been better. I had to make sure I hit with short, compact strokes, otherwise I would be late on my swing and the ball would get away from me."
Serves - Score: 81
With power being more accessible on serves, there was more consistent pace to match the racquet's maneuverability. Finding power but nursing a tired arm was Karly, who really enjoyed placing the ball with this racquet. She offered, "Like my other strokes, the plow through and weight let me swing through my stroke effortlessly. Serving was where I found the most power, and it came so easily. I loved how much leverage and depth I could get with the mass behind the ball. I also thought I got a good amount of control along with all that power; placing the ball in the direction I wanted came easily. A downside of the mass was that I found my shoulder getting sore faster than usual. This racquet was fairly tiring on my arm when serving."
Spencer found a good rhythm with the Xi 98 and accessed his kick serves. He explained, "Spin was the biggest factor for me when serving. I liked the amount of kick I could get. Power was so-so, but that's more the player than the equipment. Much like groundies, the Xi 98 helped my confidence, thus I was hitting a high percentage of serves. I was also able to put a little more oomph into my second serves for better effectiveness."
Although the racquet was steady, Jason couldn't find the extra spark he was looking for. He said, "When I hit the ball just right I felt like I could really put some oomph on my serves, but for the most part I thought this racquet was average. Average power, average spin and average control. The good thing was that it was easy to swing, so I could produce a consistent result."
As usual, Chris would have liked to add some weight to the Xi 98, but he felt like he served well with this racquet. He said, "I was finding good pace and easy access to spin. The racquet felt very fast and easy to maneuver, so my racquet head speed felt good. I could add some weight to beef up my first serves, but even in stock form I felt like I was getting some nice zip on the ball. The easy access to spin allowed me to be aggressive on second serves and put a little more pace on the ball than I'd dare with other racquets."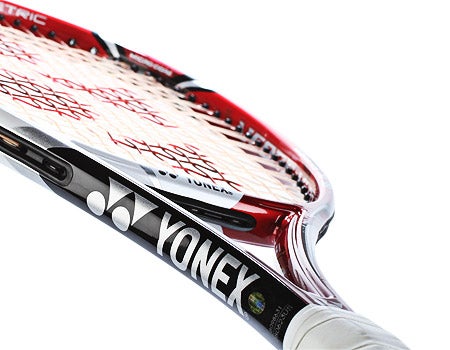 Serve Returns - Score: 81
Most of the playtesters really settled into hitting serve returns with the Yonex VCORE Xi 98. With the sweetspot giving our playtesters good pop, they were able to rip the ball deep into the court. Liking how whippy the racquet felt was Jason liked the whippiness of the Xi 98. He said, "Because I could use the pace from the serve I was able to hit a deeper shot than I was hitting on my groundstrokes. I liked how maneuverable it was. I could get my racquet into place, even for serves into the body."
"Returning was probably the hardest area for me to get used to with this racquet because of the maneuverability," said Karly, who struggled with getting the racquet around on serve returns. "I had to make sure I shortened my swing more than usual to prevent me from hitting the ball late, especially when hitting against fast servers. Once I made contact the racquet had good pop and feel, so my returns felt extremely crisp and I was able to get them back into play with decent pace."
Chris found his groove taking big cuts at the ball. "This was another area where I enjoyed the response of this racquet. I was able to take a good crack at serves and return them with solid pace and spin. I liked the response the most when taking a rip at the ball, rather than trying to be intricate and flirt with the lines. Again, I just felt a little too disconnected to be delicate. However, the racquet felt great when I was knifing a slice return or blasting a topspin return!"
Spencer felt the steady response of the Xi 98 on returns and liked his consistency. He said, "The maneuverability and solid feel were what stood out. A respectable sweetspot helped me out, to boot. I felt my return percentage was good and I was able to put the ball back with some depth, giving me better momentum in the points."
Overall - Score: 81
Likes
Chris - "I liked the power, spin, maneuverability and comfortable response. It also felt surprisingly solid for how fast and maneuverable it felt, which made it a solid doubles stick for me."
Spencer - "The all around playability. Being able to feel confident with all the shots. This racquet performs in all areas."
Karly - "The stability and crisp feel, especially up at net, were great."
Jason - "Easy to swing. Nice access to spin and very solid feel."
Dislikes
Chris - "This racquet felt too dampened. I felt too disconnected from where the ball was going on passing shots and aggressive angles. I found myself over-hitting too often with this racquet."
Spencer - "None."
Karly - "The lack of maneuverability was hard on my arm when playing against harder hitters."
Jason - "It did many things well, but nothing exceptionally well. It lacked a bit of power."
Comparing the racquet to others they've tried, our testers said:
Chris - "It is more dampened than the racquet it replaces. I really enjoyed it during doubles but not so much when playing singles. I found the racquet fast and effective at net and I liked the power on serves, returns and volleys, but it lacked consistency and feel from the baseline. In that regard, it reminded me a lot of the Prince EXO3 Black. I liked that racquet for doubles but would quickly put it down when playing singles for the same reasons."
Spencer - "I didn't officially test the VCORE 98, but I did do a side by side comparison. Though very similar in most regards, I did feel the previous version was a tad more powerful and erratic. Again, that's being pretty nit-picky."
Karly - "I'd say the Yonex VCORE Xi 98 was comparable to the Babolat Pure Storm Team GT in terms of maneuverability and depth. I thought both frames had good plow through and leverage, but their maneuverability made them seem heavier and longer than they actually were."
Jason - "This is definitely the replacement for the Yonex VCORE 98D, but with improved feel and stability."
Technical Specifications

Length
27 inches
69 centimeters
Head Size
98 square inches
632 square centimeters
Weight
11.4 ounces
323 grams
Balance Point
12.75 inches
33 centimeters
6 Pts Head Light
Construction
22.5mm / 22.5mm / 22mm
Composition
H.M Graphite / X-Fullerene / Micro Core
String Pattern
16 Mains / 20 Crosses

Babolat RDC Ratings

Score

Grade

Flex Rating
69
Range: 0-100
Swing Weight
311
Range: 200-400
Scores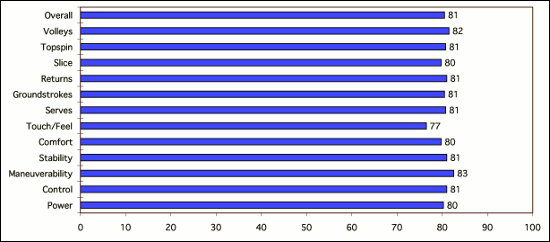 (Scores are determined by averaging individual play test scores)
Chris' Scores
Power
8.3
Serves
8
Control
7.4
Groundstrokes
7.5
Maneuverability
8.4
Returns
8
Stability
7.8
Slice
8
Comfort
8.4
Topspin
8.3
Touch/Feel
6.4
Volleys
8
Overall
7.7
Karly's Scores
Power
8.1
Serves
8.5
Control
8.3
Groundstrokes
8.2
Maneuverability
7.4
Returns
8
Stability
8.4
Slice
7.9
Comfort
8.2
Topspin
7.6
Touch/Feel
8.4
Volleys
8.6
Overall
8.3
Spencer's Scores
Power
8
Serves
7.9
Control
8.3
Groundstrokes
8.4
Maneuverability
8.4
Returns
8.4
Stability
8
Slice
8
Comfort
7.8
Topspin
8.4
Touch/Feel
7.8
Volleys
8
Overall
8.2
Jason's Scores
Power
7.7
Serves
7.9
Control
8.4
Groundstrokes
8.1
Maneuverability
8.8
Returns
8
Stability
8.2
Slice
8
Comfort
7.5
Topspin
8
Touch/Feel
8
Volleys
8
Overall
8
Playtester Profiles
Chris: 5.0 all-court player currently using the Volkl C10 Pro 2012. Chris uses a full-western forehand grip, has a fast swing style and hits a one-handed backhand.
Karly: 4.0 baseline player currently playing with the Wilson nCode nTour. She hits with a semi-western forehand grip and uses a two handed backhand.
Spencer: 4.5 baseliner with a semi-western forehand and one handed backhand. Currently using a Wilson K-Blade Tour.
Jason: 4.0 baseliner with a semi-western forehand and two handed backhand. Currently using a customized Boris Becker Delta Core NYC.

Review date: January 2013. If you found this review interesting or have further questions or comments please contact us.
All content copyright 2013 Tennis Warehouse.