Yonex VCORE Tour G 330 Racquet Review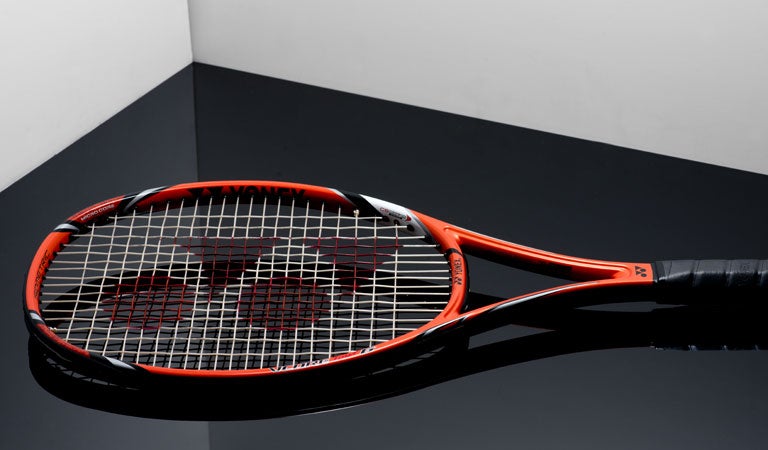 Yonex VCORE Tour G 330 Scores
Power
83
Comfort
89
Touch/Feel
87
Serves
76
Groundstrokes
81
Returns
78
Slice
88
Topspin
78
Volleys
88
Overall
82
Upsides
Rock solid stability
Plow through
Touch and feel
Summary
After seeing Stan "The Man" Wawrinka win his first Grand Slam title with the Yonex VCORE Tour G 330 at the 2014 Australian Open, we were just as excited as the rest of the world to get this racquet in our hands. From the start, our team noticed how plush, comfortable and responsive this racquet was, and that it offered an almost perfect connection to the ball as it left the strings. It's very hefty, which gave it tremendous stability and plow through against even the hardest hitting opponents. Unfortunately, that weight worked against our playtesters when they really needed to swing the racquet fast. All of our playtesters found the VCORE Tour G 330 to be pretty sluggish at times, and even our playtesters who prefer a heavier racquet found it to be a bit cumbersome. With that said, shots that were struck cleanly were hit with tons of pace and spin, making us feel like we were bashing the ball like Stan the Man himself!
Groundstrokes - Score: 81
Our playtesters loved the plush, rock solid feel the VCORE Tour G 330 offered from the baseline, but at times they found it to be a bit sluggish and difficult to swing. Andy loved the feel of the racquet but found the heavier feel made him lose control of his groundstrokes occasionally. He explained, "This thing played rock solid from the baseline. The heavy weight gave it some great stability and plow through at impact, and my shots were penetrating through the court nicely. The feel was plush, comfortable and responsive, and I felt totally connected to the ball as it left my strings. However, the racquet almost felt heavier than it actually was, and it was very hard to swing. When my opponent hit a hard shot at me, I'd often find myself making late contact because the racquet was just so difficult to get to the contact point. Because of that I didn't have the best control over my groundstrokes."
Chris really enjoyed the heft on his signature backhand slice, but he had some trouble on the forehand side. He said, "This racquet is an absolute beast from the baseline. It took a lot of effort to get it around. On the plus side, when I made contact out in front I was crushing groundstrokes with power and pace. This racquet definitely wins the war at contact, even against the heaviest hit shots. I loved the way I could knife my backhand slice with this racquet. I could drive that shot deep with pace and make it skid low -- what I like to call a 'dirty slice.' Hitting topspin backhands proved more challenging. I got the sense that a lot of the racquet's weight was centralized around the yoke, and that made it feel pretty sluggish. I couldn't brush up the back of the ball as easily as I can with heavier racquets that are more head light, and this racquet felt harder to maneuver than its mid-330s swingweight would suggest. It also felt a tad slow on my forehand. I was OK when I had time to set up, but I struggled when defending against fast moving shots landing near my baseline. I like to try to take the ball early whenever possible, but this racquet never really felt fast enough to allow me to comfortably execute that kind of play."
Even Troy, who's a fan of heavier frames, found the VCore Tour G 330 a bit tough to swing. He offered, "Most racquets I playtest feel fast and 'whippy' in comparison to my personal racquets, but not this one. The best word to describe this racquet is 'clubby.' Initially, I thought this racquet felt hefty with tons of plow through, but a little on the sluggish side. As time went on I started to groove with this racquet, and when I had the time to set up and take a full swing I could pancake the ball and crush some winners. The heft of this racquet cut through the ball with ease on slice backhands, allowing for low, penetrating shots through the court. This racquet was rock solid during heavy exchanges from the baseline. I enjoyed crowding the baseline, taking a short backswing and redirecting my opponent's shots."
The VCore Tour G 330 surpassed Mark's lofty expectations from the baseline, and it checked all the right boxes for him. He raved, "The two VCORE 97s that are the predecessors to the Tour G are among my all-time favorite Yonex frames, so I did have some pretty high expectations for the new Tour G. My first session with this was with Sean, and the Tour G 330 went a bit beyond what I hoped for. It felt really comfortable! I loved it from the ground, and it swung easily for a 12.2 ounce racquet with a 330ish swingweight."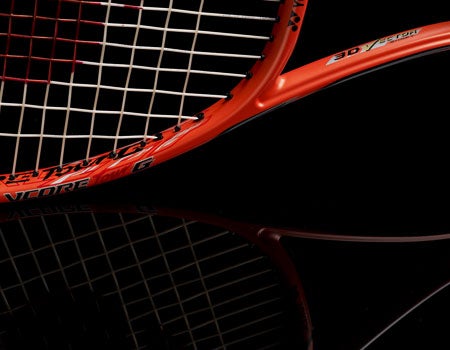 Volleys - Score: 88
The VCORE Tour G 330 performed much better for our playtest team at net, where the hefty weight was less noticeable and the solid, plush feel became more apparent. "I had much better success at net with this racquet," Chris said. "I liked the solid feel at impact, and the racquet resisted twisting very, very well. I found good power on pick-up volleys thanks to the rock solid response. I also liked the touch I found with this racquet. I was able to have a nice soft grip on the handle to find maximum touch since the racquet was so solid at impact. I found the feel to be crisp and precise when I was punching the ball deep. The racquet lost pretty much all of its cumbersomeness on the shorter stroke of the volley, and I felt most comfortable at net with it."
Troy, who also preferred volleying with the VCore Tour G 330, offered, "My favorite place to be with this racquet was at net, although it felt hefty and was a bit more difficult to maneuver at the net than my current racquet (Wilson Six.One 95). With that being said, you don't have to do much with this racquet to stick a penetrating volley. The mass and rock solid feel of this racquet made it extremely stable against heavy balls hit at me, and touch volleys came with ease. The racquet had good feedback, and the mass helped with directional control."
Just as Mark thought the playtest couldn't get any better, he went to the net. He said, "The Tour G was almost perfect for me on volleys. It was light enough for me to get into position and stable enough to fend off most passing shots. I loved it at net."
Echoing the other tester's sentiments was Andy, who confirmed, "The plush and responsive feel really helped at the net. This racquet felt great on volleys! I felt totally connected to every shot, whether I was punching a volley deep or going for a soft, finesse volley. The hefty weight gave it good stability against big hitters, and the lack of maneuverability didn't really come into play as long as I kept my hands out in front."
Serves - Score: 76
Our team had mixed feelings when it came to serving with the VCORE Tour G 330. Some of the testers, like Mark, really liked how the heft of the frame helped provide better pop on their serves. He said, "This was yet another area where the VCore Tour G 330 shone for me. Even with a 16x20 pattern, I was able to get the Tour 330 to grab hold of the tennis ball for lots of spin, and the overall weight let me add some extra MPHs without any extra effort."
Chris liked hitting his flatter serves with the VCore Tour G 330. He explained, "Serving was another area of my game where I found this racquet to be a good fit. I liked the way the racquet came through contact and offered easy power. I felt like I was putting the weight of the racquet to good use. My first serves had good heat, and I felt like they were pushing through the court with good weight behind them. My slice serve had a good mixture of pace and movement to it. I was able to get the ball to either swing away from a right hander's forehand or swing it into their body to tie them up. My second serves did not have tons of spin, but I found pretty solid consistency. I was hitting solid pace and getting just enough spin to help me get my serves to drop inside the box."
On the other hand, Troy had mixed results, and he struggled to find consistency. He said, "I had my ups and downs when serving with this racquet. I found that the control allowed me to have good placement of my serves within the service box. Flat first serves down the T were effective, and I found the mass working to my advantage. Kick serves were a bit more difficult for me because this racquet made it harder for me to snap and pronate my wrist. I was able to get good spin and kick on my serves, but it was difficult for me to do it consistently."
Andy never got dialed in on his serve, and the heft created issues with his accuracy. He said, "The cumbersome feel made it a little difficult to serve with the VCore Tour G 330. It almost felt like I was heaving the racquet up at the ball, and since I had to alter my swing a bit I didn't feel like I had great control over where the ball was going. The lack of maneuverability was most apparent when serving because I was never able to get into a rhythm."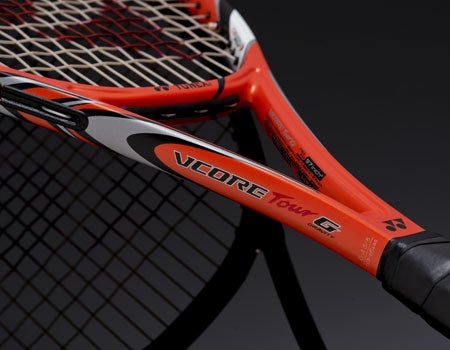 Serve Returns - Score: 78
Returning serve effectively with the VCORE Tour G 330 came down to shortening up their swings and letting the racquet do the work for our playtest team. When Troy did that, he consistently found success. He explained, "I loved how this racquet pushed the ball deep in the court with little added effort. The backhand chip return worked beautifully on serves when it was difficult to get a second hand on the racquet. When I was playing doubles the mass of this racquet helped me direct the ball cross court and away from the net man. If the net man was an active poacher, it was easy to chip a lob over his head to keep him in check. The maneuverability was a bit difficult at times, but most of the time I could take a short back swing and direct returns back with good pace and depth."
Chris returned effectively with the VCore Tour G 330 as long as he kept his aggressive tendencies in check. He said, "I returned well when I kept my strokes compact. With a short backswing I could make contact in front of my body and use the pace of the incoming ball and the mass of the racquet to hit a heavy return. I found myself relying on my slice backhand return even more than usual because this was a tough racquet for me to maneuver on my topspin backhand. I couldn't get away with much on my forehand, either. However, if I stayed disciplined I was able to hit some solid returns. I was also impressed by the comfort of this racquet. The response was very clean, and I felt well connected to the impact without feeling any annoying buzzing or shock."
Andy had a similar experience, saying, "As long as I was taking a compact swing at the ball the racquet came through with a super solid feel and helped me redirect returns to the corners. However, It was very difficult to get the racquet around my body any time I took a big swing. I felt like I had to go for a little less and let the racquet do most of the work for me on my return of serve."
Mark found that the VCore Tour G 330 helped him more on other strokes than it did on the return. He said, "This was one shot that the VCore Tour G 330 was not spot on for me. My return was fine; it was just that my other shots benefited more from this racquet than my return."
Overall - Score: 82
Likes
Chris - "I liked the stability, the touch and feel and the response on serves and volleys."
Andy - "Great plush and solid feel. I felt totally connected to the ball as it left the strings. Good plow through, stability and power."
Mark - "I loved the overall feel, and I could swing it comfortably and effectively from almost anywhere on the court. I appreciated how easy it was to generate spin with the 16x20 string pattern, along with it being forgiving on mis-hits. Lastly, I liked that it played well with a wide variety of string/tension configurations."
Troy - "Just about everything!"
Dislikes
Chris - "This racquet felt like it had too much weight around the balance point. I would add weight to the handle to make it very head light, just to see if I can get it to come around faster. As is, it just isn't maneuverable enough for me."
Andy - "It was very hard to maneuver, and because of that I didn't have the best command over my shots."
Mark - "Considering how well this racquet worked for me, I can't name one drawback. I even like the orange paint scheme."
Troy - "On certain shots, like kick serves and running forehands, the slightly higher swingweight was a bit of a detriment. And, as Stan The Man knows, this racquet only feels better with a leather grip!"
Comparing it to other racquets they've used, our testers said:
Chris - "I was reminded of the short lived adidas Barricade Tour when hitting with the VCORE Tour G 330. Both swung much heavier than one would imagine by just looking at the specs, and both felt like there was a ton of mass near the balance point. The Boris Becker Delta Core Legend was another stick that felt yoke or throat heavy, and I have to say, I'm not a fan. I just find that kind of feel to be too sluggish from the baseline."
Andy - "The racquet that kept coming to mind during this playtest was the Wilson Six.One 95. They both have exceptional feel and responsiveness and are kind of traditional player's frames. At the same time, they both felt heavy and were tough to maneuver for me. Actually, the way the weight was distributed made the VCORE Tour G even less maneuverable."
Mark - "You certainly have to mention the previous VCORE 97 330, along with the Head Prestige MP/Pro, Babolat Pure Strike Tour, ProKennex Ki Q Tour and Prince Response 97."
Troy - "The main difference for me between this Tour G 330 and the VCORE Tour 97 330 is that the stability and responsive feedback was improved with this Tour G version. The overall maneuverability of the VCORE Tour 97 was better, and I found it to swing nearly the same as my Six.One 95 (18x20). The hefty feel of the VCORE Tour G 330 was similar to the Dunlop Aerogel 4D 200 Tour. There are many things that correlate between this racquet and the Six.One 95. This Tour G 330 has a slightly bigger sweetspot, but I didn't quite feel as dialed-in to my shots as I do with the Six.One 95."
Technical Specifications

Length
27 inches
69 centimeters
Head Size
97 square inches
626 square centimeters
Weight
12.2 ounces
346 grams
Balance Point
12.65 inches
32 centimeters
7pts Head Light
Construction
20.5mm / 20.5mm / 20.5mm
Composition
H.M. Graphite, Micro Core
String Pattern
16 mains / 20 crosses

Babolat RDC Ratings

Score

Grade

Flex Rating
63
Range: 0-100
Swing Weight
333
Range: 200-400
Scores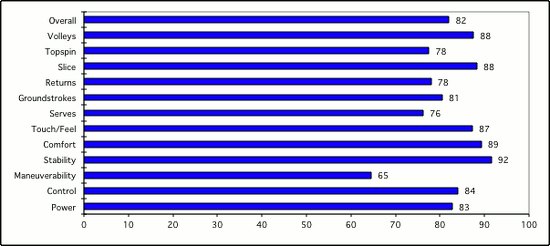 (Scores are determined by averaging individual play test scores)
Chris' Scores
Power
8.4
Serves
8.3
Control
8.6
Groundstrokes
7.5
Maneuverability
6
Returns
7.7
Stability
9
Slice
9
Comfort
8.8
Topspin
7.5
Touch/Feel
8.7
Volleys
9
Overall
7.5
Andy's Scores
Power
7.5
Serves
6
Control
7
Groundstrokes
7
Maneuverability
3
Returns
7
Stability
9.3
Slice
8.3
Comfort
9
Topspin
7
Touch/Feel
9
Volleys
8
Overall
7.8
Mark's Scores
Power
9
Serves
8.5
Control
9
Groundstrokes
9
Maneuverability
9
Returns
8
Stability
9
Slice
9
Comfort
9
Topspin
9
Touch/Feel
8.5
Volleys
9
Overall
9
Troy's Scores
Power
8.2
Serves
7.7
Control
9
Groundstrokes
8.7
Maneuverability
7.8
Returns
8.5
Stability
9.3
Slice
9
Comfort
8.9
Topspin
7.5
Touch/Feel
8.7
Volleys
9
Overall
8.5
Playtester Profiles
Chris: 5.0 all-court player currently using the Wilson Six.One 95S. Chris uses a full-western forehand grip, has a fast swing style and hits a one-handed backhand.
Andy: Open level all court player with a semi-western forehand grip and a two handed backhand. Andy currently using a Wilson Blade 98 18x20.
Mark: 5.0 lefty all-court player with a one-handed backhand. He currently plays with the Wilson Steam 99S.
Troy: 5.0 lefty all-court player with a full Western Forehand and a two-handed backhand. Troy currently plays with a Wilson BLX Six.One 95.

Review date: May 2014. If you found this review interesting or have further questions or comments please contact us.
All content copyright 2014 Tennis Warehouse.