Head Youtek Extreme Pro Review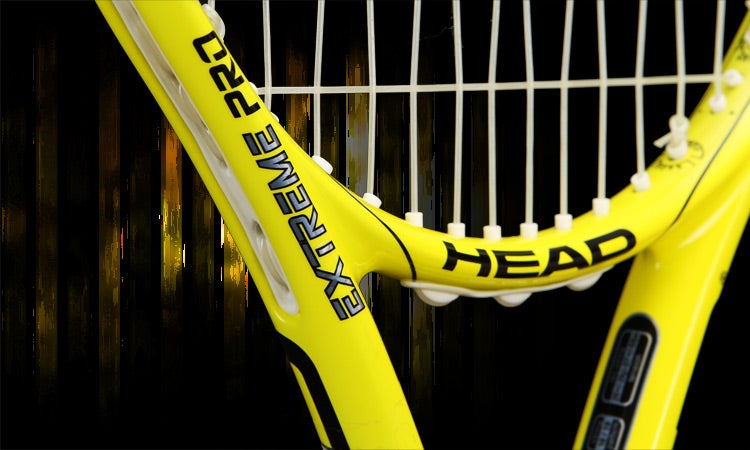 Even though it has "Pro" in its name, you don't have to be a professional level player to use this pro inspired stick.
At 11.7 ounces strung, the Youtek Extreme Pro packs some mass, but it's still a relatively easy racquet for us mere tennis mortals to swing. To help players swing through the ball easily, a six points head light balance places plenty of those 11.7 ounces closer to the handle. Surprisingly, the racquet has a 338 swingweight (RDC), but on the court most players will find it plenty manageable.
As its name implies, this third edition of the Extreme Pro features Youtek technologies. The primary technology is Head's use of the d3o. Designed to stiffen on big impacts and soften on subtle impacts, Head claims d3o can offer power or feel when needed.

To find out how this pro-inspired racquet performs in the real (non-professional) world, we handed it out to our test team.
Groundstrokes - Score: 83
Combining stability and power with a crisp response, the Youtek Extreme Pro offers some serious heat from the baseline.

Sean found the racquet to be a perfect fit for his game, offering, "Unlike the Midplus version, I felt absolutely comfortable with the Extreme Pro during baseline rallies. At about 11.7 oz, the combination of a solid feel and a lot of power was just what I was looking for. Spin production was awesome, as it always is with the Extreme series, and I loved the ability to really dictate points from the baseline."
Also playing well with the Youtek Extreme Pro was Chris. He said, "This was one solid feeling racquet from the baseline. I loved the plow through and rock solid feel at contact. What my Volkl Power Bridge 10 Mid does with softness and a smooth feel, this one does with crispness and a clean feel. I felt like I could hit all my usual shots, and even if the feel was different from what I'm used to, the results were the same. For me, this was another impressive version of the Extreme Pro, and I had no issues switching between it and the older versions. I was hitting penetrating shots and was very happy with the spin and power combo I was getting. I would compare this racquet to a good Pilsner: fresh and clean, with a crisp finish."
Jackson found the weight of the racquet required him to work harder from the baseline. He said, "I had mixed feelings from the baseline with this racquet. When my timing was perfect my shots felt great, but I think I had some trouble maneuvering the weight. I could tell that I needed to speed up my preparation, otherwise the combination of hitting late and the stiffness of the frame led to a harsh feel that would motivate me to really work on my timing. The shots that were timed well came off the frame feeling solid and powerful, and I didn't feel much of an effect on my arm as long as it was hit in the sweetspot."
Tiffani was also feeling the weight of this one, saying, "It took me a while to find my rhythm with the Extreme Pro because I'm used to swinging racquets that come around much more quickly, like the Yonex RDS 003 or Aerogel 4D 300 Tour. Even after adjusting, it was a bit too much for me to swing for long matches. I'd prefer it if it were a few more points head light. What I enjoyed, though, about the racquet was the power level. I could feel more weight going into the ball compared to my usual racquets, and I sensed a forgiving stringbed thanks to the fairly stiff layup of the racquet. If I hit late I could still send it back with decent pace. I definitely preferred this racquet with a multifilament string. A hybrid might work, but it felt harsh to me with a full bed of poly."
Quickly finding a groove with the Youtek Extreme Pro was Troy, saying, "As soon as I began swinging this racquet I knew that the weight and balance was right in my sweetspot. What really made me comfortable was the swingweight of this stick. Coming in at 338, it was nearly identical to my own customized Wilson KBlade 98. I got all the power that I found with the Youtek Extreme Midplus, but with the added stability I was looking for. The added weight made me feel comfortable hitting with a lot of topspin or flattening out my groundies. I also felt the added mass was great for my slice backhand, helping me hit very deep and penetrating shots. I wasn't getting as much control as I am used to from my typical 18x20 pattern, but I was still placing my shots well within the court."
Volleys - Score: 80
The Youtek Extreme Pro's weight, stiffness and swingweight combined to offer a rock solid performance at the net. Tiffani enjoyed the power she found, saying, "With the Youtek Extreme Pro I was most effective at net punching back volleys. I had a hard time with touch, though this is certainly an area I need to work on anyway. The weight and balance made the racquet feel really solid to me at net."
Troy offered, "This racquet was rock-solid at net. The weight of this version along with its power level was allowing me to hit penetrating volleys that seemed to be hard to return. The extra weight really solved the stability issue I faced with the Youtek Extreme MP. I was still able to place my volleys well and maintain touch and feel on drop shots. This racquet really does the work for you while at the net."
Sean said, "Although slightly less maneuverable than some other player's racquets, I felt great dealing with volleys. Most of my volleys found their way deep into the court without having to worry about over-hitting. Stability was perfect, and I felt like the sweetspot was especially forgiving, even with a higher than average stiffness rating."
Preparation was key at net for Jackson. He offered, "Again, the weight made it a little difficult in the maneuverability arena, but just like with the groundstrokes, when I was dialed in it would cause a major problem for my opponent."
Chris continued to enjoy the solid feel of the racquet when at net. He said, "The racquet felt very stable when I was volleying. The feel was firm and crisp, and I felt very in touch with the direction and depth of my shots. I was able to get some nice pop and depth on my volleys as well as find plenty of feel for touch shots. This was just a really solid racquet to volley with."
Serves - Score: 81
Most of our team found the Youtek Extreme Pro a versatile and solid performer on serve.
Finding a great fit on serve was Sean, who said, "The power level on this racquet was especially impressive when it came to serves. The racquet helped me generate a ton of pop when it came to hitting first serves, and I didn't have to strain to get the power I was seeking. With a swingweight that was more on the high side, longer matches tended to take their toll on my arm. Spin production on serves was exactly what I was looking for, helping to keep my second serves aggressive."
Chris continued to find a solid response from the racquet. He said, "The one area where this racquet didn't trump the Midplus version for me was on serve. I think I was able to swing the lighter version faster, and with the Pro I didn't get quite the same spin. I was still very happy with the quality of my ball with this racquet, I just wasn't getting the same amount of action. On flatter serves this Pro version helped push the ball through with nice pace, and I enjoyed the solid feel."
Jackson found power beat comfort on serve. He said, "This area reflected my feelings from the baseline; if my timing was not spot on, I was left with a weak, misplaced serve, and I could feel the shock from the impact. On the upside, when I was confident in my motion and accelerated the racquet head, the mass and stiffness of the frame really put some heat on the ball."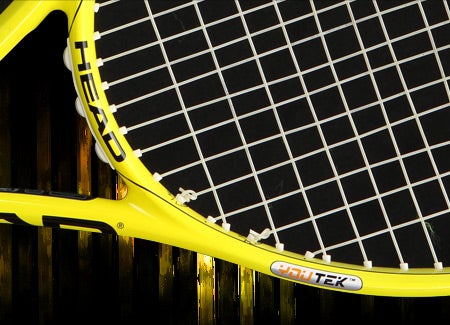 Tiffani would have preferred a more maneuverable feel. She said, "I felt like I was unable to tap into the full potential of this racquet on serve because I couldn't swing it fast enough. The weight was just too much for me to get the racquet moving effectively. However, I was able to hit decent serves with moderate pace and spin."
Troy served bombs with this racquet. He said, "I was hitting bigger serves than I ever have with this stick! I was getting a lot of power from the Extreme Midplus, but the added weight of the Pro gave me some extra pop on my flat serves, more curve on my slice serve and some added kick to my kick serve. I felt just as comfortable serving with this stick as I do with my own, but with added power."
Serve returns - Score: 84
"Solid" was the key word for our testers when it came to returns with the Youtek Extreme Pro.
Finding a solid response even against bigger serves was Sean, who said, "The Extreme Pro was definitely a much more solid feeling racquet when it came to returns compared to the Midplus version. Bigger serves could be redirected easily without feeling unstable, and it allowed for some more aggressive returns. I felt comfortable slicing back deep returns without fear of coming up short, which was reassuring when playing against big servers."
Troy was also pleased with the stable response. "I was returning deep, with a lot of pace. I enjoyed hitting a slice return on my backhand side, and chipping and charging. The added weight helped with stability, which I noticed most when facing big servers; much better torsional stability. I was more consistent on my returns with this version of the Extreme, which helped me play better overall and get some breaks on serve."
Tiffani enjoyed the response from the racquet. She said, "I felt pretty confident on return of serve with the Extreme Pro. It's more stable than my usual sticks, so I felt I could handle the harder hit serves more effectively. As I said earlier, I also felt that even if I hit late, the racquet could respond well enough, and I might even get the occasional unintended down the line winner."
Chris said, "I loved the response from this racquet on returns. Again, solid is the word that best describes it. The stability helped both my aggressive returns as well as my defensive ones. Whether I was smacking the ball deep or trying to just block it back into court, I felt like I got some help form this racquet."
Pleased with how the racquet performed on returns was Jackson. He offered, "I really enjoyed this racquet on returns. Again, preparation was key, but a quick draw back was all I needed to hit an offensive return. The weight played a big factor in the stability for this shot. I could use the pace from the serve on my return and it was enough to put my opponent in an awkward spot."
Overall - Score: 80
This racquet impressed our testers from every area of the court, providing a solid and stable response. There was power from the baseline, rock solid feel at net, spin on serves and control on returns. That's a notable list for a racquet to add to its resume, and it allowed our testers to play with confidence no matter which shot they were hitting. While the majority of our testers found the racquet easy to get around, there were times when the swingweight was too much for some of our playtesters. It is that higher swingweight that puts this racquet just out of reach of those transitioning from game improvement to a 'tweener type of racquet and makes it better suited to stronger intermediates and up. With all of its impressive traits, for the 4.0 level and above player, this one is well worth a demo.
Likes
Chris "I loved this racquet's solid and stable feel from everywhere on the court. This racquet helped me hit the same kind of penetrating ball I get from my regular racquet, I just arrive there from a different set of performance characteristics."
Jackson "I liked the plow through and heavy balls that came as a result of good timing and placement."
Sean "It's a great baseline stick with a lot of spin potential."
Tiffani "This had a rock solid feel; it was much more stable than my usual choices."
Troy "It's similar in power to the Midplus, but with much better stability. The swingweight was very comfortable to me. I liked it strung with a co-poly at the high end of its tension range. I also like the leather grip with an overgrip on it."
Dislikes
Chris "It took me longer to get dialed in on serve, but that was about it."
Jackson "The stiffness really was the downfall for me. It may be slightly nicer strung with a multi, but even the softer polys felt like wire. The d3o material didn't seem to mesh well with the high stiffness rating of the frame. Slower swing speeds created a catapult for me."
Sean "The heavier swingweight made it a bit less maneuverable."
Tiffani "I struggled to control the depth of my groundstrokes, with many sailing long. A more head light balance would be helpful to me so I could generate more topspin."
Troy "I would have liked a bit more control from the baseline. If this racquet was offered in an 18x20 string pattern it could possibly be a frame I would switch to."
Technical Specifications

Length
27 inches
69centimeters
Head Size
100 square inches
645 square centimeters
Weight
11.7 ounces
332 grams
Balance Point
12.8 inches
33 centimeters
6pts Head Light
Construction
24mm/26mm/23mm
Composition
Graphite / d3o
String Pattern
16 Mains / 19 Crosses

Babolat RDC Ratings

Score

Grade

Flex Rating
70
Range: 0-100
Swing Weight
338
Range: 200-400
Scores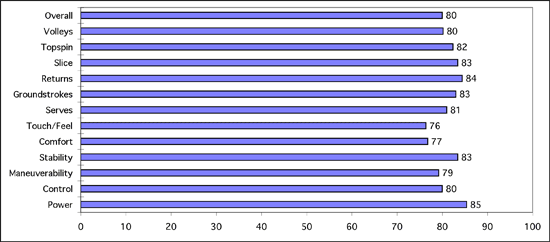 (Scores are determined by averaging individual play test scores)
Chris' Scores
Power
8.2
Serves
7.7
Control
8.2
Groundstrokes
8.2
Maneuverability
7.7
Returns
8.3
Stability
8.4
Slice
8.2
Comfort
8.4
Topspin
8.2
Touch/Feel
8
Volleys
8.2
Overall
8.2
Jackson's Scores
Power
9.1
Serves
8.7
Control
8.2
Groundstrokes
8.5
Maneuverability
7.8
Returns
9.2
Stability
7.8
Slice
8.8
Comfort
6
Topspin
7.9
Touch/Feel
6.8
Volleys
8
Overall
7.8
Sean's Scores
Power
8
Serves
7.7
Control
7.6
Groundstrokes
8
Maneuverability
7.6
Returns
7.9
Stability
8.2
Slice
8
Comfort
8
Topspin
8.2
Touch/Feel
7.6
Volleys
7.8
Overall
8
Tiffani's Scores
Power
8.3
Serves
7.7
Control
7.8
Groundstrokes
7.8
Maneuverability
7.3
Returns
8
Stability
8.1
Slice
7.9
Comfort
7.4
Topspin
7.7
Touch/Feel
7.3
Volleys
7.6
Overall
7.6
Troy's Scores
Power
9.1
Serves
8.5
Control
8.2
Groundstrokes
8
Maneuverability
9.2
Returns
8.8
Stability
9.2
Slice
8.8
Comfort
8.6
Topspin
9.2
Touch/Feel
8.5
Volleys
8.5
Overall
8.4
Playtester Profiles
Chris: 5.0 All court player currently using the Volkl Power Bridge 10 Mid. Chris uses a full-western forehand grip, has a fast swing style and hits a two-handed backhand.
Jackson: 4.5 All court player currently using a Babolat Pure Drive Team. Jackson uses a semi-western forehand grip, and hits with a two-handed backhand.
Sean: 4.5 baseliner using the Babolat Aeropro Drive Cortex. Sean has a semi-western forehand, 1 handed backhand.
Tiffani: 4.0 level baseliner with a semiwestern grip on the forehand and hits a two-handed backhand. Currently playing with the Yonex RDS 003 (08 version).
Troy: 5.0 lefty all-court player with a full Western Forehand and a two handed backhand. Troy currently plays with the Wilson K-Blade 98.

Review date: July 2010. If you found this review interesting or have further questions or comments please contact us.
All content copyright 2010 Tennis Warehouse.