Ytex Quadro Twist String Review

Ytex Quadro Twist String Scores
Power
64
Spin
95
Comfort
73
Control
89
Feel
88
Playability Duration
80
Durability
90
Overall
89
Upsides
Spin
Feel
Durability
Control
Downsides
Too firm and underpowered for beginners
Summary
Launched in 2011, Ytex is a newcomer to the tennis industry, yet somehow, in the span of only a few years this young company has created one of the most impressive co-polys our team has playtested to date. The string's name is Quadro Twist, and according to our playtest team, it is an absolute spin machine. In fact, this string's ultra grippy shape and excellent pocketing helped earn it a near perfect score for spin. In addition to creating balls that dive sharply and explode off the court, Quadro Twist has great feel, a quality that many stiffer polys lack. For us, this pliable co-poly felt firm and controlled, but it was also soft enough to keep off-center hits from feeling too dead or overly stiff. Ultimately, for the player who wants a comfortable and very responsive control string, Quadro Twist is one of the most promising options available. Did we mention the huge spin potential?
Power - Score: 64, Control - Score: 89
Like many high tech co-polys, Quadro Twist is built with additives to increase elasticity. The result for Andy was a control string with a little extra pop. He said, "Compared to a traditional polyester, Quadro Twist has a comfortable feel with a decent amount of power. I felt the ball left the strings with some added zip that I don't get with most stiffer polys. Even with that boost in power, I still felt in pretty good command of my shots. There were a few instances when I thought the ball just flew off my strings, but for the most part there was an excellent blend of power and control with this string."
For Chris, Ytex nailed it, with an almost perfect balance of power and control. He said, "I absolutely loved the blend of power and control this string offered. I was able to take full cuts at the ball and enjoy a very controlled level of power. I used the Volkl Organix Super G 8 300 racquet for this test and found its playability to be perfectly complemented by this string. I could feel the ball sinking into the stringbed and launching with decent pace and a ton of control. I was able to add pace at will and did not have to worry about hitting long. Unlike some other softer co-polys, this string was soft enough to add feel and comfort without being too lively. I did go up a couple of pounds in tension for this test as my gut told me this string would be livelier than my regular Volkl Cyclone 16. The increase in tension was bang on and I loved the power and control I found throughout the test."
Spin - Score: 95
Put simply, our team got massive spin from Quadro Twist. Chris was impressed, saying, "I got a lot of spin out of this string. The amount of spin I was getting definitely upped the amount of control I had on the ball. It felt like the spin was coming from a combination of good ball pocketing, some nice snapback and some solid grab on the ball from the shape of the string. Both my topspin and slice shots were coming off the racquet with lots of spin. I felt very confident with this string, as the spin and feel made the response very predictable."
Andy also got explosive spin, despite not getting the string tension quite right. He said, "With its shaped and textured design, this string really grabs the ball well and sends it off with massive amounts of spin. I could really see my topspin groundstrokes jumping off the court and my slices knifing and staying low to the ground. If I had increased the tension a couple of pounds it would've allowed to swing out even more and generate that much more topspin on my groundstrokes and serves."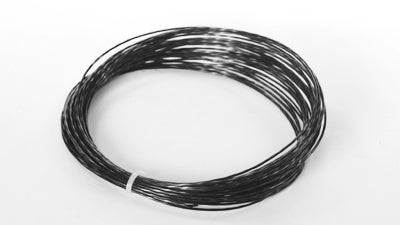 Comfort - Score: 73
Designed with special additives to boost elasticity, Quadro Twist gave our team above average comfort for a poly-based string. Andy's arm was on cloud nine. He said, "This is a very soft and comfortable string compared to other polyester strings. When I strung it at my usual tension it felt plush and extremely easy on the arm. This would make a great choice for players who want to venture into the polyester world or currently use poly but have a history of arm problems."
Chris also appreciated the comfortable response. He said, "While co-polys will never equal the comfort of arm-friendly strings like natural gut, this one offers better comfort than many poly-based offerings. This string was soft enough to offer good ball pocketing, and that enhanced the overall feel for me. I found impressive playability with a well-rounded offering of performance attributes. In other words, spin, control, feel and comfort were all there in ample quantities."
Feel - Score: 88
Our team definitely appreciated the feel of Quadro Twist. Though a little softer than his go-to strings, Quadro Twist's feel still impressed Chris. He said, "The feel of this string was on the softer side. It was not as soft as Polyfibre TCS, but it felt softer than a lot of poly strings. However, there was enough firmness there to keep the string from feeling mushy or too lively. For me the feel was Goldilocks like -- not too firm, not too soft, but just right!"
Andy also picked right up on the softer feel of this control string. He said, "The feel is soft, but not mushy. It still has a comfortably crisp feel that grabs the ball extremely well. I felt very connected as the ball sunk into the stringbed, leaving me in control of where I wanted to place it in the court. There was also some good snapback action when I went for hard spin."
Playability Duration - Score: 80
As with all tennis strings, especially the poly-based one, Quadro Twist loses tension and playability over time. For Andy, this co-poly went the distance. He said, "Playability and tension maintenance were average for a polyester string. After about 2-3 weeks the string began to lose a noticeable amount of tension and its playability dropped. This is about the normal length of time I get out of my polys."
Chris also noticed some changes over time, but the overall playability remained very high. He said, "This string lasted very, very well for me. I cut out the vast majority of poly strings after two weeks, but this one still felt playable a month in. Does it still feel as good as when it was fresh? No. However, even at the end of the test I was finding ample control, comfort and no major loss in spin."
Overall - Score: 89
What type of player would you recommend this to?
Chris - "This is a great string for poly fans seeking a softer playing co-poly that offers excellent control, feel and spin, and better comfort than a traditional poly."
Andy - "Due to its comfortable and lively response (compared to other polys), this makes for an excellent 'starter poly' or a more arm-friendly option for players with long, fast strokes who can generate all of their own power."
Likes
Andy - "Incredibly comfortable, yet still crisp-feeling with plenty of control. It also possesses loads of spin."
Chris - "I loved the spin, feel, control and durability."
Dislikes
Andy - "A tad powerful for my liking, but that is more of a personal preference than a negative about the string."
Chris - "None. I love this string and will continue to use it as one of my preferred setups."
Comparing the string to others they've tried, our testers said:
Andy - "The comfortably firm feel and its shaped and textured design gave Quadro Twist a similar feel to Gosen Sidewinder and Volkl Cyclone Tour. However, I felt Quadro Twist had the crispest feel of the three and offered the most control, making it my favorite out of the bunch."
Chris - "This string felt softer than my go-to Volkl Cyclone. The softer feel was like Volkl Cyclone Tour, but this string did not feel quite as lively. I liked the combination of a softer feel with a controlled response. Another string that offers similar performance is Tourna Black Zone. If you are used to stiffer, firmer polys, I'd suggest going up at least a couple of pounds in tension with Quadro Twist."
Scores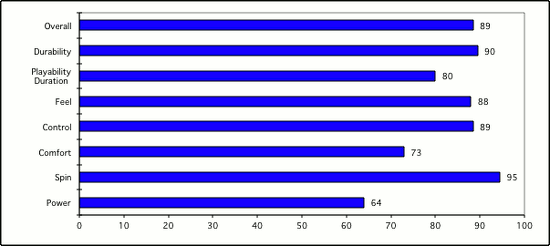 (Scores are determined by averaging individual play test scores)
Andy's Scores
Power
6.5
Playability Duration
7.5
Spin
9.3
Durability
8.5
Comfort
7
Control
8
Feel
8
Overall
8.4
Chris' Scores
Power
6.3
Playability Duration
8.5
Spin
9.6
Durability
9.4
Comfort
7.6
Control
9.7
Feel
9.6
Overall
9.3
Playtester String Setups
Andy:
Playtest Racquet: Wilson Blade 98 18x20
Playtest Tension: 53 lbs
Typical String: Luxilon ALU Power Spin 16L
Chris:
Playtest Racquet: Volkl Organix Super G 8 300
Playtest Tension: 57 lbs
Typical String: Volkl Cyclone 16

Review date: June 2014. If you found this review interesting or have further questions or comments please contact us.
All content copyright 2014 Tennis Warehouse.