Yonex Power Cushion Pro Men's Shoe Review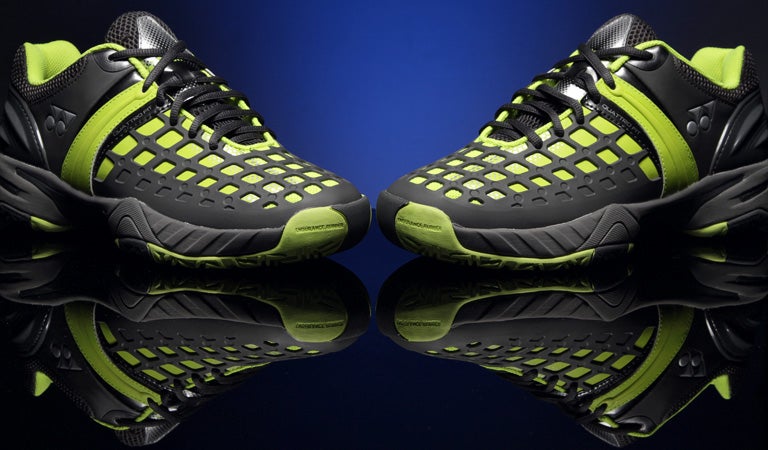 Yonex Power Cushion Pro Men's Shoe Scores
Comfort
4.4
Ventilation
3.7
Arch Support
4.3
Foot Support/Stability
4.0
Overall Sole Durability
4.4
Toe Durability
4.6
Traction
4.5
Weight
3.4
Overall
4.2
Upsides
Cushioning
Traction
Stability
Durability
Downsides
Loose fitting around ankle
Summary
Earlier this year we saw Stanislas Wawrinka win the Australian Open in Power Cushion Pro shoes, so we couldn't wait to try them for ourselves. They were so comfortable when we tried them on that we felt like we could win the Australian Open, too! Well, not really, but they certainly checked a lot of the right boxes for our playtest team. Our testers found the Power Cushion Pro to be extremely cushioned and comfortable right out of the box, and they were extremely stable on aggressive cuts around the court. The outsole offered excellent traction and durability as well, even for our testers who are very hard on shoes. Other than a slight fit issue with the ankle collar, our playtesters were very impressed with the Power Cushion Pro. While on the heavy side, players who like a solid, stable and durable shoe will find the Yonex Power Cushion Pro right up their alley.
Comfort - Score: 4.4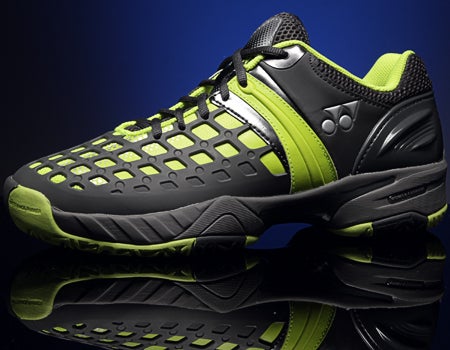 The level of cushioning the Power Cushion Pro offered made a lasting impression on our playtesters. "I loved the comfortable fit and feel of these shoes," Chris raved. "The fit was so comfortable I was able to play in them right out of the box. They became even more comfortable after I broke them in, and they've become one of my favorite shoes to wear. The level of cushioning was just right, and the insoles molded perfectly to the shape of my feet. I also liked the way the uppers supported my feet yet felt supple and comfortable at the same time. The shoes felt like they were flexing in all the right places, and I found them very, very comfortable to play in. While the feel wasn't as plush as the Diadora Speed Star K V shoes we just tested, I would say these are just as comfortable."
Andy also found the Power Cushion Pro extremely comfortable, except for a slight fit issue with the ankle collar. He explained, "The first thing I noticed when I tried this shoe on was the plush cushioning, especially Yonex's signature Power Cushion technology underneath my foot. It was quite comfortable right out of the box and continued to be comfortable on the court. The only issue I had was with the heel collar, which fit too loosely and rubbed my ankle at times. This was more of a minor annoyance than a knock on performance, and overall I'd consider comfort one of the strengths of the Power Cushion Pro."
After a short break in period Jason really enjoyed the comfort and cushioning the Power Cushion Pro provided. He said, "True to its name, this shoe offers plenty of cushioning from heel to toe. I felt like it did need a slight break-in, however, before it became truly comfortable. The uppers were supple enough that they didn't bunch up and pinch when the shoe flexed."
Ventilation - Score: 3.7
For the most part, our playtest team was happy with the amount of ventilation the Power Cushion Pro offered. Jason was comfortable, but he would've liked to have seen how the shoe performed in warmer weather. He offered, "There was enough mesh in the uppers that my feet didn't feel like they would overheat. I could see myself wanting a bit more breathability out of this shoe if the playtest was in the summer."
Chris had no issues with the shoe's breathability. He said, "My feet never got too hot in these shoes. While I couldn't feel lots of air flowing through them like I can in something like the adidas CC Feather II, they seemed to do a good job of letting heat escape. Even at the end of a long hit my feet were never too hot or sweaty."
Although it didn't affect Andy's overall feelings about the shoe all that much, he did wish for more ventilation. He said, "I found the breathability to be fairly average. It was more of a minor annoyance than something that really affected the playtest, but I did find that after a long practice my shoes ran a bit warm. My feet sweat quite a bit, and the shoe retained most of the moisture. It wasn't terrible, but the ventilation could definitely be improved."
Arch Support - Score: 4.3
There were no complaints from our team regarding the arch support of the Power Cushion Pro. "Support under the arch felt fine throughout the playtest," Andy said. "Like officiating in professional sports, if it's never mentioned or discussed, it's probably a good thing."
Chris also felt plenty of support, even with his higher arches. He explained, "This shoe offered some nice support and stability through the midfoot. The shank in the midfoot did a good job of making the shoe flex correctly, and my arches felt both comfortable and protected. The insoles quickly molded to the shape of my feet so the arch height was hitting my feet perfectly. I found great support when I was sprinting around the court, and I had all the confidence to play at maximum speed with no worries of any strains or pains."
Jason was enjoying the level of support for his low arches, especially once the shoe broke in. He said, "Although this shoe does have a medium arch, I didn't find it to be much of an issue for two reasons: The midsole material was soft and pliable enough that after a few wears the arches molded to my low arches, and I felt like the fit was wider, so my foot had a bit of wiggle room and didn't sit directly on top of the arch."
Foot Support/Stability - Score: 4.0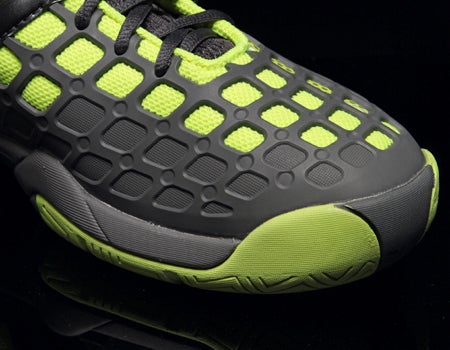 Our playtesters felt the Power Cushion Pro was extremely stable on lateral movements, but the ankle collar didn't provide enough support. "For being such a comfortable shoe, I was surprised at the level of support and stability I found," Chris explained. "The uppers held my feet on the footbed of the shoe very well. The upper provided great support, even on a tough change of direction. The chassis of the shoe also did a solid job of providing some nice stability. My one knock on the support was around the ankle collar of the shoe. I would have liked the top eyelet of the lace system to be farther back toward the heel. I had a tough time getting the shoe to lace tight enough around my ankles to prevent heel slippage. It felt like the lace system did not extend far enough toward the rear of the shoe to really lock me in."
Jason also had issue with the lacing system and ankle collar. He said, "I scored it as low as I did because of the support, not the stability. Stability-wise, I thought this was a great shoe. It felt very rigid on my side to side movements. It was really one area that was the big negative, and that was ankle support. I tried lacing up the shoes as tight as possible, but I could still feel my feet slip up and down with every step. The opening is too wide for me. I think an extra pair of eyelets would really improve the support and provide that locked-in feel."
Andy found the support and stability to be top notch. He raved, "Support and stability is certainly one of the strengths of this shoe. It's a beefy shoe that gives you security and confidence when you're moving aggressively. The cage in the forefoot locks you in well and prevents the foot from sliding around. The ankle collar, even though it didn't fit perfectly, sits up pretty high and offers lots of ankle support, too. I felt very confident that these shoes would be secure and stable enough even on my most aggressive movements."
Overall Sole Durability - Score: 4.4
The outsole on the Power Cushion Pro held up extremely well for our team throughout the playtest. Andy, who's normally hard on his shoes, still had plenty of life left in them. He offered, "I got to really put these shoes to the test, and they held up very well. Other than some slight balding under my right big toe, they have plenty of tread left for another 20 hours or so. This was another category where these shoes really impressed me. I am normally able to do a bit more damage to my shoes over the course of a playtest."
Jason ranked the Power Cushion Pro among the best on the market in terms of durability. He explained, "The outsoles of these shoes are pretty much as good as it gets. Dare I say, even Barricade-like? After 15-20 hours of playtesting there was still plenty of tread left. Even in the areas where I first notice some balding (the medial forefoot and heel), there was barely noticeable tread loss."
Chris' aggressive footwork couldn't even wear through the shoe. He said, "The level of durability was decent in this shoe. I found it to be right up there with the likes of an Asics Gel Resolution 5, Head Sprint Pro and Wilson Rush Pro. At the end of the test I was seeing only moderate wear under my big toes, which is a good sign for me. I tend to be very tough on shoes in that area, but these held up pretty well."
Toe Durability - Score: 4.6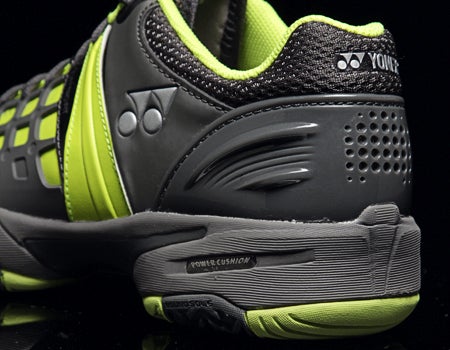 Like the outsole, the toe area of the Power Cushion Pro held up fantastically well. Chris is our resident toe dragger, and he was very satisfied with the level of protection in that area. He said, "The toe of this shoe is built tough. I drag my toes a lot, but I really didn't do much damage to these. Both the tip of the shoe and the material through the vamp and forefoot (what Yonex calls Guard Durable Skin) resisted court abrasion very well. I scored the shoe highly here and would have no issues recommending it to a toe dragger."
Andy was also happy with the toe durability, saying, "With extra rubber wrapping up from the outsole and the hard TPU cage of the upper protecting it, I put virtually no dent into the toe area of the shoe. I can't foresee any way I could get through the toe before I got through the outsole."
Traction - Score: 4.5
The grippy outsole of the Power Cushion Pro allowed our playtesters to be confident on any aggressive cut on hard courts. "This is also a shining area for this shoe," Jason reported. "It provided excellent traction on the hard courts, even with a bit of ball fuzz lying around. There were a couple of times that I noticed some slipping when I tried to stop and change direction. But the traction was there whenever I took my first step toward a shot and I never had a slippage issue on that type of movement."
Chris was also impressed. He said, "I found a very solid level of grip from this shoe. I found I could trust it even during very aggressive sprinting and changes of direction. Even on some of the dustier sections of the court, this shoe somehow managed to find traction and allow me to move with confidence. When I was stretched very wide I found I could slide out of a lateral cut with good control. I think Yonex did a great job here."
Traction was very good for Andy as well. He said, "These shoes grabbed the court really well and also provided a bit of give when I was going for an aggressive slide on the hard court. I found the outsole to be more on the sticky side, rather than being slick, which is better for more traditional movers who may not utilize the slide on hard courts."
Weight - Score: 3.4
While coming in on the heavier side, the weight of the Power Cushion Pro never seemed to affect the performance of the shoe. Andy appreciated the different things that the weight of the shoe offered. He explained, "These were certainly one of the beefier, heavier shoes that I've tested. However, that isn't necessarily a bad thing; there are definitely people out there (Rafa Nadal being one of them) who like the feeling of having a lot of shoe on their feet. The heavy feel lent itself to lots of cushioning, stability and durability, but this is by no means a lightweight, speed-oriented shoe."
Although he usually goes for a lighter weight shoe, Jason also grew to appreciate the benefits of the extra weight. He said, "These shoes are not light, and they make no apologies for it. With that much cushioning, stability and durability, they're not supposed to. Personally, I like lightweight shoes, but I can definitely see the benefits of having such a substantial shoe."
Chris never found the weight to be an issue, and he felt as quick as ever. He offered, "I found this to be a very well built shoe, and I thought they felt light and fast. There was no excess to any part of the shoe and it fit and moved well with my foot. It was very easy to forget about these shoes and just play. I find that to be a sure sign that the weight of a shoe is well distributed and there's no clunkiness to the fit and feel."
Overall - Score: 4.2
Likes
Chris - "I loved the comfort, traction, fit and feel of the Power Cushion Pro. They felt great on court and have become one of my go-to choices when I play, which is impressive considering I have about 15 or so different shoes to choose from right now."
Jason - "Cushioning, outsole durability and traction."
Andy - "Very cushioned, stable and durable. This is certainly a contender in the heavyweight division!"
Dislikes
Chris - "I would have liked a more secure fit from the lace system around the ankle collar to help secure a better heel fit."
Jason - "The shoe opening is too wide to give that locked in fit. Tad too heavy for my taste, too."
Andy - "Slight fit issue with the ankle collar, and I would have liked better breathability."
Comparing this shoe to other shoes they've worn our testers said:
Chris - "The blend of support, comfort and traction reminded me of the Asics Gel Resolution 5. I would put the Yonex ahead in terms of durability, but otherwise the shoes are pretty similar in terms of on court performance. Compared to previous Yonex shoes, I found this one to outperform all of the SHT models in terms of comfort, but this is the first Yonex shoe I've worn where I would have liked more support from the top of the lace system."
Jason - "Barricade-like."
Andy - "The Power Cushion Pro is beefy and supportive like an adidas Barricade 8, but with super plush cushioning like the Babolat SFX. This is a great shoe for players who like to feel a substantial amount of shoe on their feet when they are moving around, and it will last a long time for even the most aggressive movers."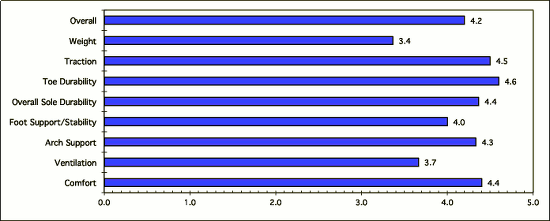 Playtester Foot Types:
Chris - Narrow width / Medium arch
Jason - Wide width / Low arch
Andy - Medium width / Low arch

Review date: May 2014. If you found this review interesting or have further questions or comments please contact us.
All content copyright 2014 Tennis Warehouse.