Yonex EZONE Ai 98 Racquet Review

Yonex EZONE Ai 98 Scores
Power
81
Comfort
80
Touch/Feel
84
Serves
85
Groundstrokes
85
Returns
86
Slice
79
Topspin
85
Volleys
84
Overall
84
Upsides
Control
Spin
Power
Stability
Comfort
Downsides
Nothing we could agree on
Summary
The all-around performance of the EZONE Ai 98 left our team with little to criticize after a very enjoyable playtest. The EZONE Ai 98 offered an exceptional blend of power, control, spin and responsiveness from all areas of the court. The open 16x19 string pattern allowed us to generate some nice pace and spin on our groundstrokes and serves, while the control and feel had us going for our shots with the utmost confidence. In addition, the weight and balance offered a union of maneuverability and stability. This is easily in the mix as one of the best modern player's frames on the market today. Players of almost any level and style of play should take note, because this is an early candidate for our favorite racquet of 2014.
Groundstrokes - Score: 85
Our playtesters praised the EZONE Ai 98's performance from the baseline. They all found a balanced blend of attributes that led to success. Chris, who as firing on all cylinders, explained, "I immediately found the groove with this racquet. I felt confident off both wings because I felt well connected to where my shots were going. It was easy to find both pace and control. I liked the level of spin I was getting and found the response of the racquet to be very predictable. My backhand slice was totally dialed in with this racquet. I was knifing through the ball very well and was able to hit a nice low skidding slice that gave opponents trouble. On my forehand I was able to get enough spin to curve the ball on down the line shots. I could hit wide and have the ball swing back inside the sideline to get it past a net player, or I could hit deep to the backhand corner. While I couldn't go from defense to offense quite as quickly as I could with the EZONE Ai 100, I felt more confident when on the all-out offensive. I was hitting approach shots with more aggression and I was more willing to pull the trigger on a big forehand."
"This was a racquet that I was comfortable using from the moment I picked it up," said Jason. "I thought it was easy enough to swing and generate racquet head speed, but it still maintained torsional stability on off-center hits. I was able to put plenty of spin on my shots, whether it was topspin or slice, and the control was also there. I felt confident that I would make the shot even when aiming at smaller targets."
Andy was moving the ball all over the court with confidence from the baseline. He said, "My love affair with this racquet started at the baseline. It felt maneuverable, yet solid, off both wings, with a crisp, lively feel. The sweetspot was forgiving, and when I found I could get some serious zip on the ball! Along with the forgiveness and easy pop, I got pinpoint precision and exceptional feel and spin potential. I felt totally connected and in control of the ball on any shot. My only criticism would be that it could have used a little more mass to help me drive through my slice backhand. Other than that, it was awesome!"
Michelle's game just continued to improve as she spent more and more hours on court with the EZONE Ai 98. She said, "I really warmed up to this racquet as the playtest went on. It offered really good controlled power for my game. I felt like I could hit out and not get too crazy with overhitting (which I have a tendency to do). I've been trying to work a bit on my rally ball, and this was a great racquet to work on it with. I found I could really work the point and wait for a short ball with this racquet. We had a couple of different string setups, and I found it to be a tad string sensitive (although I think a lot of racquets are). Once we got a firmer, tighter poly in this racquet I really enjoy it from everywhere on the court, especially from the baseline."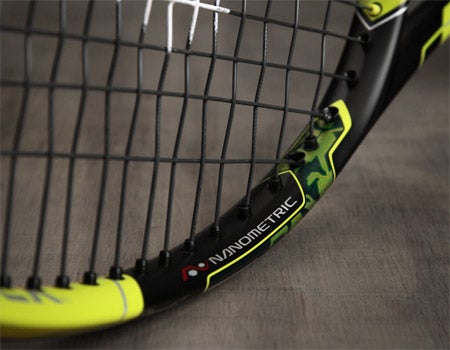 Volleys - Score: 84
The praise continued as the playtesters ventured up to the net, where they enjoyed the controlled, responsive feel of the EZONE Ai 98. Andy was in total command of all his net shots, saying, "The crisp, lively, responsive feel enabled me to be in full control of my volleys. I felt in total command of the ball and felt like I could do anything I wanted with it. The lively feel also made it easy to punch volleys deep in the court consistently. A little more weight in the hoop would've provided better stability on off-center hits, but this issue wasn't enough to stop me from loving this racquet around the net."
Whether volleying aggressively or defensively, Michelle was having no problems with this racquet in hand. She explained, "The EZONE Ai 98 was maneuverable and easy to volley with, no matter what was coming at me. I found some good touch and feel and liked that I could go for a big put-away volley or carve out a dropper. It felt stable as well, which is another plus when blocking back balls from bigger hitters."
The feel and response were just a little bit of what Chris enjoyed about the EZONE Ai 98 at net. He said, "This racquet felt very plush and comfortable at net. I was able to maneuver it easily, yet it also felt adequately stable. Again, my confidence was high because I felt well connected to the ball and I was able to place my volleys well. I found enough power to get high volleys away on the first try. Punching the ball deep with pace was a snap, and I found enough power to get myself out of trouble even when at full stretch. Touch was also good, and I was hitting my drop volleys and angles very well."
Jason was finding good success around the net as well, but he had one small criticism. He said, "I really enjoyed this racquet up at net. If I can be nit-picky here, the only thing I would change would be to make it slightly more manuverable. Other than that, the racquet did a lot of things very well. It had a solid feel and nice ball pocketing, and it was easy to hit overheads."
Serves - Score: 85
Our playtesters really enjoyed serving with the EZONE Ai 98. Michelle enjoyed success on both her first and second serves, saying, "This was probably my favorite shot with this racquet. I was able to hit any serve with confidence. I actually played this racquet side by side with my Pure Drive, and serves that were going out with the Pure Drive were landing right in the service box (at the T) with a bit more pace and heaviness with the Ai 98. I also enjoyed hitting kick serves. I felt there was some mass behind the ball and I could really kick it up, whereas I sometimes feel my kick serves just sit up and wait to be attacked. I also had the confidence to use a bigger slice serve on my second serve."
Continuing with the positive feedback was Chris, who offered, "I liked the way this racquet came through the ball on serve. I was able to generate some really nice pace with it, and I felt like the ball was moving through the court very well. I had enough pace to get the ball past opponents when I found a corner or hit an angle wide. It was also easy to add spin to both first and second serves. I found success hitting slice serves wide on the deuce court and down the T on the ad side because I was getting enough spin to stretch the returner and force a weak reply. The response was very comfortable even with a stiff co-poly like Luxilon 4G Rough, and I never felt any undue shock from the racquet."
"Power, control AND spin? Now that's a winning combination, and that's what I was getting out of this racquet on serve!" exclaimed Andy. "I could blast first serves with confidence or consistently place my spin serves to exactly where I wanted in the box. The racquet is fast through the air, allowing me to maximize my swing speed and my pace on the ball. Serving was an area where this racquet excelled."
On the contrary, Jason struggled to find good pace on his serves with this racquet, but he did appreciate the precision and access to spin. He said, "I didn't feel I could hit my biggest serves with the Ai 98. I wasn't able to generate enough tip speed to add some pop, but that isn't necessarily my game anyway. What I did like about serving with this racquet was the placement and consistency. Access to spin was also very good, but not as crazy as a Prince ESP or Wilson S type racquet."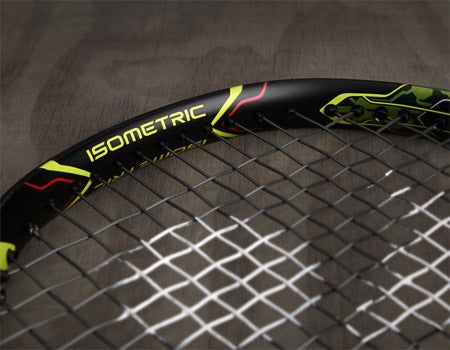 Serve Returns - Score: 86
The maneuverable, precise and solid feel of the EZONE Ai 98 was a recipe for success on the return of serve for our team. No matter what type of return Jason was hitting, he was confident going for it. He said, "This racquet was stable when I was simply blocking back a return, and it provided enough power and depth for those times when I could step in and take a full swing at the ball. There really wasn't much to complain about here."
"A racquet has to have good control, maneuverability and stability to be ideal for returning serve, and this one checked all the right boxes," Andy confirmed. "It was fast enough through the air to catch up to bigger serves, while at the same time providing enough control and stability to block the ball back deep when returning defensively. My only knock was that it was so fast through the air that I would get carried away sometimes and try to go for too much on the return. That's more of a 'me' problem, though, rather than an issue with the racquet."
Chris wasn't surprised when he found he could hit virtually any return of serve with this racquet. He explained, "I got everything I expected from the racquet on returns. There was a solid level of power, but I was most impressed by the control and maneuverability. I found it easy to accelerate through the ball off a short backswing. The result was solid pace, lots of spin and a high level of control. All of my returns were working with this racquet. I was able to punch slice returns deep or drop them short and low to mix things up. When hitting topspin returns I had the confidence to stay on the gas thanks to the controlled response."
The EZONE Ai 98 even helped Michelle control her powerful return game. She offered, "I really tapped into the control of this frame on returns. I found that even if I did go for something too big or if I was late, the racquet helped correct my issues."
Overall - Score: 84
Likes
Chris - "I liked the spin, control, comfort, maneuverability and touch I found with this racquet."
Jason - "Just about everything. Control, spin, solid feel, stability."
Andy - "This racquet has it all! There's an excellent combination of power, control, spin, feel, stability and maneuverability. I also love how connected you feel to the ball on each shot."
Michelle - "It has controllable power, which gave me the ability to hit a heavy rally ball or rip winners off short balls. There was also precise power on my serve. This is a control-oriented racquet with an open stringbed, which is what I like -- not too much control and just enough power!"
Dislikes
Chris - "None. I really enjoyed this racquet."
Jason - "I would've preferred it to be just slightly more head light."
Andy - "Not much. A little more heft would provide some added stability, but I'm being very nit-picky."
Michelle - "I've never fallen for the head shape of Yonex racquets, so if I have a knock on this racquet, that would probably be it."
Comparing it to other racquets they've used, our testers said:
Chris - "This is one of my favorite Yonex racquets, along with the VCORE Tour 97 310g. While the Tour 97 offers a more classic box beam feel, the EZONE Ai 98 feels plusher and softer, but not as solid. Both are very fast and great for injecting pace and spin into shots at will. Outside of Yonex, the Donnay Pro One 97 and X-Dual Gold 99 are somewhat comparable and kind of bridge the gap between the Yonex Tour 97 and Ai 98. The Volkl V1 Pro is midway between this one and the VCORE Ai 100, in that it offers the forgiveness of the Ai 100 with the control of the Ai 98."
Jason - "The Ai 98 is a more control-oriented Babolat AeroPro Drive or a more powerful Wilson Blade 98."
Andy - "I have to give credit to Jason for this comparison, but I think he is dead on with it; the Ai 98 felt like a combination of the Wilson Blade 98 and the Babolat AeroPro Drive. It has more control than the Blade 98 16x19, but more power than the 18x20. I loved this racquet, and it could be my second favorite racquet on the market next to my own racquet of choice, the Blade 98 18x20."
Michelle - "I would put this racquet in the same class as the Babolat Pure Strike -- a livelier control racquet that gave me the ability to strike winners or remain consistent."
Technical Specifications

Length
27 inches
69 centimeters
Head Size
98 square inches
632 square centimeters
Weight
11.5 ounces
326 grams
Balance Point
12.85 inches
33 centimeters
5pts Head Light
Construction
23mm / 24mm / 19.5mm
Composition
H.M. Graphite
String Pattern
16 mains / 19 crosses

Babolat RDC Ratings

Score

Grade

Flex Rating
63
Range: 0-100
Swing Weight
322
Range: 200-400
Scores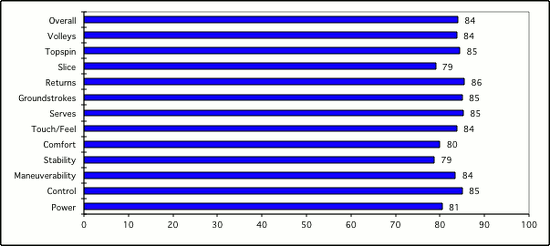 (Scores are determined by averaging individual play test scores)
Chris' Scores
Power
8
Serves
8.2
Control
8.2
Groundstrokes
8.1
Maneuverability
8.3
Returns
8.3
Stability
8
Slice
8.3
Comfort
8.4
Topspin
8.3
Touch/Feel
8.3
Volleys
8
Overall
8.1
Jason's Scores
Power
8
Serves
7.9
Control
8.2
Groundstrokes
8.3
Maneuverability
8.3
Returns
8.2
Stability
8.2
Slice
8.1
Comfort
7.8
Topspin
8.2
Touch/Feel
8
Volleys
8
Overall
8.2
Andy's Scores
Power
8.4
Serves
9.5
Control
9.3
Groundstrokes
9.3
Maneuverability
9
Returns
9.4
Stability
7.5
Slice
7.7
Comfort
8
Topspin
8.8
Touch/Feel
9.3
Volleys
9
Overall
8.8
Michelle's Scores
Power
7.8
Serves
8.5
Control
8.3
Groundstrokes
8.3
Maneuverability
7.8
Returns
8.3
Stability
7.8
Slice
7.5
Comfort
7.8
Topspin
8.5
Touch/Feel
7.9
Volleys
8.5
Overall
8.5
Playtester Profiles
Chris: 5.0 all-court player currently using the Wilson Six.One 95S. Chris uses a full-western forehand grip, has a fast swing style and hits a one-handed backhand.
Jason: 4.0 baseliner with a semi-western forehand and two handed backhand. Currently using a Wilson Steam 99 S.
Andy: Open level all court player with a semi-western forehand grip and a two handed backhand. Andy currently using a Wilson Blade 98 18x20.
Michelle: Open level baseline player with a semi-western forehand and a two handed backhand. She currently plays with the Babolat Pure Drive Roddick.

Review date: February 2014. If you found this review interesting or have further questions or comments please contact us.
All content copyright 2014 Tennis Warehouse.