Prince EXO3 Warrior 100 Racquet Review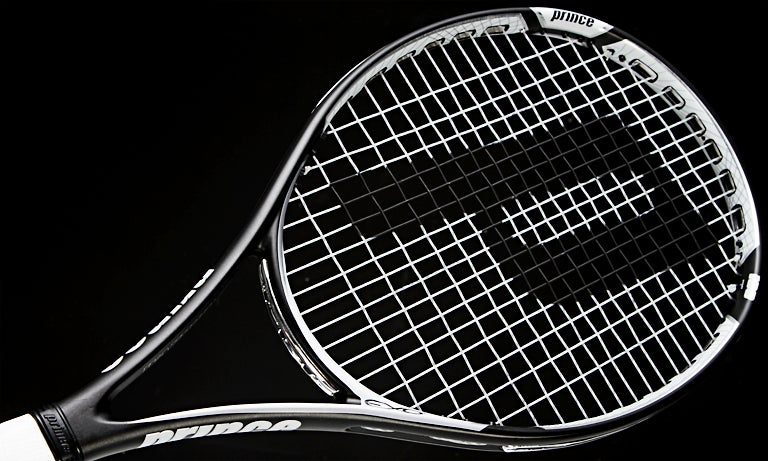 Prince EXO3 Warrior 100 Scores
Comfort
82
Touch/Feel
69
Serves
80
Groundstrokes
80
Returns
80
Slice
77
Topspin
83
Volleys
78
Overall
79
Upsides
Comfort
Maneuverability
Access to spin
Downsides
Lack of feel, especially at net
Summary
Players looking for an update of the EXO3 Black will like the new Prince EXO3 Warrior 100. Light and providing easy access to spin, this is a racquet that offers control without sacrificing speed. Maneuverability is something the Warrior 100 excels at, coupled with an enjoyable combination of spin and pace production. This is an easy racquet to handle from all areas of the court, whether you're on the baseline hitting deep and aggressive returns or moving into net. Comfort is provided from the soft and cushioned response, making this a good racquet for intermediate through advanced players. Players with a fast swing will benefit most from the EXO3 Warrior 100, particularly on serves and returns.
Groundstrokes - Score: 80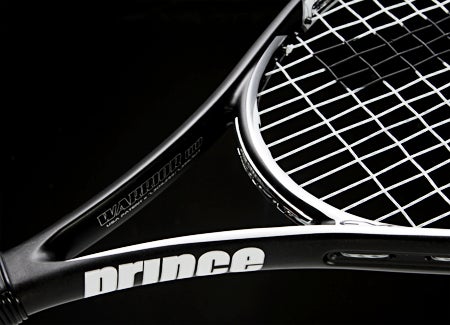 Our testers initially found it hard to find a rhythm from the baseline, but enjoyed the spin the racquet created. Chris took a while to get the racquet dialed in. He said, "I tried several strings before I found my Goldilocks setup. With a poly I couldn't get any feel from the racquet. With a multifilament, I found the response too erratic. Then I tried just a basic synthetic gut, and lo and behold, I was finally happy with the level of my play. One thing that rang true with every setup was that this is a very spin-friendly racquet. My biggest issue was with depth control. With a synthetic gut I was able to feel where the ball was going much better. On slower swings I thought the racquet felt a tad unstable, and I definitely had to produce my own plow through -- more so than with the EXO3 Black that this racquet replaces. On a fast swing the pace was good and I was getting lots of spin, but I was also hitting a somewhat light ball that sat up too much."
Tiffani had some trouble, too, saying, "I initially struggled to find my rhythm with this racquet. When I first picked it up the EXO3 Warrior 100 was strung with a poly, and it wasn't a good setup for me. I had to aim for the fences to get any sort of depth. The EXO3 Warrior 100 was pretty string sensitive, but I found much better results with a full bed of a multi or synthetic gut. The feel of the racquet is similar to the previous EXO3 racquets I've tested. It feels a bit deadened at impact, and I also noticed some instability when I was hitting with the bigger hitters on the testing team. My favorite aspect of the Warrior was the effortless spin I found. Who knew I could hit so much topspin?"
"I was able to be aggressive and generate power on my groundstrokes, just like I could with the EXO3 Black," said Brittany, who used to play with the EXO3 Black in college. "I found plenty of spin, especially when on the defensive. I did have a little trouble keeping my slices low, as they tended to float on my backhand side."
Mike really enjoyed both forehands and backhands with this racquet. He said, "The racquet gave me enough power and control to let me fully swing though the ball. I hit a higher pace ball with tons of control, and I was able to be consistent over and over again."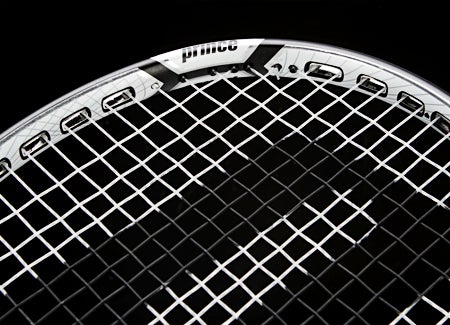 Volleys - Score: 78
While some testers liked the maneuverability at net, others found the racquet to be slightly lacking in power and feel. Having some stability issues was Tiffani. She said, "I had some difficulties at net. I felt some flutter when I caught the ball high in the stringbed. Other than that, the racquet performed well enough at net for me, as someone who likes to come to the net only to pick off easy ones. I could get the racquet into position without any trouble and could mix up my volleying tactics."
Chris found excellent maneuverability at net, but not much punch. He said, "While pace off the stringbed was OK, my volleys didn't have the zing I expected and tended to sit up a little after the bounce. I also would have liked more power on pick-up volleys. When I couldn't get set up properly, due to having to stretch for the shot or having to make a low pick up, I found I was hitting short, or worse still, into the net. I would have liked the balance to be more toward the head to get some mass behind the ball and help add some punch."
Volleys were where Brittany struggled the most. She offered, "I couldn't get a feel for the ball on both deep volleys and touch/angle volleys. I felt like I wasn't able to connect with the ball on contact and lost a lot of my placement. This became noticeable when playing doubles."
Mike had the easiest transition on volleys . He said, "The racquet was very maneuverable and it was easy to place volleys wherever I felt was right. Touch for this frame wasn't bad, either. I was able to hit drop volleys and softer volleys without any issues."
Serves - Score: 80
Pace and spin were prevalent while serving with this racquet. Mike had nothing but positives to say about this racquet on serve. He said, "This was my favorite shot to hit with this racquet. I was hitting with a lot more pace than I was used to. Getting freebies made it easier for me, and I had less pressure on me for the entire match."
Serving wasn't a strength for Tiffani with the EXO3 Warrior 100. She said, "This stroke is where I struggled most. Serve is where I struggle to create my power. The EXO3 Warrior 100 didn't offer me much in terms of free power. I felt like I got some good spin on my serves, but there was little oomph behind them."
Chris wasn't able to hit a heavy serve with this racquet. He said, "I liked the amount of spin I found on serves but could not get the court penetration I like when I amped up the pace. Again, pace was decent, but after the bounce my serve was sitting up a little and not pushing through as deep as I like. Still, with so much spin on tap I was able to move the ball around to various targets, keep the returner guessing and start the point on the offensive."
Enjoying the EXO3 on serve was Brittany, who said, "I had a very similar experience with my serves as I did my groundstrokes. I found a fair amount of power that I would describe as not too much but not too little. I was able to go after both my first and second serve while being able to add enough spin to keep the ball in the service box. I found my favorite serve with racquet was down the T on the ad side."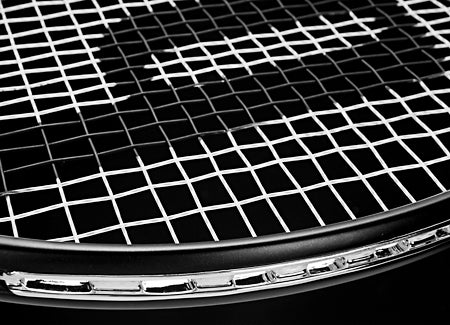 Serve Returns - Score: 80
Our testers liked the maneuverability and the combination of spin and power that allowed them to be aggressive. Finding this racquet to be maneuverable on returns was Brittany. She said, "I was able to get my racquet back early and take a good cut at the ball. Being that the return is one of my strong points, I was able to get a good combination of power and spin to start the point off aggressively."
Chris liked the light and fast feel of this racquet, which made it easy to whip through contact. He said, "I had success hitting nice angles and dropping the ball low to the feet of serve and volleyers. My slice backhands lacked the knife-like drive I like, but the level of spin was good. The racquet felt decent when fending off serves to the body, as it was so easy to maneuver that I could still get plenty on the ball even when tied up by the serve placement."
Mike found the racquet really easy to adjust to, saying, "Right off the bat, I was able to fully swing through the ball and not have to hold back. I thought it was arm friendly and gave me the control and power I like. It is always nice to not have to adjust much when hitting a new racquet."
The racquet seemed to lack enough mass in the head for Tiffani. She said, "I felt like the issues I had with the racquet's fluttering were amplified on returns. This made it harder for me to feel comfortable swinging through the ball, and a lot of my returns landed much too short to be effective."
Overall - Score: 79
Likes
Chris - "I liked the spin, and it pretty much ended there for me with this one."
Tiffani - "There was easy access to spin and good comfort."
Brittany - "I enjoyed the power and maneuverability on groundstrokes and returns."
Mike - "Everything. Probably my favorite playtest. By far, nothing to complain about."
Dislikes
Chris - "I found it too hard to get any feel from this racquet. The ball would just get lost in the stringbed, and I had a heck of a time judging depth. For whatever reason, a synthetic gut helped add some feel, but it was still a long way off the EXO3 Red, Blue or Silver for feel. Considering the player type this racquet is intended for, it should offer more feel than all of those."
Tiffani - "I found it to be string sensitive (with a poly, I couldn't control depth), and it didn't offer me any power on my serves."
Brittany - "I struggled with connecting with the ball when hitting slices or volleys."
Mike - "Nothing."
Comparing the EXO3 Warrior 100 to other racquets, our testers said:
Chris - "This one hits most like the EXO3 Black, but for me it wasn't as good. I've been enjoying a bunch of EXO3 racquets recently -- especially the EXO3 Silver -- but this one didn't click with me. Basically, it lacked the feel of the others. It offered the same comfortable response, but with this one I felt too disconnected to where the ball was going depth-wise."
Tiffani - "The feel is hard to explain, but this has a deadened feel. Of Prince EXO3 racquets, I think this plays closest to the EXO3 Black in terms of maneuverability, weight and spin potential. I did find, though, that the EXO3 Warrior played softer and was more flexible than the Black, so I felt like I was getting a little bit less sting on my shots."
Brittany - "Compared to the EXO3 Black, I found similar power and spin off my groundstrokes and serves. I thought the racquet was slightly more maneuverable and comfortable for me to play with. I would compare this racquet to the Wilson BLX Steam 100, but with more power."
Mike - "I actually used the Prince TT Warrior prior to playtesting this new version. I really enjoyed the new version. I noticed a lot of improvements all around. My favorite, overall, was the power the racquet offered me on my serve. I was really surprised at how easy I could adjust to the racquet and how easy things were for me on every aspect of my game."
Technical Specifications

Length
27 inches
69 centimeters
Head Size
100 square inches
645 square centimeters
Weight
11 ounces
312 grams
Balance Point
13 inches
33 centimeters
4pts Head Light
Construction
24mm / 25.5mm / 22.5mm
Composition
100% Graphite
String Pattern
16 Mains / 19 Crosses

Babolat RDC Ratings

Score

Grade

Flex Rating
64
Range: 0-100
Swing Weight
319
Range: 200-400
Scores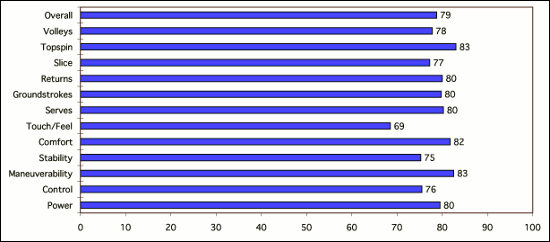 (Scores are determined by averaging individual play test scores)
Chris's Scores
Power
7.8
Serves
7.6
Control
7
Groundstrokes
7
Maneuverability
8.3
Returns
7.8
Stability
7
Slice
7.8
Comfort
8.3
Topspin
8.3
Touch/Feel
5
Volleys
7.7
Overall
7.3
Tiffani's Scores
Power
7.6
Serves
7.5
Control
7.4
Groundstrokes
7.8
Maneuverability
8
Returns
7.4
Stability
7.5
Slice
7.7
Comfort
7.9
Topspin
8
Touch/Feel
7.5
Volleys
7.8
Overall
7.5
Brittany's Scores
Power
7.9
Serves
8.2
Control
7.4
Groundstrokes
8.3
Maneuverability
8
Returns
8.3
Stability
7.6
Slice
7.5
Comfort
8
Topspin
8.1
Touch/Feel
7
Volleys
7.2
Overall
7.9
Mike's Scores
Power
8.5
Serves
8.8
Control
8.4
Groundstrokes
8.8
Maneuverability
8.7
Returns
8.5
Stability
8
Slice
7.9
Comfort
8.5
Topspin
8.8
Touch/Feel
7.9
Volleys
8.4
Overall
8.8
Playtester Profiles
Chris: 5.0 all court player currently using the HEAD Youtek IG Prestige Midplus. Chris uses a full-western forehand grip, has a fast swing style and hits a one-handed backhand.
Tiffani: 4.0 level baseliner with a semiwestern grip on the forehand and hits a two-handed backhand. Currently playing with the Tecnifibre Rebound Pro.
Brittany: Open level player with a semi-western forehand and a two handed backhand. She currently plays with the Yonex V-Core 100S.
Mike: 5.0 baseliner with a semi-western forehand and two-handed backhand. His current racquet of choice is a customized Prince Triple Threat Warrior.

Review date: March 2012. If you found this review interesting or have further questions or comments please contact us.
All content copyright 2012 Tennis Warehouse.