Wilson Pro Staff Classic Supreme Women's Shoe Review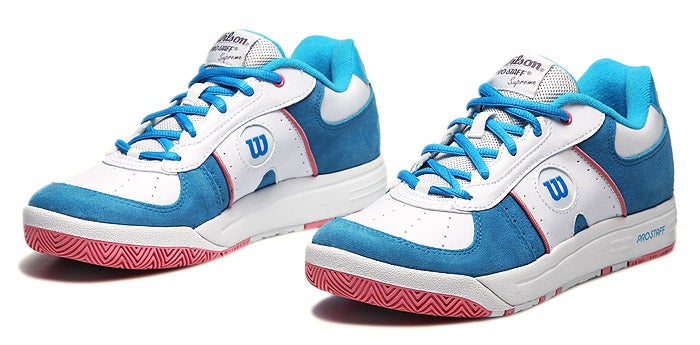 Wilson Pro Staff Classic Supreme Women's Shoe Scores
Comfort
3.9
Ventilation
2.5
Arch Support
3.3
Foot Support/Stability
3.6
Overall Sole Durability
3.3
Toe Durability
3.1
Traction
3.8
Weight
4.0
Overall
3.4
Upsides
No break-in comfort
Retro styling
Lightweight
Downsides
Ventilation
Fits short
Mediocre durability
Summary
Classic yet functional, the Wilson Pro Staff Classic Supreme is a tennis shoe with a retro design. The shoe provided lightweight comfort with virtually no break-in period. Although the general comfort of the shoe was high, the cushioning was a little too stiff to really absorb the shock of aggressive movements on hard courts. Also, our testers wanted to take the shoes off as soon as they were done playing because of the shoe's limited ventilation. Overall support was high, and the stability allowed full court movement without any fear of an ankle roll. Our testers found the traction needed a slight break-in, but felt they were able to move efficiently and aggressively in the shoes during play. Durability, though, was not incredibly impressive, with our testers seeing wear in just a few hours. The Wilson Pro Staff Classic Supreme earned passable marks on the court and has an appeal that extends beyond the court.
Comfort - Score: 3.9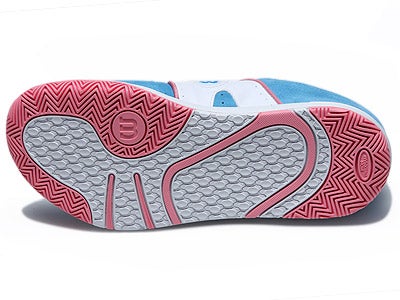 Comfort was high in the Wilson Pro Staff Classic Supreme, although the cushioning didn't absorb the pounding from the hard courts as well as Brittany had hoped. She said, "I found these shoes to be very comfortable right out of the box, and they had virtually no break-in period. The upper was very soft and molded to my foot almost instantly. I did think the cushioning was on the stiffer side, especially in the heel area, and didnŐt absorb the shock of pounding on a hard court."
Tiffani agreed, saying, "I was pretty comfortable in the Pro Staff Classic Supreme right from the start. I have to admit that I did wear them around a day before playing in them, but it wasn't really to break in the shoe. I actually just liked the way they looked on my feet, reminding me somewhat of a skate shoe in design. The cushioning was firm but offered good comfort throughout the testing period. One note, though, is that shoe felt a little short lengthwise, so I liked to wear thinner socks with it. For me it was a quarter-size short or so, putting me between sizes."
Ventilation - Score: 2.5
The ventilation was lacking for our playtesters, and they found their feet heating up uncomfortably during play. Tiffani said, "This was my least favorite aspect of this one. I could feel my feet heat up while playing, and I always took them off, along with my socks, right after I played. There are few ventilation features on this one, and it was definitely noticeable when I was playing."
Brittany added, "I found these shoes to be on the warmer side, too. There were a couple perforations on the upper to help with breathability, but I didnŐt feel it was enough. My feet were very warm on the court, and I definitely took them off immediately after playing tennis."
Arch Support - Score: 3.3
Our two testers had different experiences with the arch support. Brittany thought that the arch support of this shoe did not match up to her arches. She offered, "I felt it to be a tad higher than medium, which in turn made my medium arches very sore. I found this to be prevalent throughout the playtest and they never compressed. I was always very aware of the arch support on the court, and it was slightly distracting."
Tiffani liked the arch despite it not completely matching up to her low arches. She said, "The arch support felt higher than medium, so I felt it underfoot, especially since I have pretty flat feet. However, it didn't cause any discomfort. So with no aches or pains, I have to give this a thumbs up."
Foot Support/Stability - Score: 3.6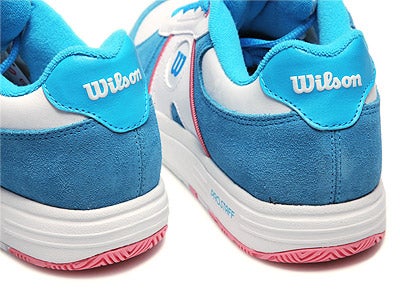 Appearances can be deceiving, particularly with the casual look of the Pro Staff Classic Supreme, but the playtesters enjoyed the support and stability the shoe provided. Tiffani found her initial impressions incorrect. She said, "The look of this shoe doesn't scream high performance tennis shoe. It honestly looks like a kick-around shoe to me, so I was pleasantly surprised by the amount of support and stability it provided. I wouldn't place it with the best, but it's not the worst either. I never had any huge issues with support. There were some occasions when I was stretched out wide and making a hard change of direction that I could feel the shoe near the brink, but it always held me safely."
Brittany liked how the shoe held her foot in place, although she thought it ran a bit small. She said, "First off, my foot did not move around at all in the shoe and was held firmly in place. However, this was due to the fact that the shoe ran on the smaller size. I wore a size 8 (which is my normal size), and I found my toes to be right up against the front of the shoe. I would definitely go a half-size larger. Nevertheless, I was very confident in my movement and thought the ankle stability was excellent."
Overall Sole Durability - Score: 3.3
The sole durability of the Pro Staff Classic Supreme was about average for Brittany. She said, "The pimple and herringbone tread pattern was not my favorite, as I found it collected a lot of ball fuzz that made the shoe slippery. I had wear in the toe areas of both shoes after putting in about 10 hours on the shoes."
Tiffani had no complaints, but wished for better durability. She said, "Again, I have to say that it performed better than expected but was not a top performer. I started to see some balding around the five-hour mark, but I was just smoothing out the tread where I drag my toe. The other area I tend to wear out is below the ball of the foot, and that part of the shoe was holding up pretty well."
Toe Durability - Score: 3.1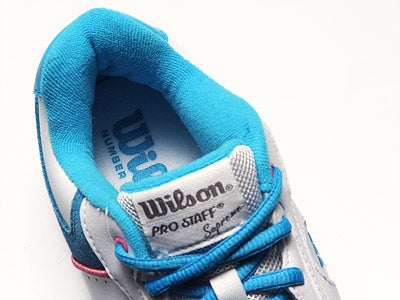 Both of our testers are toe draggers, and while they liked the look of the suede on the top of the shoe they had mixed opinions about the effectiveness of it on the tennis court. Tiffani said, "I play strictly on hard courts, and I thought that it would be one of those one-and-done situations because of the suede on top of the shoe, but the suede held up well, even cosmetically. It turned a slightly lighter shade of blue as I dragged my toe, so I was happy in that regard. The rubber toe bumper was wearing more quickly, though it wasn't an imminent issue."
Brittany disagreed, saying, "There was little to no protection for toe draggers. The toe bumper only goes up halfway and is met by suede fabric. I was already smoothing the suede out after the first hit, and it affected the cosmetic of the shoe. By the end of the playtest I had rubbed through a layer of the suede."
Traction - Score: 3.8
Despite some issues with the shoe's grip, both testers felt they were able to move efficiently and aggressively in the Pro Staff Classic Supreme. Needing a bit of a break-in period was Brittany. She said, "I found the traction of this shoe was better after the first couple hits. Once I had put some mileage on the shoe, it had surprisingly good traction. I felt I was really able to grip the court, especially when I was starting and stopping."
Tiffani said, "The tread pattern is not your typical hard court pattern, but I had very few problems moving around. At first the shoe had a scratchy sound that sounded a bit like sandpaper on the court. It was more of an annoyance than anything and wore off after an hour or so. I slipped a couple of times, but the issues were minor. I didn't feel like I had to hold back on any of my movements."
Weight - Score: 4.0
The Pro Staff Classic Supreme's weight allowed our players to make quick movements around the court. Finding the weight to be a non-issue was Tiffani. She said, "How much does this weigh? OK, OK, I'll look it up. 11.3 ounces, size 8.5, if you were curious. I asked because, well, I never thought about it. Though this shoe doesn't have the most streamlined design, it was plenty lightweight for me."
Agreeing with Tiffani, Brittany added, "I found the weight of the shoe to be just fine. I was able to move quickly around the court in any direction. This shoe was definitely on the lighter side and I enjoyed that aspect of it."
Overall - Score: 3.4
Likes
Brittany - "I liked the retro look of the shoe and the immediate comfort."
Tiffani - "It has an off-court appeal with its design and no break-in is needed."
Dislikes
Brittany - "I was not a fan of the arch support or durability."
Tiffani - "Ventilation, or lack thereof. I also felt like my feet were between sizes."
Comparing the Pro Staff Classic Supremes to other shoes they've worn, our testers said:
Brittany - "It is hard to compare this shoe to a performance tennis shoe. I donŐt think I have played in any tennis shoe that compares. My best bet would be the more classic leather Wilson shoes."
Tiffani - "I have to go back in time a bit to older Wilson ProStaff shoes I've worn. It's been a while since I've worn one, but the shoe does have that classic ProStaff feel about them, despite the more modern blue and pink cosmetic."

Playtester Foot Types:
Brittany - Narrow width / Medium arch
Tiffani - Wide width / Low arch

Review date: May 2012. If you found this review interesting or have further questions or comments please contact us.
All content copyright 2012 Tennis Warehouse.