Wilson BLX Six.One 95 16x18 Racquet Review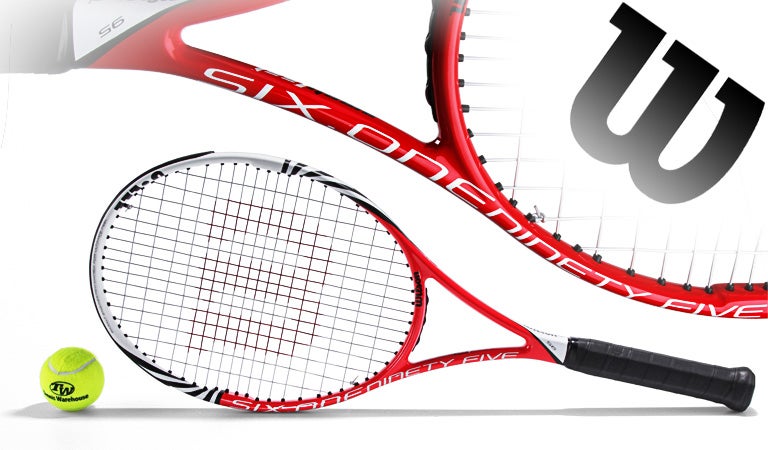 Wilson BLX Six.One 95 16x18 Scores
Comfort
84
Touch/Feel
83
Serves
84
Groundstrokes
82
Returns
82
Slice
83
Topspin
84
Volleys
86
Overall
84
Upsides
Spin
Stability
Plow Through
Improved feel over previous version
More power than the 18x20 version
Downsides
Response not as predictable as the 18x20 version
Summary
This latest version of the Six.One 95 16x18 picks right up where every previous version has left off. The same impressive plow through power, easy access to spin and rock solid feel is offered up here. To sweeten the pot, Wilson has improved the feel with its new Amplifeel technology. From the baseline our testers were hitting with lots of pace and spin. The solid response made aggressive shots feel more precise and gave some added punch to defensive shots. The stringbed was noticeably livelier when compared to the 18x20 version. The benefits were easier access to spin, depth and pace. The trade-off was the stringbed did not play with quite the consistency offered up by the 18x20 version. On serve our testers enjoyed added pace and kick. The amount of spin allowed players to stay aggressive on second serves, trusting the spin to keep the added pace within the lines. At net the rock solid response allowed easy access to depth, while keeping the racquet stable when softening the grip for touch. All in all, this is another impressive Six.One 95. If you've liked previous versions, we think you'll not only find this an easy adjustment, but also an improvement.
Groundstrokes - Score: 82
From the baseline, our testers all noticed the rock solid feel of this racquet. Carol liked the combination of attributes the racquet offered. She said, "This racquet offers both power and control. I found it to maneuver well around the court and provide added stability. I felt very comfortable with all my groundstrokes and was able to add or decrease spin with ease. I loved that Wilson added the Amplifeel technology. I believe it was the only thing missing from the previous version. It allows the racquet to absorb any shock when hitting outside the sweetspot and added extra feel to normal shots. Wilson kept the BLX technology, which maintains feel as well. "
The open string pattern provided Chris with a lively feel. He said, "The open string pattern offered excellent access to spin, and I preferred the response when hitting topspin. I was hitting my slice well, but not quite as well as I did with the tighter string patterned version. Out of the two, this one definitely felt livelier. When playing against Britt and Siobhan (who both hit so bloody deep all the time), I found it easier to fend off the depth and pace with this one. I liked how I could easily roll the ball deep cross court with topspin from both wings. On approach shots, I had to use some added caution playing with depth to allow for the plow through and ball speed that came off the face of this racquet. The stringbed did not feel as predictable as the 18x20 version and the power could catch me out at times."
Mark noticed that the swingweight was a little higher than expected, saying, "Our 16x18 came in at 12.2 ounces. This extra mass was almost the straw that broke this camel's back, so to speak. I was not quite able to benefit from the extra frame material, and some shots were coming up shallow as a result. I hit some beauties if I got the racquet set up properly. My groundstrokes were good, but not as consistent as I would've liked."
Able to get great feel was Troy, saying, "I was definitely noticing how the open string pattern was giving me a lot of topspin, which was apparent on cross court angle shots. Compared to some of the other 95 square inch headsize racquets on the market, I was noticing an easier access to power due to the open string pattern and the relatively healthy swingweight. The only downside was the depth of my shots, which was unpredictable at times compared to the denser (18x20) version. There were times when I felt like my shots were barely clipping the net or landing about a foot long. I felt more dialed in with the 18x20 version, most likely because I use an 18x20 string pattern and I'm used to the trajectory that the ball comes off that stringbed."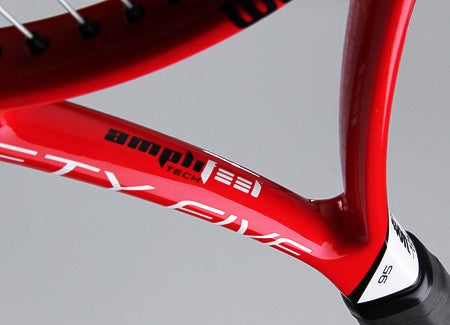 Volleys - Score: 86
A great response at net was noticed by all our testers, who enjoyed hitting volleys with this racquet. Troy felt that this stick was just as solid on volleys as it was on groundstrokes. He said, "The feel at net was really responsive. I had enough mass to put the ball away with ease, and maneuverability was good enough for me to get the racquet into place against the hardest of shots hit at me. The responsiveness was beneficial in allowing me to go for finesse shots and sharp angles. I was very pleased with how this racquet performed when attacking the net in doubles. The main difference between this version and the 18x20 pattern was that this one had a slightly livelier feel, and the ball came off the stringbed with a little more pop, which was a benefit sometimes and a detriment other times."
The Amplifeel enhanced comfort for Carol on volleys. She said, "This shot was very comfortable and controlled. I was able to change the pace of the ball with ease, and the absorption of power from the Ampifeel technology was a great addition."
Finding it stable with good feel was Chris, who said, "I could punch volleys away with ample pace and little effort. The racquet remained sold on touch volleys, allowing me to absorb the incoming pace and delicately drop the ball for a short angle.
At net was where Mark enjoyed the weight of the racquet. He said, "The extra mass did benefit my volley, and this was the only shot of mine that was enhanced with this racquet. Just get it into position, and the rest takes care of itself."
Serves - Score: 84
Stability, spin and plow through were the standout performance aspects on serve for our testers. The easy access to spin won Troy over. He said,"The open string pattern was helping me get a lot of spin and kick on my serves. With the head light balance, I felt I was really whipping the racquet head around to create a lot of movement on my serves. As a lefty, my favorite serve with this racquet was the kick serve out wide on the deuce side. My slice serve was also breaking nicely, with a lot of curve on it."
Mark found the racquet to be less effective on serves but enjoyed the bite it produced. He said, "My serves had some good pace and spin on them, but nothing out of the ordinary for me. Again, the extra frame material caused some timing issues on this shot."
Finding precision on serve was Carol. She said, "This was my most controlled shot. I felt very confident in the racquet when it came to the serve. I was able to hit all marks with ease and power. Adding and taking away spin was easily accomplished."
Happy with the pace and spin he found on the serve, Chris said, "It was my favorite shot with this racquet. I felt very consistent, even when serving aggressively. I could hit all my serves and find my targets with ease. I liked the topspin I was getting and used my kick serve a lot in doubles to buy time to close the net for my first volley."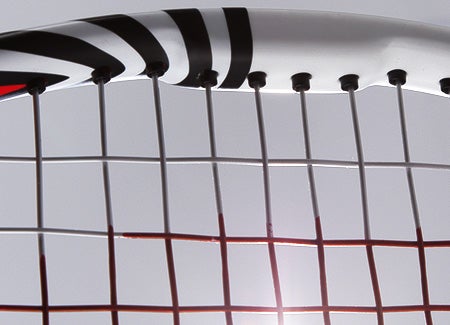 Serve Returns - Score: 82
The maneuverability was great for most of our playtesters on returns, as was the noticeable and effective stability. Chris found the head light balance kept the racquet feeling maneuverable. He said, "I was able to take a good cut at most returns. When forced to return defensively, the lively response and stability made it easy to chip the ball deep. I liked the topspin I was finding as well, and that had me hitting some good angle returns in both singles and doubles."
Troy liked the stability and plow-through of this racquet, saying, "It helped me get some good depth on my returns. I felt that I had good maneuverability, which helped me to flick the ball back if I was stretched out. The lively stringbed helped with depth of my returns, but when I was trying to be aggressive and attack there were times when I felt that the ball was flying just slightly long. Overall, a solid racquet on returns, I was just more consistent and precise with the 18x20 version."
Mark thought the BLX Six.One 95 brought a consistency to the return, but he had some issues. He said, "This racquet was stable and effective on this shot, but it was me who was not able to maneuver it, and I could not really take an aggressive swing at the ball on second serves."
Control seemed to be the theme for Carol. She said, "Control, control, control. I loved that I could really master my strength with this racquet. I found a lot of power to go with that control as well."
Overall - Score: 84
Likes
Mark - "I think that I could build up to this racquet with some more upper body strength, so I loved that it challenged me. Also, the open pattern created a deeper ball pocket than the 18x20 did, which I liked. Everything about this racquet was great. It reminded me of racquets that my big brother could swing, and I couldn't wait until the day that I could."
Troy - "Surprising power for a 95 square inch racquet. It is nice to have a racquet that provides all the plow-through and stability that I prefer in its stock weight and balance."
Chris - "I liked it the most when serving. I enjoyed the solid, stable feel and easy access to topspin."
Carol - "This is a classic racquet that Wilson was able to perfect even further with the addition of the Amplifeel technology. I am a big fan of the BLX technology as well, and I'm glad they maintained it in this newer version. This is an all court stick that excels with every shot. This is not a light racquet, but I don't think the weight impairs or overwhelms me at all."
Dislikes
Mark - "I didn't dislike the racquet, only the fact that it is just out of reach for me to swing effectively, right now. It made me want to go do some pull-ups and push-ups."
Troy - "The open string pattern was a bit lively and unpredictable compared to the 18x20. Not a huge fan of the paint job."
Chris - "A tad lively on approach shots at first, but I was able to adjust. Also, the stringbed had a bigger power change in and around the sweetspot compared to the 18x20, and that caught me off guard at times."
Carol - "No dislikes! I will be buying this racquet."
Technical Specifications

Length
27 inches
69 centimeters
Head Size
95 square inches
613 square centimeters
Weight
12.2 ounces
346 grams
Balance Point
12.25 inches
31 centimeters
10pts Head Light
Construction
22mm Straight Beam
Composition
Basalt
String Pattern
16 Mains / 18 Crosses

Babolat RDC Ratings

Score

Grade

Flex Rating
66
Range: 0-100
Swing Weight
324
Range: 200-400
Scores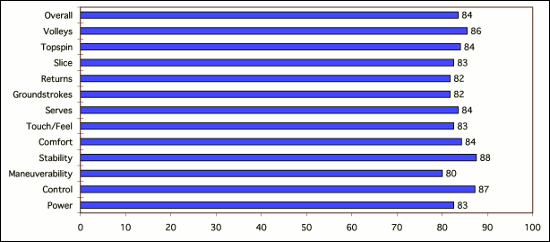 (Scores are determined by averaging individual play test scores)
Mark's Scores
Power
7.5
Serves
7.5
Control
9
Groundstrokes
8
Maneuverability
7.5
Returns
7.5
Stability
9
Slice
8
Comfort
7
Topspin
8
Touch/Feel
8.5
Volleys
9
Overall
8
Troy's Scores
Power
8.5
Serves
8.9
Control
8.7
Groundstrokes
8
Maneuverability
8.8
Returns
8.5
Stability
9
Slice
8
Comfort
8.8
Topspin
8.5
Touch/Feel
8.5
Volleys
8
Overall
8.5
Chris's Scores
Power
8
Serves
8
Control
7.7
Groundstrokes
7.7
Maneuverability
7.7
Returns
7.7
Stability
8
Slice
8
Comfort
8.4
Topspin
8.1
Touch/Feel
8
Volleys
8.2
Overall
7.9
Carol's Scores
Power
9
Serves
9
Control
9.5
Groundstrokes
9
Maneuverability
8
Returns
9
Stability
9
Slice
9
Comfort
9.5
Topspin
9
Touch/Feel
8
Volleys
9
Overall
9
Playtester Profiles
Mark: 5.0 lefty all-court player with a one-handed backhand. He currently plays with the Dunlop Aerogel 4D 200.
Troy: 5.0 lefty all-court player with a full Western Forehand and a two handed backhand. Troy currently plays with a customized Wilson KBlade 98.
Chris: 5.0 all court player currently using the HEAD Youtek IG Prestige Midplus. Chris uses a full-western forehand grip, has a fast swing style and hits a one-handed backhand.
Carol: Open level baseliner currently using a Wilson BLX Six.One 95 (16x18). Carol is an aggressive player who uses an eastern forehand grip and a two handed backhand.

Review date: February 2012. If you found this review interesting or have further questions or comments please contact us.
All content copyright 2012 Tennis Warehouse.