Wilson Pro Staff Classic Supreme Men's Shoe Review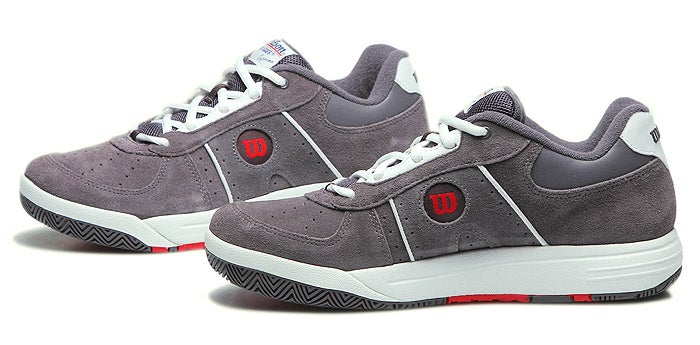 Wilson Pro Staff Classic Supreme Men's Shoe Scores
Comfort
3.9
Ventilation
2.3
Arch Support
3.6
Foot Support/Stability
3.3
Overall Sole Durability
3.4
Toe Durability
2.0
Traction
4.0
Weight
4.5
Overall
3.6
Upsides
Cosmetics
Off-court appeal
Comfort
No break-in
Downsides
Minimal ventilation features
Not very durable
Summary
For a shoe that looks good off court and performs on court, take a look at the Wilson Pro Staff Classic Supreme. Offering a retro look with traditional full grain leather with a suede finish, the Pro Staff Classic Supreme provided supple and pliable uppers that provided all-around comfort. Our team liked the feel of the shoes and the comfort level as casual shoes, but some testers would have preferred more support on the court. Although not featuring any bells or whistles when it came to cushioning technology, our testers found the shoes did an adequate job keeping every step comfortable on court. The playtesters did note one drawback, and that was when it came to ventilation. A lack of perforations in the upper did not help our testers' feet breathe. In the end, the Wilson Pro Staff Classic Supreme pleased our testers as a shoe that offers great walk around comfort with just enough court performance features.
Comfort - Score: 3.9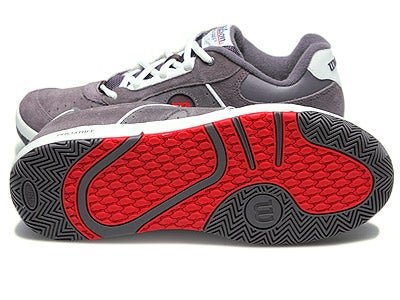 There's nothing quite like natural materials to make an upper feel supple and pliable. From the start, the fit was very good for Spencer. He said, "They weren't too wide or too tight. For a more traditional type of shoe, the comfort was more modern in the sense of a plush feel. The cushioning was plenty satisfying, yet not soft enough to cause a 'wobbly' feel. These shoes offered excellent comfort during play from the first lace-up."
Finding the uppers nice and supple, but needing a little more comfort was Jason. He said, "It felt like I was wearing a casual or skate-type shoe more than a tennis shoe. However, I felt like the cushioning was either too firm or insufficient for the tennis court. I noticed a considerable amount of shock and vibration on my harsher landings. But they would score much higher in the comfort category as a shoe that I'd just walk around in."
Chris noticed how great they were out of the box, saying, "I found these shoes required practically no break-in. The uppers were soft and comfortable and moved well with my feet. The shoe felt lighter, more flexible and more comfortable than the old ProStaff Leather Low I used to wear back in the day. As a casual shoe the comfort was very impressive, and I enjoyed walking around in them."
Ventilation - Score: 2.3
The shoe has few ventilation features, but our team could not arrive at a consensus on the subject of breathability. Chris offered, "While the uppers lacked perforations, the leather breathed fairly well. My feet did not get especially hot in these shoes. The width fit was a tad roomy on me, and I think the extra space I had inside the shoes helped my feet breathe."
Jason countered, "The few ventilation holes that were in the upper must be strictly for cosmetic purposes. The leather and suede did not breathe! My feet would feel hot even after a few minutes of playing in these shoes. After an hour my feet felt like they were being suffocated. With nowhere for the moisture to go, my feet would be sitting in a layer of sweat at the end of every hit."
Noticing the lack of ventilation, but not finding it a hindrance was Spencer. He said, "The upper didn't offer much in regard to breathability. The suede upper, though comfortable, had minimal perforations, making ventilation less than good. That said, the minimal breathability didn't much affect me during play."
Arch Support - Score: 3.6
The medium arch support also garnered mixed reviews. Initially finding discomfort, but liking the overall arch support was Jason. He said, "The arch felt like it was a medium fit to me, which is just a bit too high. It did wear down slightly throughout the playtest, so much so that it was almost a non-factor while I played."
The arch of this shoe wasn't perfect for Chris, either. He said, "The arch support was too low for me. I would have also liked some added rigidity from a shank to help beef up the stability of the shoe under my arches. I felt a few arch strains in these shoes when sprinting forward hard. Not enough for me to worry about injury, but it was noticeable."
Spencer found exactly the right arch support, saying, "The arch support was at a medium height and hit my arches just right. I felt plenty of support and didn't have any issues before, during or after play."
Foot Support/Stability - Score: 3.3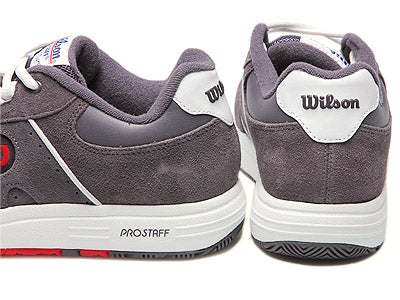 The support and stability were enjoyed by part of the crew, while other testers found a little loss of confidence when moving aggressively. Spencer felt supported, secure and stable in this shoe. He said, "I was pleasantly surprised with the stability of the Classic Supreme. I could move and plant laterally, and I felt a good base on this shoe. I immediately gained trust in the shoe when it came to changes of direction. When it came to support, the fit of the shoe helped secure my feet properly."
Chris found himself sliding around in the Pro Staff Supreme Classics, so he had to add size with socks. He said, "The uppers are very soft, which was great for comfort but not so great for support. With a slightly wide fit on me, the support was not great in these shoes. I never felt like I was going to roll an ankle, but my feet were sliding around inside the shoes. The bottoms of my feet got sore playing in these shoes, even when wearing two pairs of socks, due to my feet sliding around inside them. The support was OK for a casual hit, but not enough for an all out practice or a match."
Jason didn't like the movement he was experiencing inside the shoe. "I was sliding a lot inside the shoe. I never felt like I could cinch down my laces tight enough to keep my feet felt locked in and secure. Because of that, I got my share of blisters throughout this playtest. The shoes, however, did feel pretty stable and resistant to rolling. I think some of it had to do with the fact that I didn't feel 100 percent confident in going all out."
Overall Sole Durability - Score: 3.4
Taking into account the lightweight feel of the shoe, most of our testers felt the durability was reasonable. Spencer found this shoe to wear as expected. He said, "Though the outsole isn't the most durable I've worn, I think it was on par with the price point of this shoe. I showed the usual wear under my big toes and under the medial side of the forefoot (on the bottom)."
Putting in the hours on court and finding wear to be minimal was Jason. He said, "From what I could see, the durability was actually pretty good. I put about 10 hours on these shoes and didn't see any significant tread loss. The heel and medial forefoot showed the most signs of wear and tear.
Chris found the durability to be lacking, even for a lighter shoe. He said, "The outsoles wore out quickly on my shoes. I have about 12 hours on them -- mostly light hitting -- and I have worn a hole through the outsole under the big toe of my right foot. The old ProStaff Leather Low was a very durable shoe, and while this one has similar styling, it simply does not have the same durability."
Toe Durability - Score: 2.0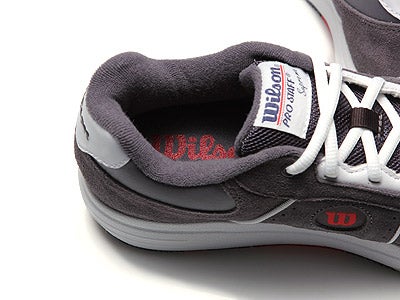 Our one toe dragger in the playtest found minimal toe durability. Chris said, "There is no protection at the toe of this shoe, and therefore the durability was not good. I really liked wearing them casually, so I did my best to not drag my toe in them while playing, as I did not want to mess up the aesthetics. The toes would not last long if I played all out in these shoes."
Traction - Score: 4.0
Opinions on the traction were varied, although most testers felt that they couldn't move as comfortably as they would have liked. Jason had mixed reviews, saying, "I was happily surprised with how well these casual looking shoes gripped the court. I think it did take a wear or two before the rubber was broken in fully. The traction may have felt good because I never felt secure enough to go all out on my sprints and stops."
Chris liked the traction after a break-in period. He said, "During the first hit or so the outsoles felt a tad hard and scratchy on the court surface. However, once the outsoles were scrubbed in I found the level of traction to be pretty solid. I was able to sprint around the court and trust in the shoes to offer the traction I needed."
Finding the traction to be adequate was Spencer. He offered, "I've experienced better traction, but I felt it was on par. I usually prefer something with more stick, but I didn't have any unexpected slips or miscues because of a lack of traction."
Weight - Score: 4.5
The lightweight feel of the shoe was enjoyed by all the playtesters. The weight of this shoe was definitely noticeable for Chris. He said, "These shoes felt very light and fast on court. I liked how the uppers flexed with my feet, and I think that added to the light feel. To make this more of a performance shoe, I think Wilson could add a more durable outsole and some added support, without making the shoes feel heavy."
Spencer thought the light weight of this shoe was excellent. He said, "It allowed me to move around the court efficiently while still providing some support and stability. It plays much lighter than it looks."
Jason also agreed that the weight was one of the shoe's best characteristics. He said, "These shoes felt nice and light on my feet. They were great for just walking around in, and on court the weight was a non-issue."
Overall - Score: 3.6
Likes
Spencer - "Old-school look, while offering good comfort. Also, it performs better than the style would indicate."
Chris - "I liked the style the most. They were also very comfortable to wear when walking around and during a light hit."
Jason -"The light weight and casual feel."
Dislikes
Spencer - "Ventilation."
Chris - "Not really a performance shoe, but I did love wearing them casually."
Jason - "This shoe was much more at home off the court than on. It lacked the features to make it a serious tennis shoe for me."
Comparing the Pro Staff Staff Classic Supreme to other shoes they've worn, our testers said:
Spencer - "The comfort is certainly right in line with many of Wilson's shoes, as they are very plush. Unfortunately, or fortunately (depending on how you look at it), I would prefer to play in this shoe than some higher performance Wilson models because the stability is better in this shoe."
Chris - "I would best compare this shoe to playing tennis in skate shoes or any classically styled shoes. adidas Nastase shoes or Stan Smiths would likely offer a similar level of performance. Whereas the Converse Jack Purcell Evo combines casual style with serious on court performance, this shoe was more casual than performance."
Jason - "These are like the discontinued adidas CT Classic Stripe shoes. They are more comparable to a skate shoe than an actual court shoe."

Playtester Foot Types:
Spencer - Medium width / Medium arch
Chris - Narrow width / Medium arch
Jason - Wide width / Low arch

Review date: May 2012. If you found this review interesting or have further questions or comments please contact us.
All content copyright 2012 Tennis Warehouse.