Wilson BLX Juice Pro Racquet Review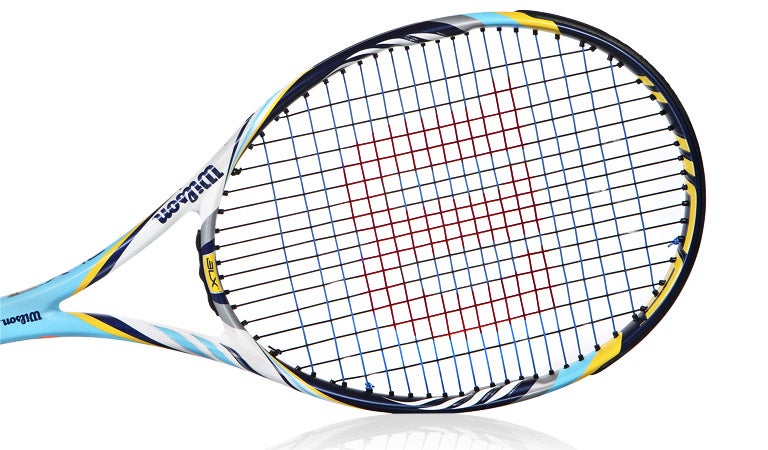 Wilson BLX Juice Pro Scores
Comfort
80
Touch/Feel
76
Serves
83
Groundstrokes
83
Returns
81
Slice
82
Topspin
82
Volleys
81
Overall
81
Upsides
Power
Stability
Solid response
Spin potential
Downsides
Extended length not for everyone
Summary
Players seeking power, stability, spin and control will find a willing partner in the BLX Juice Pro from Wilson. It seems to be the perfect complement for a player like Juan Martin del Potro, and Wilson has informed us it is going to be his racquet of choice. While the racquet's name and cosmetics weren't home runs with our testers, the performance on the court impressed them all. The racquet's extended 27.25-inch length increased the swingweight enough to deliver crushing power on groundstrokes and serves. The stringbed offered up impressive levels of spin, no matter what string set up we put in it. Stable and solid at net, the racquet handled power just as well as it dished it out. With a comfortable feel, this racquet is well worth a look for the modern power/spin player, yet it offers the control needed to please counter punchers, too. We think intermediate through advanced level players will get the most from this racquet.
Groundstrokes - Score: 83
From the baseline, the weight, swingweight and extended length all helped produce a stable feel with court penetrating depth. Finding nice power and plow through was Chris. He said, "Soft and forgiving, this racquet reminded me of a dampened Pure Drive. It felt more solid and stable than the BLX Pro Tour it replaces. This one is more in line with the weight and feel I like, so it was a better fit for me than the old Pro Tour. I found better power from the BLX Juice Pro off the ground and felt I had more plow through from the racquet. Coming through contact the racquet felt beefier, like I was getting more stick behind the ball. I really enjoyed smacking some big forehands with this racquet. Working the rally and waiting for the right ball to take a big cut at was the order of the day. I found decent spin when rolling angles and enough spin to keep aggressive approach shots inside the baseline. I also liked this racquet on my slice backhand. It came through the ball well, with enough drive to knife the ball deep and keep it low. I tried both a poly main/multi cross hybrid and a full bed of poly and preferred the all poly set-up. With a full stringbed of something firm, like Kirschbaum Pro Line Evolution, I felt like I could maximize the power, spin and control of this racquet while still finding good comfort."
Sean liked the solid feel. He said, "This is another good addition from Wilson that offers some heft for crushing the ball from the baseline. With a high swingweight and overall heavy feel, almost everything felt rock solid upon impact. I also found some serious access to both topspin and slice, which I used to keep the ball deep in the court with ease. The extra quarter inch of length made this racquet a little frustrating to get used to from the baseline. However, once I adjusted, it performed very well in most areas. Lastly, the control was exceptional throughout my testing, but especially nice when I needed to hit a passing shot or go for the straight winner."
Getting effective results off both wings was Mark. He said, "Racquets in this range of weight and balance are what I prefer, and the Wilson BLX Juice Pro proved to be effective for me off both wings. The Juice Pro was very stable and provided ample plow through against excessive pace and spin off the ground. The BLX Pro Tour, which is somewhat of a previous version, had one of the tightest 18x20 patterns I have seen in a long time. The Juice Pro's 16x20 pattern was more my style for the production of spin and a bit more power oriented as a result of the change. I also enjoyed how I could create an effective level of slice off the backhand, which was pretty easy to keep low."
Spencer started slow before finding the groove with this stick. He said, "This was not a racquet that I came out of the gates with very well. The near 12-ounce strung weight, sluggish swingweight and 1/4 inch extra length all seemed to work against me. Admittedly, it took me longer than usual to get dialed in. Once there, though, I began to take advantage of its assets. This racquet drives the ball nicely through the court. The stability keeps shots in line, and I felt depth was rather easy to achieve. I had no issues with forehands or when coming over the top of the backhand, as long as I prepared early. When I was a little late I would have errant shots, as the heavier swingweight wouldn't allow me to catch up to the ball. Finally, slice was good, as it usually is with heavier weighted sticks."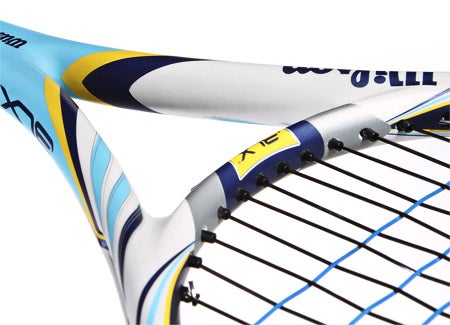 Volleys - Score: 81
The heft of the Juice Pro made the response at net very stable, allowing good depth and pace on volleys. Sean took advantage of the depth and pace that the racquet helped him produce. He said, "I felt comfortable at net with this stick, although I typically prefer something with a lighter feel. It was incredibly easy to keep my volleys deep in the court or put some extra pace on them to force the issue if needed. I thought I would find myself handcuffed or slowed by the weight and extra length, but I had no problems controlling the net when I came forward. With my lanky arms and the racquet's added length, I almost felt like a doubles team with some of the shots I was able to track down."
Finding a solid feel from this racquet's punch was Chris. He said, "I enjoyed the mass from this racquet at net. It allowed me to get some decent pop on punch volleys and find enough stability to hold the racquet lightly on touch volleys. The feel was a tad muted, not enough to make the response feel muddy, but not as clean and crisp feeling as better volleying racquets, such as the BLX Six.One 95s."
Mark had plenty of success when at net. He said, "Getting to the net was a lot of fun with this racquet. All I had to do was get to the right place at the right time. Powerful passing shots aimed at my body were a breeze to handle, and it took crafty angle shots from my opponents (particularly Chris) to get them past the radar."
Though the racquet was stable, Spencer prefers more maneuverability. He said, "Predictably, the BLX Juice Pro felt solid at net. The stability handled shots well, but like with groundies, when I was late getting the racquet into place I would mis-hit. I prefer racquets that are a bit quicker at net, and this one was a tad sluggish for me."
Serves - Score: 83
All of our testers found more than enough power on their serves, while most found plenty of control, too. Spencer enjoyed the consistency and added power. He said, "I really enjoyed serving with this racquet. I was finding some good pace and targeting. I wasn't getting the spin I normally prefer on serve. Even though it has an open string pattern, it looked and felt like a more dense pattern."
Chris was happy with the all-around performance of his serves. He said, "I served well with this racquet. I was able to generate enough power to be offensive, and I felt like I was serving with some decent weight on my shots. Again, I found all the spin I needed to find my targets, and the spin also helped me serve consistently. I liked the comfort, and the racquet felt very forgiving."
Thrilled with the amount of power he found was Sean. He said, "I look forward to serving any time I get to hit with a racquet with extra length, and this racquet turned out to be no different. I didn't necessarily find the accuracy that I'm used to, but the power I was able to generate on my first serves more than made up for it. This racquet really performed well on my second serves, where I usually opt for spin instead of pace, and helped me grab a few easy points. With a full poly stringbed, it really grabbed the ball and caused some problems for my opponent with spin and kick serves."
Liking the reliability on his first serve was Mark. He said, "I am used to a racquet that plays a little softer, but after I got used to the firmer beam I could rely on it for a good first serve in terms of pace, spin and depth."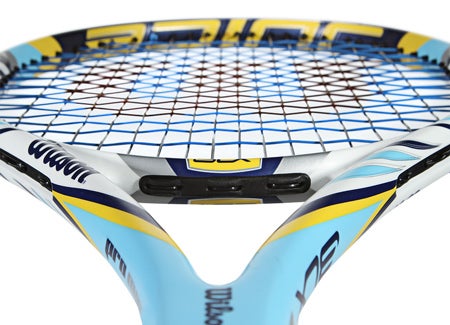 Serve Returns - Score: 81
Our testers found the sturdy response helped them keep returns deep in their opponents' court. Mark found good versatility when returning. He said, "The slice return on the backhand side was immediately consistent for me with this racquet. I basically got what I expected out of it; a racquet that is stable and heavy enough to block back bigger serves, but balanced, so that I can take a swing at the return as well."
Stability and maneuverability were two attributes enjoyed by Chris. He offered, "A nice blend of solidness and mobility made this a great racquet on returns. It felt like it had more mass than a Pure Drive or AeroPro Drive, yet it still felt nearly as fast. I definitely enjoyed hitting some big returns with this racquet. The solid response helped me get the ball deep when hitting defensively."
Sean returned better than usual due to the mass. He said, "Although returning is the definite weak spot in my tennis repertoire, I seemed to return fairly well using this racquet. Thanks to the mass, both my blocking slice returns and my aggressive topspin returns found their way to the back of the court, making it tough on the server. I did find myself stuck in a few situations where the high swingweight hindered my ability to put the ball back into play successfully, but otherwise I liked the control it offered. I was able to be accurate when I had enough time to put a good swing on the ball, and I didn't have to concern myself with overhitting too much."
Finding opportunities to dictate points with his return was Spencer. He said, "Though the maneuverability wasn't great for reaction returns, when I could put the racquet on the ball I found consistent depth. It was nice when that happened, as it gave me an opportunity to dictate points."
Overall - Score: 81
Likes
Chris - "I liked the power, spin, comfort and stability."
Sean - "Sturdy and control oriented. It felt like a good combination of the Blade and the 95 player frames in the Wilson line."
Mark - "I loved the weight/balance, string pattern and head size, which made the BLX Juice Pro pretty stable. The configuration of either a full set of a poly or a hybrid of a poly and a softer cross string worked well with this racquet."
Spencer - "The power, depth and solid feel."
Dislikes
Chris - "Nothing, really. The feel was a tad too muted at net, but that is nothing I couldn't get used to. "
Sean - "I could have done without the extended length."
Mark - "The color combination was not exactly my favorite aspect of the BLX Juice Pro, and I do prefer a more flexible beam."
Spencer - "It took a while to get used to, mostly due to the extended length."
Technical Specifications

Length
27.25 inches
69 centimeters
Head Size
96 square inches
619 square centimeters
Weight
11.9 ounces
337 grams
Balance Point
12.6 inches
32 centimeters
8pts Head Light
Construction
23mm / 24mm / 23mm Dual Taper
Composition
Karophite Black / Basalt
String Pattern
16 Mains / 20 Crosses

Babolat RDC Ratings

Score

Grade

Flex Rating
64
Range: 0-100
Swing Weight
336
Range: 200-400
Scores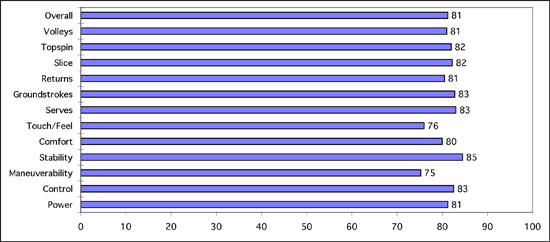 (Scores are determined by averaging individual play test scores)
Chris's Scores
Power
8.2
Serves
8
Control
8
Groundstrokes
8.2
Maneuverability
7.9
Returns
8.3
Stability
8.1
Slice
8.2
Comfort
8.3
Topspin
8.3
Touch/Feel
7.5
Volleys
7.8
Overall
8
Sean's Scores
Power
7.4
Serves
8.8
Control
8.5
Groundstrokes
8.4
Maneuverability
7.4
Returns
7.8
Stability
8.6
Slice
8
Comfort
8.2
Topspin
8.2
Touch/Feel
7.6
Volleys
8
Overall
8.1
Mark's Scores
Power
8.5
Serves
8
Control
8.5
Groundstrokes
8.5
Maneuverability
7.8
Returns
8.4
Stability
8.6
Slice
8.5
Comfort
7.5
Topspin
8.3
Touch/Feel
7.7
Volleys
8.6
Overall
8.3
Spencer's Scores
Power
8.4
Serves
8.4
Control
8
Groundstrokes
8
Maneuverability
7
Returns
7.7
Stability
8.5
Slice
8.2
Comfort
8
Topspin
8
Touch/Feel
7.6
Volleys
8
Overall
8.1
Playtester Profiles
Chris: 5.0 all court player currently using the HEAD Youtek IG Prestige Midplus. Chris uses a full-western forehand grip, has a fast swing style and hits a one-handed backhand.
Sean: 4.5 baseliner using the HEAD Youtek Prestige Pro. Sean has a semi-western forehand, 1 handed backhand.
Mark: 5.0 lefty all-court player with a one-handed backhand. He currently plays with the Dunlop Aerogel 4D 200.
Spencer: 4.5 baseline player currently using the Prince EXO3 Tour 100 16x18. Spencer uses a semi-western forehand grip, and hits with a one-handed backhand.

Review date: January 2012. If you found this review interesting or have further questions or comments please contact us.
All content copyright 2012 Tennis Warehouse.