Wilson BLX Juice 100 Racquet Review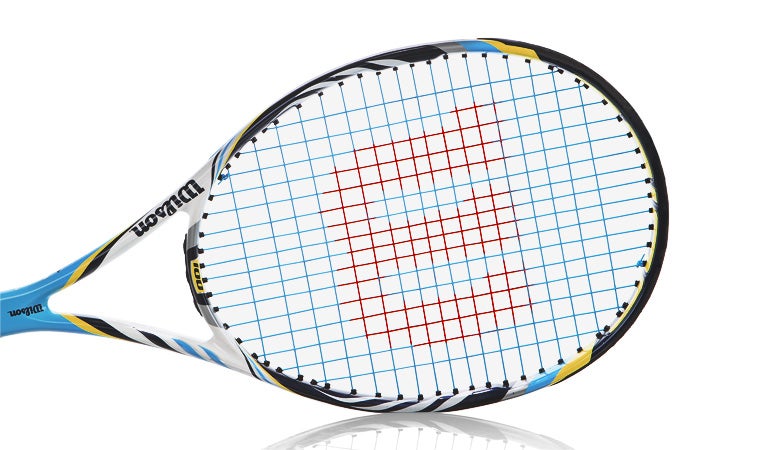 Wilson BLX Juice 100 Scores
Comfort
74
Touch/Feel
75
Serves
79
Groundstrokes
79
Returns
74
Slice
76
Topspin
79
Volleys
79
Overall
79
Upsides
Power
Generous sweetspot
Maneuverability
Downsides
Stability issues for big hitters
Stiff for those with arm issues
Summary
Light, fast and very spin-friendly, the BLX Juice from Wilson is well suited to the modern aggressive player. As you'll see from the comments below, our testers found easy access to pace and depth thanks to a generous sweetspot. Our team put the power to best use on serve, where everyone found impressive pace and spin. However, control and placement suffered somewhat at the hands of this racquet's power, with control best improved via the use of heavy spin. Light and mobile at net, the BLX Juice 100 proved quick and easy to get into position, but did lack some stability when up against harder hit passing attempts. Stronger players may want to consider beefing this one up with some lead tape, but fans of lighter racquets will revel in how quick and easy this racquet is to get around. For maximum comfort we suggest using a multifilament like Wilson NXT 17. Those seeking to increase control and get really insane spin should opt for a monofilament like Luxilon ALU Power. However you string it, the BLX Juice 100 is a light and spin-friendly option best suited to players at the 3.5+ levels.
Groundstrokes - Score: 79
The easy access to both power and spin was the standout attribute for our playtesters with the BLX Juice 100. Finding plenty of positives was Jason. He said, "This racquet was, in a word, easy. Easy to swing, easy to generate power and easy access to spin. I had a good time with this Juice 100 because it played into my strengths and helped with my weaknesses. Because I was able to impart tons of spin on my forehand side, I was able to swing away and know that the spin would help keep my shot in. Because of the nice power, my more tentative backhand shots didn't always land so short. Off either wing, the maneuverability was evident and helped me hit some nice angles. However, there were a couple downsides. Even though I liked the feel, I thought it was a bit too stiff. I also had trouble finding my range on drop shots and my backhand slice; they just kept floating long on me."
After a short adjustment period, Karly found her range. She said, "I personally prefer more head heavy or evenly balanced racquets, so it took a little time for me to adjust to the racquet, though I noticed right from the start how powerful it was. I liked how I didn't have to put much effort into generating pace on groundstrokes. Occasionally, when hitting against a hard hitter, I had difficulty maneuvering the racquet, but I thought this racquet was extremely forgiving when I wasn't able to hit the ball in the center of the stringbed."
Mike found effortless power. He said, "With this racquet my groundstrokes felt the best with this racquet, by far. Both my forehand and backhand felt really good. The head light balance of the racquet made it easy for me to swing, and I was able to get the power I was looking for."
"I had ups and downs with groundstrokes," said Brittany, who noticed some inconsistencies. "The racquet had plenty of power on both my forehand and backhand sides, however, I found some instability issues when I didn't hit the sweetspot cleanly, causing some fluttering of the racquet upon impact with the ball. Since the racquet has some mass (11.3 ounces strung), I was able to hit low and effective slices."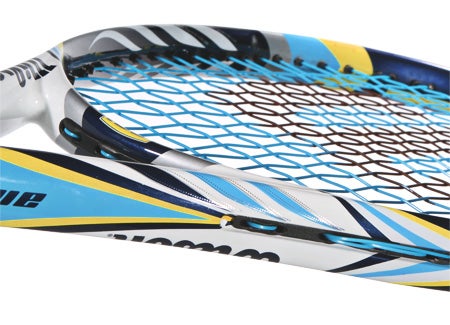 Volleys - Score: 79
The Wilson BLX Juice 100 received mixed reviews up at net. Brittany felt the racquet was quite versatile. She said, "I enjoyed volleying with the Wilson BLX Juice 100. I found the racquet to be stable at net, especially when I was putting away volleys deep into the court. The racquet was also very maneuverable in situations like a quick reflex volley exchange."
Jason agreed, adding, "Solid performance up at net. There was enough weight to handle those harder shots, and I definitely appreciated the mobility, as I was able to get a racquet on some shots aimed right at me. Torsional stability seemed to be pretty good as well, which was most noticeable on the full extension volleys that I seem to hit more often than I'd like. Overheads were executed with ease, but once again, I felt it was lacking in touch."
Karly found the large sweetspot to be a benefit on volleys. She said, "This racquet allowed me to hit volleys deep in the court with a good amount of pace behind my shot. I thought the feel of the racquet was only so-so, though, and I wasn't too impressed with the stability of the racquet. However, I thought its generous sweetspot helped make up for the lack of stability and mediocre feel."
Mike struggled at net. He said, "My volleys felt OK, but I felt like the racquet was a little unstable. It was a bit tough to control and place my volleys, but power from the frame made it easy to block back shots."
Serves - Score: 79
Although power was easy to come by, some testers had placement issues. Karly said, "I would've liked to have seen more control from this racquet when serving. I often had a hard time placing the ball where I wanted, especially when trying to serve out wide or down the T. It was easy on my arm and shoulder, however, and overall very comfortable to serve with."
"The Juice 100 was very easy to swing through the ball and allowed me to get lots of racquet head speed, giving me the power I was looking for," said Mike, who struggled placing his serves. "Placement for serves wasn't the easiest with this frame. If I didn't hit the serve the right way or in the sweetspot, the ball didn't go where I wanted."
Jason liked the added spin and power. He said, "I was able to find some nice pop on my serves with this racquet. You can even say that my serves had some extra 'juice' to them. Hitting my slice serves seemed to result in more bite than usual, and since I mostly hit that serve I was thankful for that. Targeting was average, but for the most part I felt like I was able to place the ball in the vicinity of where I wanted."
There were no complaints from Brittany, who said, "My favorite shot to hit with this racquet was my serve. I was able to get good racquet head speed and really whip the racquet through the ball, creating a big flat first serve. I think I even gained a couple MPHs with this racquet. In addition, I had a lot of confidence with my second serve. I was able to hit more spin serves, with the ability to place the serve anywhere I wanted in the service box."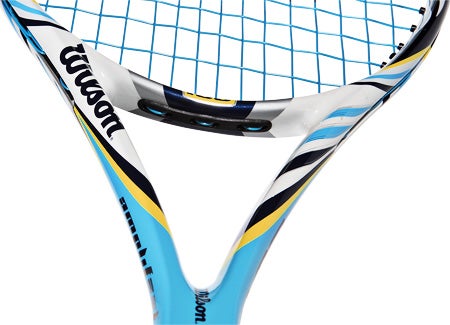 Serve Returns - Score: 74
Returning with this racquet was a bit hit and miss for our team. Brittany said, "I struggled returning serves with this racquet. Like on my groundstrokes, I found some instability when I had to return heavier serves that kicked up above my shoulders. Nonetheless, I had no trouble hitting aggressive returns when stepping in on second serves."
Mike would've appreciated a bit more mass. He said, "I felt like the racquet got pushed around on returns, most likely due to the weight being on the lighter end of my preferences. When I had enough time to fully swing through the ball the racquet felt great, and I hit at my normal pace."
The racquet provided the pop Karly was looking for. She said, "I liked how I was able to generate power off my returns without using a lot of energy. When returning fast paced serves I could get a decent amount of power, even with a shorter swing. However, this racquet made it difficult to control the ball, especially when trying to play aggressively. I had to be cautious at times not to take too big of a swing, so the ball wouldn't fly to the fences."
Jason enjoyed the options the racquet provided. He said, "I liked hitting a variety of returns with this BLX Juice 100, with the exception of the backhand slice return. I got enough depth most of the time when blocking shots back. I got plenty of pace and depth when I was able to get aggressive and take a good crack at a return. Even on forehand slice returns I felt like I was able to knife the ball, get it back with a enough pace or lob it, so that I could get into the point. But for some reason I was floating my backhand slice returns. You can attribute it to user error. I do."
Overall - Score: 79
Likes
Jason - "The ease of use. From the easy access to power and spin to how easily it swings. I liked the feel, but it is too stiff, especially for those who suffer from arm problems like I do."
Karly - "It has a large sweetspot, which helped produce a fair amount of power effortlessly."
Mike - "The maneuverability was my favorite aspect of the racquet. Swinging the racquet and generating power were really easy."
Brittany - "I enjoyed the power I received with this racquet, especially on serves. This might be my favorite racquet to serve with!"
Dislikes
Jason - "Lack of touch. It's just a bit too powerful for me, but a full bed of polyester helped reel in some of that power. However, I could feel the aftereffects of that super stiff frame combined with a stiff string."
Karly - "It was unstable at times."
Mike - "It was too light, unstable with certain shots and a bit stiff when I hit off-center shots."
Brittany - "The instability I felt with this racquet when hitting groundstrokes and returns against hard hitters."
Technical Specifications

Length
27 inches
69 centimeters
Head Size
100 square inches
645 square centimeters
Weight
11.3 ounces
320 grams
Balance Point
12.75 inches
32 centimeters
6pts Head Light
Construction
25mm / 26.5mm / 25.2mm
Composition
Karophite Black / Basalt
String Pattern
16 Mains / 18 Crosses

Babolat RDC Ratings

Score

Grade

Flex Rating
72
Range: 0-100
Swing Weight
311
Range: 200-400
Scores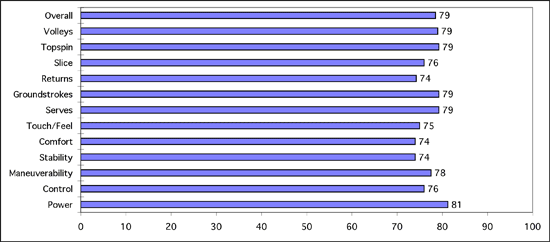 (Scores are determined by averaging individual play test scores)
Jason's Scores
Power
8.3
Serves
8
Control
7.6
Groundstrokes
8.3
Maneuverability
8.4
Returns
7.5
Stability
7.8
Slice
7.3
Comfort
7.3
Topspin
8.3
Touch/Feel
7.2
Volleys
7.8
Overall
8.2
Karly's Scores
Power
8.5
Serves
7.5
Control
7.5
Groundstrokes
7.8
Maneuverability
7
Returns
7.5
Stability
7
Slice
7.8
Comfort
7.3
Topspin
7.9
Touch/Feel
7.5
Volleys
8.2
Overall
7.7
Mike's Scores
Power
8.1
Serves
8
Control
7.8
Groundstrokes
8.1
Maneuverability
8.2
Returns
7.6
Stability
7.7
Slice
7.8
Comfort
7.8
Topspin
7.9
Touch/Feel
7.8
Volleys
7.8
Overall
7.9
Brittany's Scores
Power
7.6
Serves
8.2
Control
7.5
Groundstrokes
7.5
Maneuverability
7.4
Returns
7.1
Stability
7.1
Slice
7.5
Comfort
7.2
Topspin
7.6
Touch/Feel
7.5
Volleys
7.8
Overall
7.6
Playtester Profiles
Jason: 4.0 baseliner with a semi-western forehand and two handed backhand. Currently using a Boris Becker Delta Core London.
Karly: 4.0 baseline player currently playing with the Wilson nCode nTour. She hits with a semi-western forehand grip and uses a two-handed backhand.
Mike: 5.0 baseliner with a semi-western forehand and two-handed backhand. His current racquet of choice is a customized Prince Triple Threat Warrior.
Brittany: Open level player with a semi-western forehand and a two handed backhand. She currently plays with the Yonex V-Core 100S.

Review date: January 2012. If you found this review interesting or have further questions or comments please contact us.
All content copyright 2012 Tennis Warehouse.