Weiss CANNON Black 5 Edge 17 String Review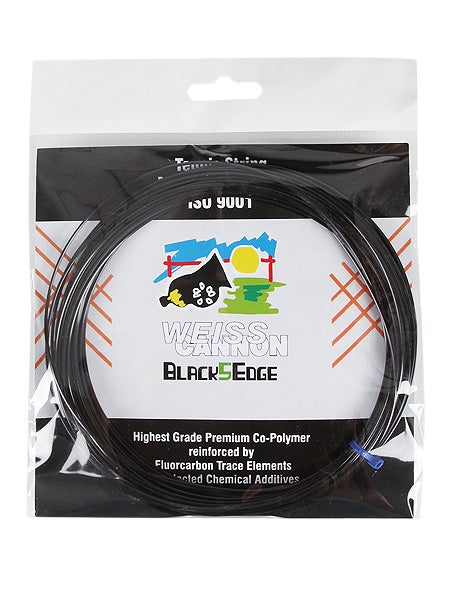 Weiss CANNON Black 5 Edge 17 String Scores
Power
57
Spin
90
Comfort
78
Control
83
Touch
82
String Movement
89
Playability Duration
82
Durability
82
Overall
80
Summary
Weiss Cannon Black 5 Edge is a shaped co-poly that, according to our playtesters, provides phenomenal precision on full swings. For us, the precision came partly from the tremendous bite, enhanced in no small part by this string's five spin-friendly edges. The easy access to spin was immediately noticeable, and it made both our playtesters feel like they had greater command over the ball's trajectory and angle. Also contributing to the precision was this string's decidedly moderate power level. Neither too springy nor too stiff, Black 5 Edge didn't require a lot of tinkering with tension or swing speed. The response was predictable right out of the packet. Ultimately, while this shaped co-poly is not likely to have enough power or comfort for beginners or players with compact strokes, it offers big hitters truly exceptional control, especially if they like hitting with heavy topspin.
Power - Score: 57
For our team, Black 5 Edge didn't have much pop, but it wasn't dead like the stiffest polys. The moderate power level proved ideal for Andy, who found it very easy to swing big with this string. He said, "I really liked the mid-level power of Black 5 Edge. It doesn't feel dead, but it's not too lively. The power level is really manageable, and because of that I got a very predictable response off the stringbed. I felt confident with every strike of the ball because I wasn't afraid of the ball flying on me."
By playing with it in two different racquets, Jason was able to get a better sense of the power level (or lack thereof). He said, "As far as co-polys go, this falls closer to lower powered polyesters, but was it underpowered? No. I still feel like it has pretty good ball pocketing, but the firmer feel reminds me of a Gamma Zo Verve or a Kirschbaum Spiky Shark. When I had it in my Wilson Steam 99 S the power was amplified, but in a racquet with a regular string pattern I noticed the lower powered response."
Spin - Score: 90
Constructed with a shaped profile for gripping the ball, Black 5 Edge proved to be an absolute spin machine for our team. Factor in Jason's huge forehand and ultra spin-friendly racquet, and the results were impressive. He said, "I loved combining this string with my Steam 99 S! I felt like I was able to generate tons of spin on my shots, more than I got from polyesters of similar construction. I found nice ball pocketing and string snapback whether it was a regular string pattern or an extremely open one."
"The five sharp edges really gave this string great ball bite and spin potential," said Andy, agreeing enthusiastically with Jason. "I'm a big fan of the shaped co-polys because of the bite I can get on the ball and the dwell time I get on the strings, and this one is no different. When I would go for a heavy spin shot I'd increase my racquet head speed and feel the strings bite the ball and shoot it off with some serious RPMs. This string offers great spin for the spin lovers out there."
Comfort - Score: 78
Unlike Tourna Big Hitter Black 7 or Polyfibre TCS, Black 5 Edge is not one of the softest co-polys on the market. However, neither of our players had any issues with impact shock. In fact, Andy found it quite comfortable, saying, "Black 5 Edge felt medium firm for a co-poly. The additives that Weiss Cannon uses really makes the string quite comfortable. I like the rare combination of control and comfort, and this string has it. It never felt like a burden on my arm to generate tons of pace and spin."
For Jason, who prefers softer co-polys, Black 5 Edge was firm, but stopped just shy of being uncomfortable. He said, "I think I am a bit more sensitive to the comfort of a string due to previous arm problems. This string feels like it's a bit firmer than average polyesters. I wouldn't go as far as calling it too stiff or uncomfortable. To its credit, none of my injuries flared back up because of the string."
Control - Score: 83
With its very manageable power level and huge spin potential, Black 5 Edge gave our playtest team outstanding control. Jason had zero complaints, saying, "The great access to spin combined with the stiffer, lower powered response equaled excellent control. I was able to hit my targets with good precision, and thanks to the spin I could take big cuts at the ball and still keep it in the court. Even shots that hit outside the sweetspot were on target."
Andy also had great control with Black 5 Edge, finding an extremely predictable response. He said, "For a firm string with decent comfort and great spin, Black 5 Edge also possessed lots of control. The stringbed felt stiff enough to provide a consistent response every time I hit the ball, which enabled me to find an immediate groove and be precise with all my shots. Knowing that the control was going to be there on my biggest swings resulted in some very aggressive shot making."
Playability Duration - Score: 82
Our team had no problems with the lifespan of Black 5 Edge. In fact, Andy actually thought it got better with age. He said, "The string maintained its playability throughout the duration of the two-week playtest. Nothing bad to report here. I actually thought the playability improved after the strings were in the racquet for a few days and had a chance to soften up a bit."
Jason, who has suffered through his share of polys that bag out, was also satisfied with the longevity of Black 5 Edge. He said, "For a polyester, I felt like this string held its tension fairly well. The first set was in my Steam 99 S, and I broke the strings before there was a significant drop in playability. The other sets I tested lasted a little longer than average for a poly, which was about two to three weeks."
Overall - Score: 80
What type of player would you recommend this to?
Jason - "Because this is a lower powered polyester, I'd recommend this for players who take full swings and can generate their own power."
Andy - "I thought this was an outstanding all-around shaped co-poly. It possesses a great blend of power, spin, control and comfort. I'd recommend this string to any fans of shaped co-polys looking for that balanced feel from their string."
Likes
Jason - "Easy access to spin, great control and the crisp response."
Andy - "An awesome blend of every attribute a string should have (power, comfort, control and spin). Excellent ball grab and ball feel as well."
Dislikes
Jason - "Durability wasn't the greatest (but I was testing it mostly in my Steam 99 S), and it played just a bit too firm for me."
Andy - "Not much to dislike here. As just a personal preference, I like a little livelier feel out of my strings, but again, that's just me."
Comparing the string to others they've tried, our testers said:
Jason - "Kirschbaum Spiky Shark, Gamma Zo Verve, Dunlop Black Widow."
Andy - "This string feels pretty similarly to Volkl Cyclone (one of my favorite strings), but is a little stiffer and not as lively. The feel and comfort are similar to Isospeed Black Fire, but the ball grab and spin potential are much better. I definitely recommend giving this one a try!"
Scores
(Scores are determined by averaging individual play test scores)
Jason's Scores
Power
5.2
Playability Duration
7.9
Spin
8.7
Durability
7.9
Comfort
7.5
Control
8
Touch
8.3
String Movement
8.8
Overall
8.1
Andy's Scores
Power
6.2
Playability Duration
8.5
Spin
9.3
Durability
8.5
Comfort
8
Control
8.5
Touch
8
String Movement
9
Overall
7.9
Playtester String Setups
Jason:
Playtest Racquet: Wilson Steam 99 S
Playtest Tension: 61 lbs.
Typical String: Polyfibre TCS 16g
Andy:
Playtest Racquet: Head MicroGEL Radical MP
Playtest Tension: 51 lbs.
Typical String: Tourna Big Hitter Black 7 17g

Review date: April 2013. If you found this review interesting or have further questions or comments please contact us.
All content copyright 2013 Tennis Warehouse.