Wilson BLX Blade Team Review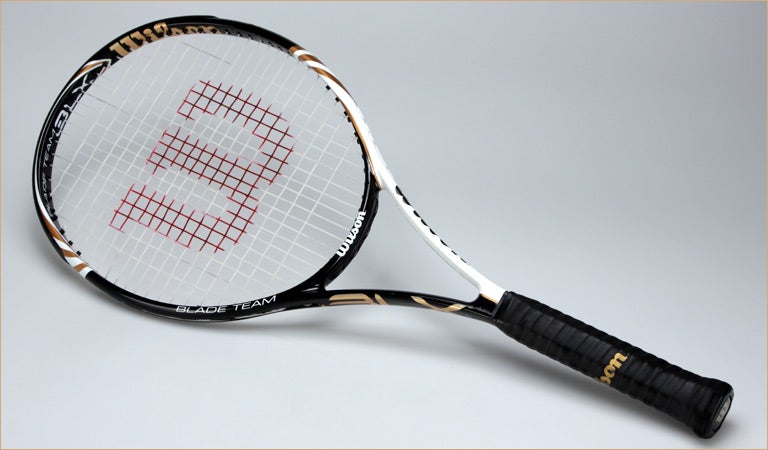 Wilson BLX Blade Team Scores
Comfort
79
Touch/Feel
78
Serves
78
Groundstrokes
80
Returns
80
Slice
79
Topspin
76
Volleys
79
Overall
78
Upsides
Power
Comfort
Maneuverability
Spin
Downsides
A tad light for stronger players
Summary
Our testers were impressed with the results of the BLX Blade Team. Whether hitting groundstrokes, volleys, serves, or returns, at least one playtester commented on the great maneuverability they found with the racquet. The combination of power and control allowed our playtesters to be aggressive from the baseline, yet also generate depth and pace when playing defensively. Additionally, the large sweetspot was very forgiving, especially when hitting volleys up at net. This racquet was comfortable to play with right from the start, and is a must demo for those intermediate to advanced players looking for an all around racquet with plenty of maneuverability.
Have you ever heard of the saying "It's all in the name"? Well, the Wilson BLX Blade Team is no exception to the saying. And it's only fitting that a racquet with the word "team" in the title is used by one of the most dominant women's doubles teams in the history of the sport, Venus and Serena Williams. Together, the Williams sisters have won a total of 12 Grand Slams, completed a career doubles Grand Slam and earned two Olympic gold medals in doubles.
An update from the previous KBlade version, this racquet utilizes Wilson's newer BLX (basalt) technology. Some changes that can been seen on this update include a decrease in swingweight to 309 and a softer, more flexible feel with its low stiffness of 53RA (we measure the KBlade at an already low 57RA). In addition, an updated cosmetic of black, white and gold gives this racquet a sleek new look.
We gathered up some of our playtesters to get their thoughts on the newest model of the Blade Team. After a month-long playtest, here is what they had to say.
Groundstrokes - Score: 80
The combination of power and control made the BLX Blade Team a hit with our playtesters at the baseline. Spencer was surprised with how the racquet played. He said, "If I hadn't know the specs of this racquet before I hit with it, I wouldn't have thought they are what they are when I first hit with it. First off, the headsize feels smaller and more precise than 104 square inches. I would have guessed it to be 98 to 100 based on the feedback I felt. I was pleasantly surprised with the response of the BLX Blade Team. I had nice control of my groundstrokes off both sides. For a racquet under 11 ounces, it didn't get pushed around as much as I expected. There's definitely power on reserve when needed. If there was one thing I wasn't thrilled with, it was the feel and sound of the power hole grommets at 3 and 9 o'clock."
Enjoying the variety of shots she could hit was Brittany. She said, "This racquet was really easy to transition to from my current racquet. It was very comfortable when hitting groundstrokes. The biggest thing I noticed was how I could really flatten out my groundstrokes and hit with a lot of depth. I also noticed my slices were staying low when I was pulled out wide and had to hit a more defensive shot."
"This racquet felt great from the baseline. I favor a larger head size with a more flexible frame, so I was extremely comfortable from the first hit," said Kana. "The power level was just right for my game. I could flatten out my shots to execute winners, pop them up if I needed to be on the defensive, and created angles that could stretch my opponent off the court. I could adjust my slice deep or short and low. It felt extremely stable on both wings."
Amazed with the feel of the racquet was Chris. He said, "This was a very forgiving racquet from the baseline. I thought the sweetspot was huge and I found all the power I needed to find depth and pace. It was so light and fast I was able to whip it around when pushed wide, and I didn't have to worry about hitting really late. The fast feel also made it easy for me to swing fast enough to find a lot of spin. I was happy with the action I was getting on the ball when hitting topspin and slice. The feel was soft, but not overly dampened. I hit some really nice drop shots and angles with this racquet thanks to the feel and the spin."
Jason had mixed opinions on groundstrokes. He said, "What I liked about this racquet was how maneuverable it was. I felt like I could hit some sharp angles from both wings. The maneuverability and ability to generate a fast swing speed allowed me some great access to spin. It's rare for me to say this, but I felt this racquet swung too fast, especially on my forehand side. I found myself ahead of the ball quite a few times at first because I wasn't used to such a fast swingweight. Because I do use a heavier racquet, I would add some lead tape to both the hoop and handle of this one."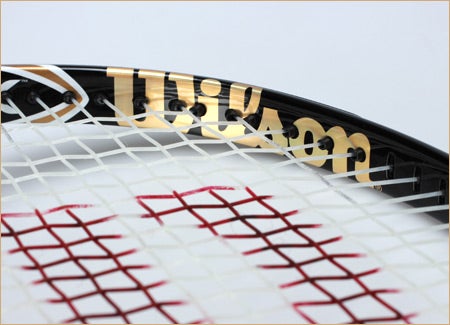 Volleys - Score: 79
Up at net the playtesters found the BLX Blade Team to offer great maneuverability. Pleased with his results at net was Chris. He said, "This was a really good racquet for me at net. I enjoyed the maneuverability and feel the most. Stability was ok, and I think the generous sweetspot helped. Again, I enjoyed the feel of the racquet. I felt like I always knew where my shots were going to land and I was confident pushing my targeting closer and closer to the lines."
Having both ups and downs at net was Jason. He said, "Even though I could notice the lack of weight at the baseline, it wasn't that big of an issue once I acclimated to it. But up at net, the racquet felt like it got pushed around because of the light weight and head light balance. Once again though, I loved the mobility, as I was able to get the racquet on most volleys and hit some nice angles. The generous sweetspot was forgiving."
Brittany offered, "I found the racquet to be very maneuverable up at net. I enjoyed the touch and feel I received from this racquet as well as the ability to punch the ball deep in the court to end a point."
Kana was impressed, saying, "I felt very comfortable coming in and closing out the point. I had a great feel for the ball, and I was able to punch it for an aggressive volley or give it a little chop for a touch angle."
"I really enjoyed the large stringbed for volleying," said Spencer. "It was rather easy to get this racquet into proper position for volleys, making it more effective during quick exchanges (mostly in doubles). This is not only good for easy put aways, but is also good for the volleys that require a little bit of touch. "
Serves - Score: 78
The BLX Blade Team shoveled up some mixed reviews from the playtesters on the serve. Kana was delighted with the power she received. She said, "I could easily maneuver the racquet to gain more racquet speed, which I like to do when I'm flattening it out down the T. It was easy to whip it through the ball for a slice angle serve. I didn't see too much of a difference on my second serve."
Brittany agreed. She said, "As with the groundstrokes, I found it very easy to generate a lot of pace off my serve. My favorite serve to hit with this racquet is a first serve that is flat and placed down the T on the deuce side."
"It was easy to hit nice, deep serves with good pace," said Chris. "The racquet felt forgiving and I never felt like I had to work hard to serve well. The feel from the upper hoop is very soft, but I still found enough pop to find my pace and depth. As from other areas of the court, I was hitting with a lot of spin, and that enabled me to move the ball around and serve with variety."
Jason had a different opinion. He said, "What the racquet lacked in pace, it made up for with spin and precision. It took me a few hitting sessions, but I finally realized that hitting a slice on both first and second serves netted me the best results. Flattening out my serve wasn't nearly as effective for me, probably because I wasn't used to the added length, as well as the lack of overall mass."
Having some difficulty serving was Spencer. He said, "Serving was probably my least favorite part of this playtest. Not because it did a bad job, but because there was nothing extra that was offered. Take that for what it's worth. I could serve in a mediocre type of way. I thought there would have been more zip to it, but that wasn't the case. I was OK with the control and spin it allowed, and did my best to use that effectively."
Serve Returns - Score: 80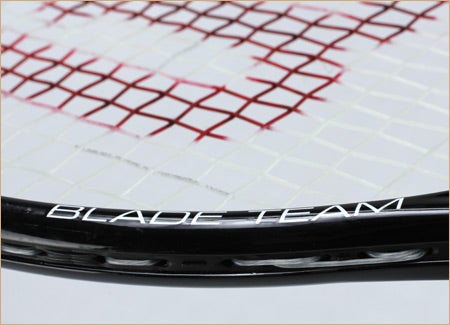 Our playtesters were in agreement that the BLX Blade Team was an asset when returning. Brittany enjoyed the stability. She said, "The racquet did its job on returns. It felt stable, whether I was blocking back a big first serve or having to generate my own pace when taking the ball early on a kicking second serve."
Kana was in the same boat. She said, "I could really swing away with this racquet and make great contact with the ball. The stability was great when serves were big, and I could aggressively hit deep when returning slower serves."
"I liked returning with this racquet," said Spencer. "It's forgiving on off center hits, while being maneuverable enough to get offensive when opportunities were there. It was easy to hit topspin, block or slice returns. "
Chris added, "It was easy to be aggressive on returns, as I was able to control the power of the racquet and get good spin. Comfort was impressive and the racquet never felt jarring even when I was hitting late on a really big serve. I was able to find some nice angles on returns, which proved to be a great option when returning serves in doubles."
Having the ability to swing out on his returns was Jason. He said, "Much like with my groundstrokes, I liked what the racquet could do as far as returning with angle and with spin. Because I felt it was a bit under powered, I could take big cuts at the return and still spin it in. I did notice that the penalty for not hitting a clean return resulted in shots that landed around the service line, putting me immediately on the defensive."
Overall - Score: 78
Likes
Brittany - "The power and comfort that I received on groundstrokes and serves."
Kana - "In comparison to the previous version, I favored the overall feel and playability of this one. I questioned whether or not to make the switch since I liked it so much."
Spencer - "The maneuverability and control."
Chris - "I liked the spin, power, control, forgiving response and feel."
Jason - "Spin and maneuverability. Forgiving sweetspot."
Dislikes
Brittany - "Not much, but at times I was struggling slightly with control."
Kana - "I couldn't really find anything I didn't like about this racquet."
Spencer - "The power hole grommets."
Chris - "Nothing really. I would probably add some weight, but even in stock form this racquet felt good."
Jason - "String sensitive, I needed to up the weight and swingweight."
Technical Specifications

Length
27.25 inches
69 centimeters
Head Size
104 square inches
671 square centimeters
Weight
10.7 ounces
303 grams
Balance Point
12.625 inches
32 centimeters
3pts Head Light
Construction
23mm / 22mm / 23mm
Composition
Karophite Black / Basalt
String Pattern
18 Mains / 19 Crosses

Babolat RDC Ratings

Score

Grade

Flex Rating
53
Range: 0-100
Swing Weight
309
Range: 200-400
Scores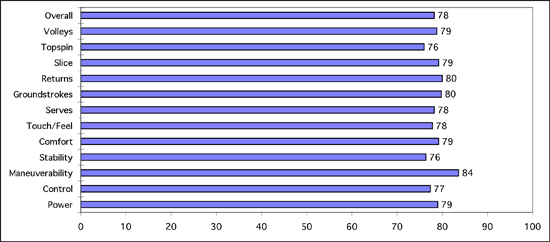 (Scores are determined by averaging individual play test scores)
Brittany's Scores
Power
7.9
Serves
7.9
Control
7.4
Groundstrokes
8
Maneuverability
8.2
Returns
8
Stability
7.7
Slice
7.8
Comfort
7.9
Topspin
7
Touch/Feel
7.1
Volleys
7.8
Overall
7.7
Kana's Scores
Power
8
Serves
7.8
Control
8
Groundstrokes
8
Maneuverability
8
Returns
8
Stability
8
Slice
7.7
Comfort
8
Topspin
7
Touch/Feel
8
Volleys
8
Overall
8
Spencer's Scores
Power
7.8
Serves
7.3
Control
7.7
Groundstrokes
7.9
Maneuverability
8.2
Returns
8.1
Stability
7.8
Slice
7.8
Comfort
7.5
Topspin
7.5
Touch/Feel
7.7
Volleys
7.9
Overall
7.6
Chris's Scores
Power
7.8
Serves
8
Control
8.3
Groundstrokes
8.1
Maneuverability
8.4
Returns
8.1
Stability
7.7
Slice
8.2
Comfort
8.5
Topspin
8.2
Touch/Feel
8.2
Volleys
8.3
Overall
8
Jason's Scores
Power
8
Serves
8.1
Control
7.3
Groundstrokes
7.9
Maneuverability
9
Returns
7.8
Stability
7
Slice
8.1
Comfort
7.7
Topspin
8.3
Touch/Feel
7.9
Volleys
7.4
Overall
7.8
Playtester Profiles
Brittany: Open level player with a semi-western forehand and a two handed backhand. She currently plays with the Yonex V-Core 100S.
Kana: Open level baseliner with a western forehand and two-handed backhand. Currently using a customized Volkl V1 Classic.
Spencer: 4.5 baseline player currently using the Prince EXO3 Tour 100 16x18. Spencer uses a semi-western forehand grip, and hits with a one-handed backhand.
Chris: 5.0 all court player currently using the Volkl Power Bridge 10 Mid. Chris uses a full-western forehand grip, has a fast swing style and hits a one-handed backhand.
Jason: 4.0 baseliner with a semi-western forehand and two handed backhand. Currently using a Boris Becker Delta Core London.

Review date: July 2011. If you found this review interesting or have further questions or comments please contact us.
All content copyright 2011 Tennis Warehouse.