New Balance 900 Women's Shoe Review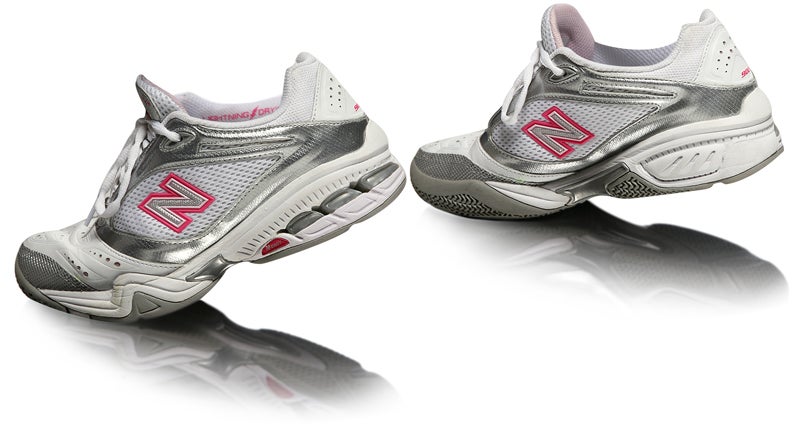 Just look at the New Balance 900 women's shoe and you'll notice that they're different from the traditional New Balance tennis shoe. There's a reason for this. The 900 is built on New Balance's running shoe last instead of its standard court shoe last. (A shoe last is the solid form around which a shoe is molded.) According to New Balance, this shape was developed to provide a glove-like feel and a streamlined toe box for a better fit.
Despite its running shoe bones, the New Balance 900 still sports the stability and durability features of a traditional tennis shoe. We set out to test this blending of a running and court shoe. After a month of playing on the hard courts, here's what our testers had to say.
Comfort - Score: 4.3
In addition to a new last, New Balance is using its patented cushioning system, N-ergy, in the 900. This, combined with supple upper materials, resulted in a comfortable shoe for the majority of our team. Carol has been struggling to find shoes that work for her foot type (wide, with a high arch). She reported being very happy with the New Balance 900. "I have been trying to find shoes that feel cushioned, whether I add my orthotics or not," she said. "Orthotics are usually stiff, and I normally must take the insole out to accommodate them. I have tried Prince, K-Swiss and Nike models, all of which proved to be brutal on my feet with the orthotics. However, the New Balance 900 shoes are painless with my orthotics. I also prefer the heel height in these shoes and the way they slightly tip me forward, as opposed to my Prince T8s, which made me feel like I was always on my heels."
It was a tale of two shoes for DeeDee. On one foot it was perfect, but the other was painful. "I don't know why, but the left shoe felt tight and pinched on the top of the toes," she said. "I had to immediately remove the shoes after playing more than two or three matches. The right shoe was a perfect fit, though."
Kana thought she should have tried a wider shoe for comfort. She needed time to break-in the shoes, unlike the other playtesters. she said, "I tested the B width shoe, and I think the D width would have been a better fit. The shoes were too narrow for my feet, which caused them to feel sore even though I went a half-size larger. They felt the tightest in the forefoot, where the hem of the toe box met the midfoot area. What made them easy to wear after the break-in period was the mesh in the upper, which made the shoe more flexible."
Tiffani noted that she didn't need any break-in time. "The cushioning was immediately noticeable, and I felt comfortable right away. The shoe was a little tight for me in the midfoot. I have a wider foot but wore the B width shoe. The shoe did open up for me in the forefoot, but it remained on the snug side in the midfoot area. I'm not sure if I would go to a D width. I'm on the fence there because the shoe loosened during wear. Still, this offered a nice cushioned ride and an elevated feel in the heel."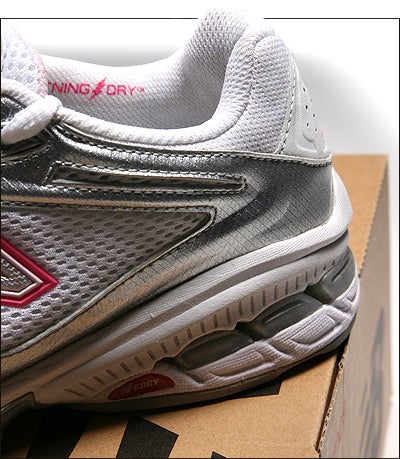 Ventilation - Score: 4.2
With soft mesh on the uppers, the testers were generally pleased with the ventilation of the New Balance 900. For Kana, the temperature was just right in the shoe. She said, "The perforations and mesh were well engineered throughout the shoe to give the right amount of ventilation."
DeeDee was impressed with the balance between stability and breathability. "The New Balance 900 is well ventilated. Some shoes that have a soft upper core and perforations for breathability compromise stability, but not the New Balance 900."
Even when she doubled up on socks, Carol was happy with the temperature control. She said, "I usually wear two pairs of socks, a thin and a thick one, to provide extra comfort and prevent blisters. Even with my two pairs of socks my feet do not sweat or feel hot in these shoes."
Tiffani was pleased in general, but she said on hot days ventilation wasn't what she expected. "I only noticed my feet feeling too warm once. It was 90 degrees that day, and I was expecting more ventilation because of all the mesh in the uppers. However, there was enough ventilation to keep me from thinking about my feet being hot most days. I could wear these comfortably most any day, except really hot days when my feet would feel hot in just about any shoe."
Arch Support - Score: 4.4
The shoe provides a medium height arch support, and the team found the support to be universal. Tiffani thought the shoe was comfortable, but she said she also comfortably wore support insoles. "I have a fairly flat foot, and I always felt comfortable in the New Balance 900 with the stock insole. There was never any pain during play. I did switch into Superfeet insoles about midway through the playtest, and those fit easily into the shoes."
Carol chose to wear orthotics. "They were always comfortable after the adjustment," she said. "I have a very high arch, so none of the shoes available fully support my arch, but these are perfect with my orthotic."
DeeDee, who also has high arches, was happy with the arch support in the New Balance 900 shoes. She said, "The arch support was just right for my high arches."
The New Balance 900 offered support for a range of arch heights. On the other end of the spectrum, Kana was happy, too. She said, "The shoe felt just right for my low arches."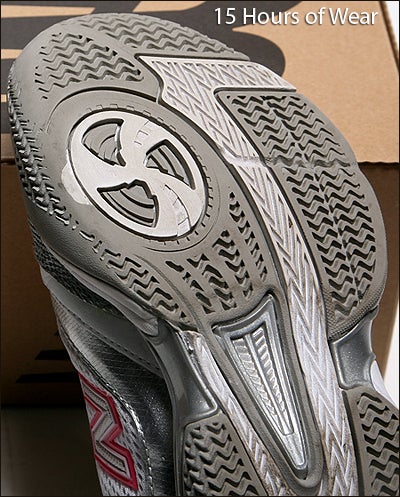 Foot Support/Stability - Score: 4.1
Though the New Balance 900 has a cosmetic similar to a running shoe, it still offers tennis specific support. Our team was not worried about rolling any ankles. DeeDee says she is susceptible to roll-overs but felt secure in this shoe. "I am a player who has a problem with ankle roll-overs, and I have to say that the New Balance 900 kept my foot intact, with no fear of rolling over. When moving from side-to-side and stopping, my foot stayed in place with no sliding around."
Although she was happy with lateral stability, Tiffani wanted more support in the heel. "The shoe loosened up in the forefoot and the heel as the playtest wore on," she said. "It wasn't a problem for me in the forefoot, and I didn't experience any sliding within the shoe in that area. However, my heel was swimming in the shoe. I frequently stopped to tighten the laces during play to try to secure a better fit. I also prefer sitting lower in shoes, and this New Balance 900 has more of an elevated heel. I was never in danger of rolling an ankle when wearing the shoes, but I would have liked to feel lower to the court."
Kana also noted the heel issue, but found stability to be decent. She said, "I felt like I was sitting higher than normal. I'm used to low-to-the-ground shoes, and the New Balance 900 felt higher in the heel area. It seemed as though my heel was moving around a bit. Overall, the stability in the forefoot and midfoot felt good."
Coming off an injury, Carol was happy to find a shoe that gave her confidence to play competitive tennis. "I feel very stable and secure when I'm wearing the New Balance 900. I don't even think about the shoe while I am playing, which I think is great! The shoe feels secure and I love the new laces, which are notched so they don't slip. I am free to think only about getting to the ball and executing my shot."
Overall Sole Durability - Score: 4.0
The NDurance outsole offered decent durability for the playtesters. Kana said, "I'm not really tough on the soles of my shoes, but from the playability of the traction I think the quality of the soles was engineered for high performance. The most wear I put on the shoes was at the balls of my feet, in which the sole's material, NDurance, allowed for quick reactions on the court without slipping or sliding."
For Carol, durability was OK, not outstanding. "I think these outsoles are standing up better than my Prince shoes, but I do see some wear on the toe," she said. "I saw a little more wear than I expected, but not much."
DeeDee didn't see excessive wear on the outsole. She said, "I believe the outstanding heel and ball construction of the New Balance 900 distributed my weight equally, causing no wear and tear on any particular spot."
Tiffani's experience with durability was about average. "As usual, the area under the ball of my foot began to show wear first. That area started to smooth out after about 15-20 hours of play, so I was just starting to see wear after a month. I did notice a nick in the outsole, near the pivot point, on the last day of the test period. It was tiny, though, and overall I was impressed with durability."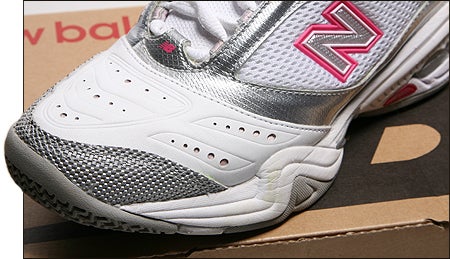 Toe Durability - Score: 4.0
Our two toe draggers did see some wear, but the 900 does feature drag resistant material in the forefoot, as well as a built-up toe guard. Carol wasn't too concerned about the durability. She said, "I see some wear in the toe box area, but nothing to worry me much."
Tiffani was pleased as well. "Guilty as charged, I'm a toe dragger. However, there's a healthy toe bumper and some drag resistant material in key areas. The shoe is holding up pretty well, and I've just ground down the bumper, so I'm quite happy with the toe durability."
Traction - Score: 4.5
With a modified herringbone tread pattern and pivot point, the women reported excellent traction from the New Balance 900. More than impressed, Tiffani said, "One of the best aspects of this shoe is the traction. I never once had an issue with slipping on the hard courts. I could make quick stops and changes of direction with ease."
Kana had similar experiences. "This was my favorite feature of the shoe," she said. "The traction felt amazing. Recently, I've been playing with more aggressive players who run me all over the court. I noticed this shoe could take the quick start and stops, and I didn't have the fear of slipping or sliding."
The 900s left Carol with a sense of security. "I recently had back surgery, and I need to feel secure when I run, stop, split step or change direction, and these shoes provide that. I am confident in these shoes. Again, I don't have to worry about my shoes letting me down."
DeeDee noted that having her feet feel secure in the shoe helped her feel comfortable with how the shoe gripped the court. She said, "The extra built-in support around the heel and ball of the foot was excellent for keeping me stabilized laterally on the court. The N-ergy cushioning system offered my feet good cushioning and protection. I really noticed that the 900 did cushion my foot when changing directions."
Weight - Score: 4.3
In general, the weight of the shoe was not an issue for our test squad. DeeDee felt like she could spend more time on the court because of the lightweight feel. "Less weight translates into more energy and more time on the court. I don't know where they scrimped to make this shoe light without compromising performance, but I have to rate it very high on keeping my feet planted on the ground and ready to move quickly."
Echoing the praise, Tiffani said, "These felt like running shoes on my feet. I actually would wear these after playing tennis, which isn't common for me. I even felt comfortable wearing them to the gym, which never happens. I am strictly a tennis shoes for the court kind of woman, but these were so light and comfortable I wore them for more than tennis."
Fit issues affected the feel for Kana. "Because the shoes felt tighter, they felt a little harder to run in," she said. "Other than that, I know the weight wasn't too heavy compared to what I'm used to wearing."
Carol struggled between the desire for less weight and adequate safety. She said, "I feel that I would still like a slightly lighter shoe, but I am not sure I could get the stability and support I need with less weight."
Overall - Score: 4.2
The New Balance 900 had the running shoe look but offered plenty of tennis court performance for our playtest team. The playtesters were most impressed with the traction of the shoe, and felt confident playing on hard courts. Paired with good durability and stability, the New Balance 900 proved itself to be a shoe designed for the competitive player.
Likes
Carol - "I spent more than $150 buying shoes, trying to find something that did not hurt and that I felt secure in. I was very depressed thinking that maybe that was too much to ask for after my back surgery, but then I put these shoes on. The best thing I can say is that I don't think about my shoes, or worry about my shoes or stability when I am playing, and I think that is huge! Before, all I could think about was how bad my feet hurt and if I was going to get hurt."
DeeDee - "Out of the box comfort with little break-in time. Softer upper material with comfortable ventilation. Less tongue for a better upper fit. These get a "10" on the shoelaces that never came undone. No fear of roll-overs with the heel and ball protection."
Kana - "The traction of the shoes was the best feature. I felt confident running to shots and not having to worry about slipping or sliding, so I could quickly get back into the point."
Tiffani - "These were nice cosmetically and offered all-day comfort in a lightweight package."
Dislikes
Carol - "Nothing."
DeeDee - "The left shoe felt a little tight in the upper above the toes, but that could also be because my left foot is bigger."
Kana - "I felt I was sitting a little too high in the heel area."
Tiffani - "The heel area opened up too much, causing me to slip a lot and forcing me to retie my shoes too frequently."
Compared to other shoes or brands
Carol - "Other shoes may be more durable, but honestly that is not my priority after my back surgery. I want comfort and stability and security, and these shoes give me that. I thought that I would have to stop playing A level tennis because of the way my feet felt, and how insecure I felt in the Prince T8 and KSwiss Stabilor Mesh that I had purchased before these shoes. These shoes gave me a tremendous amount of comfort and confidence."
DeeDee - "My favorite shoe has been the Asics Gel Resolution 2 for its comfort and stability. I would definitely compare the 900 to the Asics."
Kana - "My staple shoe is the KSwiss Ultrascendor, which plays extremely low-to-the-ground. I would categorize this shoe in a more comfort focused area rather than stability focused. I prefer a shoe that doesn't need a break-in period and is lower to the ground. The NB 900 had better court traction, but I didn't feel as fast. If you're a player who prefers more of the runner's fit then I suggest the NB. Those who prefer a low-to-ground feel should try something else."
Tiffani - "In terms of its running shoe-inspired cosmetics and light weight, I would compare it to the Asics Gel Resolution. The cushioning isn't the same as the Gel Resolution, but the feel on the feet is similar, though the New Balance has a more elevated ride in the heel. The New Balance 900 offers more durability, as well."
Upsides
Traction
Lightweight
Arch support
New Balance 900 Shoe Scores
Comfort
4.3
Ventilation
4.2
Arch Support
4.4
Foot Suppot/Stability
4.1
Overall Sole Durability
4.0
Toe Durability
4.0
Traction
4.5
Weight
4.3
Overall
4.2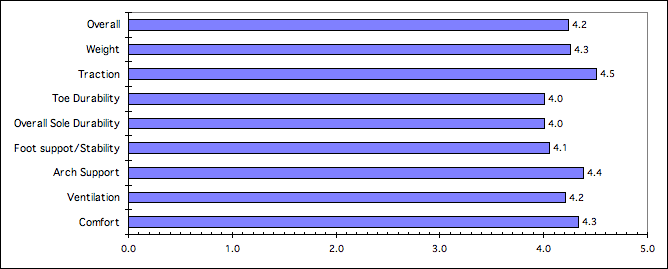 Playtester Foot Types:
Carol - Wide width / High arch
DeeDee - Narrow width / High arch
Kana - Medium-wide width / Low arch
Tiffani - Wide width / Low arch

Review date: January 2010. If you found this review interesting or have further questions or comments please contact us.
All content copyright 2010 Tennis Warehouse.