New Balance 1005 Women's Shoe Review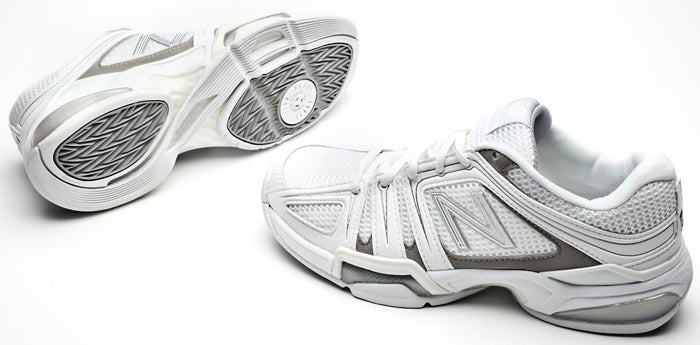 New Balance 1005 Women's Shoe Scores
Comfort
3.6
Ventilation
2.8
Arch Support
3.3
Foot Support/Stability
2.1
Overall Sole Durability
3.1
Toe Durability
3.1
Traction
3.1
Weight
4.5
Overall
2.9
Upsides
No break-in
Comfort
Lightweight
Available in widths
Downsides
Lacking support
Lacking stability
Summary
With out-of-the-box comfort, the New Balance 1005 shoes are like pillows for your feet. At least that's how the playtesters felt. They slipped on the shoes and immediately noticed the comfort and super lightweight feel. Both of these features were loved by our team. However, the shoe's support and stability were called into question, restricting aggressive movement around the court. Durability was adequate, and while some of the testers wore through the shoe a little faster than expected, the one-year durability guarantee was more than sufficient to justify the overall durability of the shoes.
Comfort - Score: 3.6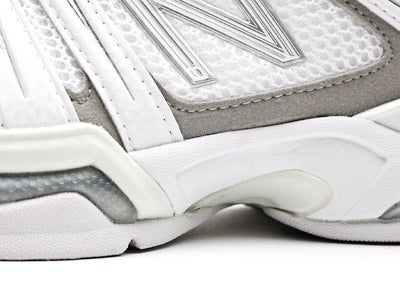 While all of our playtesters really enjoyed the comfort of the New Balance 1005, there were some concerns as to the consequences of all that comfort. Tiffani found the comfort high and liked the 1005 right out of the box. She said, "Immediately after slipping on this shoe I noticed the slipper-like feel. The 1005 is very soft underfoot, and the cushioning has a bit of a squishy feel. It felt great while walking around, but I prefer a more responsive cushioning while playing. I do have wide feet, so I chose to wear the D width shoe. The toe box is a nice width and easily accommodates my foot. There is absolutely no break-in needed to feel the comfort of this New Balance shoe."
One of the highlights of the shoe for Brittany was the comfort. "There was absolutely zero break-in period, and I could go from taking it out of the box to walking straight on the court. I had no pinching, poking or rubbing in this shoe. There was ample cushioning throughout the midsole, especially in the heel. I did find, however, that the amount of cushioning also led to my foot sitting higher in the shoe, and that took some getting used to."
Siobhan agreed, saying, "The comfort is easily one of the best things about this shoe. No break-in period, no discomfort at all during play and the cushioning runs throughout the shoe. The sole felt really soft and comfortable, and despite the high level of comfort from the upper moving the shoe toward a lack of stability, the shoe itself was great to have on my feet."
Also enjoying the comfort but having a few more hesitations was Karly. She offered, "When I first put this shoe on my initial thought was that the shoe offered decent cushioning and padding. However, playing in them was a different story. I don't think the shoe offered enough cushioning or padding. The insoles didn't offer much cushioning and the padding around the foot felt too flimsy. The comfort was fine for walking around, but once I started to make faster movements the cushioning wasn't as substantial and the comfort level dropped."
Ventilation - Score: 2.8
Our high expectations for breathability were not quite met, despite a mesh design. Brittany said, "Being an all mesh white shoe, I expected a lot of ventilation. Unfortunately, the New Balance 1005 let me down. For some reason, my foot was getting pretty hot in these shoes. I think the amount of material on the upper didn't allow my foot to breathe as well as I would like. Once my foot started sweating, I felt like the moisture was held there instead of being wicked away from my foot."
Karly also experienced lower than expected ventilation. She said, "My feet were fairly warm on the courts. I wouldn't necessarily say they overheated to where it was uncomfortable and I wanted to take them off immediately, but they left my socks slightly damp. I thought the breathability was just average, which really surprised me since it's a lightweight shoe."
"I don't find ventilation to be too much of a hindrance, so these fell middle range for me," said Siobhan. "They were OK, but like the rest of the ladies, I was a little surprised with how much mesh they had and how little breathability that mesh provided."
Tiffani also expected more breathability. "I was surprised by the heat build-up in this shoe. It wasn't terrible, but I honestly expected better ventilation from it because it looks pretty meshy in the upper. Breathability was just average or slightly below average."
Arch Support - Score: 3.3
Despite the medium to low support, most of our testers found the New Balance 1005 to be adequate, even those with higher arches. With her high arch, Siobhan is used to the support not quite being where she likes it. She said, "I found these comfortable and supportive enough of my arch. As usual, I could do with a little bit more, but the comfort was more than acceptable."
Tiffani felt the cushioning increased the comfort. She explained, "The shoe caused me no arch pain. With no pain, I have no complaints. I could feel the support on my low arches, but because the cushioning is so pillowy it just molded to the shape of my foot."
Karly was a little more critical of the arch support. She said, "For me the arch support fell below average, mostly because of how firm the soles were. I found the insoles to be too low and too hard to offer any real support."
Sitting on the fence was Brittany, although she didn't have any real complaints. She offered, "The arch support was middle of the road for me. I felt it did its job, and I did not have any pain. It may have been a tad on the low side, but it didn't affect the overall support."
Foot Support/Stability - Score: 2.1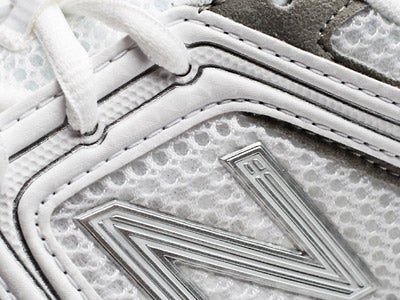 Our players felt a little uneasy moving around the court in the New Balance 1005. For Karly, the biggest downside of the shoe was the stability. "I wasn't very happy with this aspect of the shoe. There was a ton of room in the forefoot, and my foot would slide a lot. I felt there was no support for the ankle, and I didn't feel confident moving aggressively in this shoe."
Brittany agreed, saying, "This was the biggest negative for me. First, in my shoe size the length was a tad long so my foot had a lot of front to back movement when I was moving on the court no matter how tight my laces were. Secondly, I found very little ankle support. A couple of times when I was moving aggressively in a match (or even a drilling session) I felt I was going to roll over my ankle. As I mentioned in the comfort section, my heel was sitting up higher in the shoe, which also contributed to the rolling sensation."
Support and stability were lacking enough to make Tiffani's footwork tentative. She said, "This shoe is super comfortable and super soft. However, this made the shoe less than stable. When scrambling during a tough point there were times I felt just at the limit of rolling an ankle. After being at the brink a couple of times I started to hold back on my movements. I also struggled a little bit with support. Though I loved the width of my shoe, it ran a little long and I was sliding forward in them. I had to wear two pairs of socks to help fill out the length, which didn't help the mediocre ventilation any. Putting in an aftermarket insole helped stiffen up the shoe for more stability, but it hurt the comfort factor too much, so I took it out."
Siobhan echoed the others' concerns. "There is just no stiffness to the shoe. It's far too flexible to really give me the support I need. I didn't move how I normally would in this shoe simply because I didn't feel comfortable really pushing my movements. With all the mesh one would assume that the ventilation would be better, and since it isn't, then there seems to be no reason for the shoe to be so unstable. Comfort, again, was great, but the foot and ankle stability just wasn't there for high performance play. Keep in mind that I move quite aggressively and carelessly, so I expect my shoes to look out for me when I throw my ankles every which way."
Overall Sole Durability - Score: 3.1
With the sole durability not quite meeting the high standards and aggressive footwork of our testers, the one year durability guarantee would definitely be used by most of our team. Brittany didn't play in these shoes as much as some other playtest shoes due to the lack of stability. She said, "I did, however, have some balding underneath my big toe on both my right and left feet. The sole looked like it was wearing down faster than the average shoe I have playtested. On the positive note, this shoe does include a one-year durability guarantee that I definitely would have used."
Siobhan also felt like the durability guarantee was an important feature, saying, "The durability was OK, but if I were playing regularly these would wear out sooner rather than later. I'm a bit scrappy and don't pick my feet up off the ground, so I noticed some expected wear and tear that would result in the shoes needing replacing."
Finding the overall sole durability to be average was Karly. She offered, "I didn't notice an excessive amount of wear, though I can't say I really put the shoes to the full test because I was playing less aggressively in these shoes due to the lack of stability."
Tiffani said, "I felt light on my feet, and I didn't see excessive wear on the outsole. There is just some smoothing in the medial forefoot area. However, I didn't feel that I could put it to the full test. I held back on my movements and did not wear them as much as I usually do for a playtest. That said, with the New Balance NDurance guarantee I would have no need to worry."
Toe Durability - Score: 3.1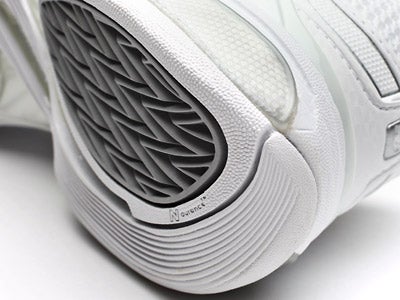 Our toe draggers had varied opinions, with one liking the toe durability, another finding it adequate and the last grinding through the bumper guard a little too fast. Karly said, "The toe durability was decent and didn't show too much wear, but I wasn't really making fast, aggressive movements to see how durable the shoes were."
Dragging her toe a bit heavier was Brittany, who said, "Unfortunately, the toe bumper didn't live up to my toe dragging. The bumper is on the thinner side and goes about half way up the front of the shoe. Then there is a seam at the top that is right in the way of my toe dragging. By the end of my playtest there was definite wear on the toe bumper and the seams had started to fray."
Tiffani didn't have too many issues with the toe durability of the New Balance 1005. She said, "I can be pretty tough on the toes of my shoes, but this time I didn't see much wear. I did see some stitching start to pop, and I scraped it up a bit, but not as much as I would usually see. However, I reiterate that I wasn't moving like I normally do on the court."
Traction - Score: 3.1
Mixed opinions came out again about the traction. Finding it difficult to give a true opinion was Siobhan, saying "It's hard to really judge a shoe when you can't move in it as you would like. I never slipped, but I never really moved in a way that would allow for slipping so I rated these around the middle of the range."
Tiffani agreed with Siobhan, adding, "You'll hear no complaints from me in this department. I could stop and start without worrying about slipping. The one caveat with this statement, though, is that I did hold back on my movements. The support level in the shoe didn't allow me to go full speed with confidence."
Brittany wished that she had been able to test the New Balance 1005 a little more. She said, "Since I didn't feel as stable as I would have liked I definitely didn't move as aggressively as I normally do. That being said, I couldn't get the best read on traction. I did notice that I gripped the court OK and wasn't slipping, but nothing stood out to me as being great or bad. I would rate this shoe average on traction."
Karly also felt a little restricted, saying, "I thought the traction was a little too sticky, especially for a shoe that doesn't offer much support. Again, the instability hindered testing the performance of the shoe. I wasn't stopping and starting or changing directions as fast or as often because I wasn't confident in the support."
Weight - Score: 4.5
"Light" describes the 1005 down to a T. Our playertesters really noticed how little weight they were carrying. Tiffani was impressed with how they felt. She said, "This shoe is ridiculously light. I feel like I can pick up and move with ease. This is easily one of my favorite aspects of the shoe."
"This is definitely a lightweight shoe and I felt extremely quick on the court," said Brittany. "I enjoyed the fast feel, and sometimes I even forgot that I was wearing shoes. However, the downside to being so light was the distinct lack of stability that came with it."
Karly also really noticed the weight, but like Brittany, got a little deterred on the stability. She said, "I thought the weight was good. It was definitely lighter than most shoes. However, once again the lack of stability limited my movement, and I wasn't able to move as fast as I would've liked."
Siobhan enjoyed how easy it was to pick up her feet, saying, "They were enjoyably light. Not only were they comfortable as soon as I put them on my feet, but as I continued to play I loved the weight. I didn't like the lack of stability, but as a singular category the weight of the 1005 was wonderful."
Overall - Score: 2.9
Likes
Tiffani - "It's so light, had no break-in and it's offered in widths."
Brittany - "I liked the comfort and light weight of the shoe."
Siobhan - "It was really comfortable and had no break-in period."
Karly - "The no break-in period was nice."
Dislikes
Tiffani - "The support does not meet my needs. I had sore ankles and feet after playing."
Brittany - "There was a low level of stability, especially in the ankle, for me."
Siobhan - "Lack of stability."
Karly - "The instability made it really hard to play in. I was not confident at all in the support of the shoe."
Comparing this shoe to others they've worn, our testers said:
Tiffani - "The comfort and cushioning reminds me of the Fila Alfa. In the New Balance family, its weight is a little bit like the 851. The 1005 has a more classic tennis shoe fit when compared to the more streamlined fit of the 851."
Brittany - "This shoe reminded me of the Wilson Tour Spin II. There were many similarities between the two, including comfort, lack of stability and mesh uppers. I did find the traction and the lightweight feel were better."
Siobhan - "It made me think of the Wilson Tour Ikon - high levels of comfort but lacking in stability and support when moving aggressively around the court."
Karly - "The cushioning, no break-in period and weight reminded me of the Nike Courtlite 3, though I thought the Courtlites offered more support and stability than the 1005s."
Scores

(Scores are determined by averaging individual play test scores)
Playtester Foot Types:
Tiffani - Wide width / Low arch
Brittany - Narrow width / Medium arch
Siobhan - Narrow width / High arch
Karly - Medium width / Medium-low arch


Review date: September 2012. If you found this review interesting or have further questions or comments please contact us.
All content copyright 2012 Tennis Warehouse.