Volkl V-Torque String Review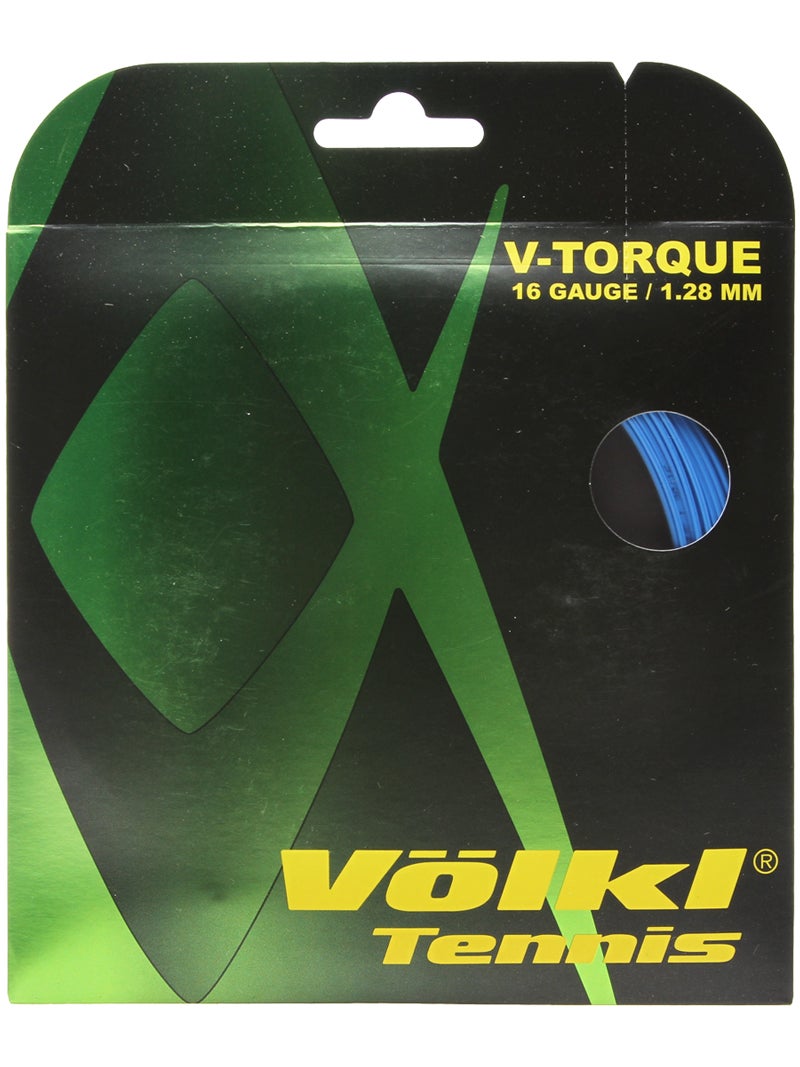 Volkl V-Torque String Scores
Power
38
Spin
97
Comfort
65
Control
97
Touch
89
String Movement
77
Playability Duration
72
Durability
80
Overall
82
Summary
According to our playtesters, Volkl V-Torque isn't a very good friend to the tennis ball. This is partly because of its unique construction. With its three deep grooves and six sharp edges, this shaped co-poly is clearly built for gripping, ripping and shredding the felt. In fact, our team was so impressed by V-Torque's sharp bite that we awarded it a near perfect score for spin. The other top score was given for control, which is not surprising given how reliably our biggest swings came down inside the lines. As for comfort, this string lives up to its poly pedigree, in that it was firm. However, as with Volkl Cyclone, the firm feel never rose to the level of discomfort. When tensioned correctly (which for us was in the mid fifties), the result was a crisp and precise response that avoided the common poly problem of excessive shock on off center hits. For the big hitter who is looking to hit a heavy spin-loaded ball without having to sacrifice much feel or playability, Volkl V-Torque is a great option.
Power - Score: 38
Constructed from a fairly stiff and inelastic material, Volkl V-Torque does not pack a ton of power. However, unlike the stiffest polys, it doesn't feel completely dead outside the sweetspot. The upshot for Chris was predictability across the hitting zone. He said, "I found this string to be pretty low powered. It is definitely a control string, but that allowed me to supply the power and take a full swing at the ball. I liked the consistent level of power I was finding. I was still able to get power out of the upper hoop of my racquet, and that's not the case with every Pro Braided string I've tried. The power level had a gradual drop off as I moved outside of the sweetspot, and it was that consistent level of power that I liked the most."
Mark also appreciated V-Torque's predictability, especially on faster swings. He said, "In terms of power, the V-Torque poly delivers low power/high control, which is what one expects from a poly. No surprises. You know exactly what you are going to get when you take a big swing."
Spin - Score: 97
V-Torque, with its low power, decent pocketing and exceptional bite, is one of the most impressive spin strings we've tested. For Mark, the ball rotation was huge. He said, "This is where the V-Torque string distinguishes itself from other polys - profiled or not. With its three lengthwise channels and six edges, you could legitimately rename it "razor ribbon". This poly has a very easy time grabbing hold of the fur of a tennis ball, and for any player exhibiting the modern, loopy swing pattern, access to spin is top notch. In fact, I would say that it offers such easy access to spin that the V-Torque wears down the ball felt a bit quicker than most other strings I have played with. I was getting enough rotation on the ball during the review that I had to stop and remove ball fur from my eye; now that's spin potential!
Chris also got some serious bite, along with a surprising amount of dwell time. He said, "I was able to get a lot of spin on my shots with this string. Even when I didn't catch the ball cleanly, I was happy to see my shots have enough spin to drop inside the lines. I was able to get away with being a tad late on a full, fast swing and still stay inside the lines thanks to all the spin I was finding. I found more spin out of this than my regular Cyclone, and it was getting close to the spin I find with Kirschbaum Spiky Shark. I liked the spin on both topspin and slice shots, and it seemed like the string would really bite into the ball. For a firm feeling string, I was surprised that it felt like I was getting some good ball pocketing on the strings. That prolonged sense of contact made this string feel even more spin-friendly."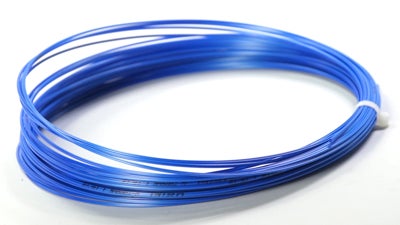 Comfort - Score: 65
Durable control strings like Volkl V-Torque are not known for their comfort. Having said that, neither of our players had any issues with impact shock. In fact, Mark found it pretty comfortable for a poly, saying, "Sometimes when you lace up a frame with a particular string you can get a pretty good idea of what to expect at contact. There are some strings that are pretty harsh on the hand modeling contract, so to speak, and sort of play harshly as well. The V-Torque is an exception to that scenario, as it is an edgy string to lace up in a frame, but plays quite a bit softer for a poly. Relatively speaking, I would consider it an 'easy on the arm poly'."
For Chris this string had enough firmness to make him feel connected to the ball, but not so much firmness that the sweetspot felt unduly small. He said, "V-Torque plays quite firm. However, I never found this to be a jarring string. My racquet felt decently forgiving on off center shots, even though the stiffness of the Pro Braided can have it feeling a tad brassy on shanks with some strings. I liked the firm feel, as it had me feeling connected to the ball without feeling like my arm was taking a beating. I also got to hit this string in hybrids, and I found the comfort to be vastly improved with a soft multifilament cross string -- yet I still got most of the spin and control benefits that I found with a full bed of V-Torque."
Control - Score: 97
If our playtesters have it right, Volkl V-Torque is not merely a control string - it's an outstanding control string. Chris appreciated the precision across a variety of swing speeds and court locations, saying, "The level of control was simply exceptional with this string. I felt like I could put the ball exactly where I wanted. As I mentioned in my power comments, V-Torque made the stringbed feel very consistent. I could take big cuts at the ball with this string without worrying about my shots flying on me. At net the string felt very precise and I loved the control I was finding on my volleys. It was also a great string for hitting drop shots, as it was easy for me to feel the depth and direction I was getting from the stringbed."
The issue of control was quite simple for Mark. He said, "V-Torque gets very high marks in the low power/high control realm. If control is what the player is seeking, then V-Torque delivers exactly what a poly loving player would expect."
Playability Duration - Score: 72
Though neither of our playtesters reported excessive tension loss over the test period, Chris experienced some notching. He said, "I didn't break this string during the 2-3 weeks of testing, but it did notch more than many co-polys. The surface of V-Torque has aggressive edges which make it great for grabbing the ball. However, I also found it sawed through itself quickly, and it really notched up a softer cross string when in hybrid form."
Mark also experienced some notching, but he was satisfied with how long V-Torque lasted. He said, "I was able to get in ten-twelve hours of hard play before I noticed pronounced notching, which is darn good for a profiled string. The tension drop was minimal from the starting point of 54 pounds of tension."
Overall - Score: 82
Likes
Mark - "The spin, control, and comfort were all there to a high degree. I cannot complain about any aspect of its playability, but is a bit harsh feeling on the hands while stringing, which may be an admission of me being a wimp."
Chris - "I loved the spin and control I found with this string. It played best when freshly strung, as I got the most grip and snapback on the ball for excellent spin."
Dislikes
Mark - "I laced up some hybrids of the V-Torque, and it seems like this string is sharp enough to begin the sawing process, on the softer string, during the string job itself."
Chris - "My only knock on this string was that it notched quicker than some other strings. While that may have hindered the string's ability to snap back on itself, I still found a high level of control for the duration of the test. There was a slight degradation of spin once the string notched up, but the low powered response meant my racquet head speed was high, so there was still a lot of spin on my shots."
Comparing the string to others they've tried, our testers said:
Mark - "I am already getting customer questions comparing the V-Torque to the Cyclone, since they are both Volkl strings. The V-Torque, I felt, was a slightly softer string than the Cyclone, but had the edges to grab the ball with less attention being paid to producing spin. It feels like Dunlop Black Widow when stringing, and it grabs the ball similarly, but it plays softer. Solinco Tour Bite/Tour Bite Soft are also comparable, with its rough exterior, and squared off profile. I should also include the Babolat Pro Hurricane Tour string, as it is another high quality, edgy poly, that is fairly firm and provides easy access to spin."
Chris - "This string played firmer than my go to Cyclone and was lower powered. The level of spin was higher, though, and I'd put it up there against any co-poly for spin -- especially when freshly strung. Kirschbaum Spikey is comparable, as is Solinco Tour Bite and Tecnifibre Razor Code."
Scores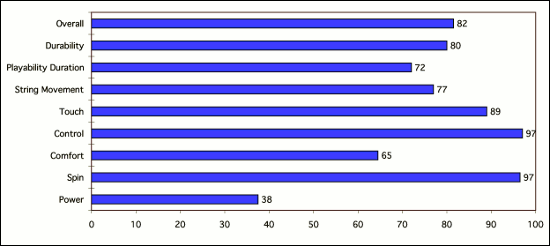 (Scores are determined by averaging individual play test scores)
Chris' Scores
Power
4
Playability Duration
6.4
Spin
9.8
Durability
8
Comfort
6.4
Control
9.9
Touch
8
String Movement
8.4
Overall
9.3
Mark's Scores
Power
3.5
Playability Duration
8
Spin
9.5
Durability
8
Comfort
6.5
Control
9.5
Touch
9.8
String Movement
7
Overall
7
Playtester String Setups
Chris:
Racquet: Slazenger Pro Braided 95
Playtest Tension: 56 lbs
Usual String: Volkl Cyclone 16
Mark:
Racquet: Wilson BLX Steam 99S
Playtest Tension: 54 lbs
Usual String: Volkl Cyclone 16

Review date: May 2013. If you found this review interesting or have further questions or comments please contact us.
All content copyright 2013 Tennis Warehouse.