Volkl Psycho Hybrid String Review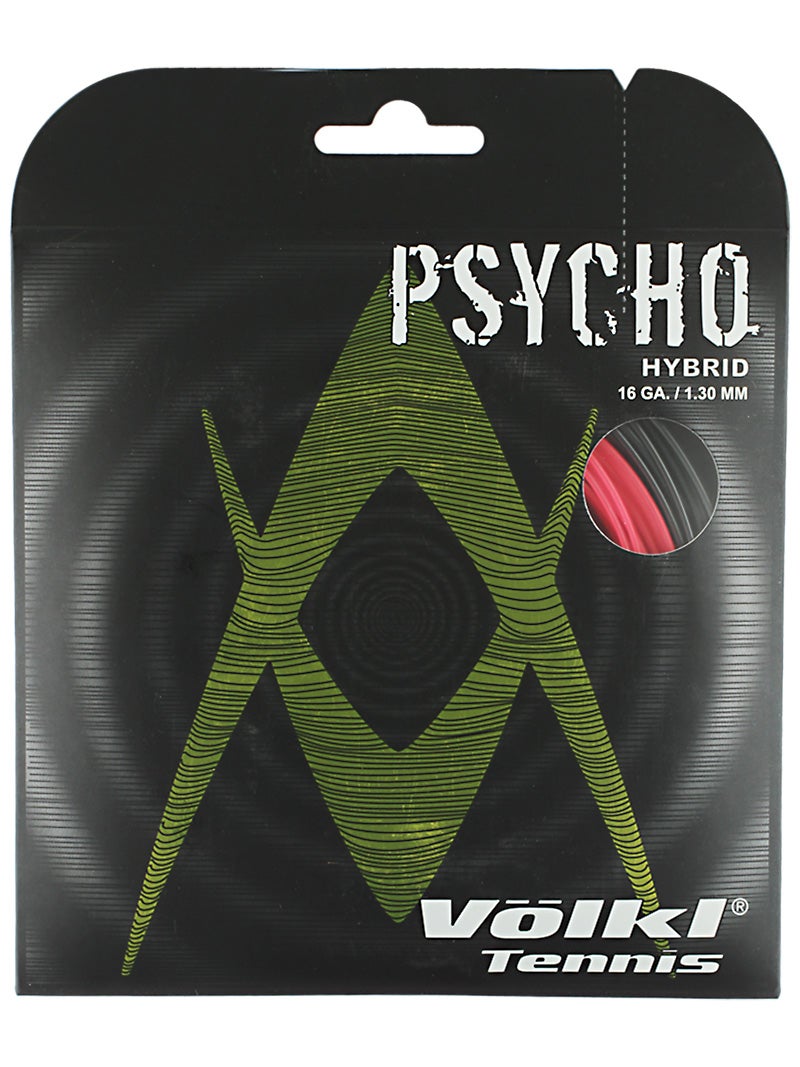 Volkl Psycho Hybrid String Scores
Power
74
Spin
71
Comfort
83
Control
88
Touch
89
String Movement
81
Playability Duration
89
Durability
85
Overall
88
Upsides
Control
Spin
Comfort
Touch
Power
Downsides
Some notching and shredding in the soft multifilament cross
Summary
Unlike some strings that excel in only one or two areas, Volkl Psycho offers an undeniably large list of desirable features. Of course there's a reason for this: Psycho, a hybrid, draws its benefits from two strings, one of which is Volkl Cyclone, a shaped co-poly, and the other, Power Fiber II, a plush and lively multifilament. Both of our playtesters put Cylone in the mains to emphasize control and Power Fiber II in the crosses to boost comfort and feel. For our team this combo translated into the best of both worlds. We found crisp and spin-friendly precision balanced by impressive touch (which definitely came in handy on volleys and shorter strokes). There was also enough power for closing out points. While this hybrid didn't offer quite the bite and snap back of a full bed of polyester, our team still scored it well above average for spin. All in all, Psycho not only gave us more options to fine tune the stringbed's response, but it also gave us truly impressive playability across different stroke speeds and court locations.
Power - Score: 74
Psycho gave our two playtesters a little more pop than they get from their full polyester setups. For Andy, this was a good thing. He said, "This hybrid provided a nice amount of power. It had more power than a full bed of Cyclone (which was a nice boost), but it wasn't uncontrollable. It was nice not having to work as hard to produce pace on my shots."
"With its hybrid construction, Psycho gave me more pop on my shots than my regular full poly setup," said Chris, who appreciated the balance of control and power. "I played with the Cyclone in the mains, and I really enjoyed the power level of this string. I was able to find depth and pace with ease. I liked the added zip on passing shots and serves. I was also finding it easy to control pace when rallying. Even on approach shots, where I favor control over power from the stringbed, I found plenty of pace, yet never felt like I was losing too much control. At net, this string setup pocketed the ball well. I was punching volleys with authority and getting ample power to help knife the ball away."
Spin - Score: 71
While this isn't the most spin friendly string our team has hit, the feel of Psycho helped Chris calibrate the spin. He said, "The amount of spin I was finding on topspin shots was pretty solid with this string. While it was not up there with the level of spin I get from some polys, it was better than any multifilament or natural gut offering, and even better than some polys. The Cyclone main string grabbed the ball very well, and topspin was decent through the life of the string. I actually preferred hitting slice with this setup due to the level of feel. I felt very connected to the ball on my slice backhand, and I was comfortable knifing through the ball very aggressively. I also liked the feel on drop shots and lobs. I just had a better sense of how much spin I was getting with this string than I typically get from a full poly stringbed. That gave me the confidence to swing faster when I wanted, which resulted in even more spin."
Although he didn't find quite as much bite as he's used to, Andy still managed to get some great results. He said, "With the poly in the mains I did notice a drop off in spin potential from a full bed of Cyclone. However, with the multifilament in the mains it would have produced a more spin-friendly setup, and I would've had some extra rotations on the ball that would get it diving back at the court. I was able to get my slices knifing and my topspin groundstrokes jumping, but once again, not quite as much spin as a full bed of poly would give me."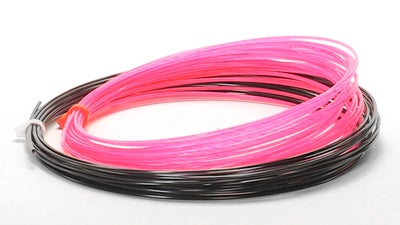 Comfort - Score: 83
Our team found Psycho to be extremely comfortable. Andy was impressed, saying, "Coming from a full bed of poly, I definitely noticed a big boost in comfort and feel with the hybrid setup. I was amazed at how less jarring it was on my arm, especially when I made contact outside of the sweetspot. The Power Fiber in the crosses give the stringbed a pillowy-soft feel, and I felt totally connected to the ball, too. Great feel, playability and comfort!"
In full agreement with Andy, Chris had a very comfortable ride. He said, "I thought the comfort of this hybrid was top notch. The stringbed felt comfortable in my Volkl Organix 7 295, even with the stiffer poly in the mains. There was good ball pocketing on every shot, and even off-center shots sunk into the stringbed with a more forgiving feel than I'm used to. If comfort was an issue for me as a poly player, I'd definitely be switching to something like this. It offers most of the benefit of a poly stringbed with much less shock."
Control - Score: 88
Psycho gave our playtesters more than enough control. For Chris, the feel was crucial, especially on shorter strokes. He said, "While the Power Fiber II cross string added some power to the stringbed of this setup, it also added plenty of feel. The result was a high level of control to complement the added power. The power level for me was just a tad lower than a poly/natural gut setup. I felt very connected to the ball, and I was finding excellent touch on drop shots, angle volleys and lobs. This string pocketed the ball very well, offering the sensation of increased dwell time and allowing me to finesse the ball to my desired target."
Andy also had great control, if not quite as much grip as he prefers. He said, "There was enough control for me to feel in total control of my shots. I did notice my shots didn't have the last minute hook into the court (because of the loss of spin), but once I accounted for that I always knew where my shots were going."
Playability Duration - Score: 89
Despite some slight changes in playability over time, Psycho held up pretty well for our team. Andy got very impressive milage from this string. He said, "This string lasted forever! Cyclone on its own has some nice tension maintenance, but combine it with a premium multifilament and the setup stayed playable for a long time. The string stayed in my racquet after the playtest and remained playable for a good 6-8 weeks after the end of the playtest. There was a slight drop off, but not enough to make me cut them out and restring."
Noticing some slight playability changes and wear patterns, Chris said, "After a week of hitting an hour a day the cross strings started to show some wear. I felt like the snap back of the main strings was compromised, which affected spin slightly, but the feel remained good. Overall, playability remained pretty consistent in terms of power, feel and comfort for the entire two-week test -- at the end of which the cross strings were just hanging in there and getting close to breaking. The overall playability of the string lasted well, with the exception of a slight drop off in spin."
Overall - Score: 88
Likes
Andy - "Two great strings at a great value. Excellent comfort, feel, control, spin and playability."
Chris - "I liked the power, feel, comfort, touch and control. It gave me the confidence to knife my slice backhand. I also really like the black/pink color."
Dislikes
Andy - "I'm used to getting a bit more spin with a full bed of poly, but by putting the Power Fiber in the mains I think I can get some really nice spin, too."
Chris - "None."
Comparing the string to others they've tried, our testers said:
Andy - "This is up there in playability with the Babolat Pro Hurricane Tour/Xcel hybrid, but with a little more comfort, pop and feel. Put this up against any premium poly/premium multi hybrid around, and I dare you to like the other one more! I dare you!"
Chris - "Compared to a poly/gut hybrid, this one offers less jump off the stringbed, which resulted in more control for me but less power. While the comfort isn't quite as impressive as something like Wilson's Champion's Choice, it was still very impressive and was one of the strengths of the string."
Scores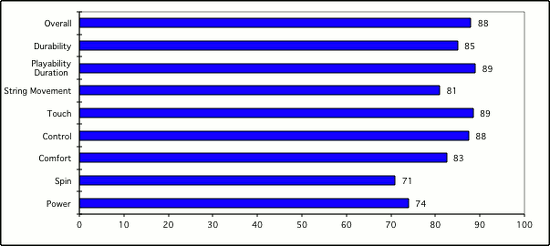 (Scores are determined by averaging individual play test scores)
Chris' Scores
Power
7.8
Playability Duration
8.6
Spin
7.7
Durability
8
Comfort
7.8
Control
9
Touch
8.7
String Movement
7.7
Overall
9
Andy's Scores
Power
7
Playability Duration
9.2
Spin
6.5
Durability
9
Comfort
8.7
Control
8.5
Touch
9
String Movement
8.5
Overall
8.6
Playtester String Setups
Andy:
Playtest Racquet: Wilson Blade 98 18x20
Playtest Tension: 56 lbs
Typical String: Volkl Cyclone 17
Chris:
Playtest Racquet: Volkl Organix 7 295
Playtest Tension: 56 lbs
Typical String: Volkl Cyclone 16

Review date: October 2013. If you found this review interesting or have further questions or comments please contact us.
All content copyright 2013 Tennis Warehouse.