Volkl Power Bridge 10 Racquet Review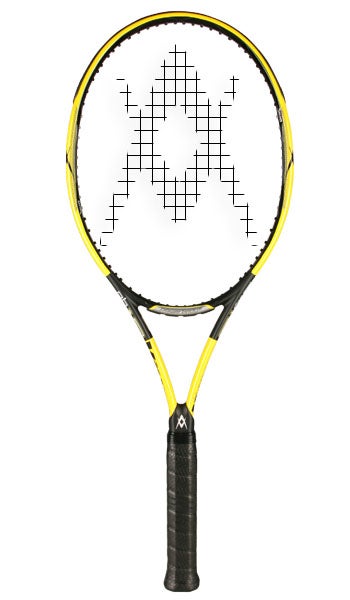 Ever since the introduction of the C10 Pro, Volkl has been recognized and respected as a maker of serious player's racquets.
A plush feel, silky smooth response and rock solid stability have become staples of Volkl player's racquets over the years. With the Power Bridge 10, tested here, Volkl looks to continue its trend as a maker of some of the best player's racquets on the market.
Volkl's new Power Bridge feature is designed to enhance the power of the racquet through its more stable DNX construction.
Our testers hit the courts for a month-long playtest with the new Power Bridge 10. Read on to see how this latest Volkl player's racquet measured up.
Groundstrokes - Score: 82
Our team all agreed that the Power Bridge 10 was very solid from the baseline. Chris liked the maneuverability and spin he got from the Power Bridge 10. "I found this to be a maneuverable and soft feeling racquet off the ground. While not as solid feeling as the Becker 11, the Power Bridge 10 was much easier to get around. I was able to whip this racquet around so quickly it almost felt like I was playing with a 26-inch long junior racquet. With all the racquet head speed I was getting, I was able to hit with a lot of spin. I was also getting decent pace, but I didn't feel like I could hit through the ball as easily as I could with the Becker 11. During the test, I tried the Power Bridge 10 with both Klip Optic Nerve poly and our regular multifilament test string. I preferred the poly because I had more control, more bite and more spin."
Enjoying the player's racquet feel in the weight and balance of the racquet was Granville. "From the first hit of the ball I knew this racquet was top notch and 'scalpel like'. I played with two racquets; one strung with Poly and the other with a soft multifilament. The differences were significant, though both were equally attractive for their own reasons. This racquet plays very much like my Wilson K Six-One, with similar weight and balance. I was able to take full swings, allowing me to get good depth on the ball with regularity and ease. To be honest, I usually prefer a multi to a poly, but in this racquet I enjoyed the muted, yet lively, response on groundies that I got from the poly, as compared to the multi."
Danny found this stick to be solid and stable on groundstrokes. "Testing out this racquet brought back memories. I've played with many versions of this racquet, including the Tour 10, Tour 10 V-Engine and Tour 10 Generation II. This racquet was solid and stable from the baseline. I thought this racquet was easy to swing despite its heavy weight. I had great consistency and natural topspin. For me, the only thing I worried about was the hefty weight and how long I could last with a stick like this."
Excited with the racquet's control and heft was Spencer. "The Power Bridge 10 was a joy to hit with from the baseline. It offered a good solid feel with great control off both wings. I hit with both multifilament and a poly, and I had more success with the poly in terms of control and spin. I was particularly impressed with the spin produced on the backhand slice. Being a player's stick, the 'plow-through' was prevalent, helping me achieve good depth. The racquet controlled the ball, not the other way around. Good stability and the ability to hit through the ball were standout points for me."
Volleys - Score: 80
The Power Bridge 10 impressed our testers with good feel and placement at net. Granville felt a renewed confidence when at net. "Head-light with a solid response, the Power Bridge 10 is a natural at the net for me. I was hitting crisp, solid volleys and serving-and-volleying with renewed confidence. I am actually contemplating switching to this racquet. I feel this racquet makes a great 'platform' for modification (string type, tension, balance)." Experiencing great feel when volleying was Spencer. "This racquet made for great feedback and feel when at net. It had good control and decent punch for put-a-ways, but it was the touch/feel volleys where this racquet really impressed."
Danny liked the depth of his volleys when attacking the net with the Power Bridge 10. "This is a great stick for someone that likes to come to net. My volleys had a consistent natural depth to them when I was just trying to stick my volleys rather than cutting them. This stick had great feel and my touch was good. Going to the net isn't my preference, but I will do it when opportunities present themselves, and I did it with confidence with this stick." Getting excellent control was Chris. "I enjoyed volleying with this stick. I found a ton of control and feel at net. I really felt I could place my volleys to a very defined target both when punching volleys deep and when looking to find a short angle. The racquet felt very comfortable and I found a soft and plush feel accompanied most volleys."
Serves - Score: 76
Though not everyone could get the most power when serving, all agreed that placement and spin were effective and easy to manage with the Power Bridge 10. Having success when using kick and spin when serving was Danny. "The heavy weight was most noticeable for me when serving with this racquet. As a 6.0 player, I'm not weak by any means, but I was surprised how heavy the racquet felt when I was serving. My serve was more consistent and effective when I was spinning the ball in. I was obtaining more kick with this stick than others that I have tested." Spencer's sentiments were similar. "As I am not the biggest hitting server, I had the most success when hitting kick serves. The Power Bridge 10 enabled me to put a lot of action on the ball, creating some unsuccessful returns. Placement and spin worked well for me when serving."
Achieving good pace and spin was Chris. "My serves had good pace with this stick. I was able to generate plenty of racquet head speed for both pace and spin. I tend to hit a bit of spin on first serves and was able to find the necessary bite to kick serves wide or get them to drop in when going down the 'T'." Granville liked this one from the get-go when serving. "I was comfortable with the Power Bridge 10 from the first serve. I was able to hit flat serves down the middle with comfort and ease. My slice and kickers were penetrating, and my targeting was spot on as well. I do not see any additional power being offered here -- no doubt due the flex rating (64), but again - the poly seemed to add some punch that the multi did not."
Serve Returns - Score: 81
A versatile stick when returning, our testers found several types of returns to be effective with the Power Bridge 10. Chris was confident hitting a variety of returns. "I simply loved the control and feel of this racquet on returns. My slice shots were not as heavy as with the Becker 11, but apart from that the racquet felt flawless. I felt confident taking a good cut at the ball as well as chipping or blocking returns deep to the corners." Also liking the range of effective returns was Granville. "This racquet had the mass and balance to respond to just about any serve with positive results. When on the defensive, the racquet is massive enough to get the ball over the net with some precision. When on the offensive, and out in front on either side, this racquet can smack the ball with the best of them. Good pocketing and targeting are often the result when taking the ball early on the return."
Danny had oodles of confidence with this stick when returning. "My serve returns with this stick were heavy. For some reason, my service returns on my forehand were really big with this stick; more on the deuce side rather than the ad side. My confidence on the second serve return was higher than ever." Happy with his defensive returns was Spencer. "The weight of the racquet helped keep it stable when returning against a big or heavy server. I found chipping back serves worked well, also. The backspin I was creating was very effective."
Overall - Score: 82
The Power Bridge 10 was a hit with our team. It is a player's racquet with a controlled response that gave our crew a chance to really swing with confidence from the baseline. The ability to put a full swing on the ball gave our testers excellent access to spin. Fantastic stability allowed our playtesters to hit through the ball, keeping shots on target and providing a very comfortable feel. At net, our testers were able to confidently hit touch and placement volleys, as well as punch volleys deep, thanks to good heft and a head light balance. With the Power Bridge 10, Volkl's reputation as a maker of quality player's racquets lives on.
The "Likes" of the racquet.
Chris "I liked the control, spin, comfort and soft feel. All in all, I thought this was a very impressive stick."

Granville "Weight, balance, control, low power/high precision"

Danny "I love this stick from the baseline. I am a baseline player, like most every other player these days, and this worked great for me. The Power Bridge 10 had a soft feel, and I think I could spend most of my time at the baseline with this stick without getting tired. I liked the natural heavy topspin I achieved from the baseline."

Spencer "The feel, control and spin."
The "Dislikes" of the racquet.
Chris "Didn't have the solid feel of the Becker 11. I like both, but would pick the Becker 11 over this one."
Granville "Another yellow Volkl racquet"
Danny "I wasn't big on serving with this racquet. I don't like serving in general, but I had a hard time generating a fast swing speed when serving. It might be time for me to hit the weight room."
Spencer "Handle shape. Too rectangular for my taste."
Technical Specifications

Length
27 inches
69 centimeters
Head Size
98 square inches
632 square centimeters
Weight
12 ounces
340 grams
Balance Point
12.625 inches
32 centimeters
7pts Head Light
Construction
19 mm Straight Beam
Composition
High Modulus Graphite w/ DNX Technology
String Pattern
18 Mains / 20 Crosses

Babolat RDC Ratings

Score

Grade

Flex Rating
64
Range: 0-100
Swing Weight
320
Range: 200-400
Volkl Power Bridge 10 Scores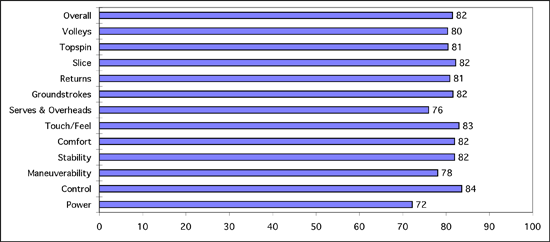 (Scores are determined by averaging individual play test scores)
Chris's Scores
Power
7.4
Serves & Overheads
7.8
Control
8
Groundstrokes
7.9
Maneuverability
7.8
Returns
8
Stability
8
Slice
8
Comfort
8.3
Topspin
7.8
Touch/Feel
8.3
Volleys
8
Overall
7.9

Gran's Scores
Power
7
Serves & Overheads
7.5
Control
8.75
Groundstrokes
8.25
Maneuverability
8.75
Returns
8.25
Stability
8.5
Slice
8.5
Comfort
8
Topspin
8.5
Touch/Feel
8
Volleys
8.25
Overall
8.5

Spencer's Scores
Power
7
Serves & Overheads
7.7
Control
8.5
Groundstrokes
8.5
Maneuverability
7.3
Returns
8
Stability
8.1
Slice
8.6
Comfort
8.2
Topspin
7.6
Touch/Feel
8.7
Volleys
8
Overall
8.2

Danny's Scores
Power
7.5
Serves & Overheads
7.4
Control
8.2
Groundstrokes
8
Maneuverability
7.4
Returns
8.1
Stability
8.2
Slice
7.8
Comfort
8.3
Topspin
8.3
Touch/Feel
8.2
Volleys
7.9
Overall
8
Playtester Profiles

Chris
5.0 baseline player currently using the Becker Pro. Chris uses a full-western forehand grip, has a fast swing style and hits a two-handed and a one-handed backhand.
Spencer
4.5 Baseline player currently using a Wilson K-Blade Tour. Spencer uses a semi-western forehand grip, and hits with a one-handed backhand.
Granville
5.5 all-court player currently using a Wilson K Factor Six-One Tour 95. Granville is an aggressive player who uses an eastern forehand grip and goes continental on everything else, hits with a flat swing and a one-handed backhand.
Danny
Open baseline player currently using a Wilson K Factor [K]Tour. Danny uses a semi-western forehand grip, a two-handed backhand and has a long swing style.

Review date: December 2008. If you found this review interesting or have further questions or comments please contact us.
All content copyright 2008 Tennis Warehouse.